We've got some amazing purple cauliflower in the boxes this week.  Because people are used to the snowy creamy whiteness of cauliflower, seeing one in vibrant purple is something of a shock.  But never fear — while the colour may seem a bit fake and Barney-esque, it is not a dye; it is totally natural, and purple cauliflower is delicious and a colourful addition to best add razzle-dazzle to your cooking.
Its signature colour comes from the same antioxidant found in red cabbage and red wine: anthocyanin. Sun exposure further exaggerates its effect on the cauliflower, resulting in bright purple heads.
Traditionally, cauliflower has been bred so that the head would grow without any of the natural pigments. But due to recent interest in colourful varieties, it's not uncommon to find purple, green, and even orange cauliflower.
For this wonderful intense colour, you can focus on contrast: purple cauliflower in a salad that is mostly green really pops, same as a side dish on a plate with mostly brown or pale foods like chicken, fish or pork.  Check out our recipe suggestions below and don't forget to let us know how you use your purple cauliflower and share pictures and recipes on our Facebook page.
Balsamic & Garlic Roasted Cauliflower
This easy Garlic Roasted Cauliflower is a perfect low-carb side dish for any occasion. It's well seasoned with garlic and balsamic vinegar and couldn't be more simple to make.
If you want to make this side dish a little more indulgent, add some shavings of Parmesan and pop it under the grill before serving. Try adding a squeeze of lemon juice just before serving too – it lightens it up a little. You can adapt the seasoning to make it a different way every time. Love everything Mexican? Why not try a sprinkle of fajita seasoning on it. Make sure the cauliflower florets are evenly sized so that they cook the same. Don't overcrowd the pan, otherwise, it will all start to steam, rather than roast and it won't get crispy which is what you are aiming for.
Source: Hungry Healthy Happy 
Half white cauliflower
Half purple cauliflower
2 tbsp olive oil
1 pinch sea salt and black pepper
2 tbsp balsamic vinegar
1 tbsp garlic powder, crushed
Method
Cut the cauliflower into medium chunks.
Put in a roasting pan.
Pour over the olive oil, garlic, balsamic and salt and pepper and shake until everything has mixed around.
Put in the oven at 190C/375F/Gas 5 for 25-30 minutes, until the cauliflower is tender.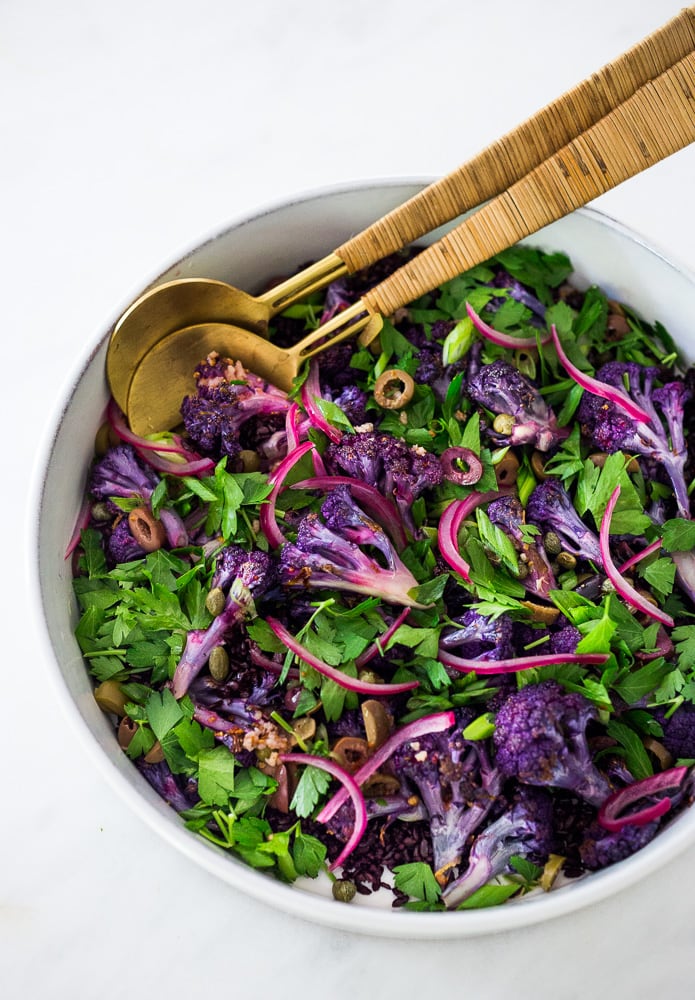 Purple Cauliflower Salad – Sicilian Style
Purple Cauliflower Salad (Sicilian Style!) with kalamata olives, capers, grains parsley scallions and pickled onions. This vegan healthy salad is easy to make and keeps for several days, perfect for meal prep!
Source: Feasting at Home
1 head purple cauliflower, purple if possible
Olive oil, to coat
1/2 tsp salt
Zest of one lemon
360g black rice, quinoa, freekeh or farro
2 spring onions, sliced
30 sliced kalamata olives
2 tbsp capers
Large handful Italian parsley, chopped
For the dressing
3 tbsp olive oil
2 tbsp red wine vinegar
2 garlic cloves, minced
1/2 tsp salt
1/2 tsp pepper
Optional garnishes: pickled onions, Marcona almonds, chilli flakes, shaved pecorino
Method
Preheat oven to 220C
Cook rice or grains on the stove. Cook and cool to room temp.
Cut cauliflower into bite-sized florets, lightly toss in olive oil, salt and lemon zest. Spread out on a parchment-lined baking sheet. Roast 25 minutes, or until fork-tender, turning halfway through. Let cool.
Make the dressing, whisking all in a bowl.
Feel free to toss salad ingredients the dressing in a bowl or layer them in a shallow bowl. If layering, start with the grain, add the cauliflower, olives, capers, scallions, parsley, pickled onions, optional almonds/pecorino and sprinkle with chilli flakes.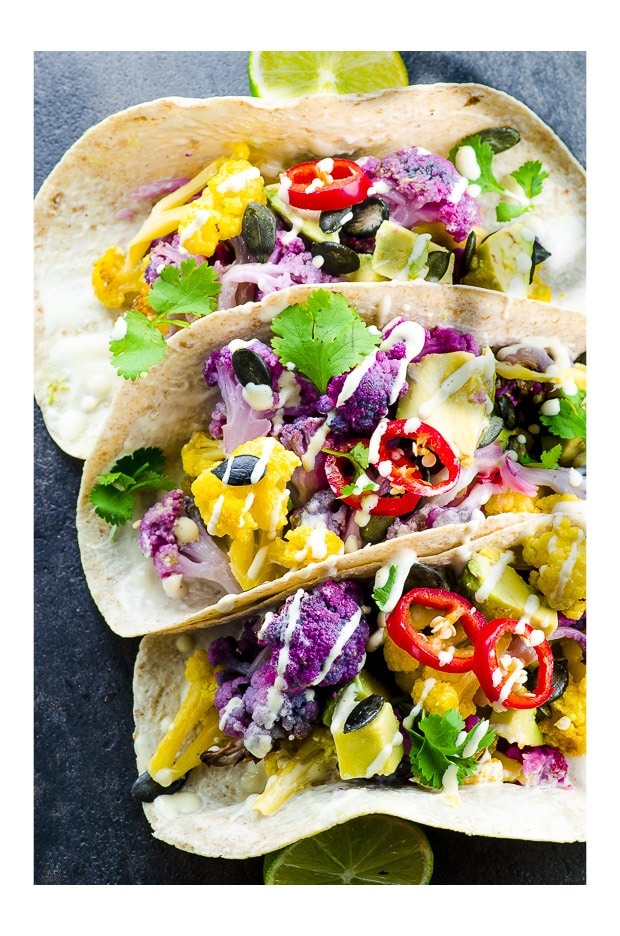 Roasted Yellow & Purple Cauliflower Tacos
These healthy vegan Roasted Orange and Purple Cauliflower Tacos with creamy Cashew Cream are good for you and absolutely stunning. Like a bright rainbow on a plate! Want to make them gluten-free?  Just use gluten-free tortillas and you're all set!
Source: May I Have That Recipe
1 medium purple cauliflower, cut into florets
1 yellow cauliflower, cut into florets
4 tbsp extra virgin olive oil, divided
1 tsp salt, divided
2 limes
1-2 avocados, diced
1-2 peppers, sliced
60g shelled pumpkin seeds
Fresh coriander
6-8 tortillas
For the cashew cream
70g raw cashews
230ml boiling water
1 garlic clove
2 tsp nutritional yeast
1 tsp lemon or lime juice
1/4 tsp salt
Method
Preheat the oven to 200C. Line 2 large baking sheets with parchment paper
Place the yellow cauliflower in a large bowl and drizzle with 2 tablespoons of olive oil and ½ teaspoon salt. Toss well until it's well coated and transfer it to one of the lined baking sheets
Repeat the process with the purple cauliflower
Bake for 25 minutes or until the cauliflower is tender, but not mushy. Squeeze lime juice on top of cooked cauliflower florets and set aside
Right before serving, spread cashew cream on each tortilla. Fill it with the desired amount of cauliflower, avocado, pumpkin seeds, and cilantro. Drizzle more cashew cream and squeeze more lime if desired.
For the Cashew Cream
Soak the cashews in boiling water for 30 minutes. Drain, and rinse.
Combine the soaked cashews, garlic, nutritional yeast, lemon or lime, salt, and the water ( preferably filtered or bottled) in a high-power blender. Blend until smooth and creamy. Refrigerate until ready to use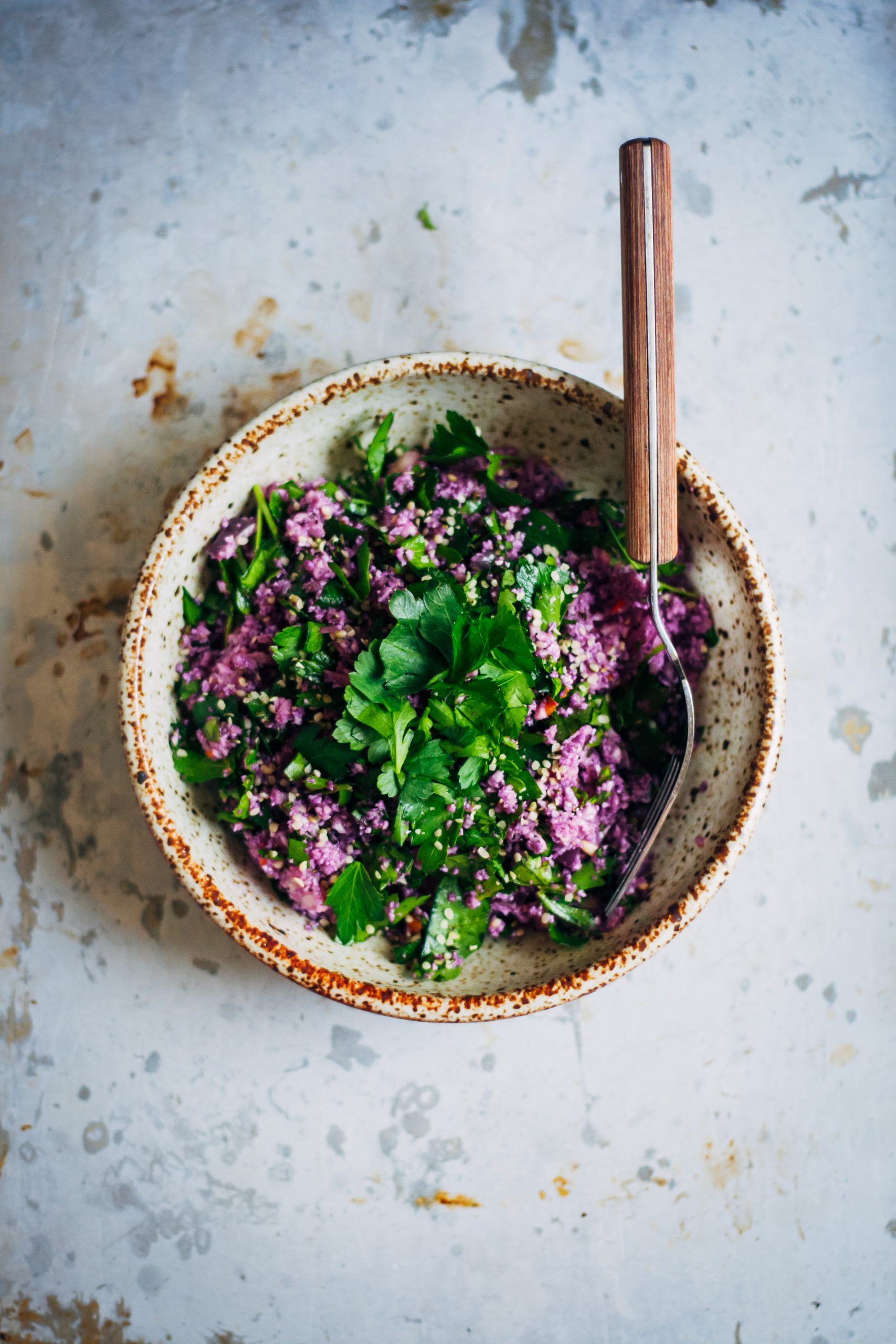 Purple Cauliflower Tabbouleh
This vibrant, purple cauliflower tabbouleh is delicious and healthy! The perfect side dish for your table.
Source: Well and Full
For the tabbouleh
1 head purple cauliflower
1/4 red onion, diced
Handful of parsley, chopped
Hemp seeds, for garnish
For the vinaigrette
Juice from 1/2 orange
Juice from 1 lemon
2 tbsp extra-virgin olive oil
1 tsp salt
1 tsp pepper
Zest of 1/2 orange
Method
For the Tabbouleh
Start by making the cauliflower "rice". Cut the cauliflower into florets, and process in the food processor until a rice is formed. Be careful not to overprocess!
Cut the red onion and mince the parsley, then fold into cauliflower rice. Set aside while you make the vinaigrette.
For the Vinaigrette
To make the dressing, combine all ingredients in a bowl and whisk until evenly combined. Add into tabbouleh and mix well.
Putting It All Together
Serve in bowls, garnished with hemp seeds and extra minced parsley.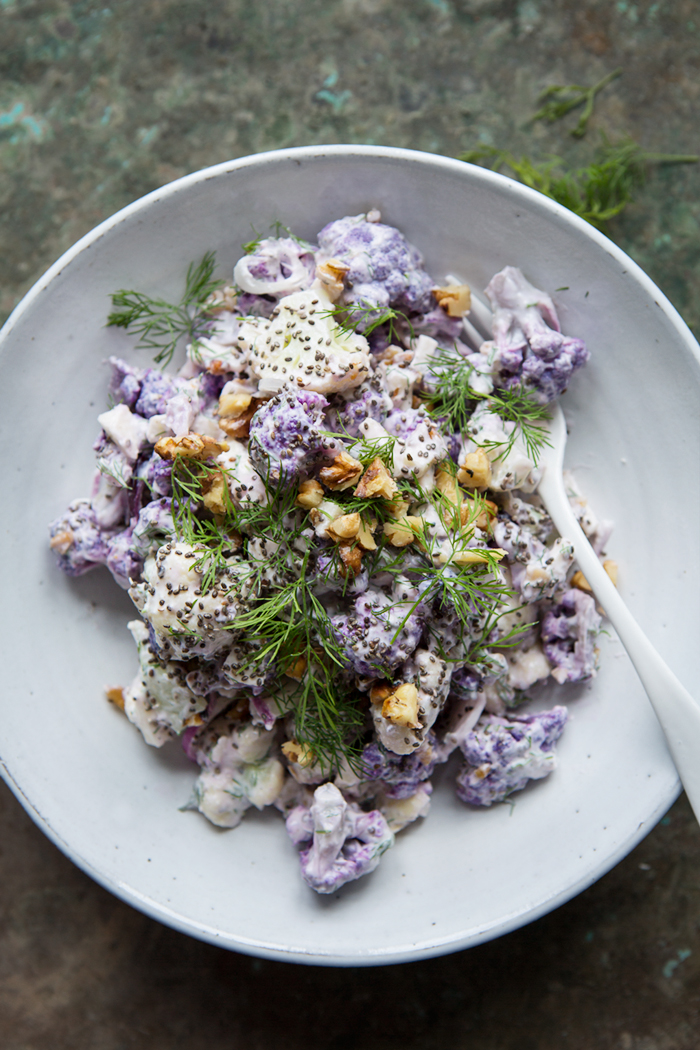 Raw Cauliflower Salad with Horseradish, Dill & Yogurt Dressing
This is great as a side dish for oily fish (such as salmon or mackerel) or as a light lunch.
Source: Dagmars Kitchen
2 heads of fresh cauliflower, 1 purple and 1 white
1 small red onion, finely sliced
1 apple, peeled, cored & cubed
1 tbsp raw chia seeds
1 handful walnuts, pan-toasted & roughly chopped
230ml plain Greek yogurt
A large bunch of fresh dill, finely chopped
Fresh horseradish, finely grated
A squeeze of fresh lemon juice
1/2 tsp sea salt
Freshly ground black pepper
Method
Separate the cauliflower florets from the stalk and cut them into smaller pieces. (Keep the stalk for e.g. juicing or cooking later.) Combine the florets in a serving bowl together with onion, apple, chia seeds and walnuts (keep some for garnish).
Combine all ingredients for the yoghurt dressing in a small bowl.
Add the yoghurt dressing to the vegetables and use your hands to mix until everything is coated in yoghurt.
Sprinkle chia seeds, walnuts and dill on top and serve.