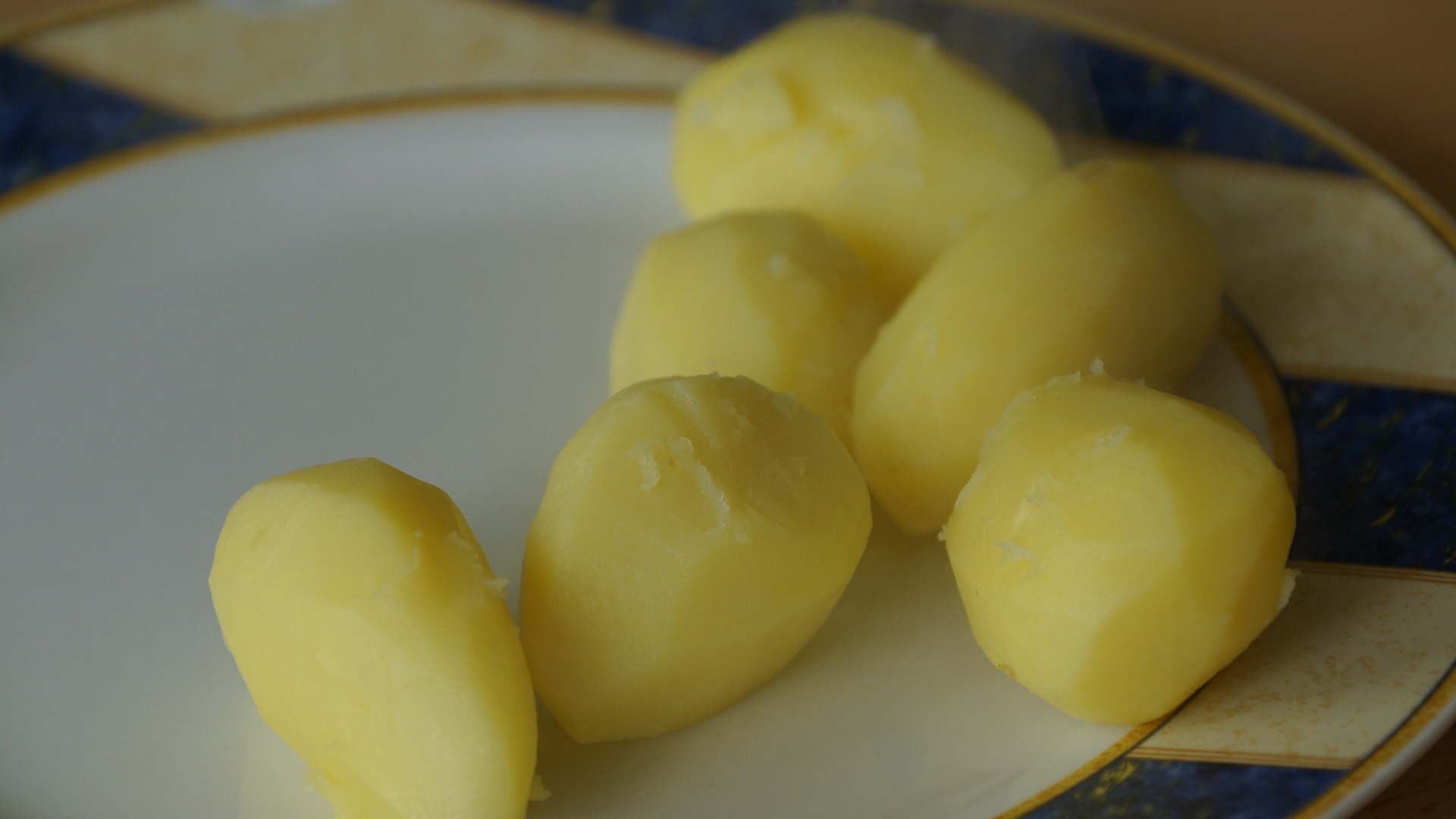 Pimp up your par boiled potatoes
As you know Heritage hates waste and with the recent lockdown we were left with a lot of parboiled potatoes which were destined for junior school kitchens.  We also had ordered a lot more as we had been prewarned with Brexit it may be difficult to get hold of them and at a decent price.  We did find a home for some in the form of a charity in Marlborough but we still have excess left.
In this week's box is a free bag of par-cooked potatoes and with it, suggestions of how to use them, all tried and tested recipes by Emma, our inhouse home cook!
So how do I store these potatoes I hear you ask.
There are obviously quite a lot of potatoes to use within one meal so once open take out what you need and keep these sealed in a Tupperware in water the fridge. Simply bag up the rest (water removed) and freeze in freezer bags in portions of what you will require moving forward.    The potatoes will keep for 1 week once opened in the fridge (covered) and up to 4 months frozen.
Our suggested top recipes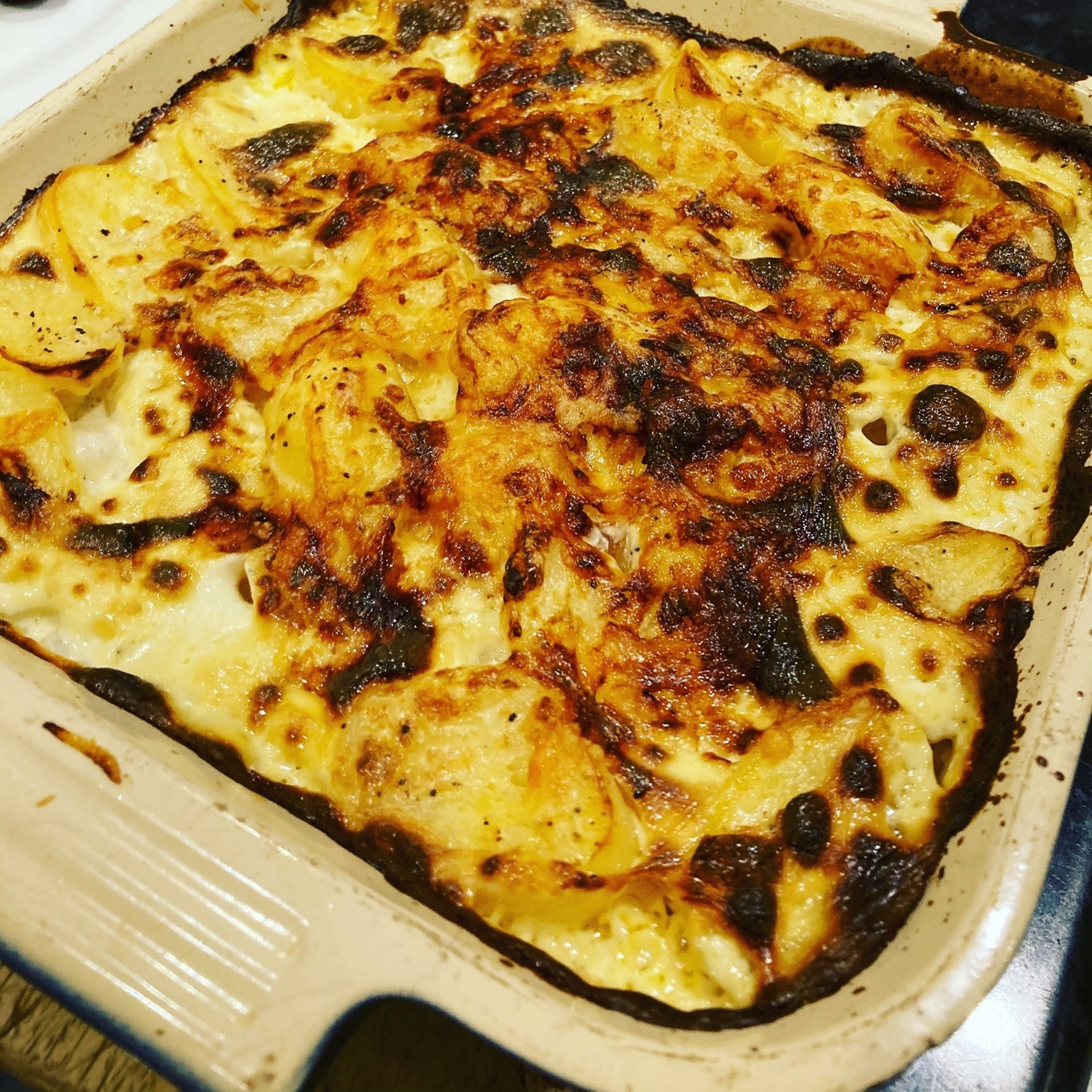 Really easy to make and really very tasty. A perfect accompaniment would be a pan-fried steak and vegetables. Dauphinoise potatoes are quite rich so they will go really well also with something bitter and acidic which will help lighten things up and balance the meal, something like a bitter green salad and a sharp dressing (e.g. watercress with lemon).
250ml double cream
250ml milk
3 garlic cloves – peeled and lightly crushed
600g parboiled potatoes, sliced
1/4 tsp salt
1/2 tsp coarse ground pepper
Pinch of nutmeg
75g grated gruyere cheese (or cheddar)
1 tbsp freshly chopped parsley
Method
Preheat the oven to 190C.
Lightly grease a large, shallow ovenproof dish.
Place the cream, milk, garlic into a large saucepan and bring to the boil, then turn down the heat.
Simmer gently for 6-7 mins, stirring occasionally.
Discard the garlic.
Mix together the salt, pepper and nutmeg in a small dish.
Slice potatoes thinly – they need to be around 3-4mm thick. Arrange half the potatoes in the baking dish.
Sprinkle over half of the salt/pepper/nutmeg mixture and ⅓ of the gruyere cheese.
Spoon over half the sauce.
Add on the remaining potatoes and add more seasoning and cheese, pour over enough sauce so the potatoes are coated in sauce, but not drowning in it.
Sprinkle on the remaining cheese.
Place in the oven and bake for 40-45 minutes, until the cheese is golden.
Top with fresh parsley before serving.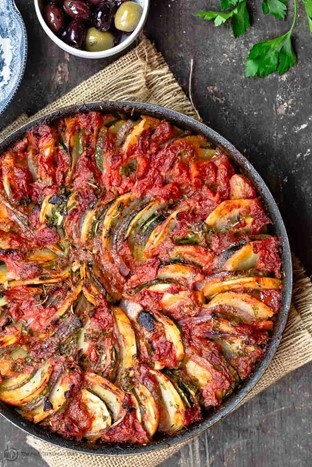 Briam takes roasted vegetables to a whole new level of delicious, you can also add aubergines and bell peppers too. The spices – rosemary and oregano, garlic, parsley and a generous glub of olive oil take this dish to the next level.
570g parboiled potatoes, thinly sliced into round
2 courgettes, thinly sliced into rounds
Salt and pepper
2 tsp dried oregano
1 tsp dried rosemary
Handful chopped fresh parsley
2 garlic cloves, mince
Extra virgin olive oil
800g large tinned chopped tomatoes
1 large red onion, thinly sliced into rounds
Method
Preheat oven to 200C. Place a rack in the middle.
Place sliced potatoes and courgette in a large mixing bowl. Season with salt, pepper, oregano, and rosemary. Add fresh parsley, garlic, and a generous drizzle extra virgin olive oil. Toss to make sure the vegetables are well coated with the oil and spices.
Grab a large round pan or skillet. Pour ½ of the canned diced tomatoes in and spread to cover the bottom of the pan.
Arrange the seasoned potatoes, courgette, and sliced onions in the pan in rows (simply going around the shape of the pan and alternating.)
If you have any of the extra virgin olive oil and garlic mixture left in the mixing bowl, pour that all over the veggies, then top with the remaining diced tomatoes from your can.
Cover the pan with foil (tent foil a bit so it is not touching the veggies). Bake in 200C oven for 45 minutes. Take pan out briefly to carefully remove foil, then place back in oven, uncovered, and roast for another 15 – 30 minutes or until the veggies are soft and charred and most of the liquid has evaporated. (ovens do vary, so pay attention and check as needed.)
Remove from oven. Serve warm or at room temperature with an added generous drizzle of extra virgin olive oil.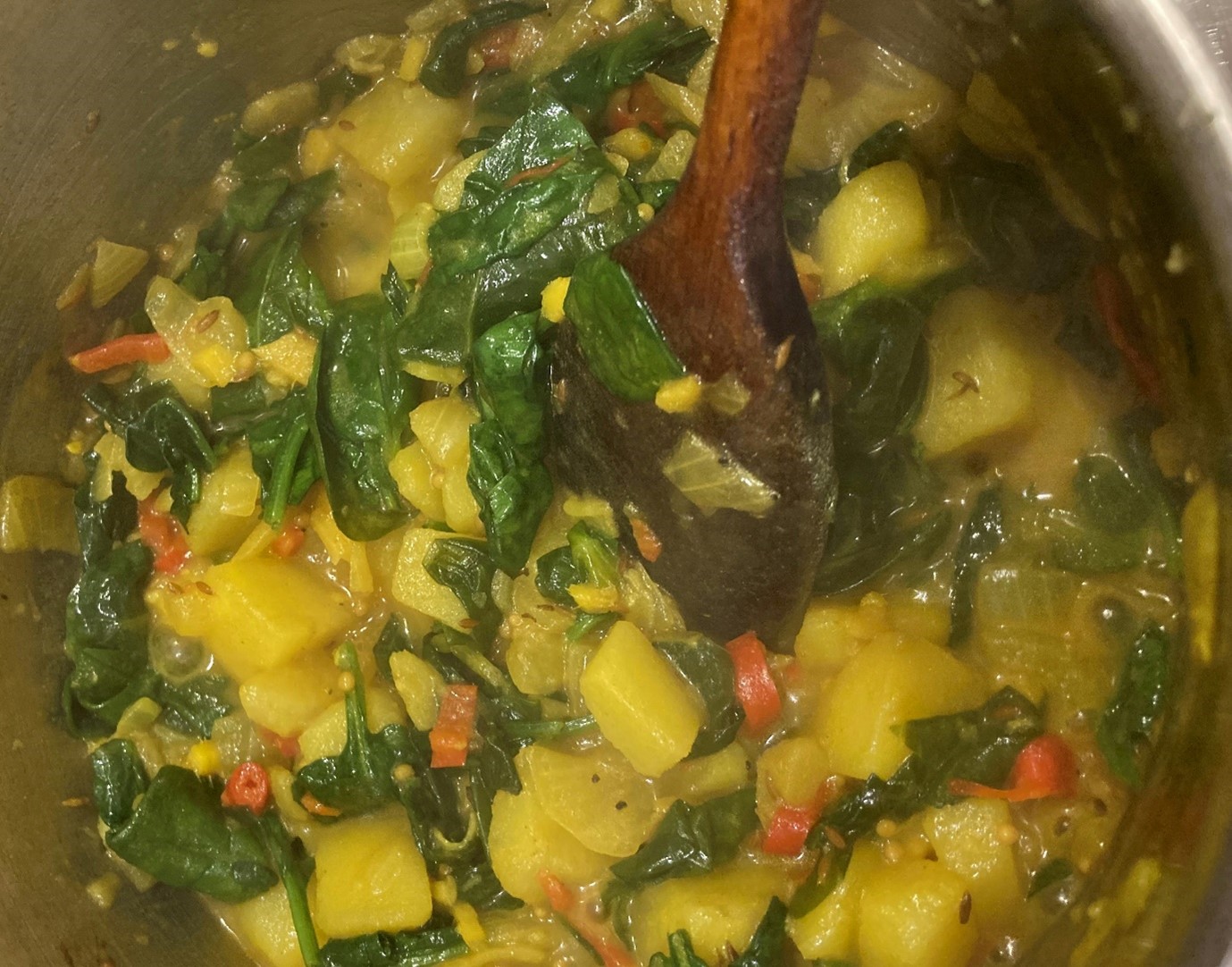 Saag Aloo with parboiled Potatoes
A tasty, healthy Indian style side dish full of flavour and punch and really easy and quick to make with the par boiled potatoes.
2 tbsp sunflower oil
1 onion, finely chopped
2 garlic cloves, sliced
1 tbsp chopped ginger
500g parboiled potatoes, cut into chunks
1 large red chilli, halved, deseeded and finely sliced
1/2 tsp each black mustard seeds, cumin seeds, turmeric
250g spinach leaves
Method
Heat 2 tbsp sunflower oil in a large pan, add 1 finely chopped onion, 2 sliced garlic cloves and 1 tbsp chopped ginger, and fry for about 3 mins.
Stir in the potatoes, cut into 2cm chunks, 1 halved, deseeded and finely sliced red chilli, ½ tsp black mustard seeds, ½ tsp cumin seeds, ½ tsp turmeric and ½ tsp salt and continue cooking and stirring for 1 min more.
Add a splash of water, cover, and cook for 5 mins.
Check the potatoes are ready by spearing with the point of a knife, and if they are, add 250g spinach leaves and let it wilt into the pan. Take off the heat and serve.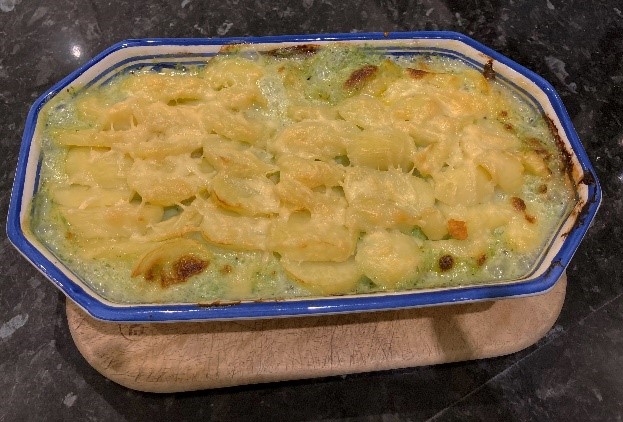 Fish Pie with sliced parboiled potatoes
A simple fish pie recipe that's quick and easy to prepare with the sliced parboiled potatoes.
500g pack of fish pie mix
500g parboiled potatoes, sliced
100g grated cheese
For the sauce
Large handful of fresh parsley
1/2 pint milk
Tbsp butter
Tbsp flour
Salt and pepper, to season
Place your fish in a suitable oven dish (no need to cook the fish) 
Now make your sauce, place the parsley and milk into a food processor and blitz. 
Make a roux for the sauce – add about a tablespoon of butter and melt – add the flour and whisk for about a minute to cook out the flour 
Slowly add your parsley milk to the pan and stir continuously until thickens, season with salt and pepper. 
Pour over your fish and mix in. 
Now slice your potatoes and place over the top of the fish. 
Add cheese to the top of the potatoes (optional) 
Pop in the oven to cook for about 20 minutes at 180.