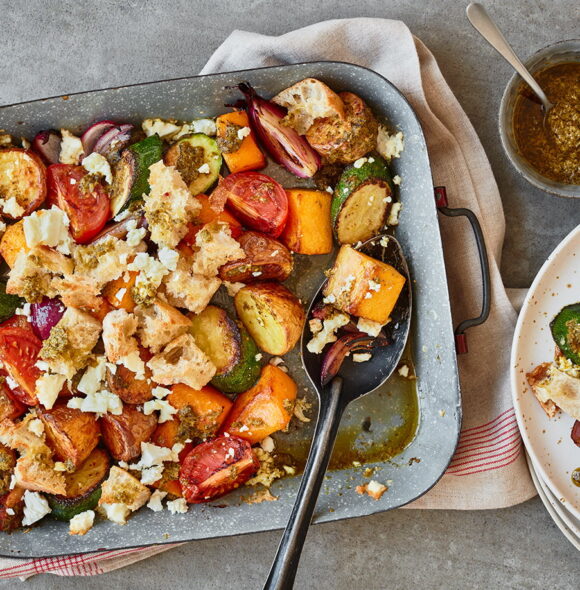 Pesto Veggie Traybake – Eat Healthy For Less
Transform a fridge full of veg into this pesto vegetable traybake recipe for a colourful, vegetarian dinner. Toss any fresh veggies in pesto for a herby boost of flavour, then bake with crispy croutons, serve scattered with cheese and a drizzle of extra pesto dressing.
Nutritional Information (per serving): Calories 535kcals; Carbohydrates 47.5g; Sugars 11g; Dietary Fibre 6.5g; Total Fat 32g; Saturated Fat 11g; Protein 16.7g; Salt 2g.
500g baby potatoes, halved (quartered if large)
400g butternut squash, cut into chunks
2 red onions, cut into thin wedges
3 tbsp olive oil
100g green pesto
1 courgette, cut into chunks
3 salad tomatoes, cut into wedges
1 ciabatta roll
200g feta cheese
Method
Preheat the oven to 220C/200C Fan/ Gas 7. Put the potatoes, squash and red onion onto a large shallow roasting tray and drizzle with 2 tbsp oil. Season and toss to combine. Roast for 20 minutes.
In a small bowl, mix 2 tbsp of pesto with 1 tbsp oil to make a dressing. Set aside for later. Whisk the remaining pesto with 3 tbsp water to loosen.
After 20 minutes, add the courgette and tomatoes to the tray and roast for another 10 minutes until the veg is tender.
Pour the loosened pesto over the veg and toss everything together. Tear the ciabatta roll into chunky croutons and scatter over the veg. Crumble over the cheese and drizzle everything with a little oil. Roast for another 5-10 minutes until the croutons are toasted and the cheese is turning golden. Drizzle everything with the pesto dressing to serve.