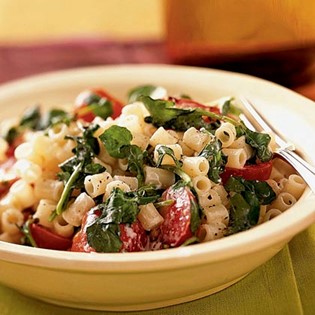 Oyster Mushroom & Watercress Fusilli
This dish is delicious and is carb-satisfying, keeps hunger at bay, and requires very little preparation.
200g fusilli pasta
1 tbsp olive oil
1 garlic clove, crushed
135g oyster mushrooms, finely sliced
90ml dry white wine
100ml double cream
125ml veg stock
75g watercress leaves
12g pine nuts, toasted
25g Parmesan shavings
Salt & freshly ground pepper
7 cherry plum tomatoes, halved
Method
Chop the mushrooms roughly and set them aside.
Melt the butter in a saucepan and add the garlic, sauté for a couple of minutes, then add the mushrooms and sauté for 5 minutes over medium-low heat. Remove the mushrooms from the pan and set them aside.
Add the stock and wine to the pan over high heat and leave to reduce for 8-10 minutes so that it is reduced by 2/3s (while reducing you may cook the pasta). Mix in the cream and simmer for a couple of minutes, then add the
mushrooms. Set aside until ready to serve.
While the sauce is reducing bring a pan of water to the boil and add the pasta and cook 5-8 minutes until al dente. Strain the pasta and set it aside.
To serve, bring the sauce to a simmer add the pasta, watercress, tomatoes and pine nuts and mix so that it is well distributed and hot. Season the pasta to taste and place in 2 or 3 bowls and sprinkle over the Parmesan
shavings. Serve.