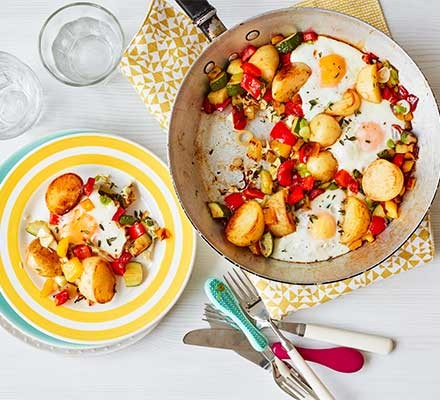 One-Pan Egg & Veg – Eat Healthy for Less
Save on the washing up, this dish is quick, easy and all done in one pan! This egg and veg dinner is filling, healthy and one for all the family. Filled with yummy veg, kids will love dipping soldiers into the runny yolks. Enjoy for £1.18 per serving. Let us know if you have a go at this dish and tag us in a picture on Facebook and Instagram.
Nutritional Information: Calories 170kcals; Carbohydrates 15g; Total Fat 7g; Saturated Fat 2g; Protein 9g; Fibre 4g; Salt 0.22g.
300g baby new potatoes, halved
1/2 tbsp rapeseed oil
1 knob of butter
1 courgette, cut into small chunks
1 yellow pepper, cut into small chunks
1 red pepper, cut into small chunks
2 spring onions, finely sliced
1 garlic cloves, crushed
1 sprig thyme, leaves picked
4 eggs
Toast, to serve
Method
Boil the new potatoes for 8 mins, then drain.
Heat the oil and butter in a large non-stick frying pan, then add the courgette, peppers, potatoes and a little salt and pepper. Cook for 10 mins, stirring from time to time until everything is starting to brown. Add the spring onions, garlic and thyme and cook for 2 mins more.
Make four spaces in the pan and crack in the eggs. Cover with foil or a lid and cook for around 4 mins, or until the eggs are cooked (with the yolks soft for dipping into). Sprinkle with more thyme leaves and ground black pepper if you like. Serve with toast.