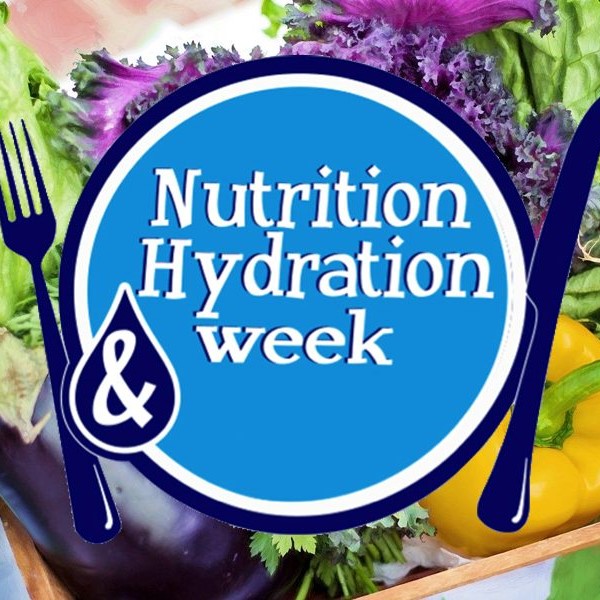 Nutrition & Hydration Week
Reinforce, Focus and Energise
Nutrition and hydration week is an annual event that highlights, promotes and celebrates the importance of nutrition and hydration.  We've put together some tips to aid nutrition and hydration as well as giving you some delicious recipes to try. 
Our Top Tips!
Have breakfast and try not to skip meals  
Aim for starchy foods that release energy slowly and try to include a source of protein such as oats or whole-wheat cereal made with semi-skimmed milk or mixed with yogurt.  Alternatively, wholemeal bread with nut spread or eggs or cheese or beans is a great start. 
Include a portion (or two) of fruit with your breakfast where possible.  

 

Add fruit to your porridge or cereal. 

 

Add mashed or sliced fruit on toast with peanut butter.

 

Prepare in advance – see our suggestions for muffins and overnight oats.
Have your 5aday 
Fruit and vegetables can be fresh, frozen, canned or juiced. 

 

Add one or two portions of either fruit or vegetables to each of your three meals as this will help you to reach the goal quicker 

 

Try juicing your fruit and vegetables if you are on the go, every 150ml glass of juice you make can be classed as one of your 5 a day 

 

One 30g portion of dried fruit counts as your 5 a day so you can stock up on some snack bags for when your need a pick me up. 

 

Try freezing your fruit and vegetables to pull out quickly. Most freeze really well! See our guide here for storing your fruit and veg.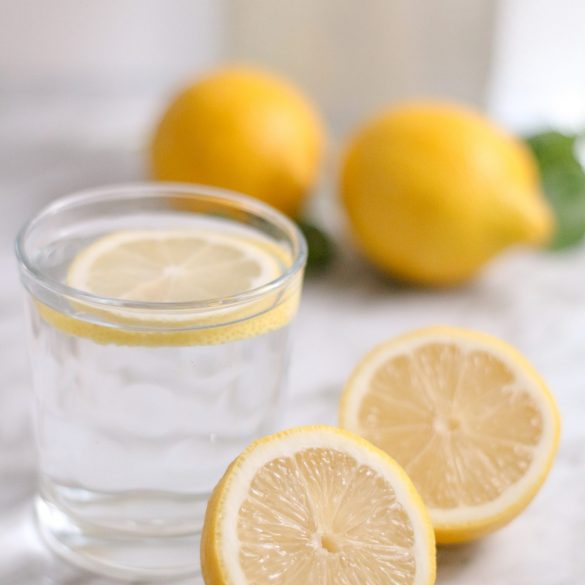 Drink Plenty 
It is recommended to have between 6-8 glasses of fluid per day; some tips to increase your fluid intake include:  
The healthiest and cheapest drink is water; tap water is great if you have access to it. For a refreshing boost, you can add slices of lemon, cucumber, mint or berries.   
Other drinks such as unsweetened coffee, tea or iced tea, as well as unsweetened, infused or flavoured (sparkling) water count as good choices for hydration if you wanted something different in flavour.  
Carry your own refillable water bottle with you and challenge yourself to finish it by the end of the day.  
Dehydration occurs when the body does not have enough water and is very dangerous. It is easy to see if you are hydrated, all it takes is one look at your urine. The lighter the colour, the more hydrated you are!  
Lighter is always better.  Although coffees are easily available, you should avoid too much caffeine as this can contribute to dehydration and anxiety. It is suggested to limit caffeine to 400mg/day.  
Make a change in your sugar and salt consumption 
Use 10% less sugar when preparing food and drinks.  This small change can make the family's diet healthier unnoticed.

 

Instead of serving a  sweet why try some spicy sour flavours. For example, sour cream, yogurts or piquant berries give food an exciting taste.

 

Sweeten with naturally sweet or dried fruits instead of sugar! Try homemade ice cream and bananas, granola with apple puree, or biscuits, muesli bars with dried dates.

 

Use salt-free seasoning made of dried herbs. 

 

Fish and meat dishes made with less salt can be combined with sauces made from delicious fruit and vegetables.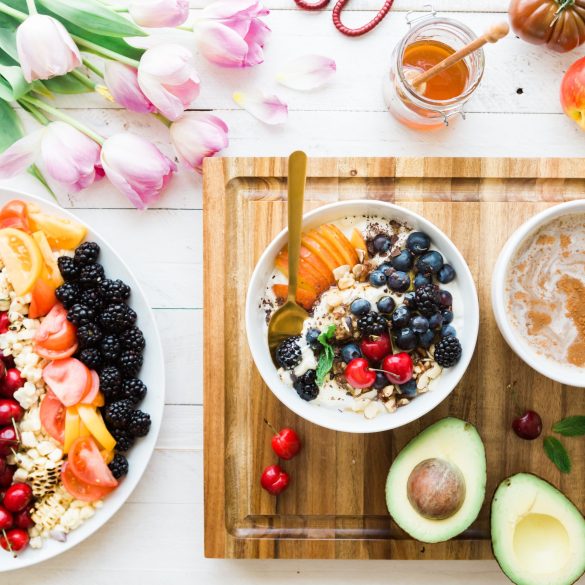 Change your eating habits 
Make eating enjoyable e.g set the table and listen to relaxing music.

 

Do not hurry, take your time to eat!

 

Do not use gadgets at the table.

 

Eat and cook in a good mood.

 

Enjoy and savour the flavours.

 

Meal prep in advance and have healthy snacks available in the fridge.

 

Add more veggies to meals – add some grated carrot to pasta sauces, mushrooms, courgettes or broccoli to casseroles.

 

How about trying out some of these tasty recipes and don't forget to share your favourites over on our Facebook page.

 
Healthy Breakfast – Easy Breakfast Muffins
Whether you're on a low carb or Keto diet, or you need something quick to grab while running out of the door, Breakfast Egg Muffins are a delicious healthy saviour and PERFECT for Meal Prep! Recipe for approximately 6 portions (which should last all week).  
Source: Cafe Delights
100ml fat-free natural yogurt
100ml semi-skimmed milk
2 eggs
85ml sunflower oil
5g of bicarbonate of soda
250g self-raising flour
Salt and pepper, to taste
Other ingredient suggestions
4 rashers of lean bacon
50g peas/sweetcorn/mushrooms
50g feta
50g spinach
Handful of cherry tomatoes, quartered
3 spring onions, chopped
Method
Preheat the oven at 200C or gas mark 6.
In a bowl mix together all of the core ingredients until smooth.
Then add any of the additional ingredients you choose to the bowl. If using bacon, grill first for 10 minutes and then chop before putting it into the bowl.
Put paper cases into a muffin tin and then equally spoon the completed mixture into the cases.
Bake in the oven for 15-18 minutes and leave to cool. You can eat these warm, or you can make them in batch and enjoy taking them with you to work each day. Why not try spinach and feta or bacon and mushroom flavoured muffins? You could even add fresh chilli or chilli flakes to add some spice! 
Healthy Breakfast – Overnight Oats
All of these recipes are gluten-free, dairy-free, refined sugar-free and vegan. There are also grain-free and Keto options. From Almond Joy to carrot cake to PB&J, oatmeal has never tasted so amazing! View all the recipes on Life Made Sweeter. 
45g rolled oats
180ml liquid, water or milk of your choice
Method
Add the rolled oats with your choice of liquid into a mason jar or resealable container.
Overnight oats are super versatile so at this stage, add any spices or sweetener, great examples are cinnamon or honey.
Seal or cover with a lid and chill in the fridge for at least 4 hours or ideally overnight.
There is a huge range of ways you can customise the flavours. Have fun and mix up the flavours so you can have a different one every day. Try Almond Joy, Apple Cinnamon, Banana Nut, Blueberry, Carrot cake, Peanut butter, & jam, Pumpkin, Strawberry, Keto Overnight oats.
Enjoy them straight from the jar or pour into a bowl and add your favourite toppings.
Healthy Lunch – Pasta Prep
Make three lunchbox pasta meals in one go to save you time midweek. They're nutritious and healthy with variations using salmon, chicken and aubergine. 
Source: BBC Good Food
Nutrition per serving: 
Salmon pasta: Kcals: 579 | Fat: 25g | Sat fats: 4g | Carbs: 43g | Sugars: 10g | Fibre: 9g | Protein: 41g | Salt: 0.5g
Chicken pasta: Kcals: 475g | Fat 10g | Sat fat: 1g | Carbs: 45g | Sugars: 0g | Fibre: 9g | Protein: 47g | Salt: 0.4g
Aubergine pasta: Kcals: 367 | Fat: 11g | Sat fat: 1g | Carbs: 48g | Sugars: 15g | Fibre: 15g | Protein: 11g | Salt: 0.8g
For the pasta base: 
2 red onions, halved & thinly sliced
150g wholemeal pasta
1 lemon, zested & juiced
1 tbsp rapeseed oil, plus a little extra for drizzling
2 large garlic cloves, finely grated
30g fresh basil, chopped
For the salmon box: 
1/2 red pepper, sliced
1 salmon fillet
1 tsp capers
Big handful rocket
For the chicken pasta box: 
1 large courgette, sliced
1 skinless chicken breast fillet, thickly sliced
2 tsp pesto
5 large cherry tomatoes, halved
For the aubergine box: 
1 small aubergine, sliced then diced
5 large cherry tomatoes, quartered
5 kalamata olives, halved
Method
Heat oven to 200C/180C fan/gas 6. Arrange the red onions, red pepper, courgette and aubergine in lines on a large baking sheet. Drizzle with a little oil and roast for 15 mins.
Cook the pasta for 10-12 mins until al dente. While the pasta is cooking, loosely wrap the salmon fillet in foil and do the same with the chicken and pesto in another foil parcel, then put them on another baking tray.
When the veg have had their 15 mins, put the salmon and chicken in the oven and cook for a further 12 mins (or until the chicken is cooked through). Drain the pasta, put in a bowl and toss really well with the lemon zest and juice, rapeseed oil, garlic and two-thirds of the basil. When everything is cooked, add the red onions to the pasta. Toss together and divide between three lunch boxes.
Top the first box with the salmon fillet (remove the skin first), then add the red pepper from the tray. Scatter over the capers and add the rocket.
To the second box, add the chicken and pesto with any juices, the roasted courgette and the halved cherry tomatoes.
In the third box, toss the aubergine into the pasta with the quartered cherry tomatoes, olives and the remaining basil. Seal up each container and chill. Eat within three days, preferably in the order of the salmon, then the chicken and then the aubergine.
Healthy Lunch – Pea, Feta & Summer Herb Frittata
Use your favourite soft herbs in this thick grilled omelette with peas, cream cheese and courgette- we like dill, mint and parsley. 
Source: BBC Good Food
Nutrition Per Serving: 
Kcals: 337 | Fat: 22g | Sat fats: 9g | Carbs: 17g | Sugars: 4g | Fibre: 4g | Protein: 17g | Salt: 1.8g
300g new potato, halved if large
4 eggs and 2 egg whites
Splash of milk
1 garlic clove, crushed
1 tbsp gluten-free wholegrain mustard
Handful mixed soft herbs, such as fill, mint and parsley, roughly chopped
3 tbsp cream cheese
1 tbsp olive oil
1 courgette, coarsely grated
1/2 tsp chilli flakes
140g petit pois, defrosted if frozen
100g feta cheese, crumbled
50g sundried tomato, drained and roughly chopped
100g salad leaves, to serve
Method
Put the potatoes in a pan of salted water, bring to a boil, then simmer for 12-15 mins or until tender. Drain, leave to cool, then thinly slice. Whisk the eggs and egg whites with the milk, garlic, mustard and herbs, and season generously. Add the cream cheese and fold through just a little so that some lumps remain. Heat the grill to medium-high. 
Heat the oil over medium heat in a 23cm non-stick frying pan. Add the potatoes and fry for about 5 mins, until they start to turn golden. Add the courgette and chilli flakes, and continue to fry for a couple of mins more. Stir through the petit pois. 
Tip the egg mixture into the pan and scatter with the feta and tomatoes. Cook over a gentle heat for 10-12 mins until almost set. Pop the pan under the grill and cook for 3-5 mins until puffed, golden and cooked through. Cut into wedges and serve with a crisp green salad. 
Healthy Dinner – Lemon Chicken
A luscious, tangy stir-fry that makes two generous portions for very few calories. 
Source: Delicious Magazine
1 tsp cornflour
1 tsp dark soy sauce
Finely grated zest and juice 1/2 small lemon
2 tsp coconut oil
1 skinless chicken breast fillet, cut into 1.5cm slices
1 pepper, deseeded and sliced
1 medium carrot, trimmed and thinly sliced
100g broccoli, cut into small florets
150ml chicken stock, made with 1/2 stock cube
4 spring onions, trimmed and thickly sliced
Method
Mix the cornflour with the soy sauce and lemon juice in a small bowl. 
Heat the oil in a large frying pan or wok over high heat, add the chicken, capsicum, carrot and broccoli and stir-fry for 2–3 minutes, or until the chicken is lightly browned and the vegetables are beginning to soften. 
Pour the lemon and soy mixture into the pan, add the chicken stock and spring onions and bring to a simmer. Reduce the heat and cook for 2 minutes, or until the sauce is slightly thickened and the chicken is cooked through, stirring regularly. 
Sprinkle with grated lemon zest and serve with rice. 
Healthy Dinner – Green Tea Noodles with Sticky Sweet Chilli Salmon
Green tea noodles bring a pop of colour to this easy midweek dinner.
Source: Delicious 
125ml peanut oil
1 tbsp ginger, finely chopped
3 spring onions, thinly sliced
1 lemongrass stalk, finely grated
1 1/2 tbsp runny honey
2 tbsp extra virgin olive oil
80g chilli paste
600g whole skinless salmon fillet
240g packet dried green tea noodles
80ml lime juice
2 1/2 tsp caster sugar
2 tsp fish sauce
1/2 tsp chilli flakes, plus extra to serve
Toasted sesame seeds & micro shiso leaves, to serve
Method
Preheat oven to 220°C. Heat peanut oil in a small saucepan over low heat. Add ginger, long green shallot, lemongrass and a pinch of salt. Cook, stirring occasionally, for 6-8 minutes until long green shallot is very soft but not coloured. Remove from heat and cool. 
Meanwhile, combine honey, olive oil and chilli paste in a bowl. Stir to combine. Line a baking tray with baking paper and add salmon. Rub honey mixture over salmon to coat, then season. Roast for 12-15 minutes for medium. Set aside, loosely covered with foil, to rest for 5 minutes. 
Cook noodles according to packet instructions. Drain and rinse briefly with warm water. 
Whisk lime juice, sugar, fish sauce and chilli flakes into the shallot oil mixture. Place noodles in a large bowl with three quarters of the shallot oil, season and toss to combine. Arrange on a serving platter and flake salmon over the top. Drizzle over remaining shallot oil and scatter with extra chilli flakes, toasted sesame seeds and shiso leaves. Serve at room temperature or chilled. 
Healthy Dinner – Sesame Butter Radishes with Lemon
Quick, easy and pretty as a picture.
Source: Delicious 
100g unsalted butter, chopped
2 tsp sesame oil
3 bunches mixed radishes, washed, trimmed
Juice of 1 lemon, plus extra lemon wedges, to serve
1 tbsp toasted black and white sesame seeds
Red vein sorrel, baby radish leaves, baby shiso and sourdough, to serve
Method
Melt butter and oil in a large frying pan over medium-high heat and cook for 3 minutes or until nut brown. Add radish and cook, tossing pan, for 6-8 minutes or until tender. Spoon into a serving bowl. 
Drizzle over lemon juice and scatter with sesame seeds and salad leaves. Serve with sourdough and extra lemon.