New Year Nibbles & Cocktails
Although New Year celebrations will be much smaller this year, it doesn't mean you shouldn't bring in a New Year without good food and cocktails.
We have collated some delicious canape recipes, perfect for sharing (or to be enjoyed over a few days), as well as some festive cocktails to see you through the night.
For more recipe inspiration, check out our Pinterest boards. If you try any of these recipes, make sure to share with us on Facebook, Twitter or Instagram.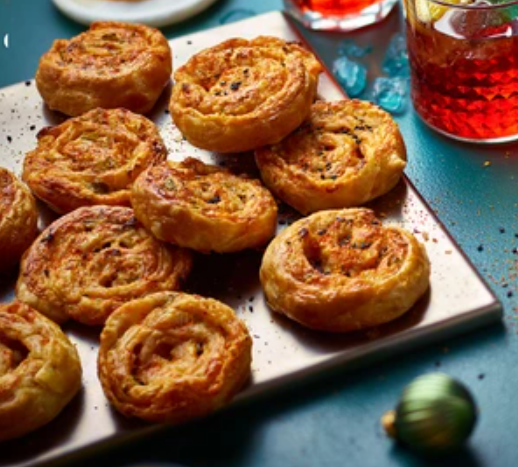 Kimchi, Cheese & Spring Onion Pinwheels
Pair the acidity of kimchi with mature cheddar in these fabulous pinwheels. They make great canapés for celebrations such as New Year's Eve.
Source: BBC Good Food
150g mature cheddar
2 spring onions, thinly sliced
70g kimchi, roughly chopped
320g sheet ready-rolled puff pastry
1 egg, lightly beaten
Method
Heat the oven to 200C/180C fan/gas 6 and line two baking sheets with baking parchment. Combine the cheese, spring onions and kimchi in a small bowl.
Unroll the pastry, spread with the cheese and kimchi mixture, then roll up into a tight coil from one of the long sides. Slice into 14 pieces.
Arrange the pastry pinwheels, spiral-side up on the baking sheets, well-spaced apart. Brush with a little of the beaten egg and bake for 30-35 mins, or until golden brown and puffed up.
Leave to cool for 5 mins before serving.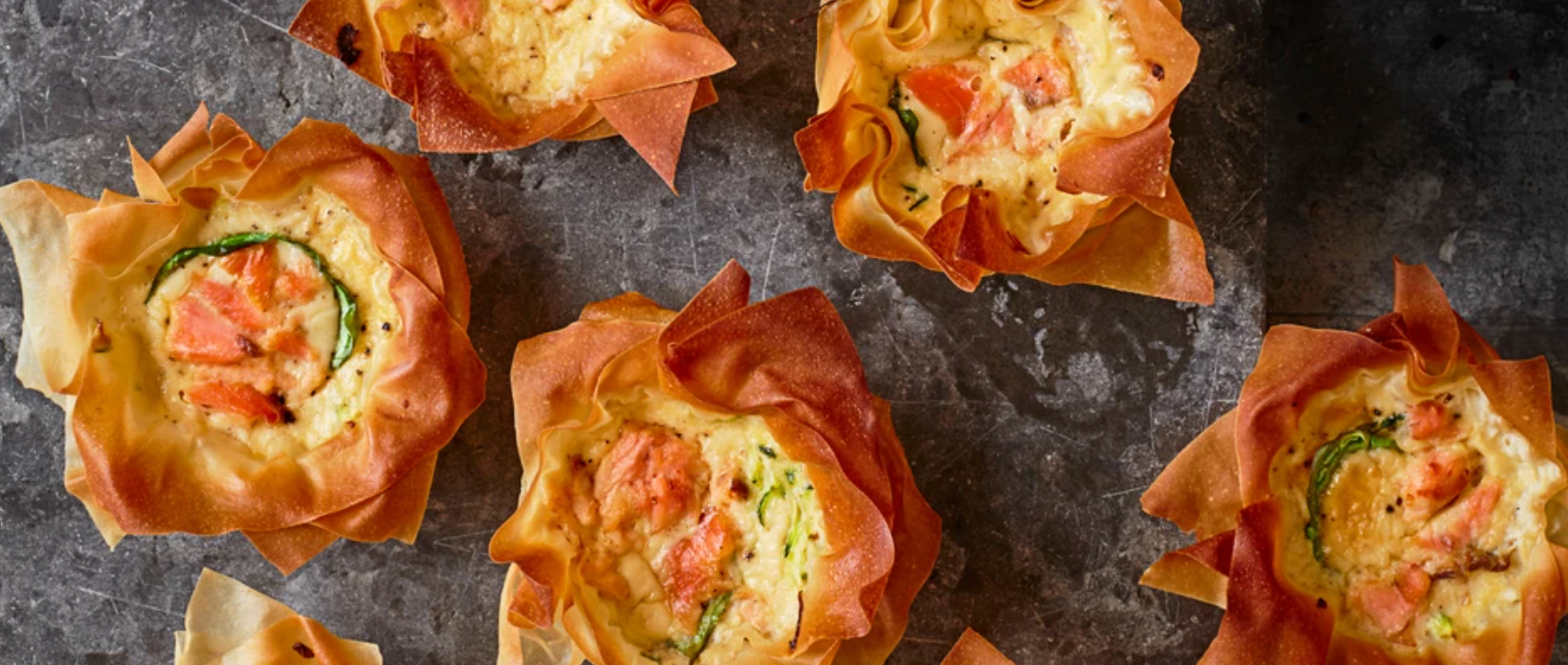 Smoked Salmon & Courgette Mini Quiches
These little wonders look striking, are gorgeously crunchy and easy to put together. Perfect bite-sized treat!
Source: Olive Magazine
5 sheets filo pastry
1-2 tbsp vegetable oil
30g salted butter, melted
1 courgette, coarsely grated
12 basil leaves
100g smoked salmon, flaked
3 large eggs
200ml creme fraiche
100ml whole milk
Method
Heat the oven to 200C/fan 180C/gas 6 and put a flat baking tray or sheet in the middle of the oven to warm up.
Neatly stack the filo sheets on top of each other, then cut down the middle with scissors or a sharp knife. Again, cut each stack in half, leaving you with 4 rectangular stacks. Finally, cut each of those stacks in half again to create eight square stacks (40 filo squares in total).
Brush the holes of a deep, 12-hole muffin tin with a little oil. Lay 3 filo squares on top of each other at slightly different angles to create a 12-pointed star pattern. Brush with butter, then press into one of the muffin tin holes to create a pastry case. Repeat with the remaining 11 muffin holes.
Use a teaspoon to divide the courgette between the cases, then put a basil leaf into each, and the salmon flakes on top.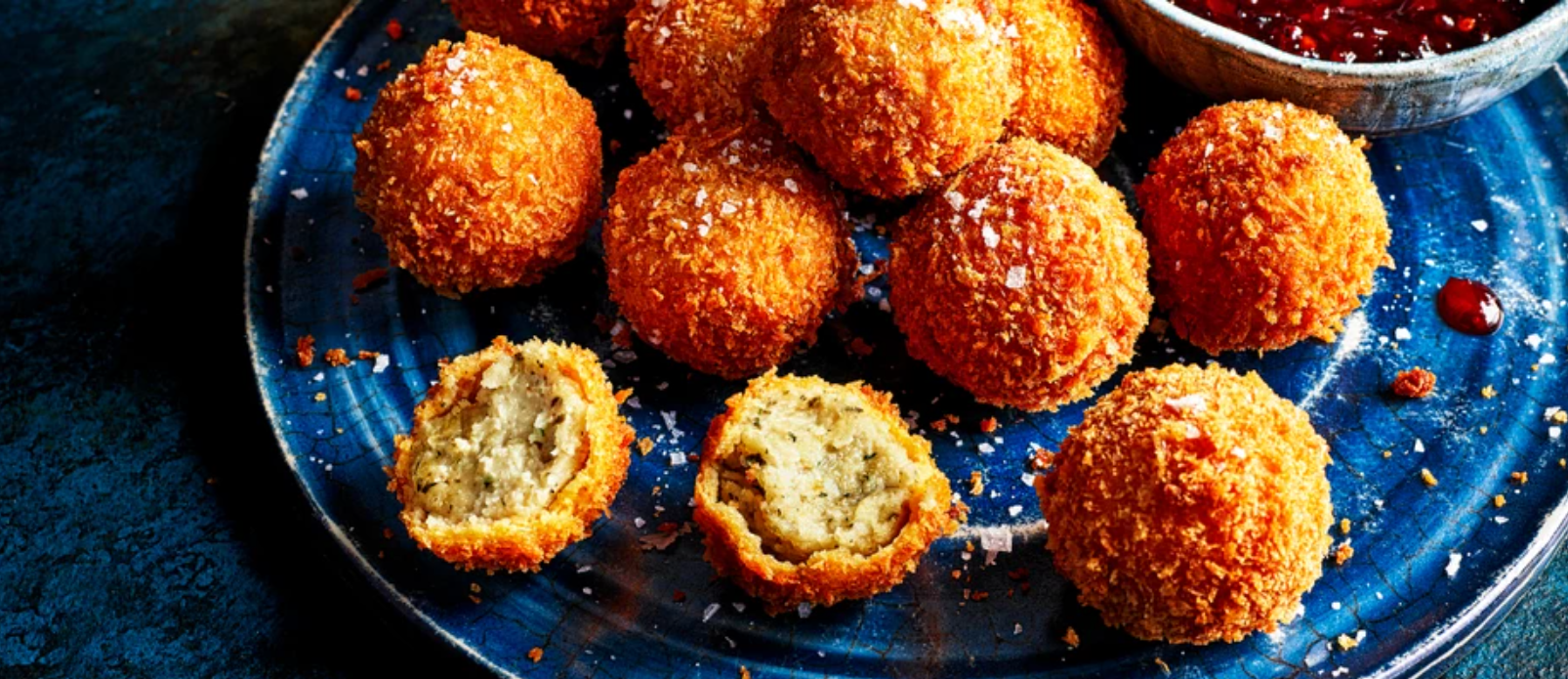 Bread Sauce & Stuffing Croquettes
Check out our epic croquettes with leftover bread sauce and stuffing. These crispy balls are easy to make and perfect at keeping a hungry crowd happy over the festive season.
Source: Olive
200g cooked stuffing, crumbled
50g plain flour, seasoned
2 eggs, beaten
100g panko breadcrumbs
2 tbsp cranberry sauce
2 tbsp chilli jam
Vegetable oil, for deep frying
For the bread sauce
1 onion, peeled
6 cloves
2 bay leaves
6 black peppercorns
Grating of nutmeg
2 garlic cloves, peeled
400ml whole milk
100ml double cream
150g white breadcrumbs
2 tbsp butter
Method
To make the bread sauce, stud the onion with the cloves and put in a pan with the bay, peppercorns, nutmeg, garlic, milk and cream. Bring very slowly to a simmer, remove from the heat, cover and leave to infuse for 1 hour. Strain the milk into a new pan and add the breadcrumbs, butter and lots of seasoning. Simmer very gently, stirring regularly, for 20 minutes until very thick. Pour into a container, cover and cool. Stir through the crumbled stuffing, then chill completely.
Put the flour, egg and breadcrumbs into separate shallow bowls. Take a heaped tbsp of the bread sauce and, using slightly wet hands, shape into the size of a golf ball. Roll in the seasoned flour, then into the beaten egg, then coat well in the breadcrumbs. Repeat with the remaining mixture.
Mix together the cranberry sauce and chilli jam in a bowl to make a dipping sauce.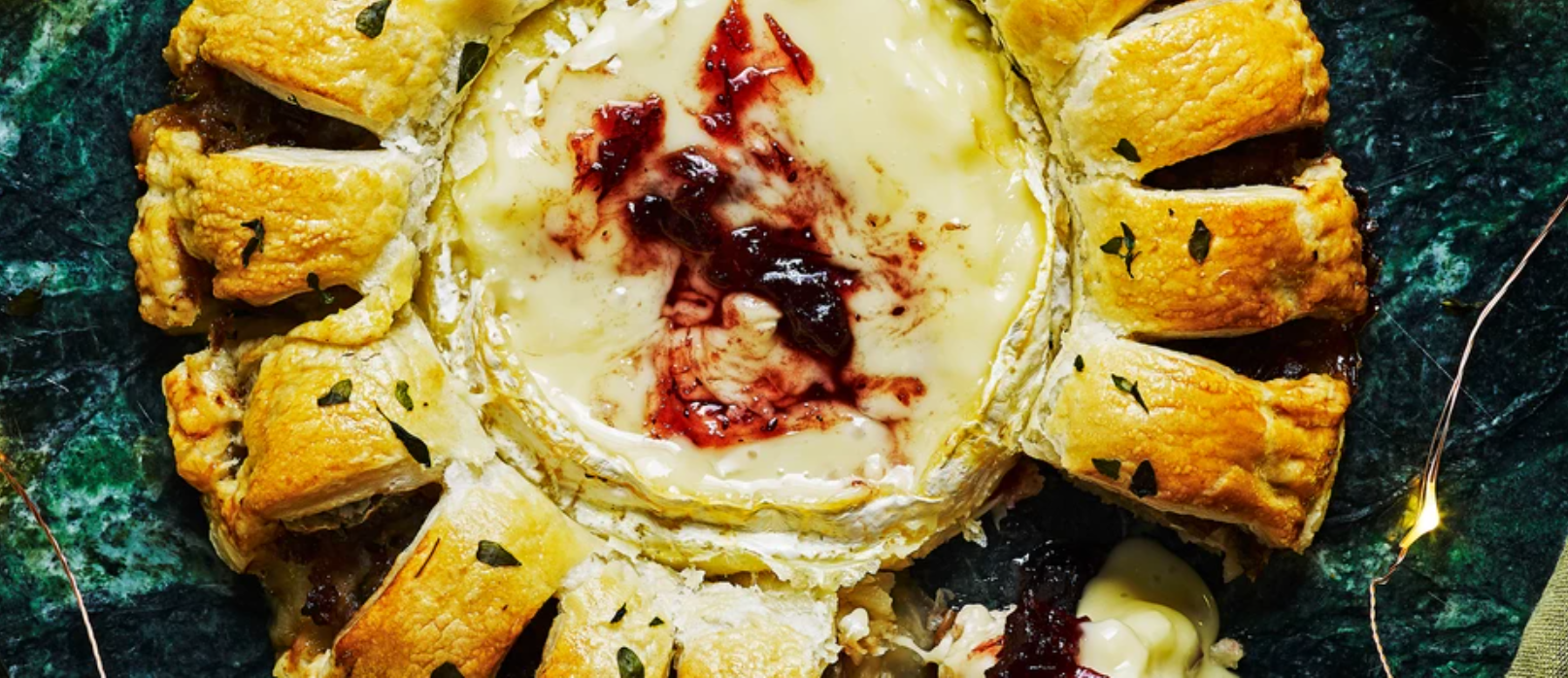 Tear & Share Sausage Roll
Perk up your party buffet with our epic sausage roll and camembert wheel.
Source: Olive 
Plain flour, for dusting
400g puff pastry block
300g sausagemeat
4 tbsp caramelised red onion chutney
a good grating of nutmeg
a handful of thyme leaves
1 camembert
1 egg, beaten
1 tbsp cranberry sauce
Method
On a lightly floured work surface, roll the pastry out to a 20cm x 30cm rectangle. Cut in half, to make two 10cm x 30cm rectangles.
In a bowl, mix together the sausagemeat with the chutney, nutmeg, thyme leaves and lots of seasoning. Halve the mixture, then shape each half into a long sausage and put along the long edges of the rectangles. Roll the pastry over onto itself, completely enclosing the sausagemeat, then crimp to seal the edges.
Put the camembert onto the middle of a baking-paper-lined baking sheet and use one of the sausage rolls to wrap halfway around the cheese. Take the other roll, join it to the end of the first and wrap this around too, creating a circle. Crimp together the ends of the sausage meat and pastry to create one piece. If the second sausage is a little too long, just trim it and bake the excess as an individual sausage roll. Use a sharp knife to slit the sausage roll halfway in and all the way through, every 4cm, to create a fan effect. Brush the sausage roll really well with egg then chill for 20 minutes (or until you are ready to cook it).
Heat the oven to 190C/fan 170C/gas 5. Brush the sausage roll with egg again, then sprinkle over some thyme leaves. Bake for 30-35 minutes or until golden and cooked through. Once out of the oven, carefully transfer to a serving board and spoon the cranberry sauce into the cheese, swirling to create a ripple.
Makes 8 with enough for a top-up
Bring in the New Year with something fizzy and enjoy this delicious gin, prosecco and vermouth cocktail.
Source: BBC Good Food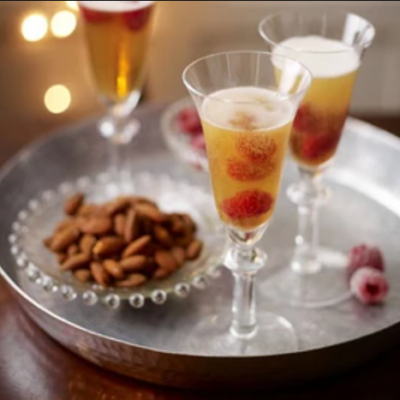 350ml Martini Rosso
150ml gin
4 tsp icing sugar
24 frozen raspberries
2 bottles chilled prosecco or other sparkling wine
Method
Mix the Martini and gin together and chill or store in a bottle if making ahead. If you have room in your fridge or freezer, chill your Champagne glasses, too.
When your guests are due to arrive, spoon ½ tsp icing sugar into 8 Champagne glasses. Pour over the Martini mixture, mix with a spoon and add the frozen raspberries. Top up with the sparkling wine just before serving.
Time: 2 mins + chilling time
The perfect party drink, as it can be made well ahead, then brought out of the fridge as guests arrive – or serve it hot for a traditional winter warmer.
Source: BBC Good Food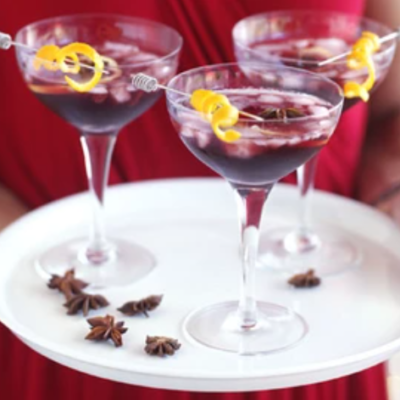 100g light muscovado sugar
1 star anise
1 cinnamon stick
4 cloves
150ml water
1 lemon
2 clementines
150ml Cointreau
750ml light red wine, such as Beaujolais
Twist of orange zest and star anise, to serve
Method
Put 100g light muscovado sugar in a pan with 1 star anise, 1 cinnamon stick, 4 cloves and 150ml water. Bring slowly to the boil, stirring to dissolve the sugar.
Simmer for 2 mins, then pour into a large jug and leave to cool. Add 1 lemon and 2 clementines, both thinly sliced, to the jug along with 150ml Cointreau and a 750ml bottle light red wine, such as a Beaujolais. Stir well, then cover and chill for at least 2 hrs or overnight if you can.
Serve chilled or over ice, with a twist of orange zest and a star anise. If you'd like to serve a traditional warm mulled wine, there's no need to chill – simply warm through without boiling and serve in heatproof glasses.
The perfect party drink, as it can be made well ahead, then brought out of the fridge as guests arrive – or serve it hot for a traditional winter warmer.
Source: BBC Good Food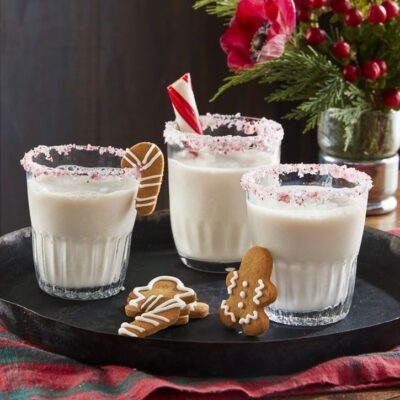 Finely crushed candy canes
45ml white chocolate liqueur
30ml dark rum
15ml ginger liqueur
Ice
Water
Method
Dip the rim of a glass in water, then in finely crushed candy canes.
Combine white chocolate liqueur, rum, ginger liqueur, and ice in a cocktail shaker. Shake vigorously, then strain into prepared glass.
Serve garnished with a bite-sized gingerbread biscuit.