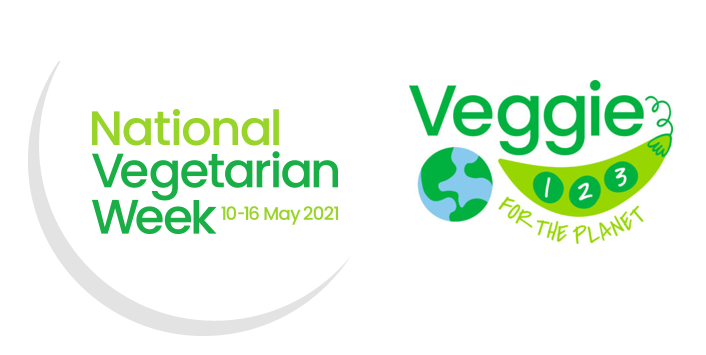 Join the Veggie 123 challenge
#Nationalvegetarianweek
It's National Vegetarian Week between the 10-16 May so why not challenge yourself to eat some vegetarian meals.  Unsure where to start? The Vegetarian Society's veggie guides are packed with helpful tips on meal ideas, nutrition and more. Here's our top pick from their website recipe suggestions.     
 Find out more at www.nationalvegetarianweek.org  
We've included some tasty choices below and don't forget to check out the recipes in our May Heritage Bites magazine as well as lots of the recipes over on our main blog.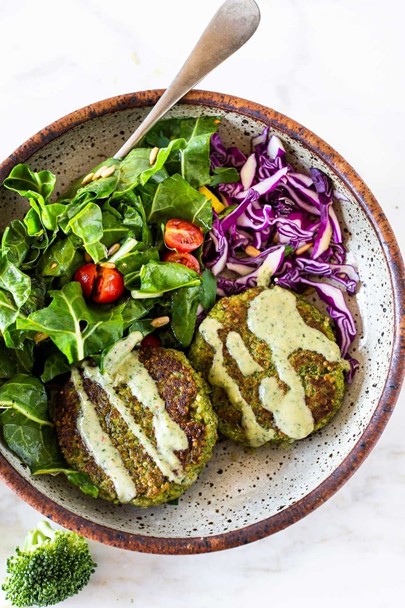 These vegetarian Broccoli Quinoa Cakes can be made in 30 minutes flat & are a delicious healthy meal that your whole family will love! Serve them up with Simple Sauteed Greens or a beautiful Mediterranean Chard Salad and top them with your favourite sauce! Easy Peasy!
Source: Feasting at Home
65g uncooked quinoa
350g fresh broccoli florets
1 spring onion, diced
Large handful chopped herbs – dill, basil, parsley or coriander
1 egg
1 tsp salt
1/4 tsp pepper
1 garlic clove, finely minced
25g bread crumbs, use more as needed
200g grated cheddar cheese
2-3 tbsp oil
Method
Cook Quinoa: Rinse quinoa in a fine-mesh sieve. Drain. Bring quinoa and 250ml water to boil in a small pot, cover, lower heat to low and simmer 10-12 minutes until tender and all the water is gone. Turn off heat, let stand 5 minutes covered.
Steam broccoli: While cooking the quinoa, steam the broccoli until tender, being careful not to overcook. Drain well, let cool, and pat dry. (It is imperative that broccoli is not overcooked and is patted dry in order for cakes to stick together.)
Combine and Pulse: Place broccoli, herbs, spring onion, cooked quinoa, egg, salt, pepper, garlic, and cheese into a food processor and pulse repeatedly until finely ground. Pulse in the breadcrumbs, mixing in well. The mixture should easily mound on a spoon and just be slightly sticky, easily forming a patty. If the mixture seems very wet, continue adding more breadcrumbs a tablespoon at a time until manageable.  With damp hands, form 4 large patties, pressing them together. You shouldn't need to coat these in breadcrumbs- but if they feel very wet, feel free to.
Fry: Heat oil in a frying pan over medium heat. Carefully place patties in the skillet, lowering the heat to medium-low or low. As they form the deep golden crust, they will naturally release themselves from the pan, and not stick- making flipping so much easier. Flip when golden and releasing, about 5 minutes. Pan-fry the other side until slightly puffed in the centre (indicating the egg is cooked through) lowering heat more if need be. You can also finish cooking these through in a 180C oven after pan-frying if they are getting too dark on the stovetop.
SERVE: At this point, you could refrigerate if making ahead, and reheat down the road. Or keep in a warm oven until serving. Serve with slaw, side salad or sauteed greens. Top with a flavourful sauce if you like.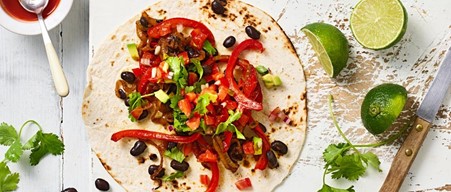 Make it a fajita night with this speedy veggie dinner, perfect for the whole family to enjoy. Use a little mild chilli powder to give these wraps a kick, and hot-smoked paprika for colour.
Source: Olive Magazine
Oil for frying
1 onion, halved and sliced
1 red pepper, sliced
1/2 tsp ground cumin
1/4 tsp hot-smoked paprika
1/2 tsp mild chilli powder
400g tin black beans, rinsed and drained
4 flour tortilla, warmed
50g mature cheddar, grated
4 tbsp soured cream
Hot sauce, to serve
Avocado salsa
1 small avocado, diced
2 small tomatoes, diced
1/4 red onion, finely chopped
2 tsp of chopped pickled jalapenos
a handful of coriander, chopped
1/2 lime, juiced
Method
Toss all the salsa ingredients together with a good pinch of salt and leave to sit while you make the fajitas.
Heat 1 tbsp of oil in a large pan and cook the onion and pepper over high heat until softened and starting to char at the edges. Turn down the heat and add the spices, tossing well. Add the beans with a splash of water and keep cooking until the beans are piping hot.
Serve the beans in warm tortillas with salsa, cheese, soured cream and hot sauce, if you like.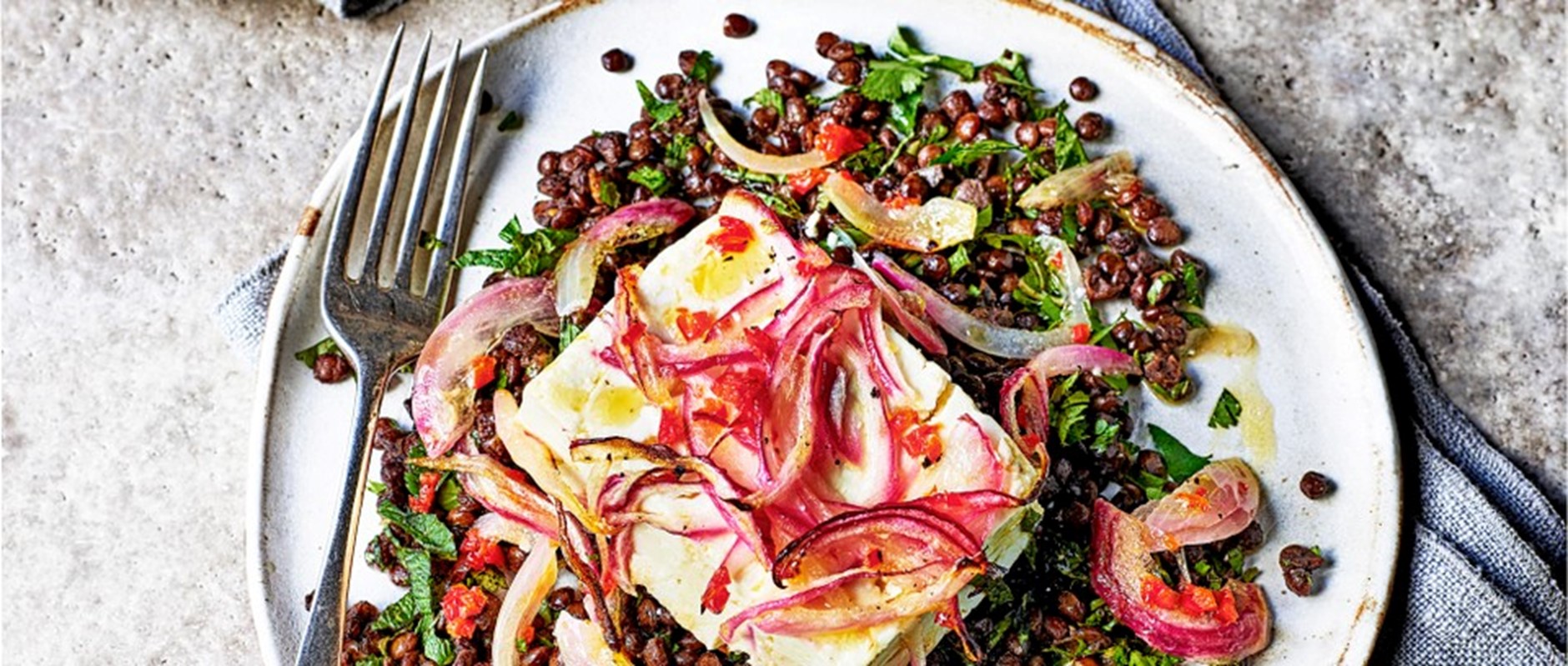 Baked Feta with Lentils, Chilli & Herbs
Check out this super simple creamy feta recipe with sweet red onion and punchy chilli. This easy meal is low in calories and veggie-friendly.
Source: Olive Magazine
200g block feta
1/2 red onion, finely sliced
1 red chilli, finely chopped
2 tbsp olive oil
1 lemon, halved
250g pack ready-to-eat puy lentils
a handful mint, chopped
handful coriander, chopped
Crusty bread, to serve
Method
Heat the oven to 200C/fan 180C/gas 6. Cut the feta in 1/2 and sit each block on a piece of foil.
Divide the onion and chilli between the two parcels, drizzle both with 1 tbsp of olive oil and a squeeze of lemon juice, then season well and pull up the sides to make a foil boat. Bake for 15 20 minutes until it has softened or started to turn golden on the edges.
Heat the lentils following the pack instructions. Season and stir in most of the herbs then divide between two plates. Sit the feta on top and spoon over the juices from the parcels. Top with the rest of the herbs and another squeeze of lemon, and serve with crusty bread.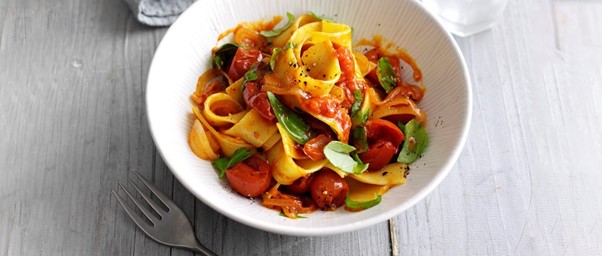 Tomato Pappardelle with Shallot Sauce
This recipe for pappardelle with buttery tomato and shallot sauce is a really quick, simple, vegetarian meal.
Source: Olive Magazine
2 small shallots, finely sliced
50g butter
400g tin cherry tomatoes
a small bunch of basil, chopped
200g pappardelle
Method
Gently cook the shallots in the butter until very soft, about 5-7 minutes. Tip in the tomatoes and simmer for 10 minutes. Stir in the basil and season.
Cook the pappardelle then drain, keeping a cup of the water. Toss the pasta with the sauce, adding a little splash of pasta water to the sauce if you need to. Serve in warm bowls.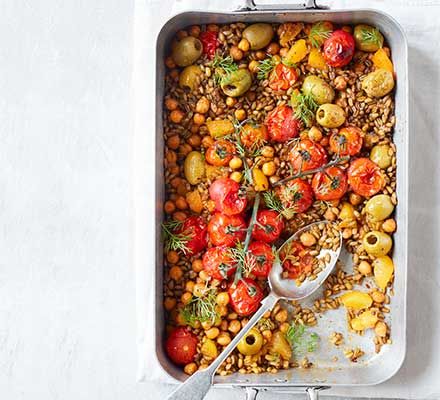 Moroccan Freekeh Traybake
Combine chickpeas and freekeh with cherry tomatoes, olives and apricots to make this easy vegetarian one-pan supper. It's tasty and healthy, serving up three of your 5-a-day.
Source: BBC Good food
 2 tbsp olive oil
400g tin chickpeas, rinsed & drained
1 tsp ground coriander
1 tsp ground cumin
1/2 tsp chilli flakes
270g cherry tomatoes
1/2 x 400g tin apricot halves, drained and roughly chopped
70g green olives
250g pouch cooked freekeh
70g fat-free Greek yogurt
Small bunch dill, finely chopped
Method
Heat oven to 200C/180C fan/ gas 6. Toss the oil with the chickpeas, spices and chilli flakes in a medium roasting tin. Roast for 15 mins or until the chickpeas are beginning to crisp and turn golden brown. Add the tomatoes, apricots, olives and freekeh to the pan and toss everything together. Return to the oven for a final 10-15 mins until the tomatoes start to burst and everything is piping hot. Season to taste.
Combine the yogurt and most of the dill and season with salt. Serve the freekeh with any extra dill fronds scattered over and a dollop of the herby yogurt.