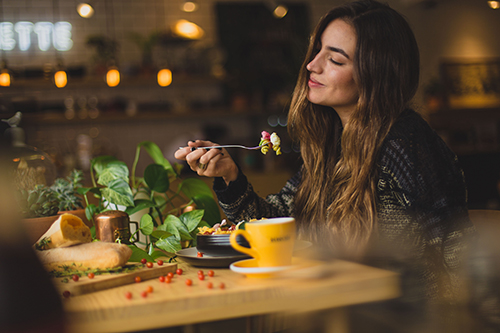 National stress awareness day
We all know what it is like to feel stressed.  Being under pressure is a normal part of life but becoming overwhelmed by stress can lead to mental health problems or make existing problems worse. Stress can affect people in all walks of life and so it's good to find ways to manage your stress before it becomes a problem. You can find out more about stress awareness day here
Do you reach for comfort foods rich in fat and sugar when you're stressed?
Numerous foods contain nutrients that may help you reduce stress.
Green leafy veggies
Think spinach, kale, collard greens, Swiss chard, broccoli rabe, mustard greens: they're rich in folate, which helps your body manufacture neurotransmitters (like serotonin and dopamine) that help regulate mood.
Turkey
The key ingredient here is L-tryptophan, which is an amino acid your body needs to convert into serotonin, which plays a role in mood. In fact, L-tryptophan is found in most foods that contain protein—with the exception of gelatin—but turkey contains a significant amount.
Fermented Foods and Yogurt
The "gut" has gotten a lot of attention lately, and this brain-gut connection is for a good reason: An unhealthy gut flora, numerous studies show, can hurt your brain health and lead to anxiety and depression. When you consider that your intestines house most of the body's serotonin, that all-important mood-related neurotransmitter, it's easy to see the connection as well. Fermented foods and yogurt that contains the probiotic lactobacillus rhamnosus (which can lower the stress-induced hormone corticosterone) can help ease stress. Although research is ongoing, adding healthy foods like yogurt, kefir, miso, tempeh, kimchi, sauerkraut and pickles can't hurt!
Blueberries
The antioxidants and phytonutrients in these little berries can help towards improving your body's response to stress and fight stress-related free radicals.
Dark Chocolate
A healthy indulgence (as long as you watch how much you eat), dark chocolate has been shown to reduce stress hormones, including cortisol. And its antioxidants can relax the walls of your blood vessels, hence lowering blood pressure and enhancing circulation.
Milk
A warm cup of milk before bed is not just an old wives' tale: It's high in vitamin D, which is a nutrient associated with happiness. The tradition of drinking warm milk before bed comes from the science related to the release of tryptophan, which helps decrease stress.
Salmon
Thank the omega-3 fats in salmon (as well as in sardines and anchovies) for influencing your mood. In one study, medical students taking an omega-3 supplement enjoyed a reduction in their anxiety levels. Those omega-3 fatty acids have anti-inflammatory properties that may help fight off the negative effects of stress hormones on your body as well.
Try these recipes to help soothe stress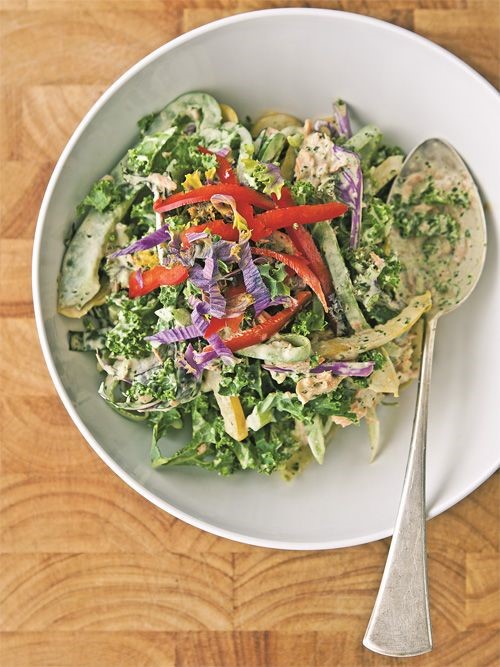 This colourful, lighter coleslaw version offers superfoods like carrots and red, yellow, or orange bell peppers. It's also a great way to enjoy your kale raw.
Source: Healthy Women
1 large bunch kale, stemmed and roughly chopped
6 carrots
1 red, yellow, or orange bell pepper, cored, seeded, diced or thinly sliced
mayonnaise (ingredients below)
Mayo ingredients
Large handful chopped kale
1⁄2 teaspoon sea salt
2 garlic cloves, chopped
16 tablespoons mayonnaise
Zest and juice of 1 lemon
Method
Fit a food processor with a shredder attachment. Shred the kale and carrots and transfer both to a large bowl.
For the mayo in a food processor, combine the kale leaves, salt and garlic. Process until finely chopped. Add the mayonnaise and lemon zest and juice and process until smooth.
Add the bell pepper and mayo to the bowl and toss well. Cover and refrigerate at least 1 hour or up to overnight before serving.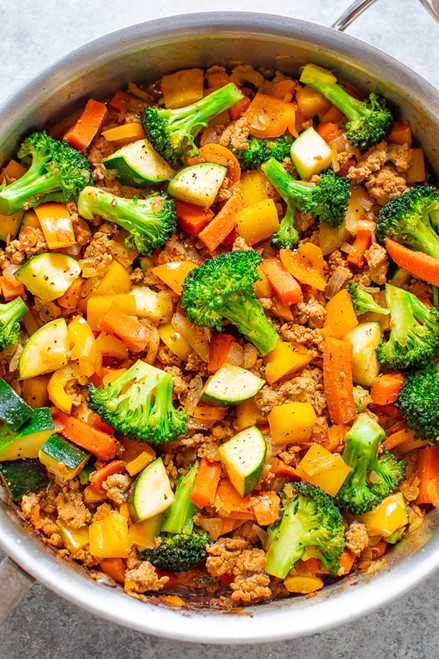 Turkey and vegetable stir fry
An easy flavourful stir fry that takes advantage of lean protein and your favorite veggies that you have.
Source: Averie Cooks
3 tablespoons olive oil, plus more if necessary
1 to 2 tablespoons sesame oil, or as desired
1 large onion, diced small
500g ground turkey
1 orange bell pepper, seeded and diced small
1 yellow bell pepper, seeded and diced small
2 carrots sliced
5 tablespoons reduced-sodium soy sauce, or as desired
1 to 2 tablespoons chili garlic sauce, or as desired (start with 1 teaspoon if you're sensitive to heat and work up from there)
1 large courgette, diced into bite-sized piece
1 broccoli crown, diced into bite-sized florets
kosher salt and freshly ground black pepper, to taste
Method
To a large and high-sided skillet, add the oils, onion, and saute over medium-high heat for about 4 minutes, or until onion is beginning to soften; stir frequently.
Add the turkey, peppers, carrots, and cook over medium-high heat for about 7 minutes, or until turkey is cooked through and vegetables are crisp-tender. Crumble and stir the turkey as it cooks to ensure even cooking.
Add the soy sauce, chili garlic sauce, and stir to incorporate evenly.
Add the courgette, broccoli, stir to combine, and cover the skillet with a lid to encourage the broccoli to steam. Cook for about 3 minutes, or until broccoli is as tender as desired.
Season with salt and pepper to taste and serve immediately. Recipe will keep airtight in the fridge for up to 5 days or in the freezer for up to 4 months.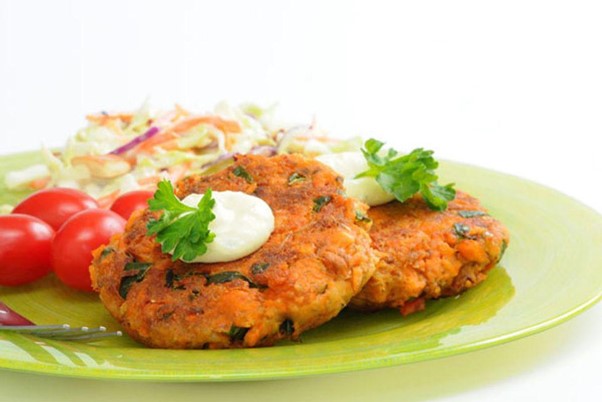 Salmon cakes with Greek yoghurt sauce
Whether you start with fresh salmon or use leftover cooked salmon, you can serve these cakes with sauce as a main dish or starter or put them on a salad.
Source: Healthy Women
570g salmon fillet
Cooking spray
1/8 teaspoon pepper plus 1/4 teaspoon pepper
1 teaspoon olive oil
1 small onion, finely chopped
2 tablespoons minced fresh parsley
120g panko bread crumbs, divided
8 tablespoons reduced-fat mayonnaise
1 tablespoon lemon juice
1/4 teaspoon salt
1 teaspoon hot pepper sauce, optional
2 egg whites, lightly beaten
2 egg whites, lightly beaten
Sauce:
4 tablespoons reduced-fat Greek yogurt
1 teaspoon snipped fresh dill
3/4 teaspoon lemon juice
1/4 teaspoon capers, drained and chopped
Method
Place salmon on a baking sheet coated with cooking spray; sprinkle with 1/8 teaspoon pepper. Bake, uncovered, at 180C for 14-17 minutes or until fish flakes easily with a fork. Cool slightly; remove skin, if necessary. Transfer salmon to a shallow dish; refrigerate, covered, for 2 hours or until chilled.
In a large skillet, heat oil over medium-high heat. Add onion; cook and stir onion until tender. Stir in parsley.
In a large bowl, combine a third of the bread crumbs, mayonnaise, lemon juice, salt, remaining pepper and onion mixture; if desired, add pepper sauce. Flake salmon; add to bread crumb mixture, mixing lightly. Shape into eight 2 1/2-inch patties.
Place egg whites and remaining bread crumbs in separate shallow bowls. Dip salmon patties in egg whites, then roll in crumbs to coat. Place on a baking sheet coated with cooking spray. Spritz tops with cooking spray. Bake, uncovered, at 200 for 14-17 minutes or until golden brown.
For the sauce: In a small bowl, mix sauce ingredients; serve with salmon cakes.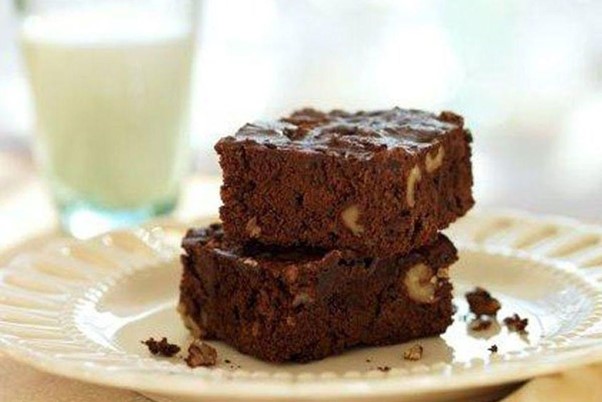 Yummy chunky chocolate brownies
These yummy chunky chocolate brownies up the health factor by incorporating dark chocolate, prune puree and walnuts. When it comes to brownies, opt for dark chocolate, which has some health benefits. Up the health factor by replacing some fat with prune puree and add walnuts for healthy omega-3 fatty acids and vitamin E.
Source: Healthy Women
75g  unsweetened cocoa powder
68g all-purpose flour
200g sugar
1/2 teaspoon salt
2 tablespoons unsalted butter, melted, plus additional for brushing
2 eggs, lightly beaten
4 tablespoons prune puree*
140g dark chocolate (70% cacao), roughly chopped
75g toasted walnuts, roughly chopped
Method
Heat oven to 180C. Line an 8×8-inch baking pan with foil, leaving a 2-inch overhang. Lightly brush with butter or spray with vegetable oil spray.
Combine the cocoa, flour, sugar and salt in a bowl. Whisk to blend.
In a large bowl, whisk the butter, eggs and prune puree together. Add the dry ingredients and stir just to combine. Do not overmix. Fold in the dark chocolate and walnuts.
Spread into the prepared pan. Bake for 45 minutes or until set. Use the foil to remove the brownies to a cooling rack. Cool before cutting into sixteen 2×2-inch brownies.
* Note: To make prune puree, blend a few pitted prunes with a bit of water until you get a pasty consistency—or buy baby food prunes.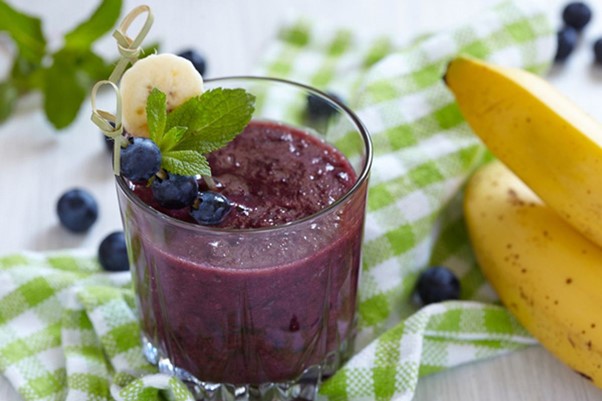 Blueberry, banana, oatmeal chia smoothie
This Blueberry Banana Oatmeal Chia Smoothie is packed with protein and fibre, plus antioxidants and heart-healthy omega-3s.
Source: Healthy Women
Ingredients:
23g old-fashioned rolled oats
1 teaspoon chia seeds
180ml skim milk (or milk substitute of your choosing)
60ml orange juice
4 tablespoons Greek yogurt (any flavour)
75g  blueberries
1 banana sliced
1/2 teaspoon vanilla extract
1 teaspoon honey or agave nectar
Method
Heat oven to 180C. Line an 8×8-inch baking pan with foil, leaving a 2-inch overhang. Lightly brush with butter or spray with vegetable oil spray.
Add the oats and chia seeds to the blender and blend until they have a floury texture.
Add the milk and juice to the blender, stir using a spoon, then add the rest of the ingredients and blend until smooth.
Let it sit overnight or for at least 4 hours in the refrigerator. Shake before drinking.