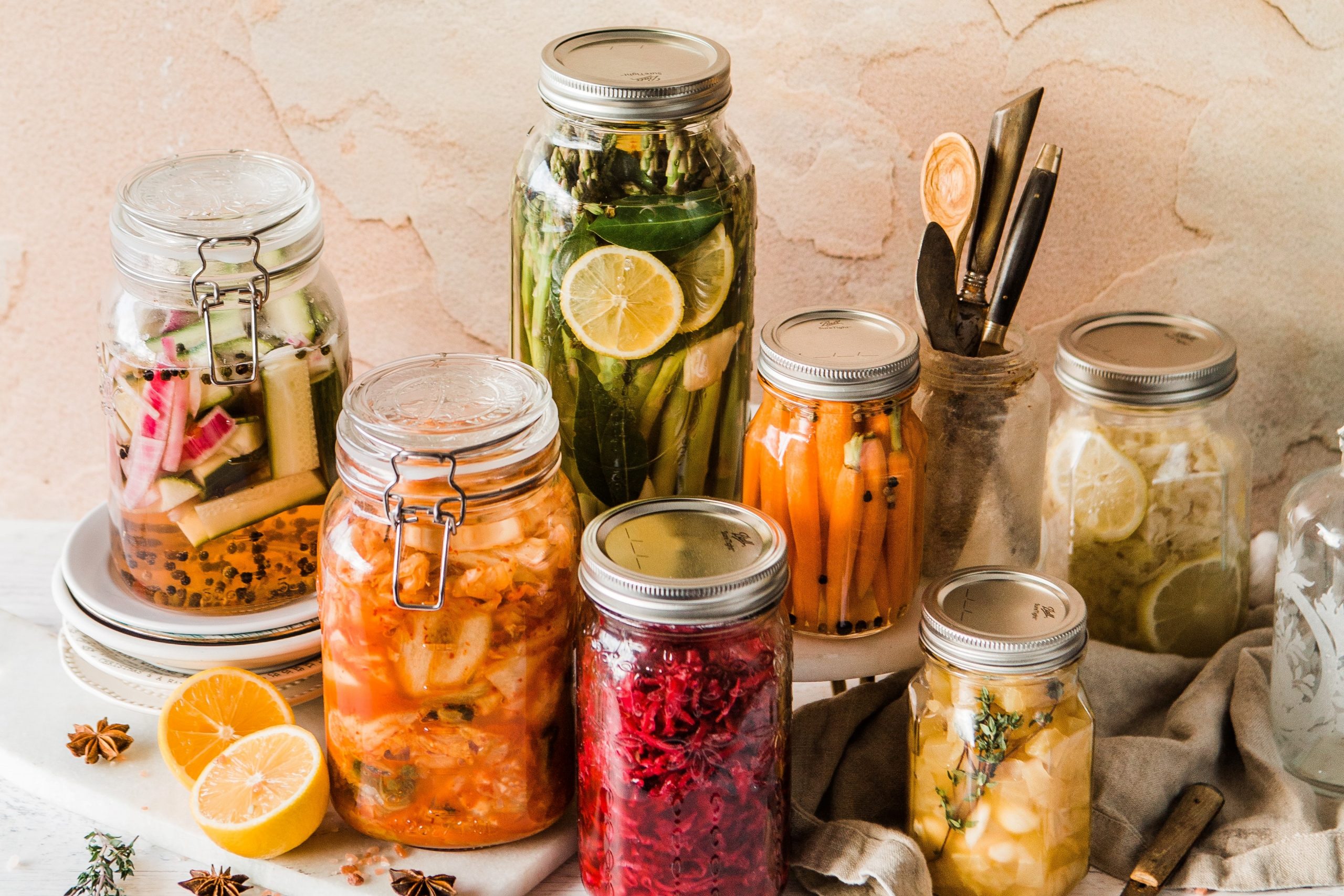 The 25th July marks National Preserving Week, a whole week of events designed to get people preserving their own food and to encourage those who have the skills to make delicious preserves to take some time to help those that don't. From jams, pickles and chutneys, preserving can be a wonderfully rewarding hobby.
We're spoiled for choice when it comes to food preservation. To extend the longevity of food used at home or in your food business, you can use refrigeration, freezing, canning, sugaring, salting, vinegar, oil, smoking, and even vacuum packing.
Centuries of trial and error have taught us the safest methods of food preservation, which you must prioritise if you want to retain the quality and hygiene of stored food. The good news is that, with the right guidance and materials, you can easily do so in any setting.
There are three reasons why food preservation is important:
To minimise pathogenic bacteria – food in long-term storage is at serious risk of spoilage due to bacteria such as E. coli, Salmonella, and other pathogens. Bacteria only need warmth, moisture, and time to rapidly multiply in food, but food preservation inhibits one or more of these conditions and stops their growth.
To keep food at its best quality – food deteriorates over time due to spoilage. In many cases, mild spoilage doesn't make food unsafe to eat, but it significantly affects its taste, texture, and appearance. Proper food preservation can help retain some of these qualities, as well as the nutritional value of certain foods.
To save money – waste is costly. Ideally, you should avoid buying more than you can use, but various preservation methods – if done safely – help you keep vegetables, fruits, meat, etc. well past their usual expiration so there's no need to bin them.
Certain food preservation methods can be tricky, but chances are you'll gain a real sense of satisfaction and pride when you successfully apply them. Also, as many preservation methods require precision and care to maintain food safety, you'll strengthen your awareness of food hygiene risks and good practices.
Try out some of our recipes and share your own over on our Facebook page.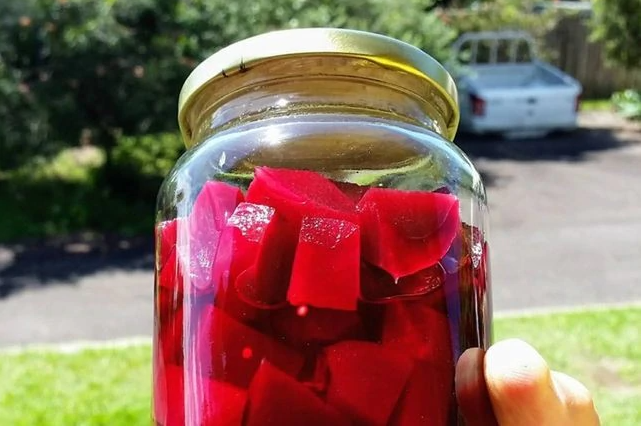 This will keep well in the fridge for many months.
Source: Best Recipes 
4 large beetroots
180ml water
350ml white vinegar
150g sugar
1/2 tsp peppercorns
1 bay leaf
2 whole cloves
1/2 tsp mustard seeds
1/2 cinnamon stick
1/2 tsp salt
Method
Wash beetroot thoroughly and cook in water until tender.
Cool and remove skin (either by hand or use a knife).
Cut beetroot into slices or julienne strips.
Place all other ingredients in a saucepan and bring to the boil.
Simmer for 5 minutes and then strain.
Pack beetroot into hot sterilised jars and top up with vinegar mixture.
Seal and store in a cool place.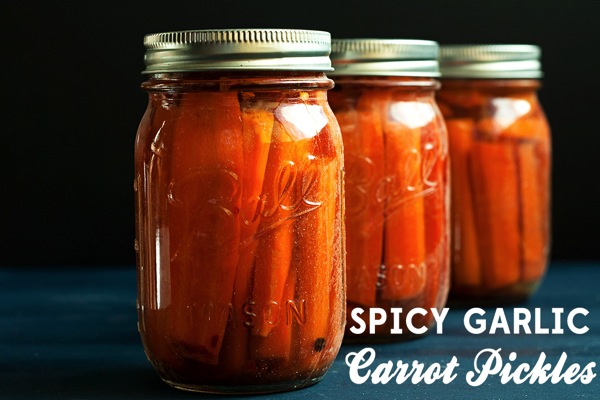 Spicy Garlic Carrot Pickles
These spicy garlic carrot pickles are full of flavour and perfect for snacking or serving alongside (or inside of) sandwiches. These will store in the fridge for 3-4 months.
Source: Savvy Eat
950ml apple cider vinegar
240ml water
72g pickling salt
1 1/2 tsp dried oregano
3 garlic cloves, halved
1 1/2 tsp chilli flakes
1/2 black peppercorns
900g carrots, peeled and cut into 1/2 inch thick sticks, trimmed to fit your jars
Method
Wash the jars and flat lids. Put the jars in the canning pot and cover with hot water. Heat over high to bring to a boil and keep the jars hot.
In a medium saucepan, bring the vinegar, water, salt and oregano to a boil.
Line the hot jars up on a folded towel.
Put 1/2 teaspoon chilli flakes, 2 garlic clove halves (so a full clove) and a few peppercorns into the bottom of each jar.
Pack in the carrot sticks, leaving a generous 1/2″ of headspace.
Pour the hot brine over the carrots, again leaving 1/2″ of headspace.
Use a clean towel to wipe any vinegar off the rims, then top each jar with a lid and a tightened ring. Place the jars back in the canning pot and make sure they are covered by at least 1 inch of water. Bring to a boil and process for 10 minutes.
Remove the lid from the canner and turn off the heat. After 5 minutes, transfer the jars to a folded towel and allow to sit, undisturbed, for 24 hours. Check the seals of the lids after 1 hour. If a seal has not formed, refrigerate the jar immediately.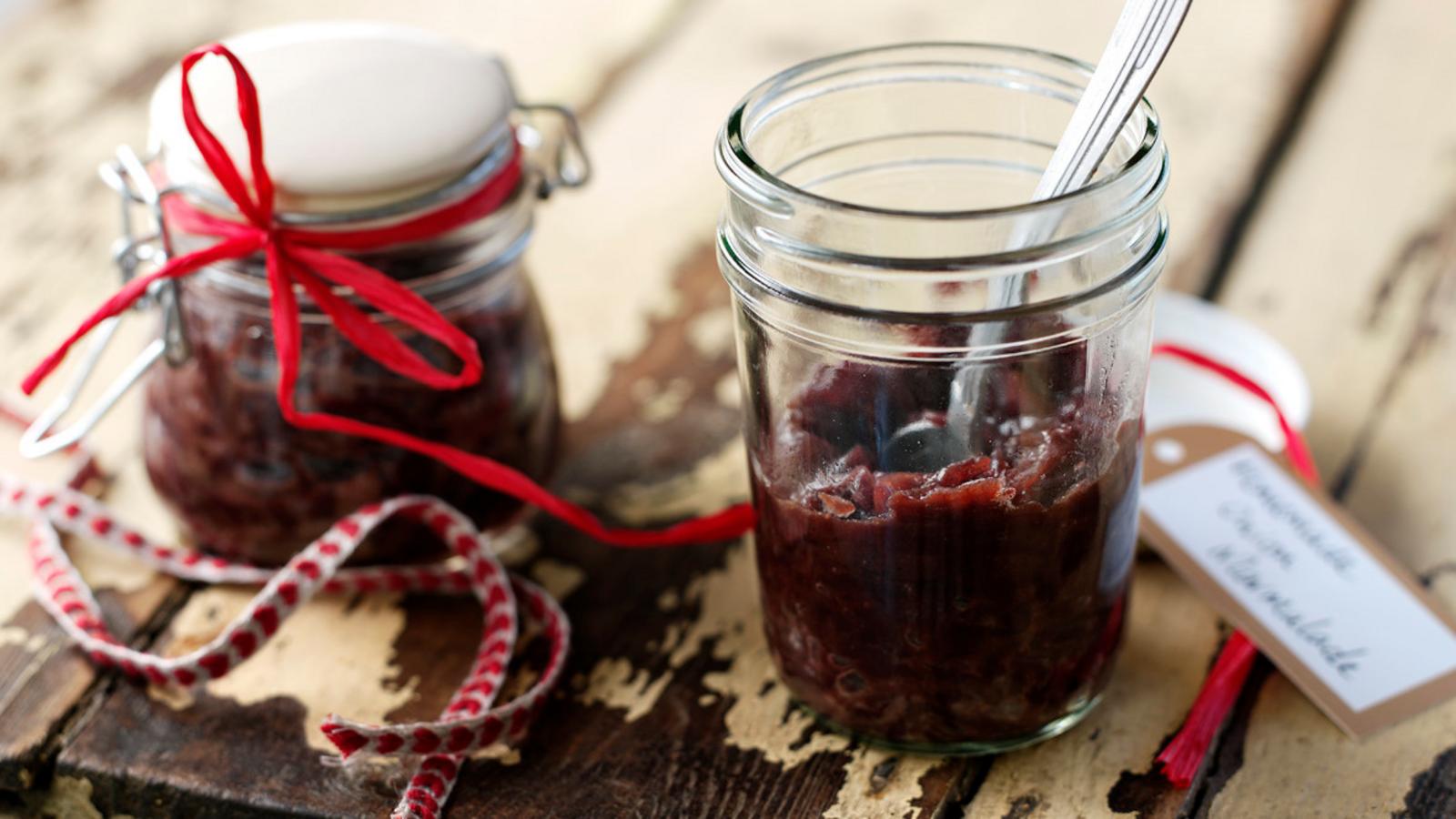 This onion marmalade goes really well with cheese and biscuits.
Source: BBC Good Food
110g butter
900g onions, thinly sliced
2 tbsp granulated sugar
Salt and freshly ground black pepper
75ml sherry vinegar or red wine vinegar
2 tbsp grenadine syrup or creme de cassis
1/2 bottle red wine, to less to taste
To serve
Mature cheddar
Blue cheese
Oatcakes
Grainy bread
Method
Melt the butter in a medium pan and add the onions. Add the sugar and seasoning. Lower the heat and cover. Simmer for 20 minutes giving an occasional stir.
Add the vinegar, grenadine syrup and the red wine. Cook, uncovered, over a low heat with more stirring as necessary until the sauce thickens and bubbles slowly. Serve with cheese, oatcakes and grainy bread.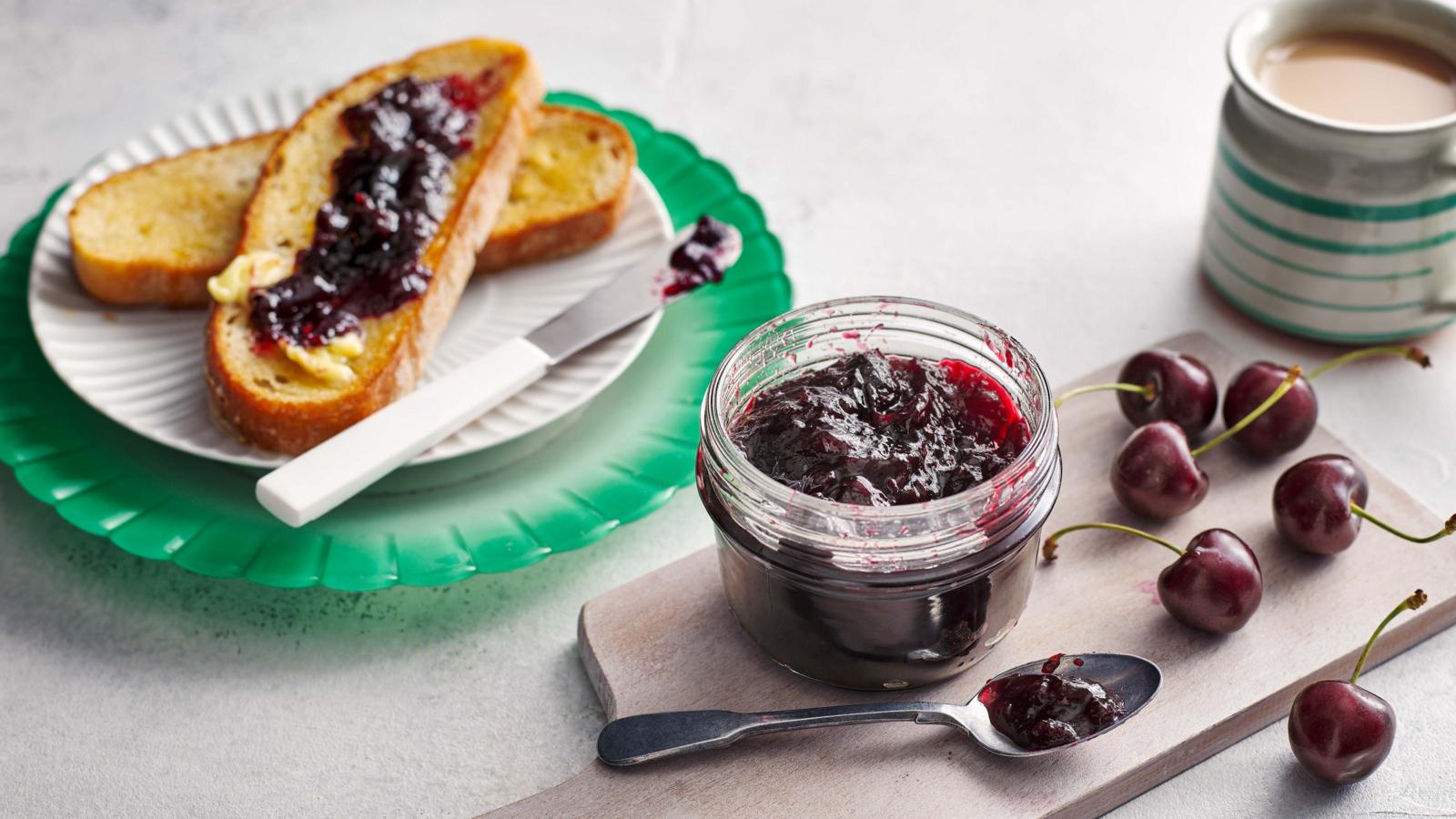 Cherries divide into two main types. Succulent sweet cherries are the ones you eat straight from the tree or the bag, whereas the slightly smaller sour cherries are generally used for cooking. Both types can be used for making cherry jam, but both are low in pectin. This recipe uses jam sugar, which has added pectin and citric acid to help the jam set.
Source: BBC
1kg cherries
1 lemon, juice only
Pinch sea salt
700g jam sugar
1 tsp vanilla extract
Few drops of cooking oil, if needed
Method
Rinse the cherries, then remove the stalks and stones. If you don't have a cherry stoner then simply slit the cherries on one side and flick the stone out — best to do this over a bowl to catch the juice. Take 20 or so of the stones and place them on a square of muslin. Give them a whack with a rolling pin to crack them. Bring the corners of the muslin together to form a bag and secure with string or a food clip.
Put the cherries in a large heavy-based pan or preserving pan with the lemon juice, the bag of cherry stones and 150ml/¼ pint water. Bring to simmering point over a very low heat, then simmer for 4–5 minutes. Add the salt and sugar, a third at a time, stirring until the sugar has dissolved.
Tip the mixture into a bowl. Cover the surface with a circle of baking paper and leave overnight in a cool place. This stage will allow the cherries to absorb the sugar syrup, helping to distribute them evenly throughout the jam.
Return the cherry mixture to the pan and bring to a steady boil for 8–9 minutes until the jam reaches setting point. You'll know when the jam is nearly ready because the loose, light coloured bubbles on the surface will have all but disappeared, the jam will thicken and the boil will be slower. Remove the pan from the heat — otherwise the jam will continue to cook – and drop a little of the hot jam onto a cold plate or stainless steel spoon. Leave to cool for a few minutes, or pop it in the fridge, then lightly push your finger through to see if it forms a light gel that holds its shape and doesn't just pool away. It should not be at all sticky. If the mixture remains runny, return the pan to the heat for a couple more minutes, then test again.
Remove from the heat and gently stir in the vanilla extract, if using. Keep stirring in the same direction to disperse any foam, adding a drop or two of oil if it doesn't disperse.
Tip the jam into a wide-necked jug with a good pouring lip, then fill warm, sterilised jars to the brim and immediately seal with screwtop lids.
Store in a cool, dark, dry place for up to a year. Once opened keep in the fridge and use within 4 weeks.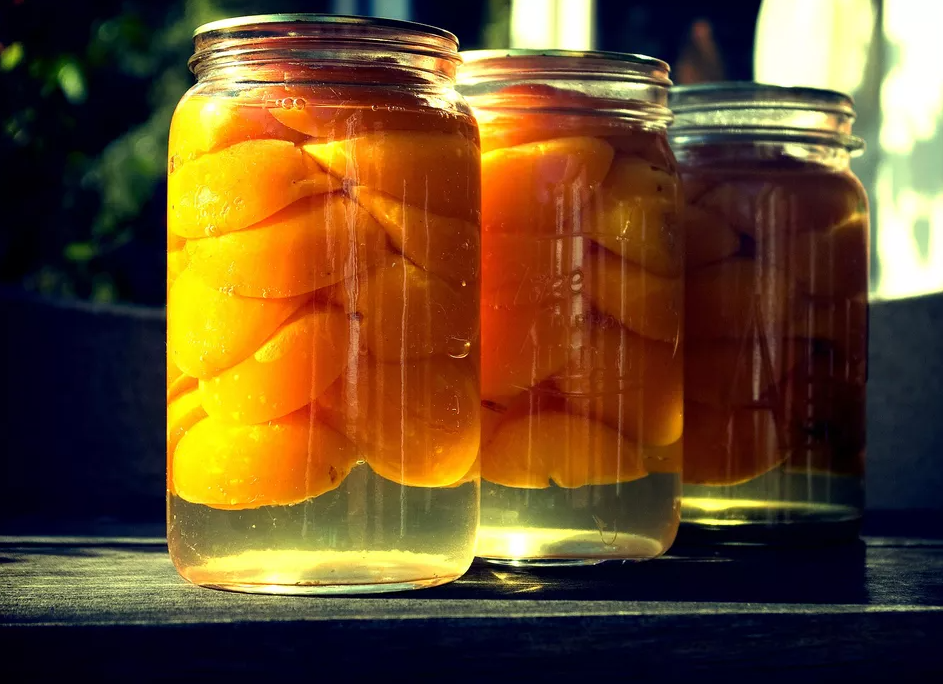 Bottled Preserved Apricots
The season for fresh apricots is short and one way of extending the enjoyment of these beautiful fruits is in this bottled apricots recipe. It's such a simple recipe and, when the dark winter months come, you can open a jar of apricots for a taste of summer sunshine.
Use these lovely preserved apricots in pies, cakes, desserts, or simply eat them with a spoon.
To make the bottled apricots, you will need canning jars (probably 2-quart jars or 4-pint jars) that can be found in most supermarkets these days. At first, these jars will seem to be very costly, but they will last for years and can be used over and over again for new canning projects.
The apricots will keep in a cool, dark space for up to 6 months unopened.
Once opened, refrigerate and use within a couple of days. The apricots are delicious served with ice cream, on top of puddings, or as a filling for tarts and pastries. Try them in a queen of puddings recipe—yummy.
Source: The Spruce Eats
1 litre water
750g sugar
1kg apricots, washed, halved, stones removed
1 vanilla bean, split lengthway
Method
Place the water and sugar into a large nonreactive pan. Stir until the sugar dissolves. Bring the sugar water to a boil, reduce by one-third then leave to cool.
Pack the halved, pitted apricots into canning jars with the cut side facing down. Divide the vanilla pod between the number of jars you have filled with apricots.
Fill each jar with the cold syrup up to the lip of the jar, leaving an inch or so clear at the top. Cover with a lid and screw on.
Place the jars in a large pan of cold water, bring to the boil and cook for 25 minutes. Leave to cool.
The next day, repeat the boiling again, this time boiling for 15 minutes.
Recipe Variations
Try adding a couple of cloves to the jars before sealing. Do not be tempted to add more than one or two to each bottle; cloves have a way of taking over and the flavour might become too dominant for the sweet apricots.
Before closing the jars, add a little Cognac or brandy to the jar. In this recipe, these apricots will not become boozy, or alcoholic, it will just add extra flavour.