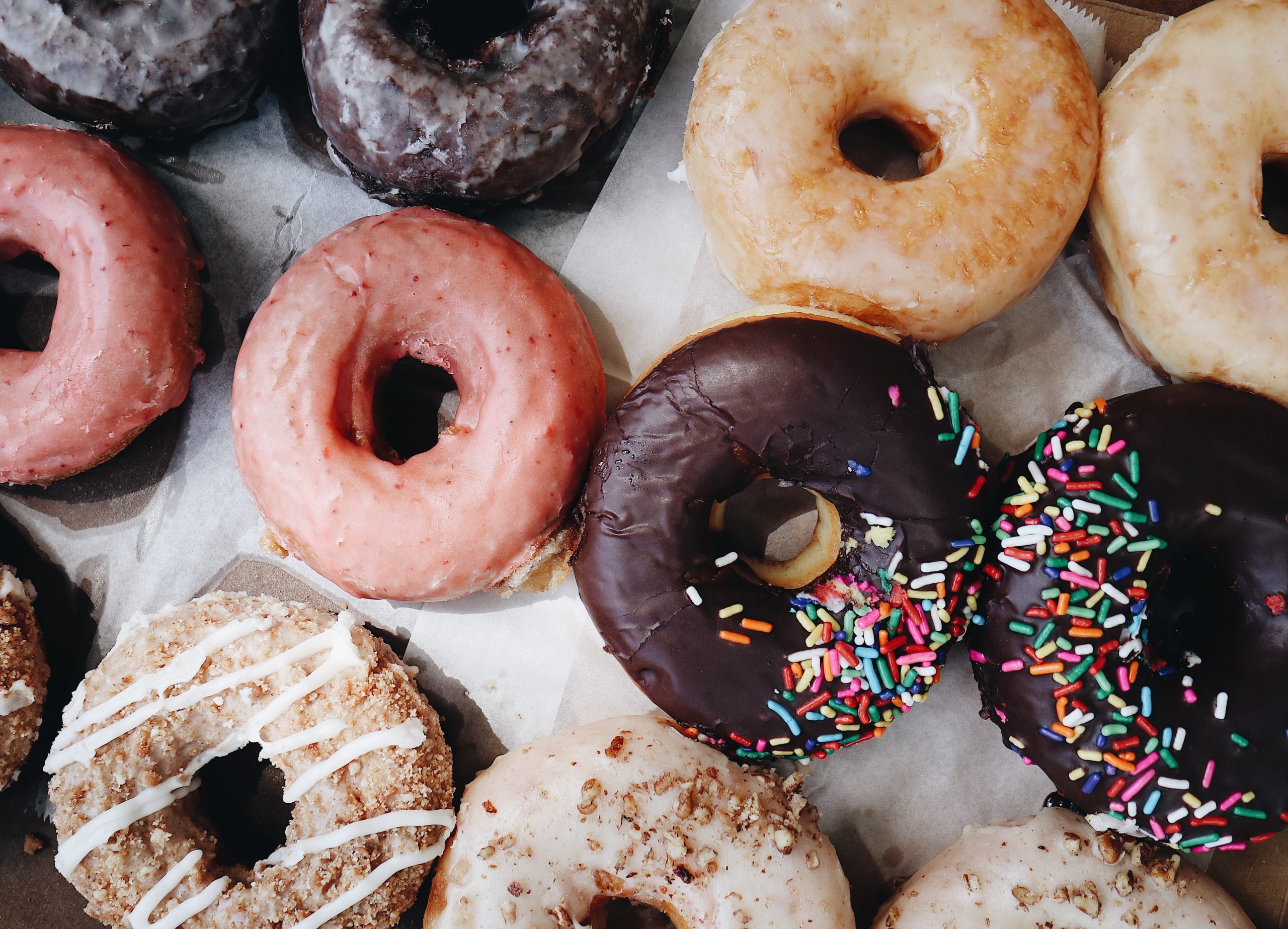 Is your belly rumbling at the reminder of Doughnut Day? We wouldn't be surprised if it was, as most of us love these most scrumptious foods.
There are many varieties of doughnuts outside of that most commonly known, including twist doughnuts, fritters, and the hugely varied and popular filled doughnut.
We have included 5 different doughnut recipes below from the 'traditional' ring doughnut to French, Greek and Spanish variations. Let us know if you have a go at these recipes.
For more recipe inspiration – check out our Doughnut Pinterest board.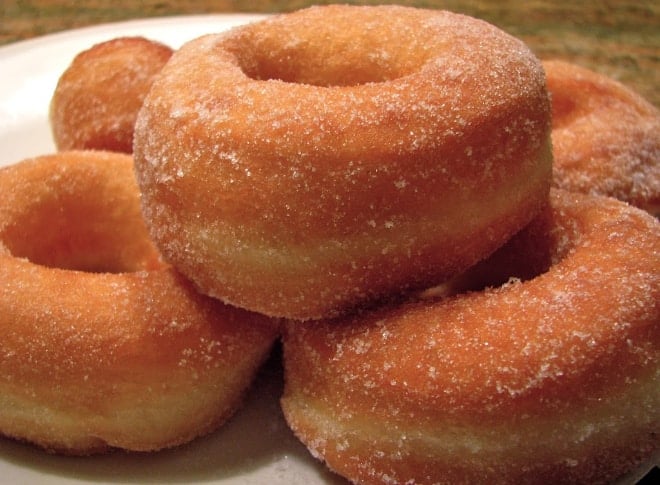 The best recipe for light and fluffy doughnuts. You can use this dough to make filled doughnuts too. Watch Courtney's video to see how she makes her filled doughnuts.
Source: Christina's Cucina
90ml water
150ml buttermilk
1 egg, beaten
60g butter, melted
450g plain flour/bread flour
60g sugar
1 tsp salt
1 1/2 tsp yeast
Oil for frying
Sugar for coating the doughnuts
Method
Place the dry ingredients in a bowl. Put the lukewarm water in a cup and sprinkle the yeast on top, set aside for about 5 minutes or until the yeast begins to react (you can add a pinch of sugar to help it). Make a well in the centre of the dry ingredients, then pour in the buttermilk, egg, melted butter and yeast mixture. If using a stand mixer, run with the dough hook until a dough forms then continue for about 5 minutes. By hand, knead for about 10 minutes. Cover and set aside until at least doubled in size.
Once the dough has doubled, place it on a floured surface and knead lightly. Divide it in half, keeping half the dough covered so it doesn't form a skin. With a rolling pin, roll out half of the dough to about 1/2″ thickness. Cut with a round, sharp cookie cutter (about 3″ diameter) then make the holes with a smaller cookie cutter (about 1″ diameter), saving the holes. Repeat with the second half of the dough.
Place each doughnut on a piece of parchment then place them on a baking sheet. Put the tray in the oven (turn it on for 1 minute, SET A TIMER, then turn it off again, just to make it barely warm).
Next, boil some water and pour it into a measuring jug. Place the jug of water in the oven with the tray of doughnuts (this will create steam will keep skin from forming).
Heat the oil to about 180ºC. If you don't have a thermometer, test the oil with a doughnut hole: if it doesn't start frying immediately, the oil is too cold, if the hole turns brown right away, the oil is too hot. Adjust the heat accordingly.
Drop the doughnuts into the hot oil using the paper to carefully lower them into the oil. Turn them over as soon as they become golden brown on the underside, and remove them and place them on a paper towel-lined platter once they are ready.
When the doughnuts have cooled, roll them in sugar to coat evenly and serve.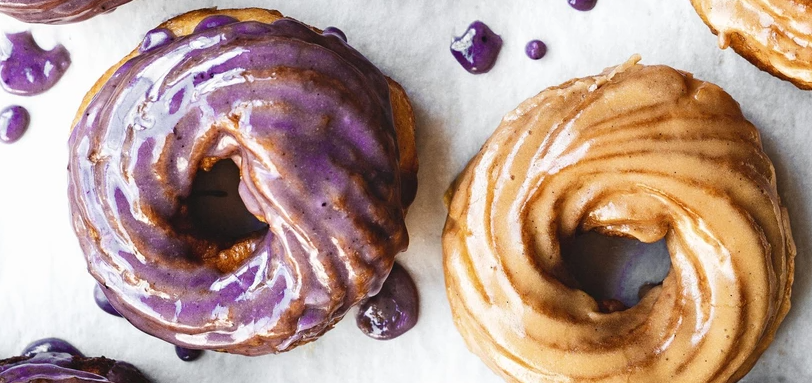 French crullers are made with pâte à choux, which are lighter than air, with all sorts of nooks and crannies to hold onto their light glaze.
Source: Olive Magazine
For the blueberry honey glaze
75g blueberries
3 tbsp honey
1/2 tsp vanilla bean paste
200g icing sugar
For the salted maple butter glaze
25g unsalted butter, melted
75g maple syrup
a large pinch of sea salt flakes
150g icing sugar
Choux pastry
125g unsalted butter
1/2 tsp vanilla bean paste
2 tsp caster sugar
1/2 tsp fine salt
135g strong white bread flour
4 large eggs, beaten
Vegetable oil for deep-frying
Method
To make the blueberry glaze, purée the berries in a blender or food processor, or using a hand blender. Pass the mixture through a fine-mesh sieve to remove the skins. You should be left with around 50g of blueberry juice. Meanwhile, put the honey into a small pan and cook over medium heat for 5 minutes or until the honey is bubbling and the colour has deepened a couple of shades and smells a little toasty. As the honey cooks, put the bowl with blueberry juice into a microwave and cook for 20 seconds to heat through (use a small pan if you don't have a microwave). Once caramelised, pour the honey into the warmed blueberry mixture and stir to combine (if the blueberry mixture is cool, the honey will seize). Add the vanilla and icing sugar, and mix to form a smooth glaze. For the maple glaze, mix all of the ingredients together to form a smooth glaze. Cover the glazes while you make the doughnuts.
To make the choux pastry, put 250ml of water, butter, vanilla, sugar and salt into a medium pan and cook over medium-high heat until the butter has melted and the liquid has come to a boil. Remove the pan from the heat and tip in the flour in one go. Immediately stir the flour into the mixture. Put the pan back on the heat and stir the dough for 2-3 minutes or until a film forms on the bottom of the pan (this film will not form if using a non-stick pan). Tip the mixture into a large bowl and leave for a couple of minutes to cool down slightly. Using an electric hand mixer, add the egg to the mixture a little at a time, mixing until combined before adding more.
The finished texture of the dough, once the right amount of egg has been added, should be a little glossy but still holding its shape. If the dough is too wet it will collapse when fried. To test the dough is ready, squeeze a little between your index finger and thumb, and stretch it open – you should be able to stretch it at least 2-3cm before it tears. If the dough rips it needs more egg; if it won't hold its shape it has too much egg; if it stretches but holds its shape it's perfect (if you're used to making choux pastry you may note this is slightly less egg than you'd usually add). Once the right amount of egg has been mixed in, whisk on a medium speed for 3 minutes. This builds up the gluten in the pastry and helps the crullers hold their shape while frying.
Scrape the finished choux pastry into a piping bag fitted with a large open star tip. Cut out 12 square pieces of baking paper, each about 9cm across. On the back of each one draw a circle 7cm in diameter. Pipe a circle of dough onto each and then set aside until ready to fry.
To fry the doughnuts, pour the oil into a medium pan (it should fill halfway), put over medium heat and bring to 190C. Once at temperature, keep an eye on the heat to regulate it, reducing or raising the heat as needed. Use the baking paper to carefully put the doughnuts, two or three at a time, into the oil, dough-side down. Let the doughnuts fry for 10 seconds before using tongs to carefully remove the paper. Fry the doughnuts for 6 minutes, turning once halfway through cooking, until the doughnuts are golden brown. Use a slotted spoon to lift the doughnuts onto a baking tray lined with kitchen paper to absorb the oil. Allow cooling slightly before glazing.
Once fried, dip the doughnuts into one of the glazes, setting on a baking tray until the glazes have set. These are best served as soon after frying as possible.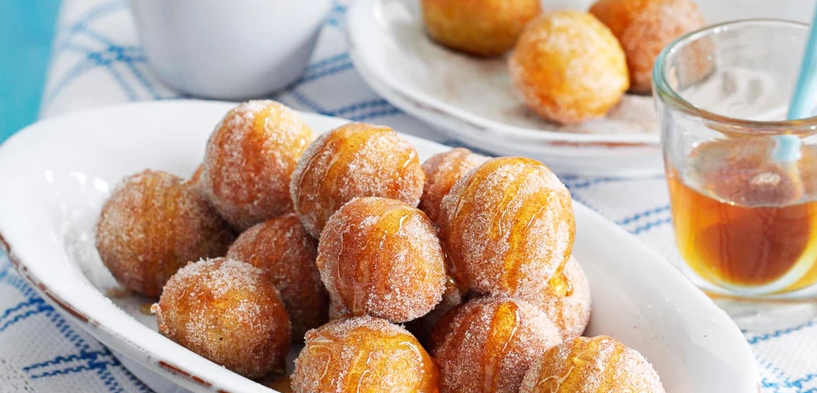 Loukoumades (Greek Doughnuts)
Prep time: 10 mins + proving
One of the pleasures of a Greek holiday comes in those moments after dark (and after dinner) when everyone moves to the tables in a local square to drink coffee and eat plates of tiny cinnamon-scented doughnuts. Whether your preference is for the sugar-dusted variety or those soaked in honey, try making them at home for a crowd-pleasing dessert with a difference.
Source: Olive Magazine
175g plain flour
2 tbsp light muscovado sugar
1 orange, finely zested
1 tsp fast-action yeast
160ml warm water
Oil for deep frying
1 tsp cinnamon
100g caster sugar
Greek honey, to drizzle
Method
Put the flour, sugar orange zest and yeast in a bowl with a pinch of salt and stir in 160ml warm water. Keep stirring until you have a runny, sticky dough. You can do this in a food mixer if you like. Cover and leave to rise until doubled in size. This will take at least an hour, or longer if your kitchen is cool.
Scoop your dough into a plastic piping bag. Fill a saucepan or wok no more than 1/3 full of oil. Heat until a pinch of flour will sizzle vigorously. Lay some kitchen paper on a tray and mix the cinnamon and sugar together in a large bowl.
When the oil is ready, snip the end off the piping bag so you can squeeze out marble-sized blobs of dough. Use a pair of scissors to snip small blobs of dough (no bigger than walnuts) straight into the oil. Do this very carefully so you don't splash yourself. Cook the doughnuts in batches, turning them over until a deep golden brown. Lift them out with a slotted spoon, tip them onto the paper to drain briefly and then toss them into the sugar. Repeat with the remaining dough.
When all the doughnuts are cooked roll them around in the sugar. If you like them with honey, drizzle some over the top.
New Orleans-Style Beignets
Prep time: 30 mins + proving
To put it simply, beignets are square-shaped pieces of dough that are deep-fried and generously sprinkled with icing sugar. They're best served hot and are best paired with a cup of coffee or café au lait!
Source: Baker by Nature
375ml warm water
85g sugar
2 1/4 tsp active dry yeast
2 large eggs
240ml evaporated milk
2 1/2 tsp vanilla extract
1 1/2 tsp salt
5 tbsp unsalted butter, at room temperature
950ml vegetable oil, for frying
260g icing sugar
Method
In a medium-size bowl, add the warm water, sugar, and yeast and whisk well to combine. Set aside for about 10 minutes, or until the mixture has bubbled up and become foamy.
In the bowl of a stand mixer fitted with the paddle attachment, beat the eggs until smooth. Beat in the vanilla and evaporated milk. Beat in half of the flour until smooth. Turn the mixer to low speed and slowly pour in the yeast mixture (careful here – this mixture can splash up if added too quickly!); beat until smooth. Add in the butter and beat until incorporated. Finally, beat in the remaining flour and salt. Beat until dough is smooth and cohesive; about 2 minutes. Cover the bowl tightly with cling film and refrigerate the dough for at least 2 hours, or up to 24 hours.
Line a large rimmed baking sheet with three layers of paper towels set aside.
In a large heavy-based saucepan, heat 4-inches of oil to 180C. Remove the dough from the refrigerator. On a lightly floured surface, roll the dough out into a 1/4-inch thick rectangle. Cut the dough into 2 and 1/2-inch squares.
In batches, fry the dough until they puff up and are golden brown in colour, about 1 minute. Using a slotted spoon, transfer the beignets to the prepared baking tray and repeat with the remaining dough.
Dust with powdered sugar and serve at once!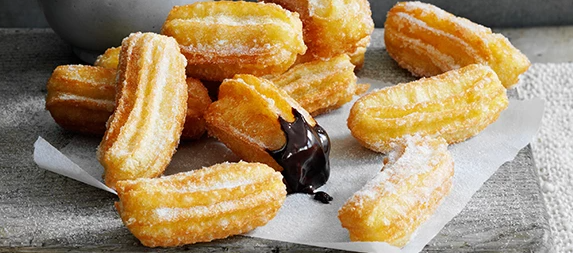 Churros with Hot Chocolate Sauce
Make these Spanish sweet treats for a comforting dessert or breakfast. The rich, indulgent hot chocolate sauce is also delicious over ice cream.
Source: Olive Magazine
100g unsalted butter, diced
175g plain flour
1/4 tsp baking powder
3 large eggs, beaten
1 tsp orange flower water
1/2 orange, zested
Sunflower oil, for frying
Golden caster sugar, for sprinkling
1 tsp ground cinnamon
For the sauce
150g dark chocolate
150ml double cream
1 tsp unsalted butter, softened
1 cinnamon stick
1 tbsp dulce de leche (caramel)
1 tsp vanilla extract
Method
To make the churros, tip the diced butter into a saucepan, add 200ml cold water and a pinch of salt. Put the pan over heat to melt the butter and bring to a boil. Sieve the flour and baking powder together. As soon as the water boils, remove it from the heat and quickly stir in the sifted flour and baking powder. Beat the mix with a wooden spoon until smooth and it comes away from the sides of the pan in a smooth mass.
Tip the mixture into a bowl and cool for a couple of minutes. Then gradually add the beaten eggs one at a time, beating well until the mixture is smooth, glossy and drops reluctantly from a spoon. Add the orange flower water (if using) and grated orange zest, and mix until combined. Cover the bowl with a clean tea towel and leave the batter to one side to rest for 30 minutes.
Finely chop the dark chocolate and tip into a bowl. Pour the double cream into a small saucepan, add the cinnamon stick, dulce de leche, butter and vanilla extract, and bring to a simmer. Stir until smooth then pour over the chopped chocolate and stir again until the mixture is combined.
Fill a large saucepan no more than one-third full with oil. Heat until it reaches 180-190C (or a cube of bread browns in a minute). Fit a large piping bag with a large star-shaped nozzle and fill it with batter. Once the oil has come up to the temperature you can start to cook the churros. Pipe 2 or 3 finger-length strips of batter directly into the pan cutting off each strip with a pair of scissors. Do not cook more than this in one go or the oil will cool down dramatically and your churros will be heavy and greasy, rather than crisp, golden and light.
Cook the churros for about 45 seconds to one minute on each side until golden and crisp. Remove them from the pan with a slotted spoon, drain quickly on kitchen paper and sprinkle liberally with caster sugar. serve with thick hot chocolate dipping sauce.