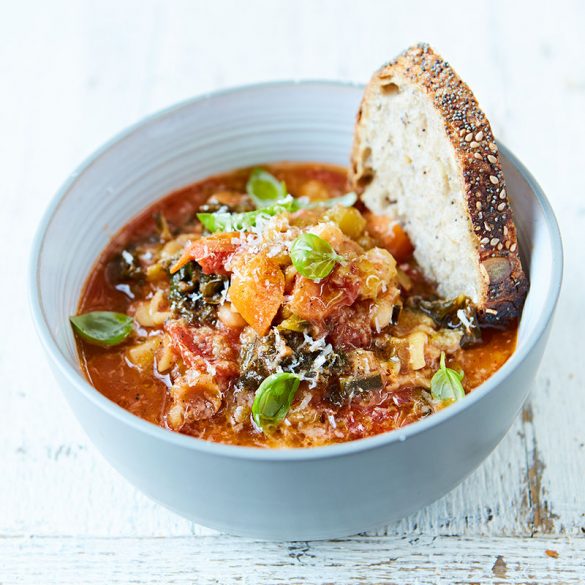 Minestrone Soup- Eat Healthy for Less
Hearty and nutritious, minestrone soup is a tasty crowd-pleaser and is super-easy to tweak according to the vegetables you have in the house. Enjoy for just 63p per serving. Let us know if you have a go at this dish and tag us in a picture on Facebook and Instagram.
Nutritional Information: Calories 175 kcals; Carbohydrates 28.9g; Total Fat 2.3g; Saturated Fat 0.5g; Protein 9.5g; Fibre 7.9g; Salt 0.24g.
1 garlic clove, minced
1 red onion, finely chopped
2 carrots, roughly chopped
2 celery sticks, roughly chopped
1 courgette, roughly chopped
1 small leek, quartered & cut into 1cm slices
1 large potato, diced
1 x 400g tin of cannellini beans, drained
2 rashers smoked streaky bacon, finely sliced
Olive oil
1/2 tsp dried oregano
1 fresh bay leaf
2 x 400g tins of plum tomatoes
1 litre vegetable stock
1 large handful of seasonal greens, such as cabbage, kale or chard
100g wholemeal pasta
1/2 bunch of fresh basil, optional 
Parmesan cheese
Method
Heat 2 tbsp of oil in a large saucepan over medium heat. Add the bacon and fry gently for 2 minutes, or until golden.
Add the garlic, onion, carrots, celery, courgette, leek, oregano and bay and cook slowly for about 15 mins, or until the vegetables have softened, stirring occasionally.
Add the potato, cannellini beans and plum tomatoes, then pour in the vegetable stock. Stir well, breaking up the tomatoes with the back of a spoon.
Cover with a lid and bring everything slowly to a boil, then simmer for about 30 minutes, or until the potato is cooked through.
Remove and discard any tough stalks bits from the greens, then roughly chop.
Using a rolling pin, bash the pasta into pieces while it's still in the packet or wrap in a clean tea towel.
When the potato is soft, add the greens and pasta into the pan, and cook for a further 10 mins, or until the pasta is al dente.
Add a splash more stock or water to loosen, if needed. Season to taste with sea salt and black pepper, then serve with a grating of parmesan and a slice of wholemeal bread.