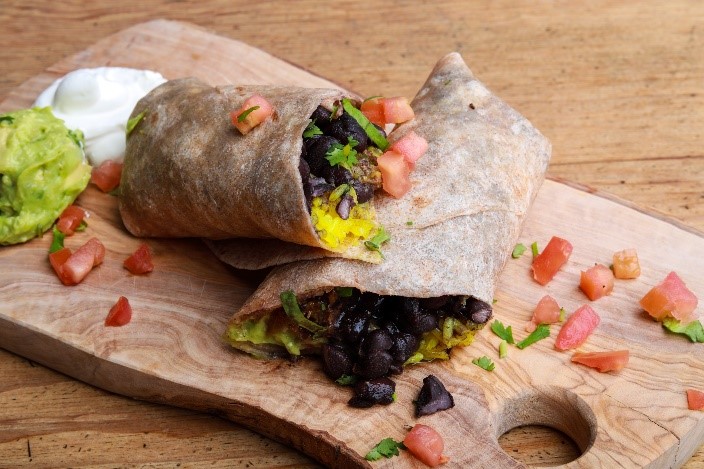 Lockdown lunches – It's a wrap!
Fed up with your usual daily boring sandwich?  Heritage is here to help and save your lockdown lunchtimes this week.  In the first of our two blogs we will share some sensational options for you to try each day of the week.  So get filling and folding!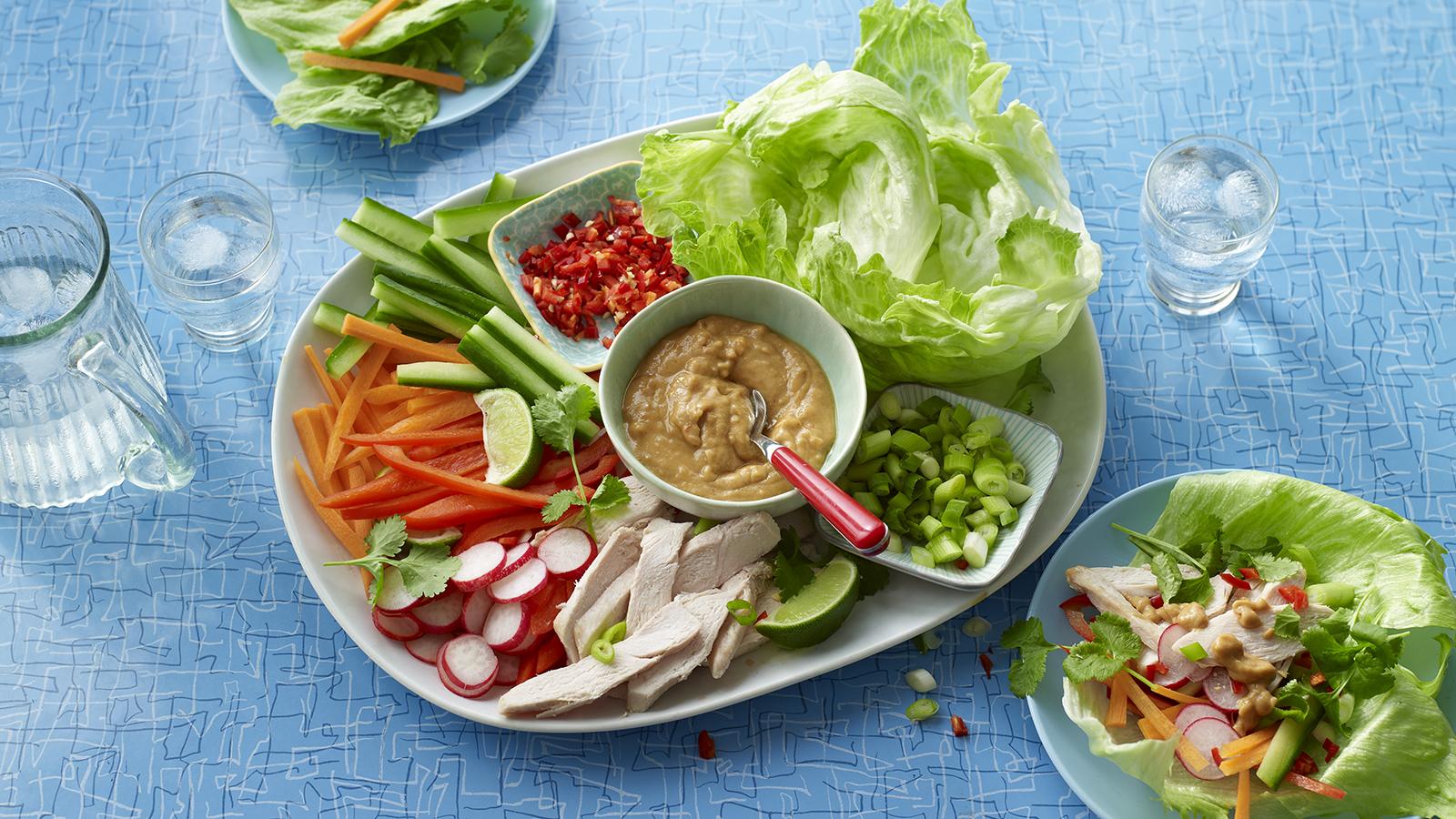 How about this Satay chicken and salad wrap for a tasty lunchtime bite. Really simple to make, incredibly tasty and filling and you can throw in any salad you have to hand too, if you are a vegetarian replace the chicken with falafel or tofu strips.
Check out our video here https://youtu.be/lcaIwAam7u4
Source: BBC 
60g finely shredded red cabbage
1 large carrot, grated
Slices of red onion to taste, or a large spring onion
50g crispy lettuce
A handful of coriander
150g chicken breast, chopped (or use leftover chicken)
2 large tortillas
For the sauce
2 tbsp crunchy peanut butter
1 tbsp sweet chilli sauce
Juice of 1 lime
Water to slacken sauce
Method
Prep all the ingredients, keeping the separate.
For the sauce mix the peanut butter, sweet chilli sauce and lime juice together and season to taste. Thin with a little bit of water if necessary.
Warm the wraps following pack instructions (this is not essential)
Spread the sauce across all of the wrap and then start adding the ingredients onto the wrap.
Roll up folding in the sides to seal the filling.
Slice in half to serve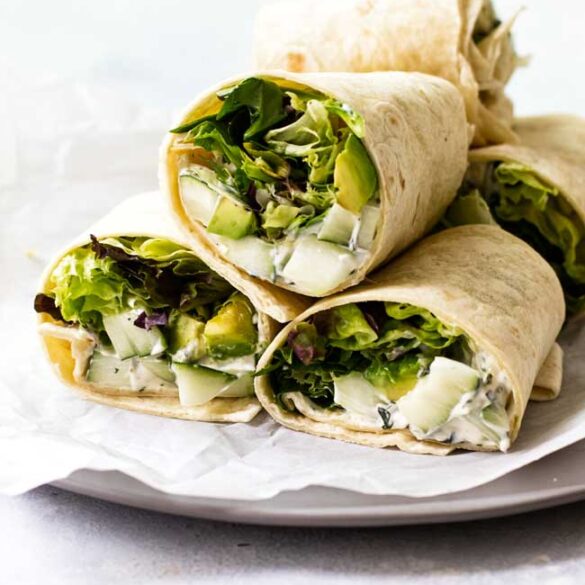 Avocado, Cucumber & Feta Wrap
These fresh and crisp avocado, cucumber and feta wraps are refreshingly light and a great no-cook midweek lunch option.
Recipe Inspiration: Olive Magazine & Girl Gone Gourmet
2 large tortillas
1 small avocado, diced
1/4 cucumber, diced
100g Feta
2 tbsp natural yoghurt
Half lime, juice
Salt & pepper, to season
A few chilli flakes, to taste
Method
Dice a small avocado and ¼ of a cucumber and toss with a little lime juice, salt and a few chilli flakes. 
Mash 100g of feta with 2 tbsp natural yogurt and season with pepper. 
Spread the feta mix over 2 wraps, top with the avocado and cucumber mix, and roll up.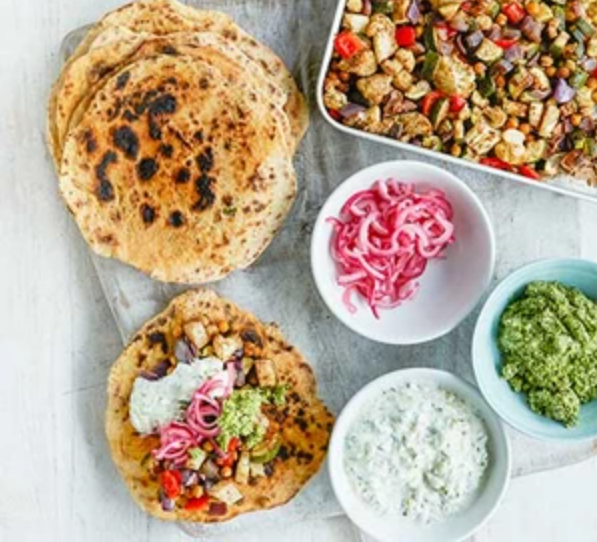 This wrap takes a bit more effort but I can tell you it is well worth the wait, it's packed full of flavour and punch.
Recipe inspiration: BBC Good Food
2 tortillas
1 red onion
1.5 tbsp cider vinegar
1 courgette
1 red pepper
1/4 cauliflower
200g chickpeas (1/2 tin)
1 tsp coriander seeds
1 tsp garam masala
Small bunch coriander
75g natural yoghurt
50g pot coconut chunks
Small bunch mint
1 lime
1/2 cucumber
2 garlic cloves
1 shallot
1 green chilli
Salt
Pepper
Sugar
Oil
Method
To make the sweet pickled onions, slice half a red onion into thin half moons. Put 1.5 tbsp cider vinegar in a small pan with 1 tbsp sugar and 1 tsp salt. Heat until almost boiling, then pour over the onions and leave for 2 hrs, by which time they will be sweet and crunchy.
To make the roasted veg, heat oven to 180C/160C fan/gas 4. Chop the courgettes, remaining red onion, the red pepper and cauliflower into bite-sized pieces. Tip into a baking tray with the chickpeas, plus 1/2 tbsp of the starchy water from the can. Pour over a good glug of olive oil, add 1 tsp of the coriander seeds, the garam masala, a sprinkle of salt and pepper, and mix everything together with your hands. Cook in the oven for 30 mins giving them a good shake after 15 mins.
To make the tzatziki, blitz 1/4 of the coconut chunks in a blender until it resembles breadcrumbs, then set aside. Pour the 75g yogurt into a bowl. Finely chop half the mint leaves and add to the bowl along with the juice of 1/2 lime. Grate in the cucumber and a garlic clove, then add the coconut. Season and mix.
To make the spicy green sauce, put the rest of the coconut chunks in a blender with the rest of the coriander and mint leaves, a peeled clove of garlic, the peeled shallot, chilli, the juice of a ½ lime, 1/2 tbsp cider vinegar, and 1/2 tsp brown sugar. Blitz until smooth.
Take a tortilla, load it with a handful of vegetables, then a big spoonful of tzatziki and spicy green sauce, then a sprinkling of sweet pickled onions. Wrap it up, and tuck in. Tasty!
Fish Finger and Pesto Wrap
Suitable for Pescatarians
Lunchtime wraps don't get better than this battered haddock and pesto wrap with lemon mayonnaise.
Recipe inspiration: BBC Good Food
4 fish fingers
Handful of watercress and salad
1/4 cucumber, cut into chunks
2 tortillas
For the pesto (or buy a pot)
50g basil, leaves picked
1 garlic clove
Small handful of toasted pine nuts
20-25g chunk of parmesan, roughly chopped
1/4 lemon, juiced
80ml olive oil
For the lemon mayo
4 tbsp mayonnaise
1/2 lemon, zested & juiced
Method
Put your fish fingers in the oven!
If you are making your own pesto, whizz all ingredients in a blender, slowly pouring in the oil while blending until it forms a smooth, nutty paste. Season well and add a splash of water if it's too thick. Set aside.
For the lemon mayo, mix all the ingredients together and season.
To assemble, spread each tortilla with some of the pesto, then a tablespoon of lemon mayo. Add a handful of watercress or salad leaves and the cucumber, then top with the fish and more pesto. Season, wrap up and serve.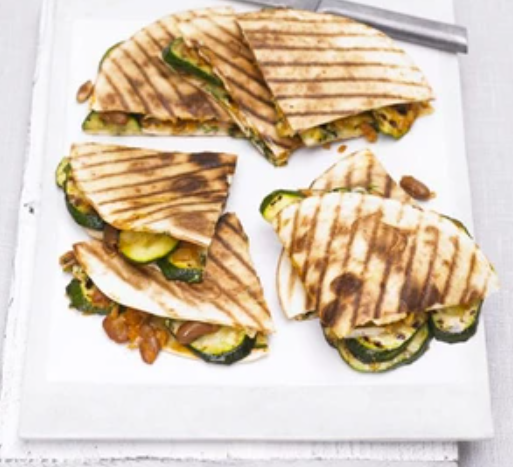 Grilled Courgette, Bean & Cheese Quesadilla
For a tasty Mexican-style supper, fold up some tortilla pockets and cram with veggies, pinto beans and oozing melted cheddar. See our live cook along for another version of these too here https://youtu.be/JbtcPZVPHZY.
Recipe Inspiration: BBC Good Food
1 onion, finely chopped
4 tsp olive oil
4 garlic cloves, finely chopped
2 tsp ground cumin
1 tbsp tomato puree
400g can pinto beans, drained and rinsed
3 courgettes, sliced on the diagonal
175g cheddar, grated
 1 green chilli, finely chopped
Large handful coriander, roughly chopped
4 flour tortillas
Method
Fry the onion in half the olive oil for about 5 mins or until soft. Stir through the garlic and cumin. Cook over a low heat for 1 min more. Add the tomato purée, pinto beans and a few tbsp of water. Heat through, then mash up with the back of a fork and season.
Meanwhile, toss the courgette slices in the remaining oil with some seasoning. Place on a hot griddle pan and cook for a couple of mins each side until tender and grill marked. Place to one side.
Mix the cheese, chilli and coriander in a bowl. Spread the bean purée over half of the tortillas. Lay over courgette slices and scatter with cheese mixture. Top with the remaining tortillas, pressing the two together. Cook in batches in the hot griddle pan, carefully turning, for about 1-2 mins each side or until the cheese has begun to melt and the tortillas are crisp. Serve in wedges. 2 wedges each is a filling lunchtime treat.