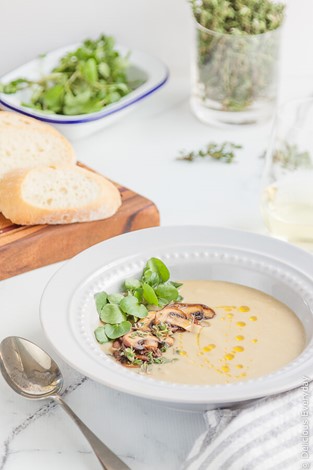 Jerusalem Artichoke & Watercress Soup
Jerusalem Artichokes may not be much to look at, but beneath that knobbly exterior is a nutty, sweet and earthy treat. This velvety smooth soup is topped with mushrooms and watercress for an easy and delicious one bowl meal.
400g Jerusalem artichokes
3 tbsp olive oil
1 red onion, peeled & diced
2 garlic cloves, peeled & finely chopped
100g potatoes, peeled & diced
850ml vegetable stock
Salt & pepper, to taste
1 portobello mushroom, sliced
2 large handfuls of watercress
Thyme leaves
Extra-virgin olive oil, to serve
Method
Scrub the artichokes to remove any dirt and peel and chop cubes.
Place 2 tbsp of olive oil in a large saucepan over low heat and add the onions, season with salt and cook for about 10 mins until soft.
Add the garlic and cook for a few minutes, until fragrant. Add the artichoke and potatoes and cook for 5 mins before adding the vegetable stock. Season and bring to a simmer. Cook until the potato and artichoke are tender (20 mins).
Blitz your soup with a hand blender until smooth and taste for seasoning. Keep warm while you cook the mushrooms.
Place a frying pan over medium-high heat and add 1 tbsp olive oil. Add half the mushrooms, making sure they are not overlapping, and fry on each side for 3 to 4 minutes, until lightly golden before turning. Season with salt and pepper just before removing from the pan.
To serve, divide the soup between serving bowls and top with mushrooms and watercress. Finish with a drizzle of extra virgin olive oil and a sprinkle of thyme leaves (or dried thyme) if you have.