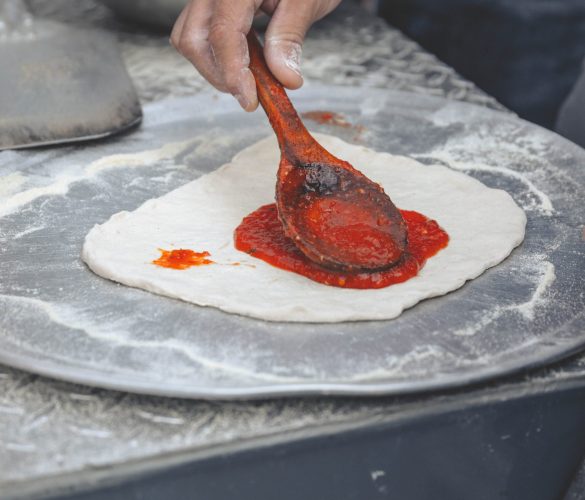 Join us for our Italian week and celebrate tomatoes in style!
The tomatoes rise in Italy was not a quick one. In fact, many of the Italian dishes we consider "staples" that use tomatoes are actually quite young, born in the late nineteenth century when the tomato saw its greatest expansion throughout Italy.
Italy has always been one of my favourite foodie travel destinations, for some reason I always feel at home there. For a long time, I'd wanted to learn how to make real, traditional Italian dishes so a few years ago I did just that and took myself off to Tuscany (with Flavours Holidays – I highly recommend them!) for a cookery week and I have to say I had the best time possible.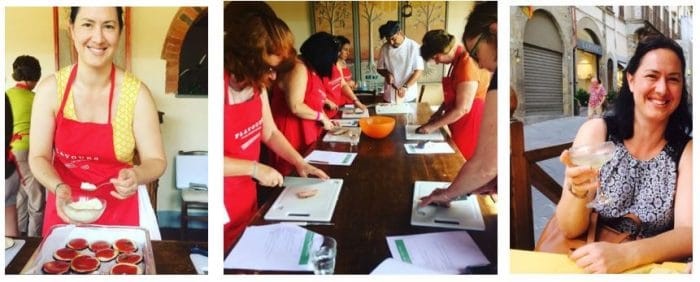 This was my second solo trip abroad and I was initially slightly nervous, what if my fellow holiday companions were not my cup of tea and I was stuck in a villa with them for the week?!!! –  After welcome drinks, I was reassured they weren't all bonkers or axe murderers and I relaxed straight away (the prosecco helped).
The villa was absolutely stunning and placed in a quintessentially Tuscan countryside vista.  With a host onsite with us at all times we had nothing to worry about or wish for, our very own Italian Mary Poppins.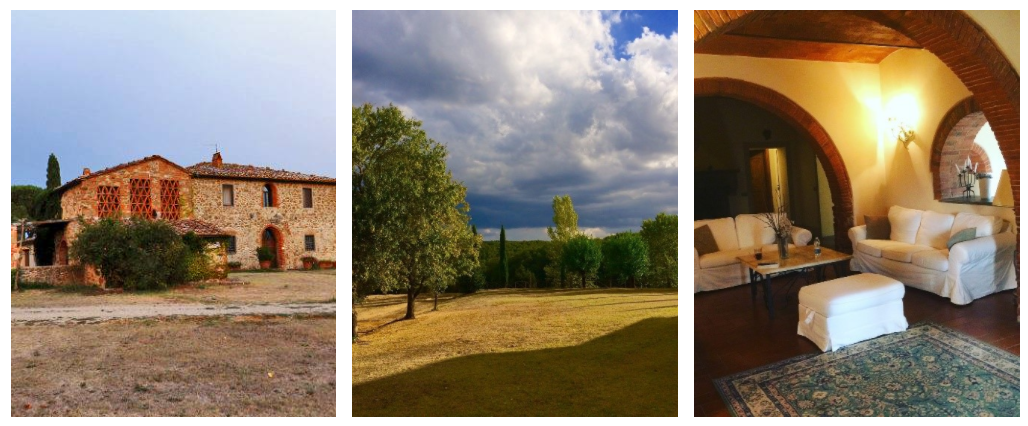 During the week my mornings were spent learning how to cook regional recipes (fresh pasta dishes, boar stew, tiramisu, stuffed courgette flowers and other tasty dishes, at lunchtime we got to try the fruits of our labour alfresco (of course).  The afternoons were spent either relaxing by the pool while other days were spent wine tasting or visiting the local towns such as Siena and Arezzo.   We also had the chance to visit a local's estate as well as walking down to the local polo field to watch a match.

Evenings were spent leisurely lounging on the back patio talking, laughing and eating fantastic food prepared by our personal chef Mauro and drinking copious amounts of prosecco and limoncello (it was a hard week!)
I even managed to convince Mauro to keep me some leftovers in the fridge for me to have for breakfast the next day (breakfast cake is always a winner in my book!).
After the most wonderful, enriching and relaxing holiday I returned home happy, a few pounds heavier (okay more than a few!) and with a book full of wonderful new recipes to test out on family and friends.  My only dilemma – which dish to cook first?
Since a lot of us are still taking staycations why not sample a taste of Italy for yourself with Flavours.   Flavours have set up online courses for you to learn with their Italian chefs Livia and Carla (who you would normally learn with on your cooking holiday in Italy).   Buy your produce from us and get cooking!  You can sign up for their online courses here.  They are great value for money and you will have a fantastic time.
I've included my top 5 Italian inspired recipes below to use your free tin of tomatoes and to provide you with some ideas to make tasty midweek meals to something a bit more luxurious to wow your family with. Check out the panna cotta recipe in the grapevine this week – the perfect dessert – we've got lots of vanilla pods in stock for you to buy now too.
Creamy tomato and basil pasta bake
This veggie pasta bake is super simple to make and ready in less than an hour, it's an easy mid-week filler for all the family.  Add in any meat if you don't want a veggie dish.
Recipe Source: https://www.olivemagazine.com/
50g butter
2 garlic cloves, crushed
1 onion, grated
1 x 800g tin chopped tomatoes
Small bunch of basil, chopped
250g pasta
100ml double cream
50g finely grated parmesan (or veggie alternative)
2 x 125g mozzarella balls, drained and cut into 2cm cubes
Green salad to serve
Method
Heat the butter in a large pan and cook the garlic and onion over low heat for 10 minutes or until really soft. Add the tomatoes and sugar, then cook for 20 minutes or until thickened and reduced by 1/3. Stir in the basil and season.
Cook the pasta following pack instructions, then drain really well.
Heat the oven to 200C/fan 180C/gas 6. Stir the double cream into the tomato sauce, followed by the parmesan, pasta and mozzarella.
Tip into a buttered 20cm x 30cm baking dish and bake for 10 minutes or until bubbling. Serve with a green salad, if you like.
Classic Pizza Tomato Sauce
If you're making the effort to make your own pizzas then it's really worth spending a little time cooking a tasty rich and herby tomato pizza sauce to spread over the dough too. This recipe is enough for 4 large pizzas so it also is great to freeze along with extra dough for a quick go-to meal at any time. To make a smoother sauce use a handheld blender to blitz the sauce.
This recipe will cover 4 large pizzas, but any leftovers can be stored in an airtight container in the fridge for up to 3 days or can be frozen for up to 1 month.
Recipe  Source: www.goodtoknow.co.uk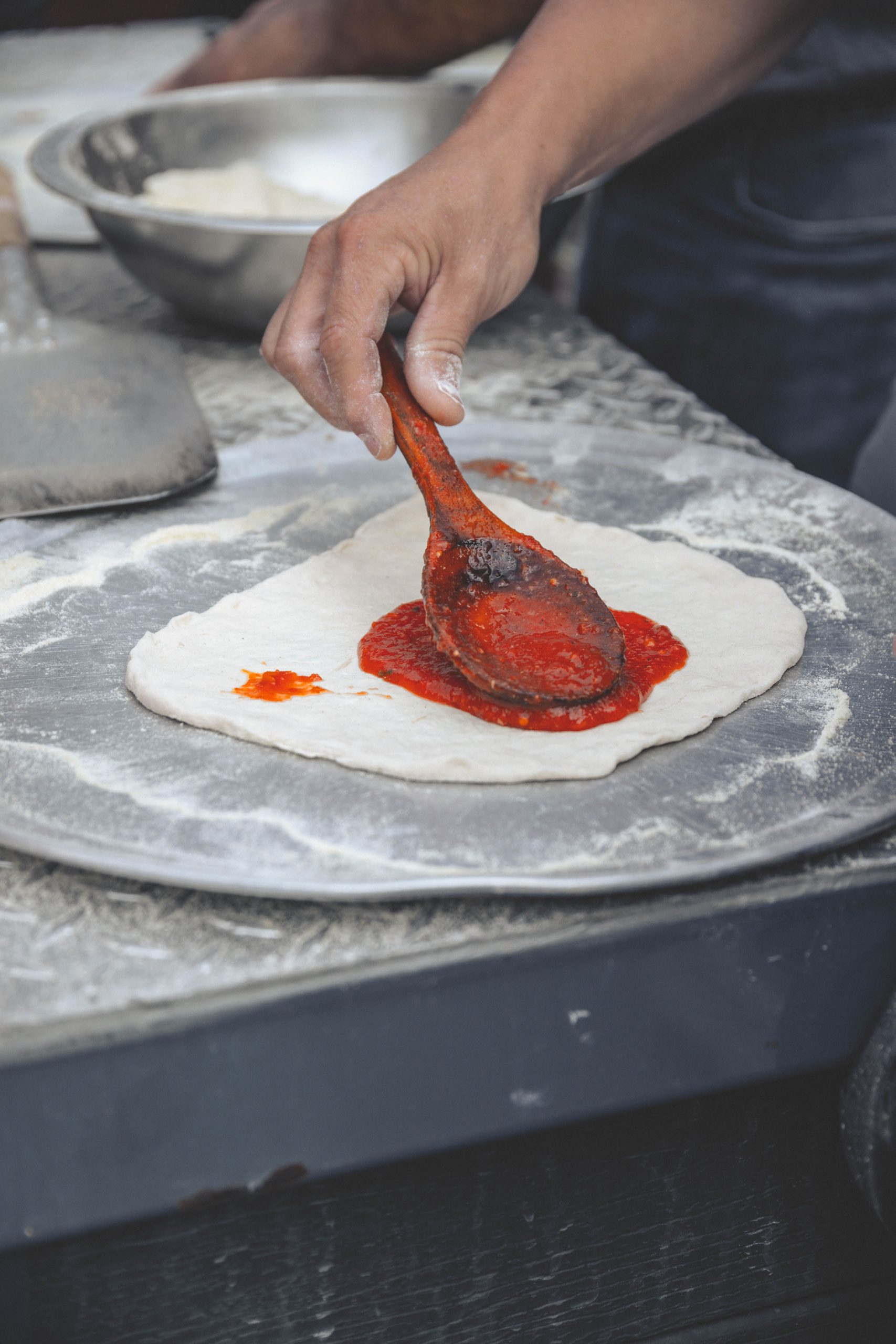 4 tbsp olive oil
8 ripe tomatoes, skinned and roughly chopped
2 garlic clove, peeled and crushed
800g can chopped tomatoes
2 tsp sugar
4 tbsp tomato puree
2 tsp dried Italian herbs
Salt and freshly ground black pepper
Method
Heat the oil in a large pan and add the garlic, fry gently for 3-4 mins then add the fresh tomatoes and fry for a further 5-6 mins.
Add the canned tomatoes, sugar, tomato puree and dried herbs and simmer gently for 15-20 mins, stirring occasionally, until the sauce has reduced and thickened. Mash with a potato masher to break down any large chunks of tomato. Season to taste with salt and freshly ground black pepper.
Bread & tomato soup (Pappa al pomodoro)
This Tuscan soup is delicious and family-friendly. The recipe adds roasted cherry tomatoes, but it also works really well just with good-quality tinned tomatoes.
Recipe source: www.jamieoliver.com
3 cloves of garlic
1 big bunch of fresh basil
500g ripe cherry tomatoes (optional)
Quality extra virgin olive oil
2 x 400g tins of quality plum tomatoes
500g stale quality bread
Method
Preheat the oven to 180ºC/350ºF/gas 4.
Peel and finely slice the garlic, then pick the basil leaves, finely slicing the stalks.
Prick the cherry tomatoes and place in a roasting tray, scatter over one of the sliced garlic cloves and a quarter of the basil leaves. Drizzle with extra virgin olive oil, sprinkle with sea salt and black pepper, toss to coat, then roast for 20 minutes to intensify the flavour.
Meanwhile, heat a lug of oil in a large pan, add the remaining garlic and the basil stalks and fry for 1 minute, or until softened.
Tip in the tinned tomatoes, breaking them up with a spoon, then add 1 tin's worth of water. Bring to the boil, then reduce to a simmer for 15 minutes.
Tear in the bread up, mix well and season to taste. Tear in most of the remaining basil leaves and let the soup sit on a low heat for 10 minutes.
By this time the roasted tomatoes will be done, with juice bursting out of their skins, so add them to the pan, remembering to scrape all the lovely juices and sticky bits from the bottom of the tray.
Give the soup a good stir – you're looking to achieve a thick, silky, porridgey texture, so feel free to adjust it with a little water, if needed.
Remove from the heat, add 6 tablespoons of extra virgin olive oil, and divide between your bowls. Serve with the remaining basil torn over the top.
This easy, cheesy vegetarian risotto is bursting with Italian flavours and requires virtually no stirring – just what you need on a weeknight.
Image  source – deliciousmagazine.co.uk
1 tbsp olive oil
Knob of butter
1 red onion, finely chopped
400g risotto rice
150ml white wine
400g can chopped tomatoes
600ml hot vegetable stock
75g cream cheese
50g vegetarian parmesan, grated
Handful fresh basil leaves
Method
In a saucepan, heat the oil and butter over medium-high heat. Fry the onion for 5 minutes until soft. Add the rice, cook for a minute, then add the wine and bubble until absorbed.
Stir in the tomatoes and stock, season, reduce the heat to low, cover and cook for 20 minutes until the rice is just tender and the liquid has been absorbed. Stir in the cheeses, take off the heat and stand for 5 minutes. Stir in the basil leaves and serve.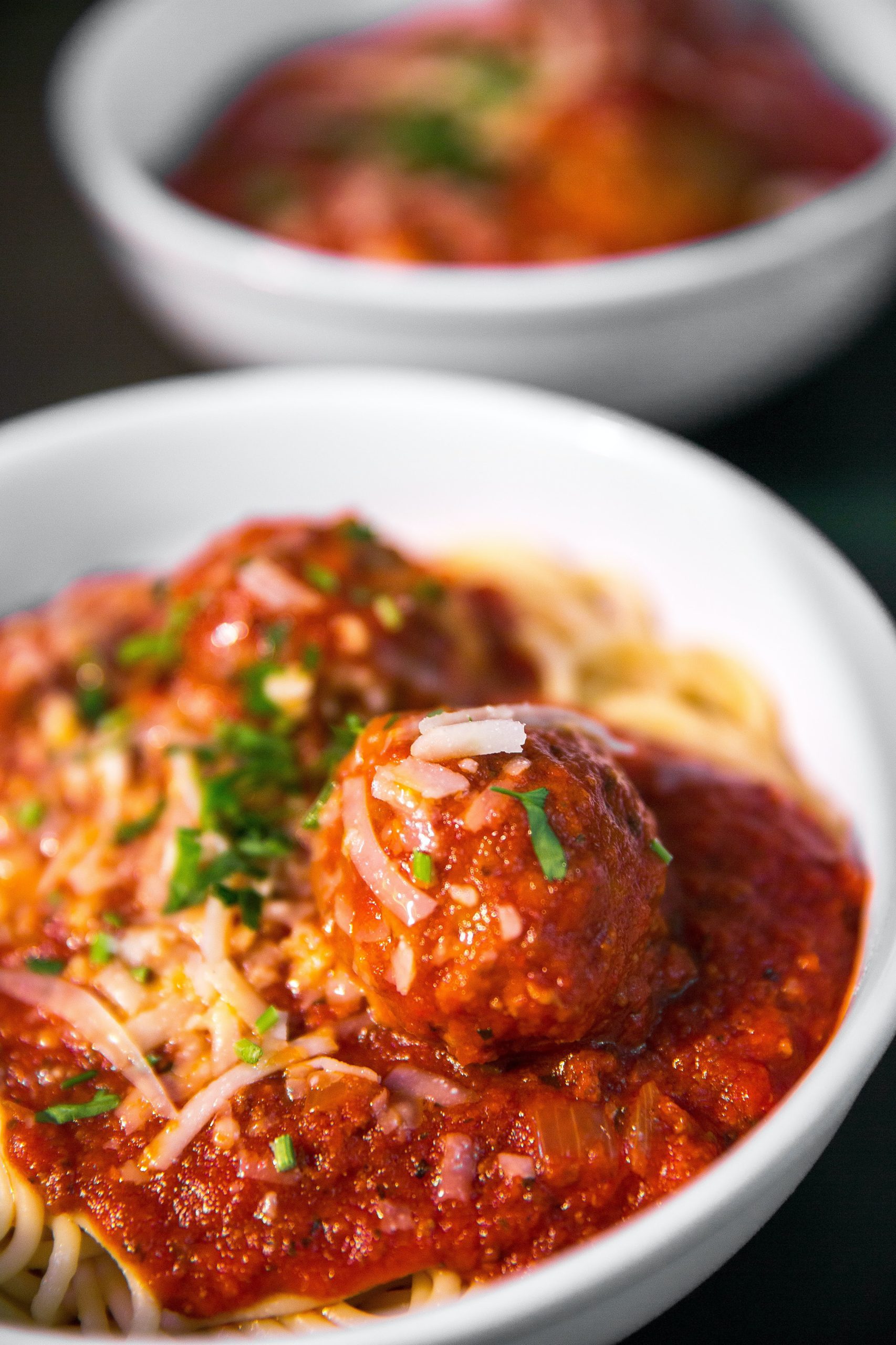 This indulgent Italian bake with juicy beef meatballs in passata sauce and a melting mozzarella topping. Serve this family favourite straight from the oven and watch everyone dig in.
Recipe source – https://www.olivemagazine.com/
3 onions, diced
Olive oil
5 garlic cloves, crushed
3 bay leaves
400g tinned chopped tomatoes
600ml passata
2 tbsp tomato puree
1 tbsp brown sugar
1 tbsp red wine vinegar
500g beef mince
125g fresh breadcrumbs
1 tbsp fennel seeds
1 tbsp dried oregano
1 egg
250g grated mozzarella
100g mascarpone
To Serve
a drizzle of olive oil
a few leaves of fresh oregano
Crusty bread, pasta or rice
Method
Put the onions and 2 tbsp oil in your biggest frying pan, and fry gently until softened. Add the garlic, then increase the heat and fry for a few minutes. Scoop half the softened onions from the pan into a large mixing bowl.
Add the bay leaves, tomatoes, passata, purée, brown sugar and red wine vinegar to the frying pan, and bring to a simmer. Bubble for 20 minutes until the sauce has reduced and thickened, and the surface is glistening. Season.
When the reserved onions have cooled, add the beef mince, breadcrumbs, fennel seeds, oregano and egg with plenty of seasoning. Mix everything with your hands really well, then shape into 20 meatballs. Heat 1tbsp oil in a non-stick frying pan and brown the meatballs in batches, adding more oil as you need – the meatballs should be almost cooked through. Cool. Mix 200g of the grated mozzarella with the mascarpone and a little salt.
When everything has cooled to room temperature, combine the meatballs and tomato sauce in a big baking dish. Blob over the cheesy mascarpone, and scatter over the remaining mozzarella. Freeze now.
Heat the oven to 180C/fan 160C/gas 4. Cover the dish tightly with an extra layer of foil and bake for 30 minutes, then remove the foil and bake for a further 30-45 minutes, until the meatballs are piping hot and cooked through, and the cheesy top is golden and bubbling. Let the dish cool for 5 minutes, then add a drizzle of olive oil and a scatter of fresh oregano, if you like, before spooning straight from the dish. Serve with crusty bread, pasta or rice.