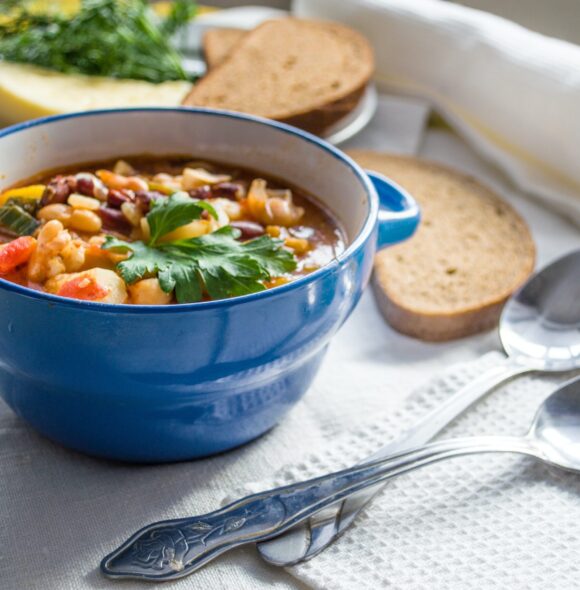 Italian Minestrone Soup – Eat Healthy For Less
Celebrate Italian week for less with this Italian Minestrone Soup, low in calories and low in cost, and will be a winner for a light family meal or enjoy for lunches during the week.
Nutritional Information (per serving): Calories 311; Protein 24g; Carbohydrate 75g; Total Fat 12.1g; Saturated Fat 3g; Dietary Fibre 7g; Salt 0.7g.
Recipe inspiration: https://www.bbcgoodfood.com/recipes/italian-borlotti-bean-pumpkin-farro-soup
Method
Heat the oil in a heavy-bottomed saucepan. Add the onion, celery, squash and carrot and cook until the vegetables have some colour. Add a splash of water and some seasoning, then cover the pan and let the vegetables cook over very low heat for 5 mins.
Add the garlic and cook for another couple of mins, then add the tomato purée, stock, pasta, chilli flakes, if using, and some seasoning. Simmer for about 15 mins (or until the pasta is cooked), adding the beans for the final 5 mins. In the last few mins, add the spinach, then taste for seasoning.
Serve with shavings of parmesan and a drizzle of extra virgin olive oil on top of each bowlful.
Tip: Save the seeds from the butternut squash and roast them on low heat with some a little drizzle of olive oil and salt to taste.