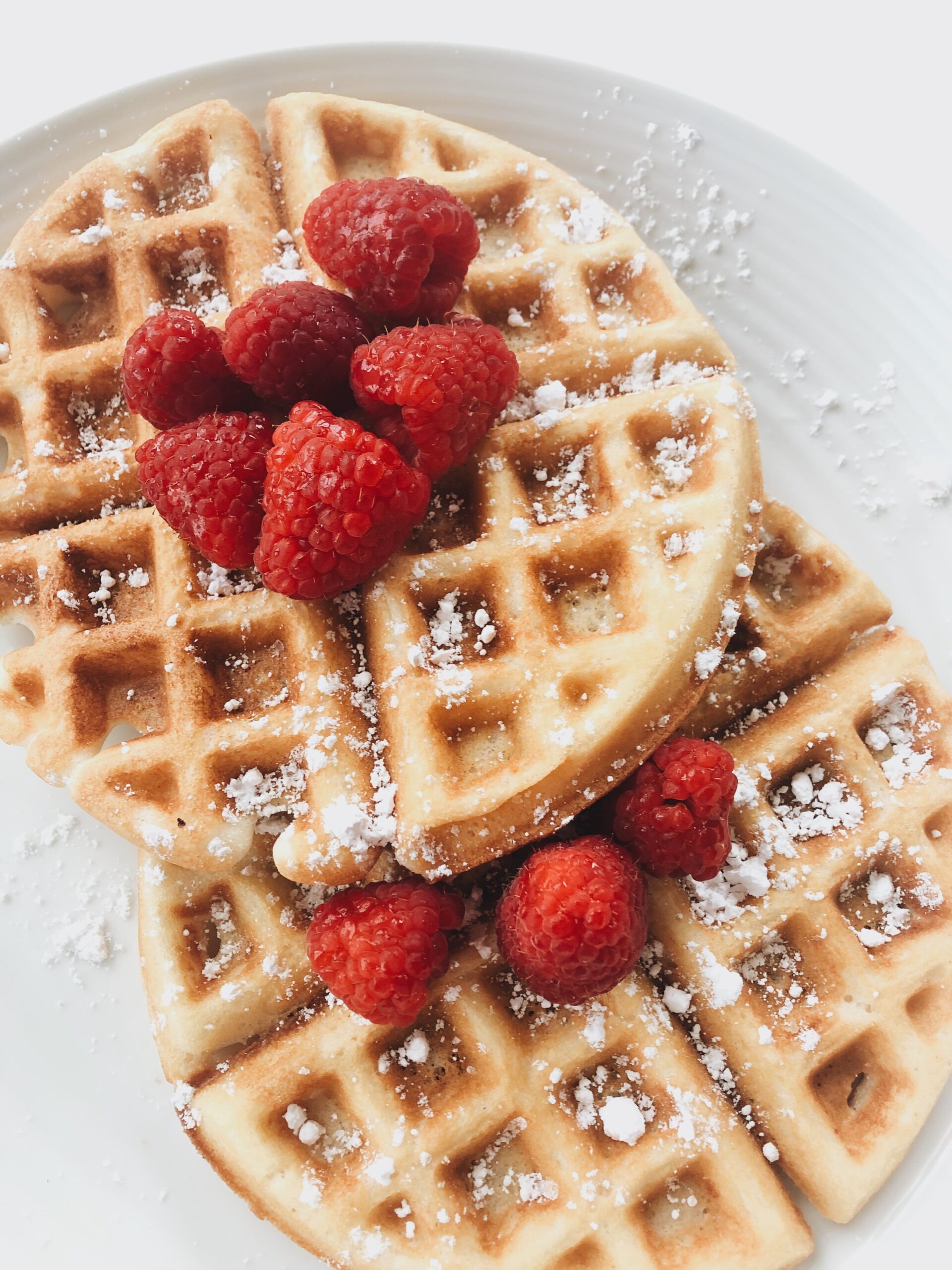 International Waffle Day!
International Waffle Day is a worldwide sensation where people make and eat waffles and share their love on social media.
There's no doubt that waffles are amazing! But whilst most people know their favourite ways to top their waffle, the history of the food's origins is more vague—Belgian, perhaps?
History of Waffles
Food historians trace the waffle's DNA back to ancient Greece when cooks roasted flat cakes between two metal plates attached to a long wooden handle, these were known as Obelios. Obelios weren't very sweet but their design evolved over time.
In Medieval Europe, the Catholic Church made a large, unleavened wafer as a sort of companion to the communion wafer. These oublies (or "wafers," derived from Greek) were typically made using grain flour and water.
As the Crusades and other ventures abroad brought back spices like cinnamon and ginger, cooks began to liven up their oublie batter. Cream, honey, and butter made their way into the mix, as did leavening agents that made the wafers thicker and doughier. Irons became deeper, and gradually the wafer became the wafel. Around the 15th century, Dutch wafelers began using rectangular instead of circular plates, forging them into a grid pattern.
In the early 18th century, the English added a second "f" to form the word we know today: waffles.
Waffles as we know them are now enjoyed all around the World.  We have put together 5 waffle recipes both sweet and savoury, including one where a waffle iron isn't required – that we hope you'll enjoy one of these recipes on Waffle Day!
Source: Mental Floss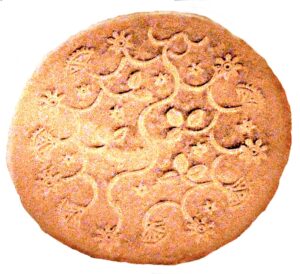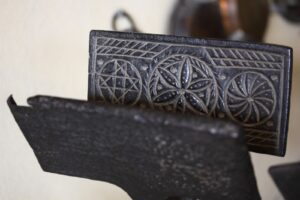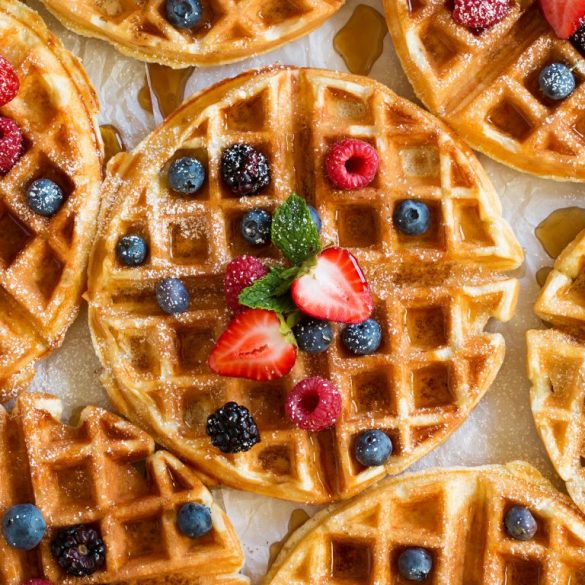 Fluffy, tender and moist on the inside and perfectly golden brown and crisp on the outside. And they have the most delicious buttermilk flavour.
Source: Cooking Classy
215g plain flour
70g cornflour
1 tsp baking powder
1/2 tsp bicarbonate of soda
1/2 tsp salt
355ml buttermilk
120ml milk
6 tbsp vegetable oil
1/2 tsp vanilla extract
2 large eggs, whites and yolks separated
3 tbsp sugar
Method
Preheat the oven to 200C and preheat your waffle iron.
In a mixing bowl, whisk together flour, cornflour, baking powder, bicarbonate of soda and salt. Make a well in the centre and set it aside.
In a separate bowl, whisk together buttermilk, milk, vegetable oil, vanilla extract and egg yolks until combined.
In a separate bowl, using an electric hand mixer, set on high speed, whip egg whites until soft peaks form. Add sugar and whip until medium-stiff glossy peaks forms.
While whisking, pour buttermilk mixture into the flour mixture and mix until just combined, the batter will be slightly lumpy. Fold in the egg whites.
Cook the batter in a waffle iron as per waffle iron instructions. Once each waffle is done, transfer to the oven to keep warm. Serve warm with your desired toppings.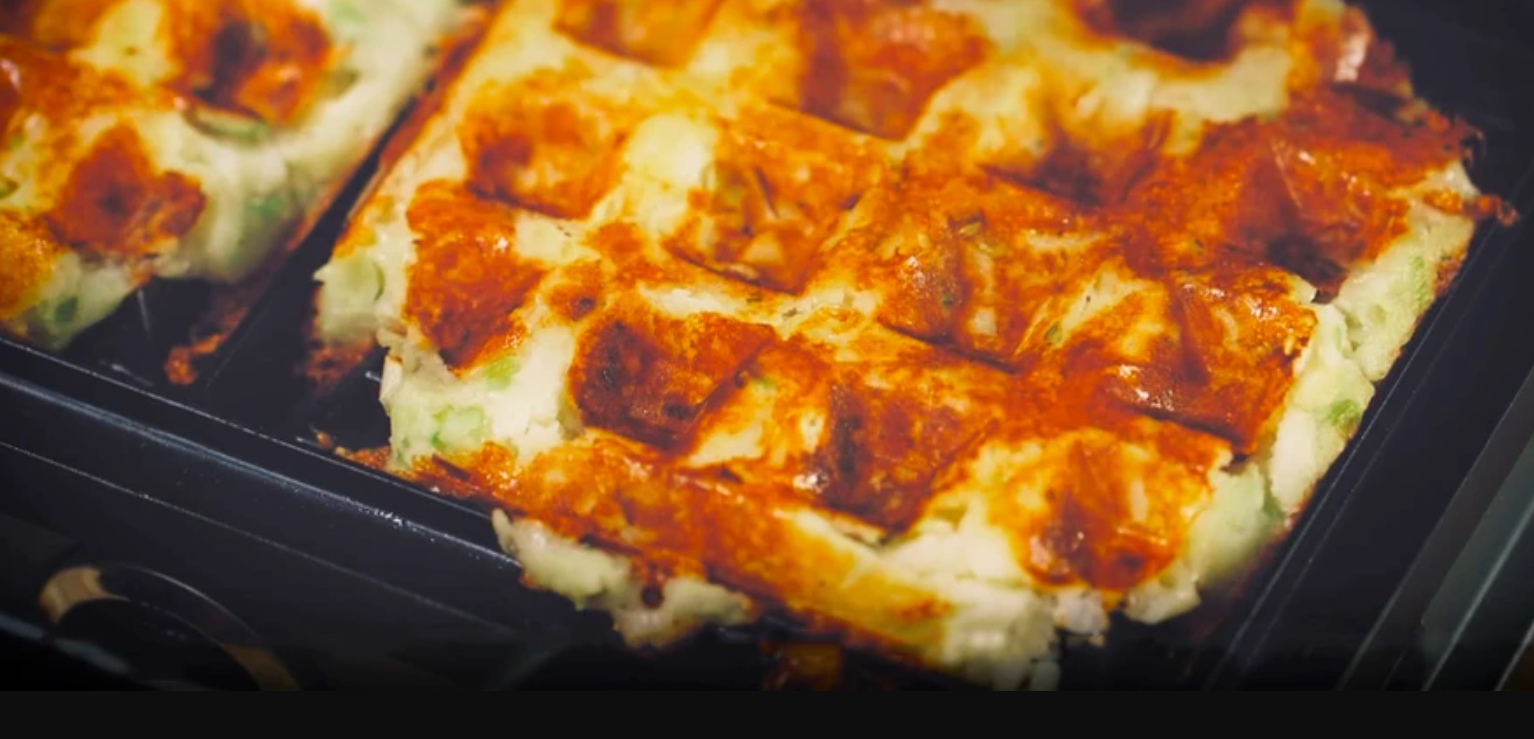 They're waffles. And they're cheesy. What are you waiting for!
Source: Olive Magazine
400g cold mash potato
100g-150g plain flour
a handful grated cheddar
2 spring onions, finely sliced
1 egg
Method
Add leftover mashed potato and flour to a large bowl with a couple of handfuls of cheddar cheese, the sliced spring onions and egg.
Add a sprinkle of salt and pepper and mix together. Form the mixture into patties, each one a bit bigger than your hand. Add a little more flour if the mix is sticking to your hand.
Grease a waffle iron well and put the potato patties into it.
Cook for five minutes until golden brown.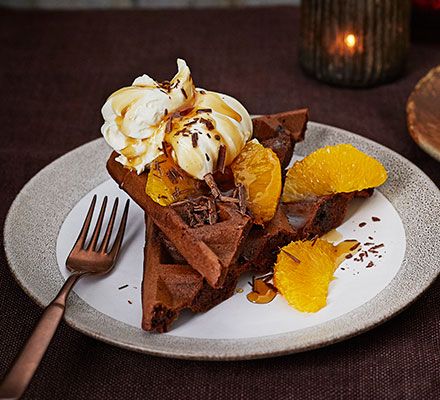 Add cocoa and orange essence to waffle batter for a speedy, crowd-pleasing pud or indulgent brunch. Top with cream, fresh orange and more chocolate.
Source: BBC Good Food
2 eggs
200ml milk
130g self-raising flour, sieved
20g cocoa powder, sieved
20g caster sugar
60g butter, melted
1 tsp orange essence
1 large orange, zested
25g dark chocolate, roughly chopped, plus extra to serve
To serve
Maple syrup, grated chocolate, whipped cream
Method
Heat a waffle maker, or if you don't have one, use a greased griddle pan. Meanwhile, mix the eggs and milk in a jug.
Combine the flour, cocoa and sugar in a bowl, then gradually whisk in the egg and milk mixture until there are no lumps. Slowly pour in the melted butter, still whisking, then add the orange essence, zest and chocolate.
Pour a ladleful of the batter into the waffle iron or griddle pan, and cook for 5-6 mins, then repeat – don't worry if the waffles look dark, it's simply the cocoa. Cut in half and top with the oranges, maple syrup, more chocolate and whipped cream.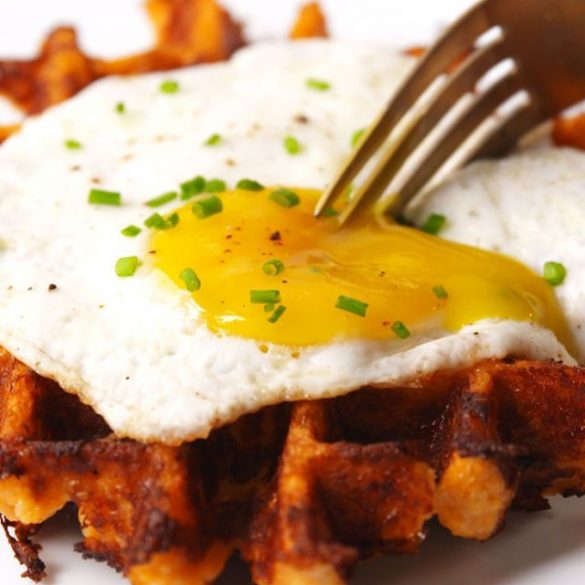 These low-carb waffles will become a weekend staple at your house.
Source: Delish 
390g cauliflower, grated
390g grated mozzarella
65g finely grated parmesan
3 large eggs
32g cornflour
1 tsp paprika
Sea salt
Cracked black pepper
For breakfast style
1 fried egg
1 tbsp freshly chopped chives
Salt
Pepper
Method
Preheat your waffle press.
In a large bowl, mix together cauliflower, cheeses, eggs, cornstarch and paprika until combined. Season with salt and pepper.
Pour 1 ladle of batter into a preheated waffle press, and cook for 6 minutes.
Serve alone or with the toppings of your choice.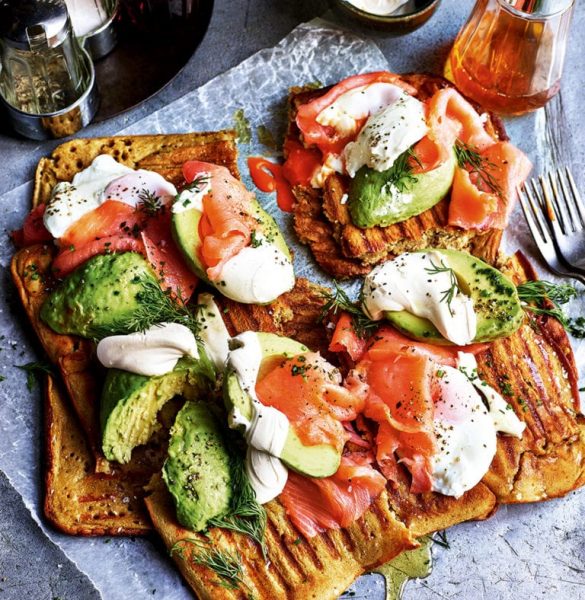 Waffles with Smoked Salmon, Avocado & Eggs
You don't even need a waffle iron to make these savoury waffles! Get out a griddle pan and prepare yourself for one epic brunch dish, consisting of fluffy, pull-apart waffles, smoked salmon, smashed avocado, poached eggs and a drizzle of honey. Brunch never looked so good!
Source: Delicious Magazine
130g plain flour
130g rye flour
2 tsp bicarbonate of soda
35g light brown sugar
2 small free-range eggs, plus 4 for poaching
400ml milk
80g Greek yoghurt
50g unsalted butter
2 tsp vinegar
Large handful roughly chopped fresh parsley
150ml creme fraiche or Greek yoghurt
2 – 3 tbsp horseradish sauce optional
Honey, to drizzle
200g smoked salmon
2 -3 avocados, halved, stoned, with a squeeze of lemon juice over
Method
In a large bowl, mix the flours, bicarbonate of soda, 2 pinches of salt and the sugar, then make a well in the centre.
Mix the 2 eggs with the milk and yoghurt in a jug until smooth. Pour the mixture into the flour, then gently mix together to form a batter.
Heat a griddle pan over medium-high heat, then add half the butter. Pour in half the batter, turn the heat down to medium and cook for 2-3 minutes. Once bubbles appear on the surface, check with a palette knife that the underside is golden, then loosen from the pan with the knife. Slide-out onto a light board using the palette knife to help, then turn the pan over and set it on top of the waffle so it covers it. Lift up the board, holding the pan securely, and flip over so the waffle is back in the pan, then cook for 2-3 minutes more (adjust the heat if need be). Keep warm in a low oven and repeat with the remaining butter and batter.
Bring a wide pan of water to a boil and add the vinegar. Turn down to a gentle simmer, crack an egg into a cup, then slide it into the water. Repeat with the remaining eggs. Cook gently for 2 minutes or until cooked to your taste. Take out with a slotted spoon and set on a plate.
Mix most of the parsley with the crème fraîche/yoghurt (and horseradish, if using).
Spread the waffles with the herby crème fraîche/yoghurt, drizzle with the honey, then top with the salmon, avocados, poached eggs and more herbs. Serve in the middle of the table and let everyone dig in.