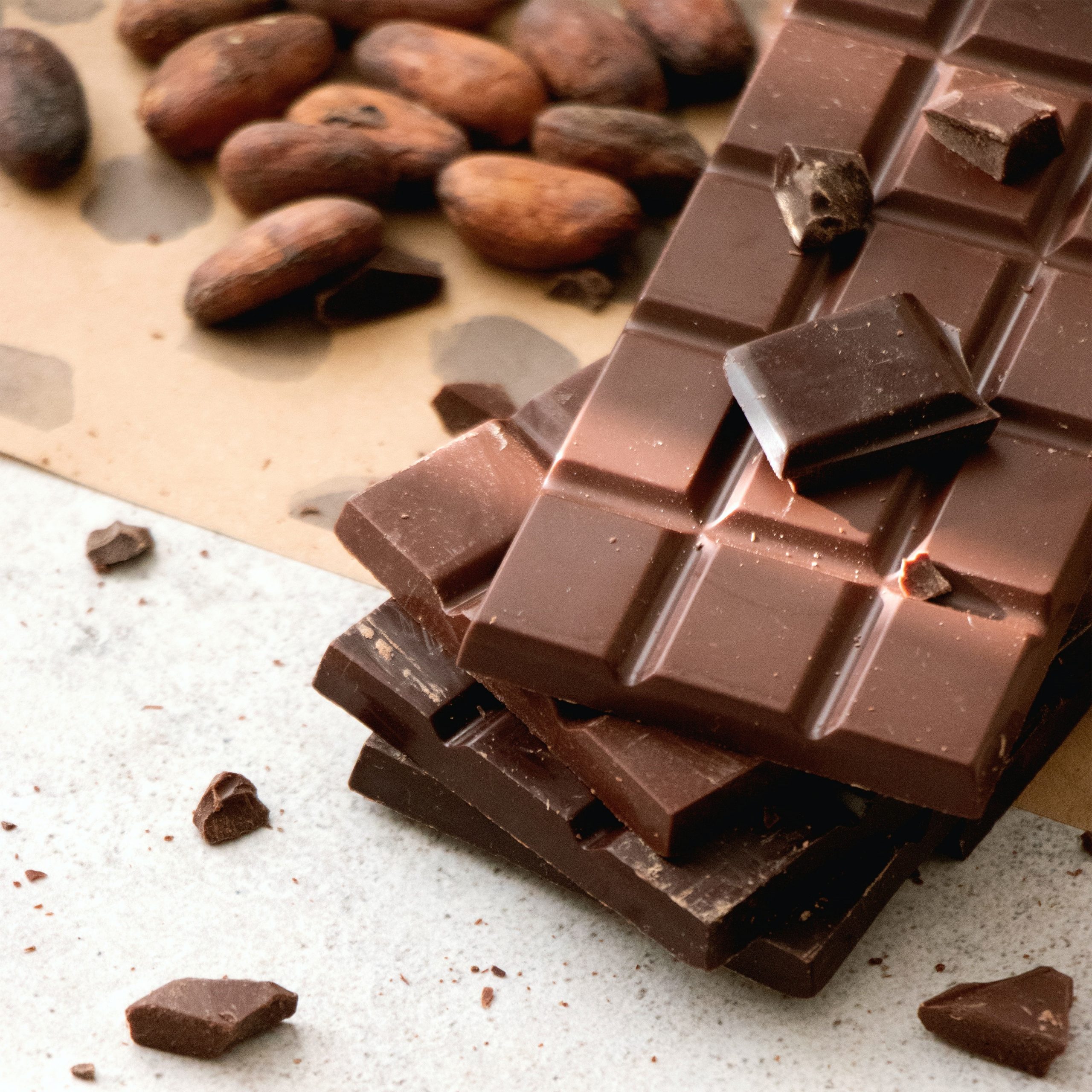 International Chocolate Day
Calling chocolate lovers everywhere – International Chocolate Day is an unofficial holiday, dedicated to the sweetest and tastiest dainty in the world – chocolate. This day is celebrated on September 13, since the birthday of Milton S. Hershey, an American confectioner and founder of the worldwide known company The Hershey Chocolate Company.
Any excuse to consume chocolate, we've put together some tasty chocolate recipes for you to enjoy but also check out our previous chocolate-related recipes in our previous blog posts… https://heritagefinefoods.co.uk/world-chocolate-day/ and https://heritagefinefoods.co.uk/chocolate-cake-day/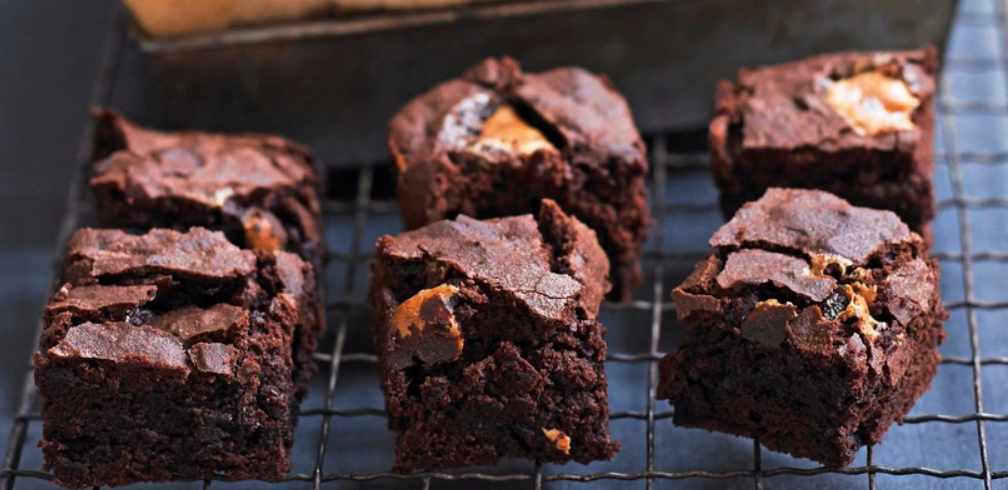 Best Ever Classic Chocolate Brownies
A classic, gooey chocolate brownie recipe that can be ramped up with added ingredients. We've included three suggestions of additional ingredients for more opportunities (excuses) to bake this wonder.  This brownie recipe uses a square tin, but you can use an oblong or even round cake tin provided it is roughly the same size – just keep an eye on the brownies, you may need slightly less or more time than the recipe states.
Source: Olive Magazine
100g butter, chopped
200g dark chocolate, chopped
4 eggs
250g golden caster sugar
100g plain flour
1 tsp baking powder
30g cocoa
Brownies variations
100g white or milk chocolate chunks, chopped
100g hazelnuts, toasted, roughly chopped
100g pecans, toasted, roughly chopped
2 handfuls baby marshmallows
Method
Heat the oven to 180C/fan 160C/gas 4.
Line a 22cm square brownie tin with baking parchment. Melt the butter and chocolate together in a microwave or in a bowl set over a pan of simmering water. Cool to room temperature.
Whisk the eggs and sugar together until the mixture is light and fluffy.
Fold the chocolate mixture into the egg mixture and sift on the flour, baking powder and cocoa.
Fold this in to give a fudgy batter.
(To ramp it up, add 100g chopped white or milk chocolate chunks OR 100g toasted, roughly chopped hazelnuts or pecans OR 2 handfuls of baby marshmallows.)
Bake for 25-30 minutes or until the top is cracked but the middle just set. Cool completely, then lift out of the tin and cut.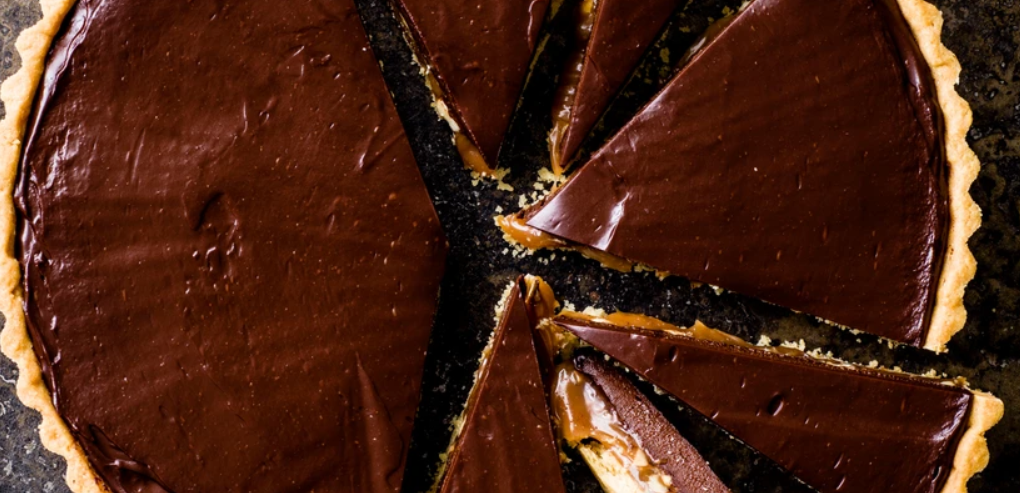 Chocolate & Peanut Caramel Tart
Chill/Cooling time: 2 hrs 30 mins
If you love classic snickers, then you'll go nuts over our epic chocolate tart with crumbly peanut pastry.
Source: Olive Magazine
Peanut pastry
40g salted peanuts
150g plain flour, plus extra for dusting
1 tbsp icing sugar
90g unsalted butter, chilled and cubed
1 egg yolk
Peanut caramel
150g caster sugar
125ml double cream
25g unsalted butter
50g salted peanuts, roughly chopped
Ganache
200ml double cream
150g dark chocolate, finely chopped
Method
For the pastry, put the peanuts into a food processor and whizz until fine. Add the flour, icing sugar, butter and a pinch of salt, and pulse until the mixture resembles breadcrumbs but still has little lumps of butter. Add the egg yolk and pulse briefly, then add ice-cold water, 1 tbsp at a time, whizzing until it comes together as a dough. Form into a rough disc, wrap and chill for 30 minutes.
Heat the oven to 190C/fan 170C/gas 5. Roll out the dough on a lightly floured work surface to the thickness of a £1 coin, then use it to line a shallow (about 21/2-3cm deep) loose-bottomed 23cm tart tin. Prick the base all over with a fork and line with baking paper, then fill with baking beans and bake for 20-25 minutes or until the edges are just browning. Remove the baking beans and paper, and bake for 10-15 minutes or until golden brown all over. Cool completely in the tin.
For the peanut caramel, put the caster sugar and 2 tbsp of water into a non-stick pan. Heat gently until the sugar melts, then turn up the heat and bubble until you have a rich caramel the colour of a rusty penny. Carefully pour in the double cream, mix, then add the butter and stir until melted. Leave to cool slightly then pour into the tart case. Sprinkle evenly with the chopped salted peanuts and leave at room temperature for 1 hour or until fully set.
For the ganache, gently heat the double cream until simmering. Put the chopped chocolate into a bowl and pour over the cream. Leave for 1 minute, then stir until smooth and the chocolate is fully melted. Pour over the set caramel, even out with a spatula and chill for 1-2 hours or until set. Cut into slices to serve.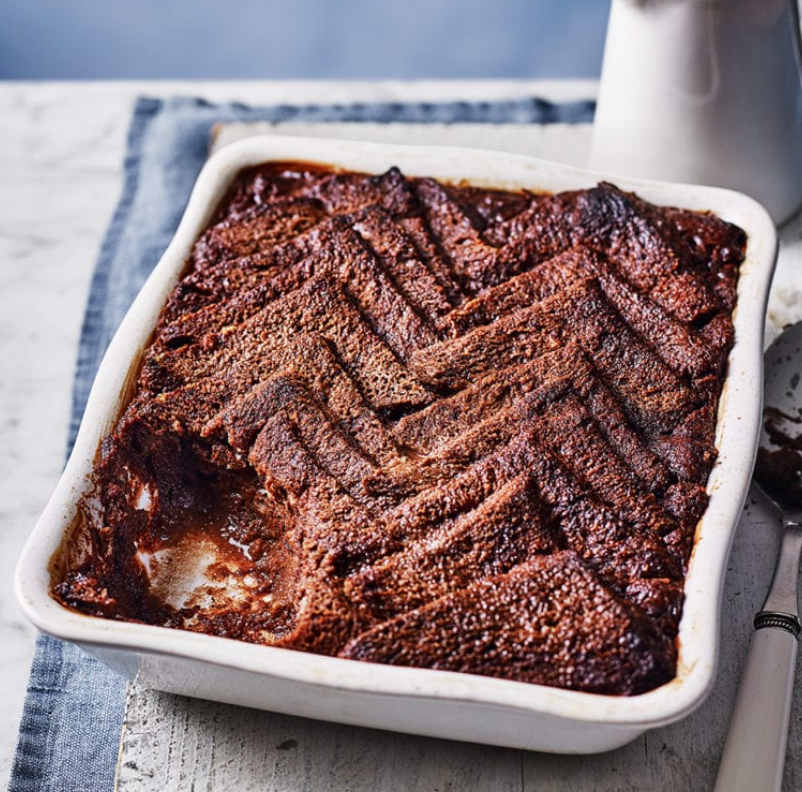 Delia's Chocolate Bread & Butter Pudding
You can tell just by the title of certain recipes that they're going to taste good. Such is the case with Delia's chocolate bread and butter pudding. Oh yes…
Source: Delicious Magazine
9 slices, each 5mm thick, good quality white bread, 1 day old, taken from a large loaf
150g dark chocolate, with 75% cocoa solids
425ml whipped cream
4 tbsp dark rum
110g caster sugar
75g butter
A good pinch of cinnamon
3 large eggs
Double cream, to serve
Other things you'll need
Shallow ovenproof dish 18cm x 23cm x 5cm deep, lightly buttered
Method
Begin by removing the crusts from the slices of bread, which should leave you with approximately 10cm squares. So now cut each slice into 4 triangles. Next place the chocolate, whipping cream, rum, sugar, butter and cinnamon in a bowl set over a saucepan of barely simmering water, being careful not to let the bowl touch the water, then wait until the butter and chocolate have melted and the sugar has completely dissolved. Next, remove the bowl from the heat and give it a really good stir to amalgamate all the ingredients.
Now in a separate bowl, whisk the eggs and then pour the chocolate mixture over them and whisk again very thoroughly to blend them all together.
Then spoon about a 1cm layer of the chocolate mixture into the base of the dish and arrange half the bread triangles over the chocolate in overlapping rows. Now pour half the remaining chocolate mixture all over the bread as evenly as possible, then arrange the rest of the triangles over that, finishing off with a layer of chocolate. Use a fork to press the bread gently down so that it gets covered very evenly with the liquid as it cools.
Cover the dish and allow it to stand at room temperature for 2 hours before transferring it to the fridge for a minimum of 24 (but preferably 48) hours before cooking. When you're ready to cook the pudding, pre-heat the oven to gas mark 4, 180°C. Remove the covering and bake in the oven on a high shelf for 30-35 minutes, by which time the top will be crunchy and the inside soft and squidgy. Leave it to stand for 10 minutes before serving with well-chilled double cream poured over.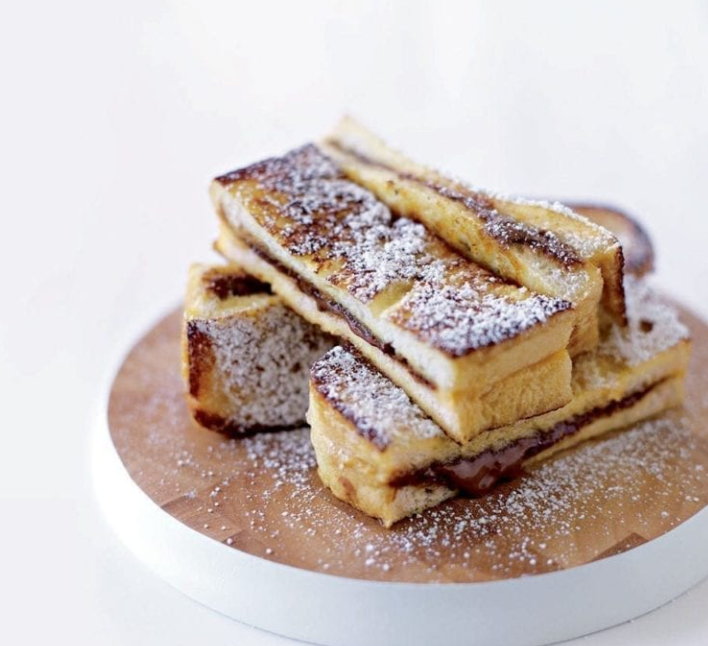 Chocolate-Filled French Toast
If you really want to treat your family, make them fingers of French toast sandwiched with chocolate – they're irresistible.
Source: Delicious Magazine
3 eggs
185ml milk
1 tbsp caster sugar
20g unsalted butter
8 slices white bread
100g milk or plain chocolate, finely chopped
Icing sugar, for dusting
Method
In a large bowl, whisk the eggs, milk, caster sugar and a pinch of salt together until well combined.
Heat half the butter in a large non-stick frying pan over medium heat. Coat 2 bread slices in the egg mixture and place in the pan. Sprinkle each slice with a quarter of the chocolate. Soak 2 more bread slices in the egg and place them on top of the chocolate. Press down gently. Cook for 3 minutes on each side, until golden.
Repeat with the remaining ingredients. Slice into fingers and serve dusted with icing sugar.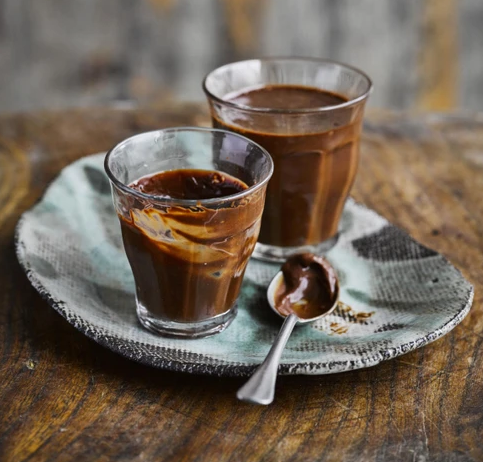 Bear Grylls' chocolatey dessert is so quick to make. If you have unexpected guests, it's sure to be a winner! Please be aware this contains raw eggs.
Source: BBC Good Food
2 eggs
4 heaped tbsp cocoa powder
4 tbsp maple syrup
2 tbsp coconut oil, melted and cooled
A dash of vanilla extract
Method
Put all the ingredients in a bowl and mix with a whisk until smooth. Divide into two ramekins and put in the fridge for at least 30 mins to set. Then serve – with a tiny spoon to make it last longer!