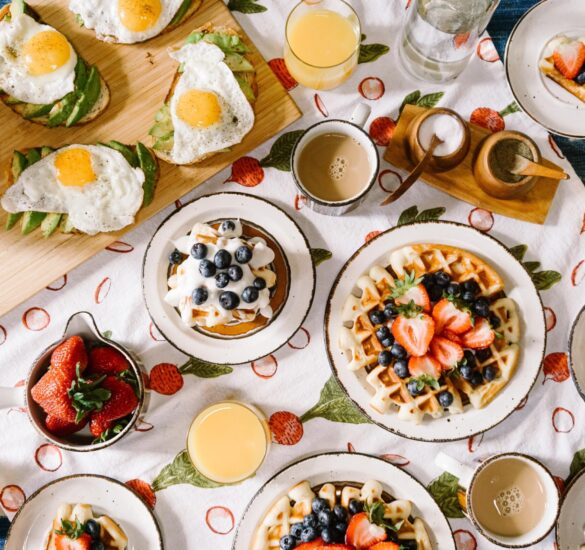 How to use your Tasty Breakfast Box
We recently introduced the Tasty Breakfast Box to our top-up boxes and it contains some great ingredients for some tasty breakfast treats. The box contains New Forest strawberries, a loaf of bread, pack of 6 eggs, 2x ready to eat avocados, halloumi, plain flour, salted butter, 2 litres semi-skimmed milk and 3x smooth and creamy yoghurts. You can get your Tasty Breakfast Box for just £19.50.
Below you can see 5 recipes using the ingredients in the box with some extras to take breakfast to the next level.
If you order one of these tasty boxes, don't forget to take a photo and tag us on socials and we always love seeing your creations!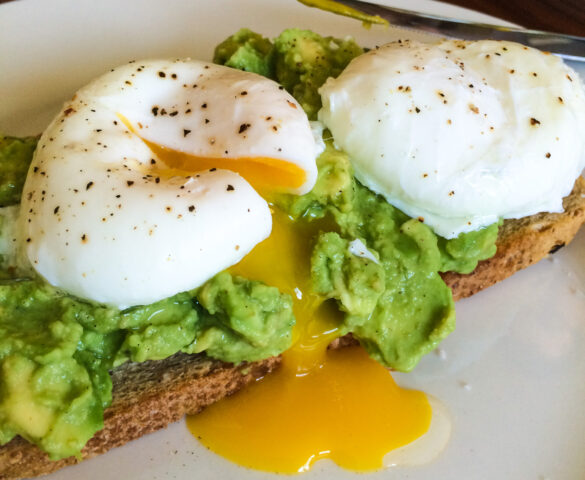 Smashed Avocado on Toast with Poached Egg
Avocado toast works brilliantly for breakfast, lunch, and even for dinner. The star of this toast is the avocado, so it's essential you use ripe avocados. It is healthy, protein-packed, and delicious!
Source: Inspired Taste
1 slice of bread, toasted*
1/2 ripe medium avocado*
1 egg*
Salt
Pepper
Lemon juice
Drizzle of extra-virgin olive oil
*included in the box
Method
Use a fork to mash the avocado and lay on top of the toasted bread slice. Squeeze the juice of a small lemon over the avocado.
Fill a pan with water at least 5 cm deep and put on medium-high heat and add 1 tsp of vinegar into the water. Bring to a simmer.
Crack the egg into a bowl.
Once simmering, tip the egg into the water and cook for 3-4 minutes or until the white has set.
Lift the egg out using a slotted spoon, and place on kitchen paper to drain.
Serve on top of the avocado and season with salt, pepper and a drizzle of olive oil.
Traditional Pancakes with a savoury twist
Learn a skill for life with this foolproof crêpe recipe that ensures perfect pancakes every time. Stuff your savoury crêpe with chunky ham and cheddar for a quick and tasty brunch.
Source: BBC Good Food & Olive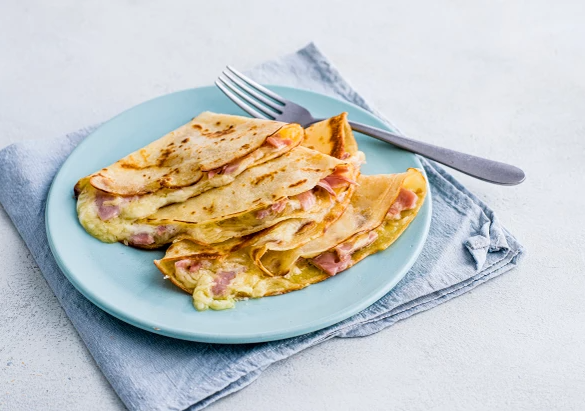 100g plain flour*
300ml milk*
2 eggs*
Oil
Salt
* included in the box
8 tbsp creme fraiche
300g sliced ham
200g cheddar cheese
Put flour, eggs, milk and salt into a bowl and whisk together until the batter is smooth.
Set a frying pan over medium heat and wipe it with some oiled kitchen paper.
When hot, cook your pancakes for 1 minute on each side until golden. Keep them in a warm a low oven. For sweet pancakes, serve with lemon and sugar or for a savoury twist keep following the instructions…
Once all the pancakes are made, heat a large dry frying pan and place 1 pancake in it and spread over a tbsp of crème Fraiche in a thin layer. Scatter 2-3 tbsp of cheddar and a little bit of ham.
Heat for a couple of minutes, fold in half and then fold in half again.
Serve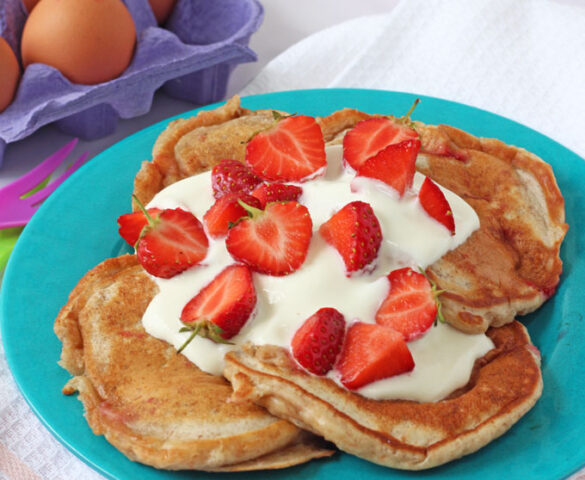 American Pancakes with Yoghurt & Strawberries
This easy American pancake recipe makes light and fluffy pancakes that are great for a weekend brunch. Serve with any fresh fruit and a dollop of tangy yoghurt.
Source: BBC Good Food
135g plain flour*
1 tsp baking powder
1/2 tsp salt
2 tbsp caster sugar
130ml milk*
1 large egg*
2 tbsp melted butter*
Strawberries, halved or quartered*
Yoghurt*
*included in the box
Method
Sift the flour, baking powder, salt and sugar into a large bowl. In a separate bowl, lightly whisk the milk and egg together then add the melted butter.
Pour the milk mixture into the flour mixture and using a fork, beat until you have a smooth batter. Let it stand for a couple of minutes,
Heat a non-stick frying pan over medium heat and add a knob of butter. When it's melt, add a ladle of batter.
When bubbles start to form, it's ready to flip. Cook until both sides are golden.
Repeat until you've used all the batter. Keep the pancakes warm in a low oven.
Serve with fresh strawberries and yoghurt.
Best Ever Scrambled Eggs on Toast
Learn how to make perfect scrambled eggs with this easy recipe. A quick breakfast packed with protein.
Source: BBC Good Food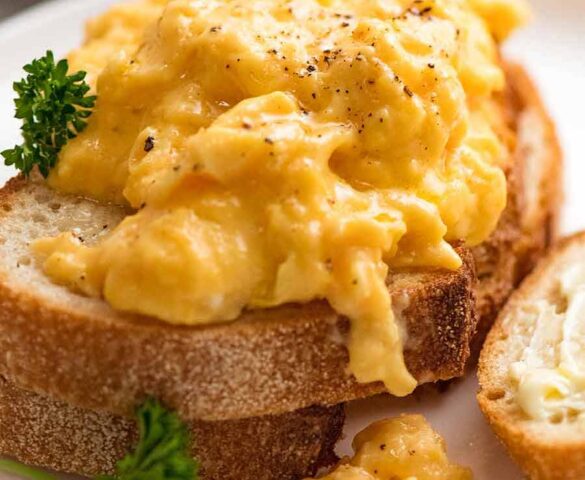 2 large eggs*
2 tbsp butter, 1 tbsp melted*
Salt
Pepper
Sliced bread, toasted*
*included in the box
Method
In a bowl, crack in the eggs, melted butter and pepper and whisk together.
Heat a small non-stick frying pan for a minute or so then add the remaining butter and let it melt.
Pour in the eggs and let it sit without stirring for 20 seconds.
Stir with a wooden spoon, lifting and folding it over from the bottom of the pan.
Repeat until the eggs are softly set but still slightly runny.
Serve on toast and season with salt and more pepper.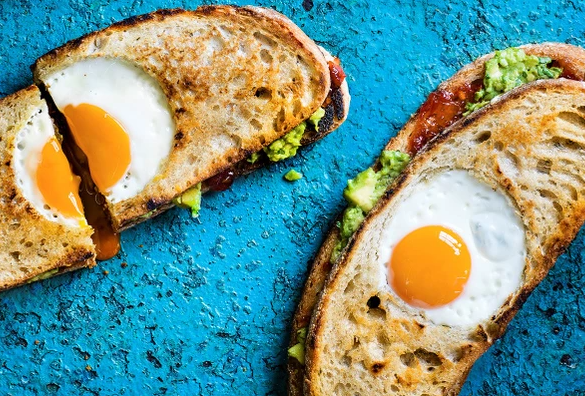 If you like avocado toast you'll LOVE this egg-in-a-hole with avocado, sandwich.
Source: Olive
8 sliced of bread*
Olive oil
4 tbsp chilli jam
1 avocado*, mashed with salt, lime juice and chopped coriander
4 eggs*
250g halloumi*
*included in the box
Method
Slice the halloumi into thick slices. Heat a dry frying pan over medium heat then add the halloumi. Allow to cook for 2-3 minutes or until it's golden brown. Flip and repeat on the other side. Once done set aside on a plate.
Brush 4 of the slices of bread on both sides with olive oil then fry in a large non-stick frying pan until golden. Keep warm in a low oven. Cut a hole from the other 4 slices of bread then brush with oil and fry on one side.
Flip the bread over then crack an egg into the centre. Cover the pan with a lid or flat baking tray and keep cooking on low heat until white is set.
To serve, spread the whole slice of bread with chilli jam, mashed avocado and halloumi. Top with the egg-filled bread.