How to use your 

free gift

 this week with our box contents (with 

a

 few extra bits and bobs)
Lots of people will just throw some yoghurt over some fruit and eat for breakfast but there are lots of different ways to use natural yoghurt – here are a few of our suggestions to use it with some of your box contents this week.  Please share what you do with your yoghurt on our Facebook page.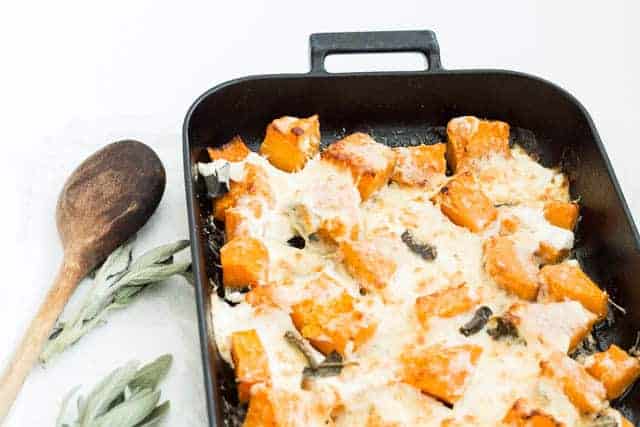 Butternut Squash & Yoghurt Bake
A delicious butternut squash bake with a yoghurt and sage sauce.
Source: Recipes from a Pantry
1 butternut squash, peeled, deseeded and chopped into 3cm cubes
Salt and fresh ground black pepper
1 tbsp olive oil
300ml natural yoghurt
Small bunch of fresh sage leaves, torn or 2 tsp dried sage
100g parmesan, grated
Method
Preheat the oven to fan assisted 160C / 180C fan / 350F / gas 4. 
Place the butternut squash cubes in the baking dish, season with salt and pepper and the olive oil and mix well. Bake for 25 mins. 
Remove the butternut squash from the oven and mix in the yoghurt and torn sage leaves (or dried sage) before sprinkling grated parmesan on top.  
Bake for about 20 mins or until the butternut squash is tender.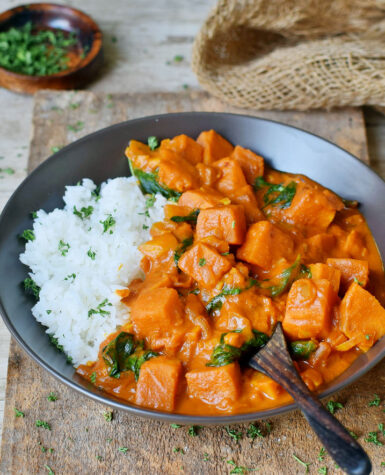 Sweet Potato, Carrot and Squash Masala
This vegetarian curry should appeal to all the family.  It's also really quick and easy to make. 
Inspired by: Ela Vegan
1 tbsp vegetable oil
1 medium onion, thinly sliced
1 chopped sweet potato
1 chopped carrot
250g chopped butternut squash
1.5 tbsp Masala curry paste
200g tin chopped tomatoes
120g spinach
Natural yoghurt, to serve
Coriander leaves, to serve
Method
Warm the oil in a shallow frying pan over a low heat.  Cook the onion, until softened.  
Stir in chopped sweet potato, carrot and squash and fry for about 5 minutes. Stir in the curry paste and tomatoes, cover with a lid and allow to simmer for about 15 minutes until the vegetables are cooked through.  
Remove from the heat and stir in the spinach.  Cover for 1-2 minutes or until the spinach has wilted. 
Top with a spoonful of natural yogurt and a few coriander leaves (optional), then serve with warm naan bread.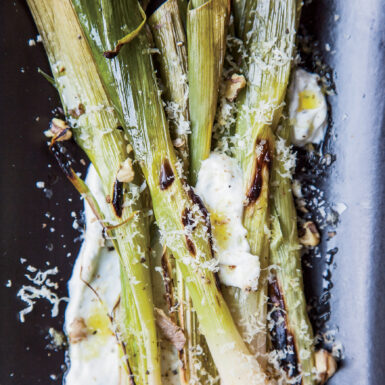 Roasted Leeks with Yoghurt & Shaved Toasted Walnuts
This is a great go-to recipe for serving leeks. Top with tangy yoghurt and finely grated roasted walnuts.
Source: Food and Wine
25g natural yoghurt
1/2 tsp finely grated lemon zest
1/2 tsp marjoram
1/4 tsp sugar
Salt
Fresh ground pepper
10 walnut halves
2 leeks, white and light green parts only, trimmed & halved lengthways
Extra-virgin olive oil, for drizzling
2 tsp fresh lemon juice
Method
Preheat the oven to 375°. In a small bowl, blend the yoghurt with the lemon zest, marjoram and sugar. Season with salt and pepper and mix well. This is your yogurt sauce 
Spread the walnuts in a small cake pan and toast in the oven for 7 to 8 minutes, until browned and fragrant. Transfer to a plate to cool. 
Spread the leeks on a baking sheet in a single layer. Drizzle with olive oil and the lemon juice and season with salt and pepper; rub to coat the leeks thoroughly. Roast for about 20 minutes, tossing occasionally, until the leeks are tender, golden and crispy in spots. 
Transfer the leeks to a platter or plates. Chop the walnuts and scatter over the leeks. Drizzle with olive oil and serve with the yoghurt sauce.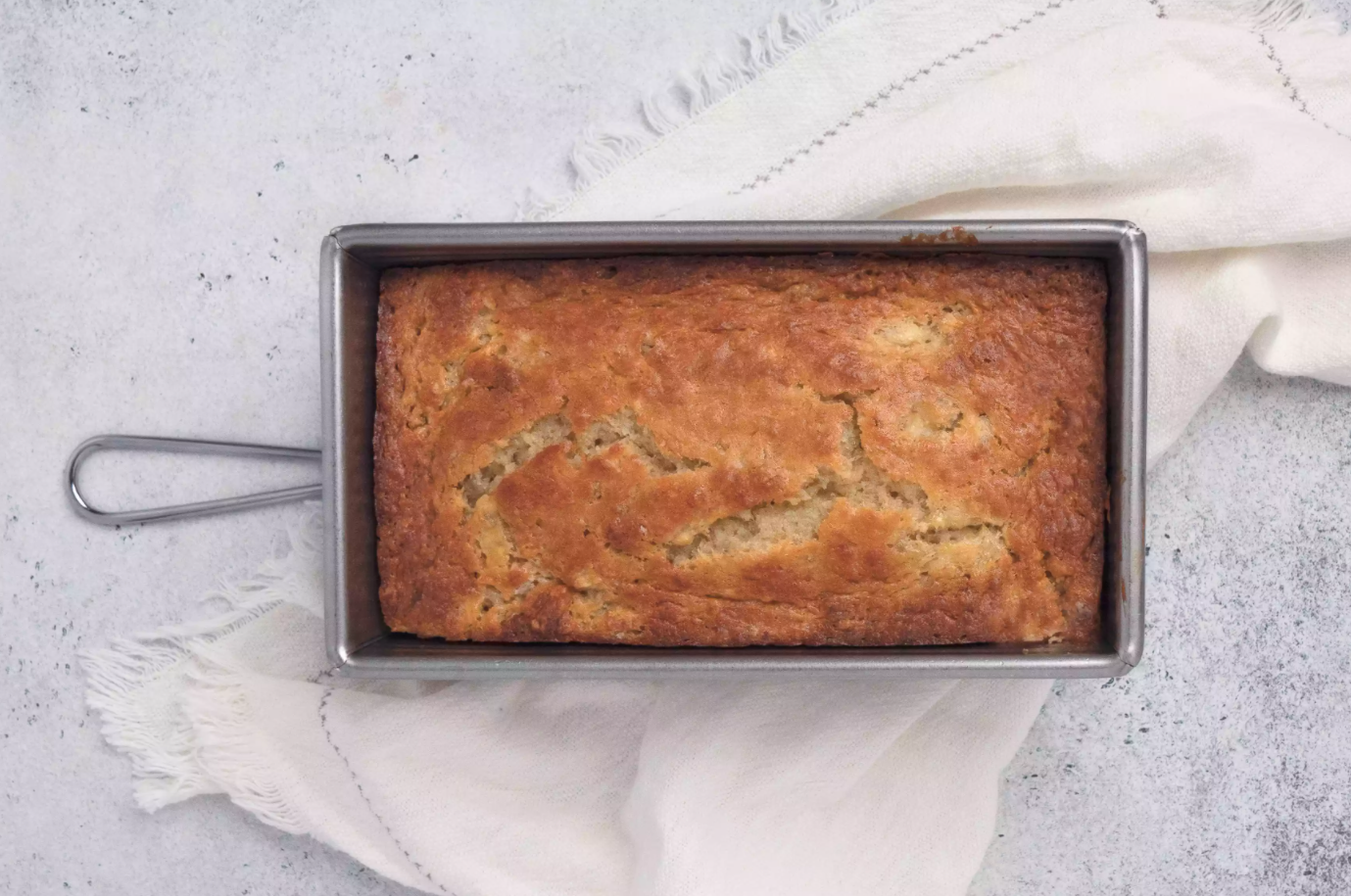 As an alternative to banana bread, make the most of your ripe bananas with this gorgeous banana yoghurt cake. It's sweet, moist, and ever so easy to make. 
The cake transforms a few common ingredients into a dessert that's sweet but not too sweet. It's a bit like a pound cake but slightly healthier, almost cutting the calories in half. It's a great option for afternoon tea, a brunch, or as a light dinner dessert. You can also simply have it around for a few days and enjoy it as a snack. 
Source: The Spruce Eats
120g butter, room temperature, plus more for greasing the tin
100g caster sugar
2 eggs, room temperature
1 tsp vanilla extract
2 bananas, very ripe, mashed
200g yoghurt, sweetened, plain
200g plain flour
1 1/2 tsp baking powder
Method
Preheat the oven to 350 F/180 C. Grease an 8- by 4-inch loaf pan with a little butter. 
In a mixing bowl, beat the butter and sugar with an electric mixer until pale and fluffy. 
Add eggs one at a time beating well after each addition. 
Use a spoon or spatula to fold in the vanilla extract, mashed bananas, and yoghurt. 
Sift together the flour and baking powder, then fold gently into the banana/yoghurt mixture until just combined. Don't over mix. 
Spoon the mixture into the greased pan and bake for 50 to 60 minutes or until a skewer inserted into the middle of the cake comes out clean. 
Remove cake from the oven and allow it to stand for 5 minutes in the pan. Then gently turn the cake out of the tin and cool on a wire rack. 
Tips:  
The cake can be stored in an airtight container at room temperature for two to three days. 
You can use a 9- by 5-inch loaf pan, though your cake will be a little thinner.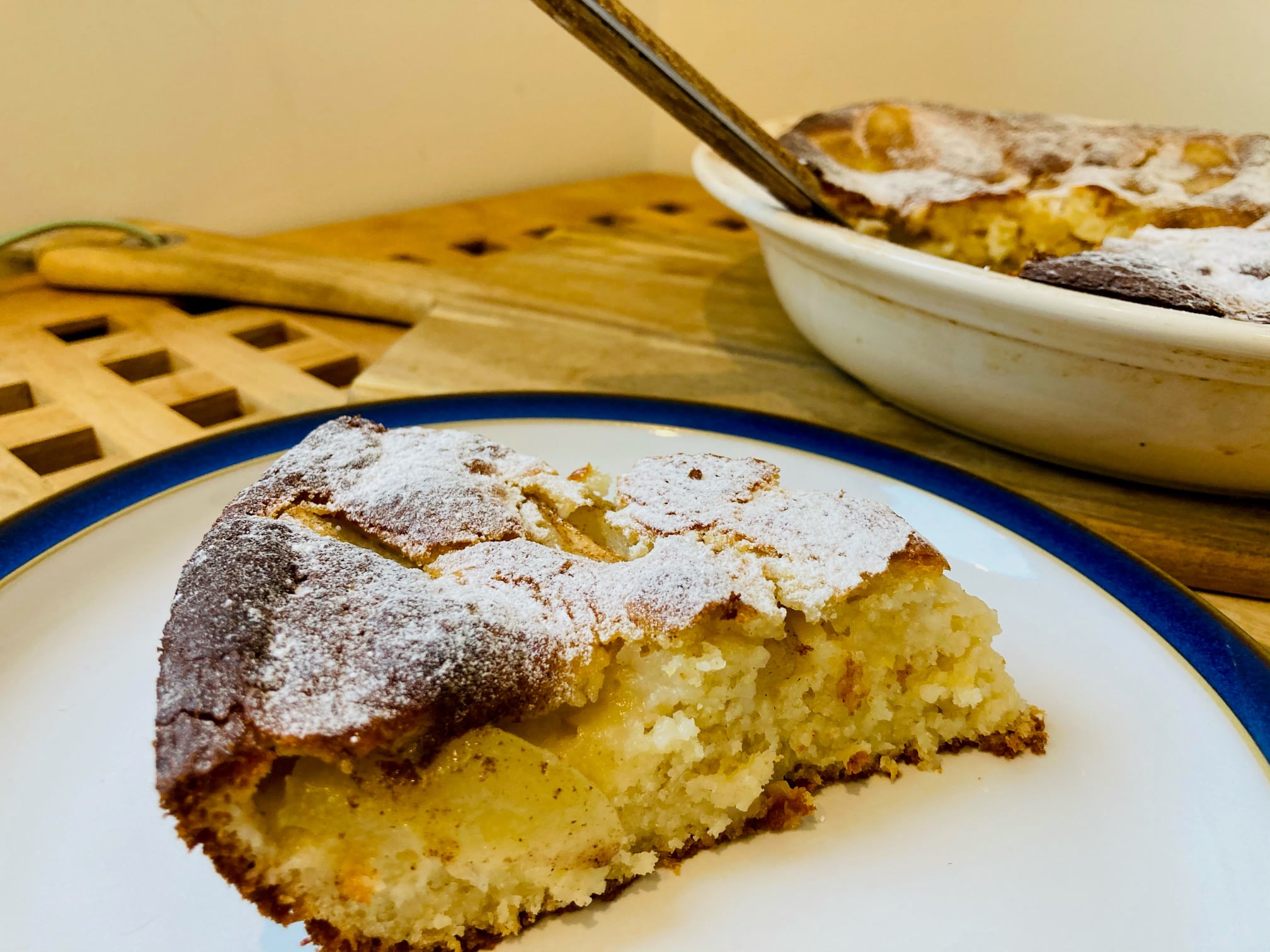 Rustic Comice Pear Yoghurt Cake
A rustic yoghurt cake topped with sweet, comice pears and a dusting of cinnamon and icing sugar – delicious as a dessert or 'breakfast' cake. This cake covered properly keeps well on the countertop for 2 days or refrigerate for it to keep for longer. 
250g natural yoghurt
60ml oil
135g sugar
2 large eggs
1/2 tsp vanilla extract
1 tsp lemon zest
170g self raising flour
1 1/4 tsp baking powder
2 medium-sized Comice pears, very ripe
1 tsp cinnamon
Icing sugar to serve
Method
Pre-heat oven to 350°F/180°C. Line bottom of an 8″ round cake pan with parchment. Grease and flour pan thoroughly. Set aside. 
In a large mixing bowl, mix together the yogurt, oil, sugar, eggs, vanilla and lemon zest till smooth. 
Placing a large sifter or sieve right over the bowl, sift together the flour, baking powder, baking soda and salt into the bowl. 
Whisk into the wet ingredients until fully incorporated and batter is smooth. 
Pour batter into the prepared cake pan and smooth top with a spatula. 
Peel, core and cut pears into thin slices. Arrange pear slices on top of cake batter. Sprinkle cinnamon powder on top. 
Bake for 40-50 minutes or till cake is puffy and golden and passes the toothpick test. 
Remove from oven and cool in pan over a wire rack for 10 minutes. Dust lightly with icing sugar, cut and serve. Enjoy!