How to use your box contents. W/c 20th September
Sometimes we all need some new ideas and inspiration of how to use the fruit and veg box contents so we've pulled together some recipes to help you use the contents of this week's medium seasonal box.
From soup to pasta, side dishes with a kick to a couple of fruit desserts there should be something here to tickle your taste buds. Please note you will need to use some store cupboard items too as well as other things such as fresh herbs and spices.  Please share with us over on our Facebook how you use your box contents.
This week's medium box includes the following items: red potatoes, corn on the cob, onions, carrots, broccoli, courgettes, baby cucumbers, bananas, Braeburn apples, red peppers, orange peppers, a free gift of a punnet of nectarines, a bunch of carrots, leeks, garlic, mushrooms, red little gem lettuce and vine tomatoes.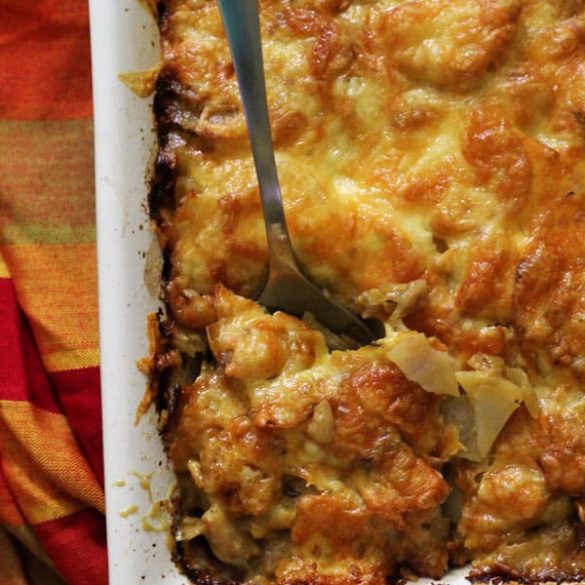 The perfect Autumnal side dish treat.
Source: Oh My Veggies
30g unsalted butter
2 large onions, chopped
1 large leek, thinly sliced
2 tsp salt, divided
1 tbsp brown sugar
250ml vegetable stock, divided
170ml white wine
170ml double cream
1 tsp balsamic vinegar
1.5kg potatoes, peeled and sliced
2 tsp fresh thyme, minced and divided
1 tsp black pepper, divided
170g Manchego cheese, grated
Method
Preheat oven to 180ºC.
Melt the butter in a large nonstick pan. Add the onions, leek, and 1 teaspoon of salt. Cook until just beginning to brown, about 5 minutes, stirring occasionally. Stir in the brown sugar and cook, stirring frequently, until the onions are golden, about 5 minutes. Stir in ½ of the stock and cook until softened and sticky, about 5 minutes more. Transfer to a medium bowl.
Add the remaining stock, white wine, and double cream to the pan along with the remaining 1 teaspoon of salt. Scrape the bottom of the pan to release any browned bits. Bring to a boil and then remove from the heat. Stir in the vinegar.
In a 3-litre baking dish, scatter half of the potatoes. Sprinkle with 1 teaspoon of thyme and ½ teaspoon of black pepper. Spread the caramelised onions over the potatoes. Top with the remaining potatoes, thyme, and black pepper. Pour the stock mixture over the potatoes.
Bake until bubbling, about 30 minutes. Top with the Manchego cheese and bake until golden brown and cooked through, about 30-40 minutes. Let cool for 15 minutes before serving.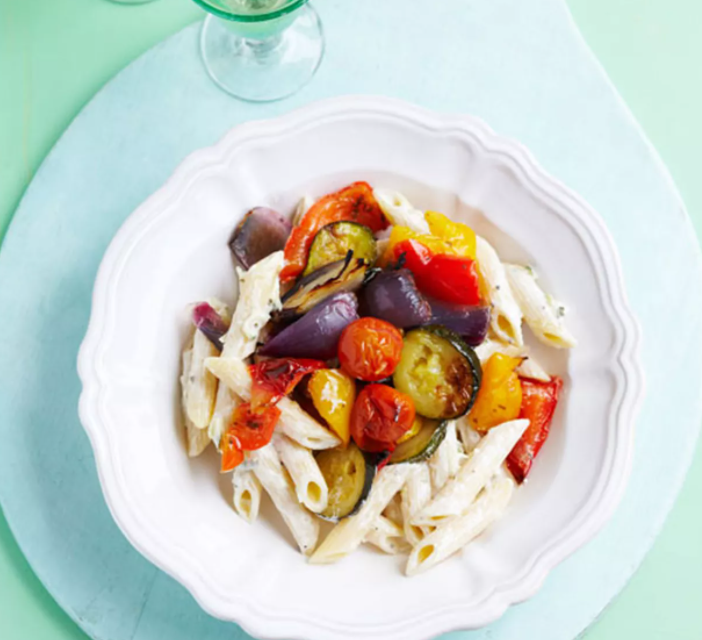 Mediterranean Roasted Vegetable & Tzatziki Pasta
Roasted Mediterranean vegetables are a sweet and healthy topping for pasta.
Source: Woman and Home
1 red pepper, chopped
1 orange pepper, chopped
1 onion, quartered
1 courgette, sliced
3 vine tomatoes, chopped
1 garlic clove, crushed
1 tbsp olive oil
200g penne or other pasta shapes
2 tbsp white wine vinegar
2 tbsp parsley, chopped
To make the tzatsiki
2 baby cucumbers, skinned and grated, liquid squeezed out
4 tbsp Greek yogurt
2 tsp dill
1 tsp olive oil
1 garlic clove, crushed
Method
Heat the oven to 220C, 200C fan, Gas 7. Tip the roasting vegetables into a roasting tin. Add the tomatoes, garlic and olive oil. Season and turn the vegetables to coat in the oil. Roast in the oven for 25-30 mins until tender and starting to char at the edges.
Make the tzatziki – skin and grate 2 baby cucumbers and squeese out the juice, mix with the greek yogurt, dill, olive oil and garlic.
Cook the pasta in boiling salted water for 10 mins until just tender. Drain.Mix together the tzatziki, white wine vinegar and parsley and mix with the warm pasta. Serve the roasted vegetables spooned over the pasta.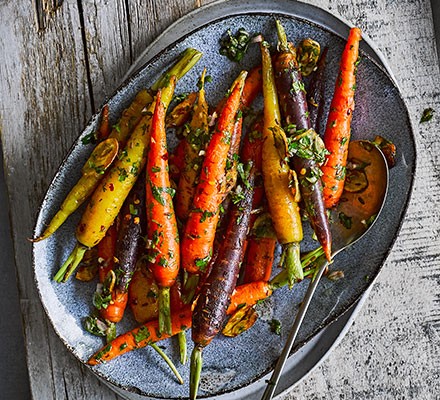 Pair lightly spiced carrots with zesty lemon, shallot, cumin and coriander dressing to make this fabulous side dish – a great accompaniment to your Sunday roast.
Source: BBC Good Food
3 tbsp vegetable oil
400g carrots, washed, leafy tops trimmed and roughly chopped, large carrots halved
3 garlic cloves, peeled and sliced
1 tbsp cumin seeds
Pinch chilli flakes
For the dressing
Handful fresh coriander leaves, chopped
1 shallot, finely chopped
1 lemon, zested, plus a squeeze of juice
50ml olive oil
Method
Mix all the dressing ingredients together and set aside.
Heat the oil in a wok, then add the carrots. Stir-fry for 3-4 mins until lightly charred, then add the garlic, cumin, chilli and a large pinch of salt. Cook for 2 mins more. Turn off the heat, toss through the dressing and a few chopped carrot tops, then serve.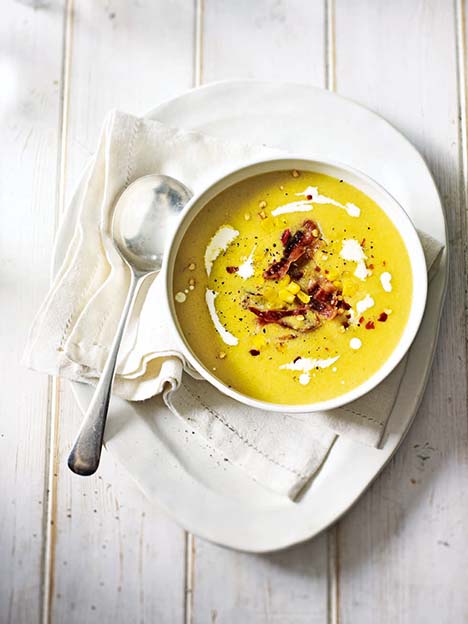 Spicy Sweetcorn Soup with Toasted Corn and Crispy Pancetta
This easy sweetcorn soup recipe is made extra-special by a sprinkling of toasted corn and crispy pancetta.
Source: Delicious Magazine
1 onion
2 garlic cloves
2 tbsp olive oil
1 tsp chilli flakes
4 small potatoes
450g sweetcorn kernels
2 fresh bay leaves
1 litre fresh chicken stock
75g pancetta slices
Cream, to serve
Method
Chop the onion and crush the garlic cloves. Fry both in a large saucepan with the olive oil for 10 minutes or until just softened. Stir through the chilli flakes and a pinch of salt, then fry for 1 minute.
Chop the potatoes, then add to the pan with the sweetcorn kernels and bay leaves. Add the stock and bring it to a boil. Reduce to a simmer and cook, uncovered, for 20 minutes or until the veg are soft.
Meanwhile, chop and fry the pancetta until crisp. Remove to kitchen paper to soak up excess fat. Add an extra handful of sweetcorn kernels to the frying pan and toast until tender.
Remove the soup from the heat and allow it to cool a little, then whizz with a stick blender until smooth. Season to taste, then ladle into bowls. Scatter with the crispy pancetta, toasted corn, extra chilli flakes and a drizzle of cream, if you like.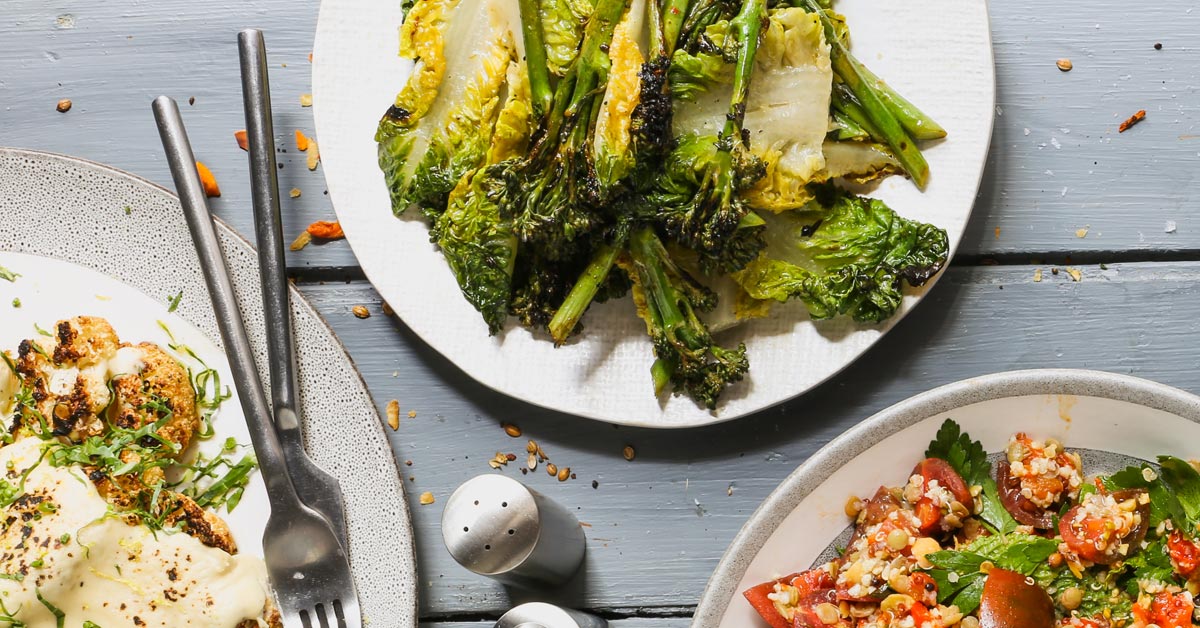 Charred Broccoli and Baby Gem Salad
A good harvest table needs greens and that's where this salad shines. It's best if the greens get a good char on them, so use a griddle pan if you can.
Source: Crush Magazine
Garlic cloves, drizzled with a little olive oil
40ml olive oil
30ml lemon juice
1/4 tsp lemon zest
1/2 chilli, chopped
1.5 baby gem lettuces
125g broccoli
Salt and pepper
Method
Place 2 garlic cloves in foil and drizzle with a little olive oil and salt and roast in a hot oven (200 ºC).  When soft, remove and mash roughly, combine with salt pepper, lemon and olive oil.
Dress the leaves and the broccoli separately with the olive oil and garlic mix. Wilt the leaves and the broccoli separately over a hot frying pan.
Once the leaves and broccoli are nicely charred, combine and serve.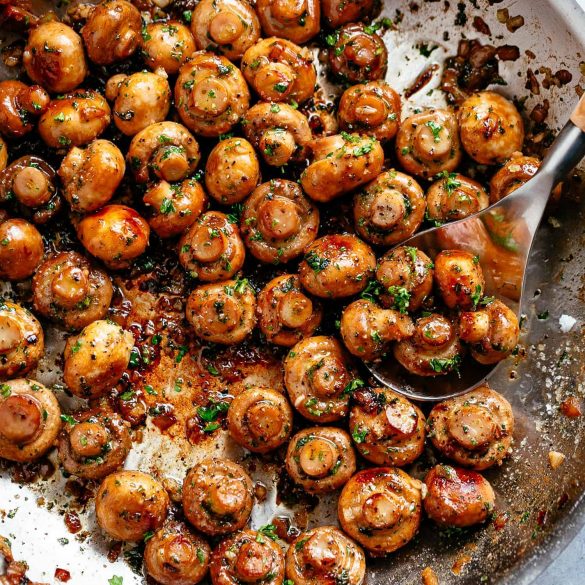 Buttery Garlic Mushrooms with a mouth-watering herb garlic butter sauce! You will love this 10-minute side dish that goes with anything!
Source: Cafe Delites
4 tbsp unsalted butter
1 tbsp olive oil
1/2 an onion chopped
500g mushrooms
2 tbsp dry white wine, optional
1 tsp fresh thyme leaves, chopped
2 tbsp fresh parsley, chopped
4 garlic cloves, minced
Salt and pepper, to taste
Method
Heat the butter and oil in a large pan or skillet over medium-high heat.
Sauté the onion until softened (about 3 minutes).
Add the mushrooms and cook for about 4-5 minutes until golden and crispy on the edges.
Pour in the wine and cook for 2 minutes, to reduce slightly.
Stir through thyme, 1 tablespoon of parsley and garlic. Cook for a further 30 seconds, until fragrant.
Season generously with salt and pepper (to your taste).
Sprinkle with remaining parsley and serve warm.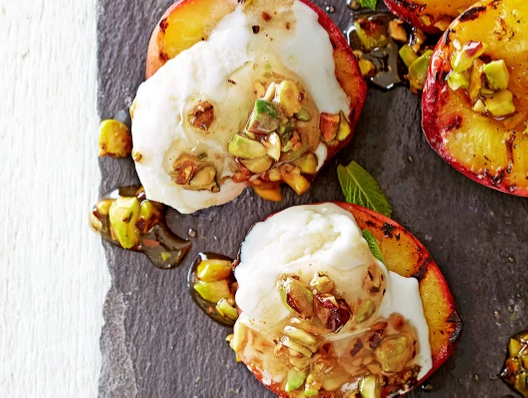 Griddled Nectarines with Frozen Yogurt & Honeyed Pistachios
This recipe for griddled nectarines with frozen yogurt and honeyed pistachios makes for an easy, speedy dessert for four.
Source: Olive Magazine
A handful, roughly chopped shelled pistachios
4 tbsp honey
1/2 tsp vanilla extract
4 ripe nectarines, halved and stoned
Plain or vanilla frozen yogurt, to serve
Mint leaves, to serve
Method
Heat a griddle pan to hot. Toast the chopped pistachios in a separate small pan for a minute, stirring every few seconds. Add the honey and vanilla and bubble for 30 seconds, then leave to cool a little.
Put the nectarine halves on the griddle pan for 3-4 minutes on each side until soft and charred. Don't move them around too much or they will stick.
Serve the nectarines on a platter with a dollop of froyo in the middle. Drizzle the pistachio honey over the top and scatter with mint to serve.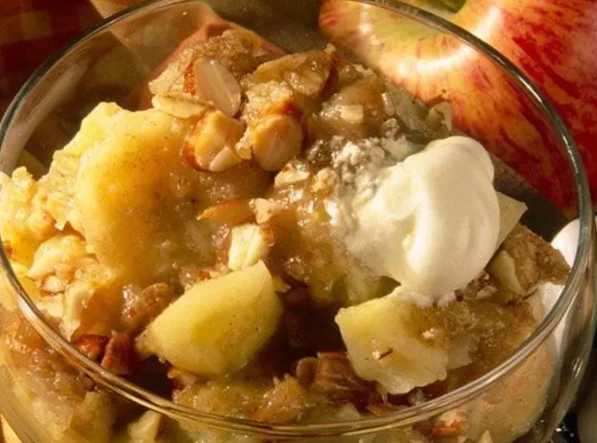 A delicious dessert that anyone would enjoy.
Source: Just a Pinch
4 apples, cored and cut 1/2 inch pieces
2 bananas, peeled and sliced 1/4 inch thick
85ml pineapple or orange juice
1 1/2 tsp cinnamon
1/2 tsp nutmeg
50g brown sugar, firmly packed
50g sugar
25g rolled oats
35g plain flour
60g margarine, cut into small pieces
25g almonds, chopped and toasted
Method
Combine apples, bananas, pineapple /orange juice, 1 teaspoon cinnamon and 1/4 teaspoon nutmeg in a baking pan.
Blend together the sugar, oats, flour and remaining 1/2 teaspoon cinnamon and 1/4 teaspoon nutmeg.  Mix the margarine in with a pastry blender or 2 knives until the mixture is crumbly. Mix in almonds and sprinkle over fruit.
Bake in preheated 180C for 45 minutes or until topping is brown. Cool slightly and serve topped with ice cream or whipped cream if desired.