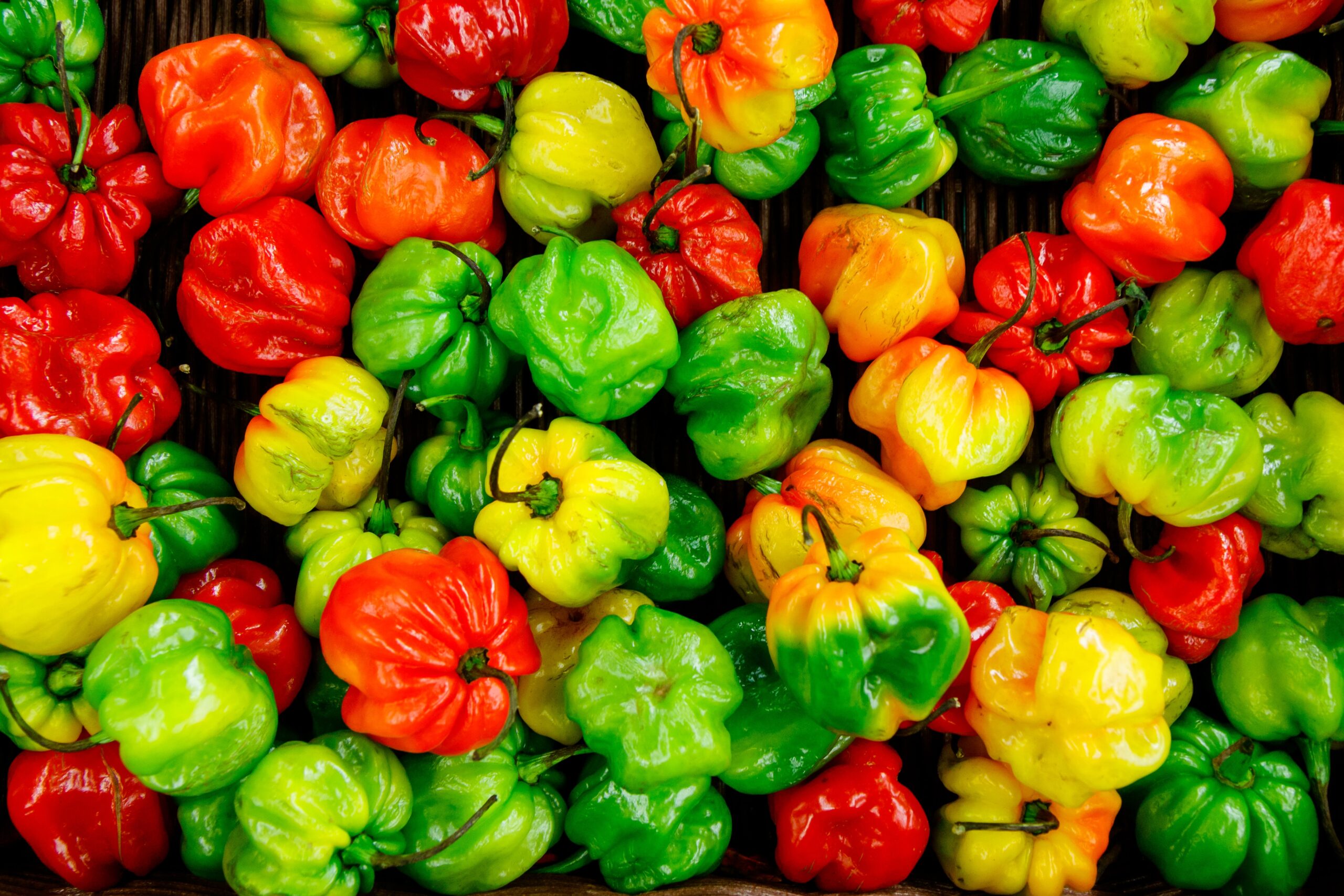 How hot are you willing to go?
We hope you loved your free gifts this week which included some chillies –  have you enjoyed trying out some of the recipe suggestions on our Pinterest board and in our Tuesday email (P.S. if you haven't signed up to our weekly email newsletter you can sign up here).
Here at Heritage HQ we love cooking with chillies and have a variety of different types/heat for you to buy. In this blog we concentrate predominantly on the Habanero, it has surprising health benefits and an amazing floral, sweet and crunchy taste.
The Habanero can be used at varying stages of ripeness to give a dish different flavours. When picked green, it has a more earthy flavour with less heat. Late stages of ripeness will have a more developed and sweeter flavour.
When eaten alone, the burn can be described as forward and aggressive that fades quickly. Heat, when cooked into dishes, isn't quite as hot.
Habanero Scoville: 100,000 – 350,000 SHU
Habanero vs Jalapeno: 12 to 100 times hotter than a Jalapeno
Heat: Very Hot
Did you know that Habaneros are jam-packed with Vitamin C? Gram for gram, Habanero's have more Vitamin C than oranges! Just one chilli pepper has over 100% of your recommended daily Vitamin C intake with only 18 calories and zero grams of fat. They also have a high concentration of Potassium for their size. Even though you won't get your total recommended Potassium intake with just a few chilli peppers, it still makes a healthy addition to any meal.  They also contain a high concentration of capsaicin, this chemical is a phytonutrient that shows great promise to prevent and treat many diseases and it's also a natural anti-inflammatory.
What's the hottest chilli?
The ghost chilli peppers and caroline reaper chilli peppers are off-the-charts hot at 1 million and 2.2 million Scovilles respectively.  If you fancy trying we have the caroline reaper in stock, not for the faint-hearted though!
Habaneros are deeply ingrained in Mexican culture. Yucatan, Mexico is now the largest producer of Habaneros in the world, exporting to the United States, Europe and Asia. Yucatan's unique soil composition, climate, and unrelenting sun make it the perfect location to grow these spicy peppers.
In the 18th Century (1700's) the Spanish were responsible for spreading these seeds all over the world with their network of trading, eventually reaching Europe, Africa and Asia.
How to use Chillies
Habaneros are a staple in almost every spicy lover's diet. They have a multitude of uses including:
Hot Sauce
Salsa
Chutney
Marinades
Chili Puree
Chili Paste
Powdered and mixed into dry rubs
Jerk Recipes
Chilli Oil
Pickled
Pepper Jam
Stuffed Peppers
Spicy salad dressing
Spicy starters and main courses
Spicy Desserts
Recipes
We've compiled some recipes on our Pinterest board for you to review and added our top 3 favourites more unusual recipes below.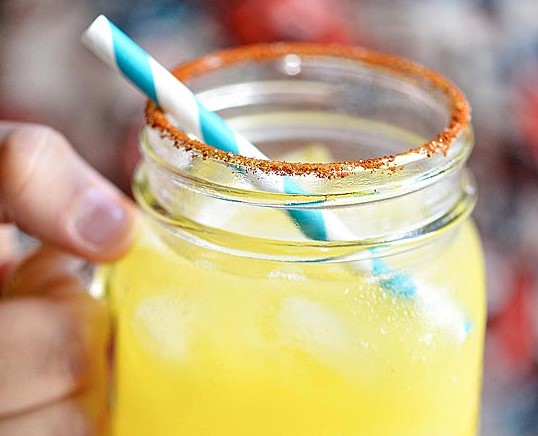 This is the perfect summer cocktail for a BBQ or party with friends, and with the added spice it makes it a cocktail to remember!
Habanero Infused Syrup (makes 3/4 cups)
1/2 cup granulated sugar
1/2 cup water
1 habanero halved
Chilli Powder/Salt Rim
1 tsp chilli powder
1 tsp salt
Margarita
1 cup frozen mango cubes thawed (or fresh if you have it!)
3oz habanero simple syrup
4 1/2oz tequila
1 1/2oz triple sec
3oz freshly squeezed lime juice
Method
Habanero Infused Syrup (makes 3/4 cups)
Cook on low until the sugar is dissolved. Remove from heat and let the habanero steep for 15 minutes. Strain the mixture using a fine sieve into a lidded jar. Store in the fridge until ready for use.
Chilli Powder/Salt Rim
Mix together chilli powder and salt together on a small plate, set aside.
Wet the rim of your glasses (with water or use lime juice by rubbing a lime wedge along the rim) and then dip the rim in the chilli powder/salt mixture.
Fill the glasses with ice.
Margarita
Place thawed mango and habanero syrup in a blender.
Blend until smooth and set aside.
Fill a shaker with a few ice cubes (don't use too many, as the margarita ingredients fill the shaker most of the way).
Pour in mango/simple syrup mixture, tequila, triple sec, and lime juice.
Shake until chilled.
Pour evenly into two glasses and drink immediately!
Source: Showmetheyummy.com
Tasty Cheesy Habanero Poppers
This American Habanero poppers recipe is sure to tingle your taste buds. Try this recipe with different chilli peppers and see what heat you can withstand!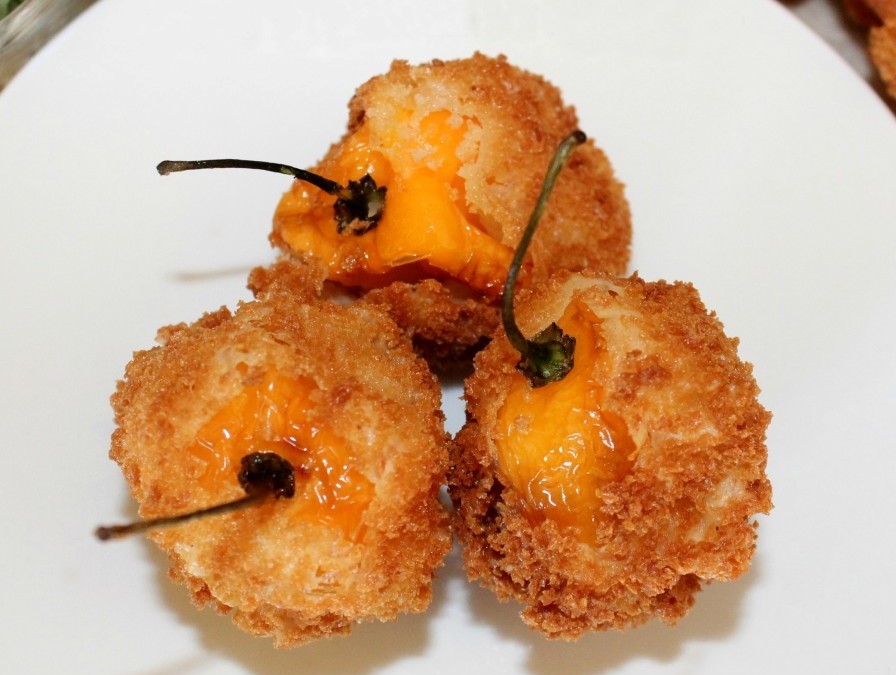 12-15 fresh habanero peppers
130g cream cheese
95g grated cheddar cheese
220g bread crumbs
For the batter:
350ml water
130g flour
110g cornflour
3/4 tsp baking powder
1 tbsp garlic powder
a pinch of salt & pepper
Oil for frying
Method
Slice on one side of each chilli pepper, making sure not to go all the way through, just a small slice so you can stuff them. (There won't be many seeds to remove).
In a medium bowl combine the Cream Cheese and Cheddar,  add any additional spices that you might like.  Set aside.
Now, prepare the batter –  In a medium/large bowl combine all of the batter ingredients, and mix well.  Set aside.
Pour the breadcrumbs into a shallow bowl.
Gently and carefully fill each pepper with some of the cream cheese mixture. Dip each filled chilli pepper into the batter, making sure to leave the stem clean…
Roll the chilli peppers around in the breadcrumb ensuring they are evenly coated.
Heat up your oil.
Gently place a couple of stuffed peppers into the hot oil and carefully roll them around to evenly brown them. Take them out when they're golden and firm, let them drain on kitchen roll.
The heat of the oil actually removes some of the chill pepper's heat, but they're still HOT so have some delicious dips handy…
Give one a try – be brave, and take a bite!!  Enjoy
Source: https://www.ohbiteit.com/2014/05/fried-habanero-poppers.html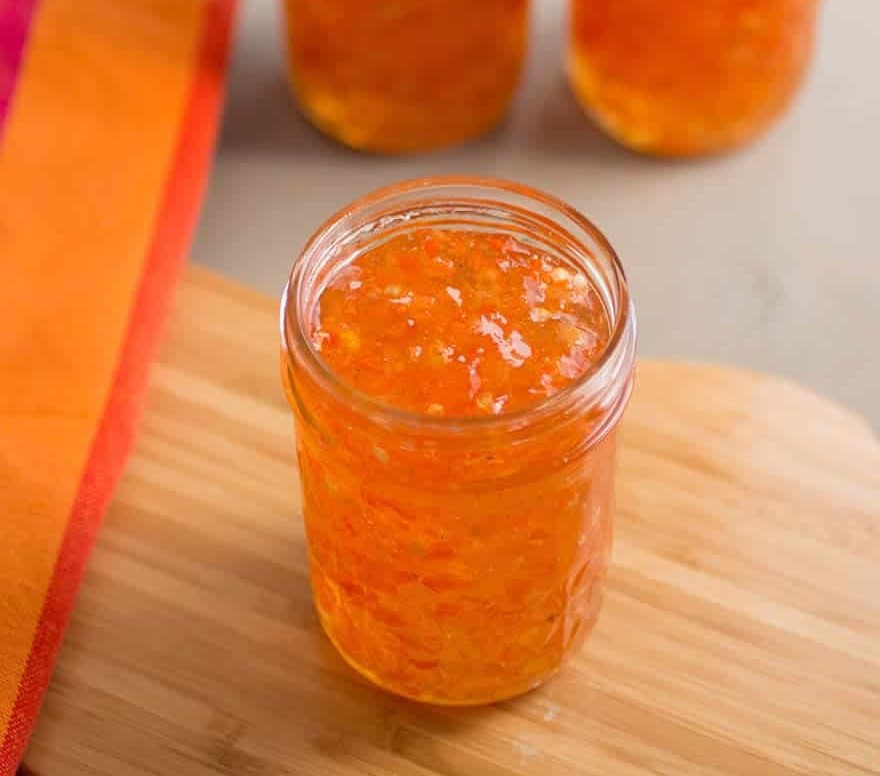 Calories: 60kcal per serving
Use the jam as you would use any other jelly or jam, spread it over cream cheese on toast, over bread for sweeter sandwiches, but it is also great over fish, in particular, salmon or white fish – it melts beautifully over the fish like a sauce.
230g Habanero peppers, chopped
1360g granulated sugar
295ml cider vinegar
60ml lemon juice
1 tsp salt
90ml liquid fruit pectin (homemade pectin recipe)
4 drops food colouring optional
Method
Add the habanero peppers to a food processor and pulse them until they are very finely chopped. Do not overdo it or you'll wind up with a puree.
Scoop out the peppers and add to a large pan.
Add sugar, vinegar, lemon juice, and salt.
Bring to a boil then reduce heat to low and simmer for about 10 minutes.
Return heat to high and bring mixture to a rolling boil. Stir in pectin (or pectin substitute) and boil for 1 minute, stirring constantly. Remove from heat.
If using food colouring, add it now and stir.
Ladle jam into sterilised jars and cover.
Process jars in a boiling hot water bath for 10 minutes.
Remove and let cool overnight.
Source: Chilli Pepper Madness