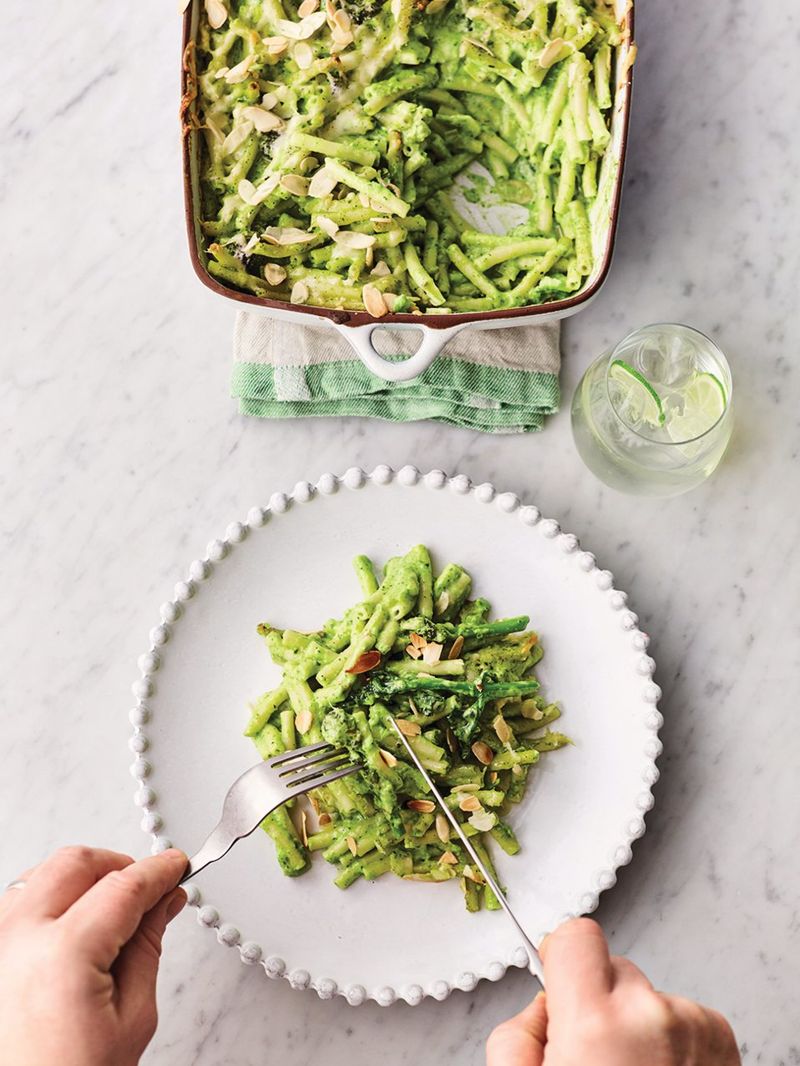 Green Mac & Cheese – Eat Healthy for Less
A Friday-night favourite, this is a twist on classic mac & cheese that uses broccoli in two ways – the blitzed-up stalks add colour and punch to the sauce, while you enjoy the delicate florets with your pasta. This is a simple veggie dish that will be a winner with all the family. Make this yummy dinner for just £0.92 per serving.  Let us know if you have a go at this dish and tag us in a picture on Facebook and Instagram.
Source adapted from Jamie Oliver
Nutritional Information: Calories 619kcals; Carbohydrates 75.1g; Total Fat 25.1g; Saturated Fat 12.4g; Protein 29g; Fibre 6.4g; Salt 0.9g.
1 large leek
3 garlic cloves
400g broccoli
40g unsalted butter
1/2 a bunch of fresh thyme
2 tbsp plain flour
1-litre semi-skimmed milk
450g dried macaroni
30g parmesan cheese
150g mature cheddar
100g baby spinach
50g flaked almonds, optional
Method
Preheat the oven to 180C/ 350 F/ gas 4.  
Trim, halved and wash the leek and peel the garlic, then finely slice with broccoli stalks reserving the florets for later.  
Place the sliced veg in a large casserole pan over medium heat with butter, then strip in the thyme leaves and cook for 15 minutes or until softened, stirring regularly.  
Stir in the flour, followed slowly by the milk, then simmer for 10 minutes or until thickened, stirring regularly.  
Meanwhile, cook the pasta in a large pan of boiling salted water for 5 minutes, then drain.  
Grate the parmesan and most of the cheddar into the sauce and mix well. Tip into a blender, add spinach and whiz until smooth – you may need to work in batches.  
Season with sea salt and black pepper, then stir through the pasta and broccoli florets, loosening with a splash of milk, if needed.  
Transfer to a baking dish, grate over the remaining cheddar and scatter over the almond. Bake for 30 minutes or until beautifully golden bubbling.