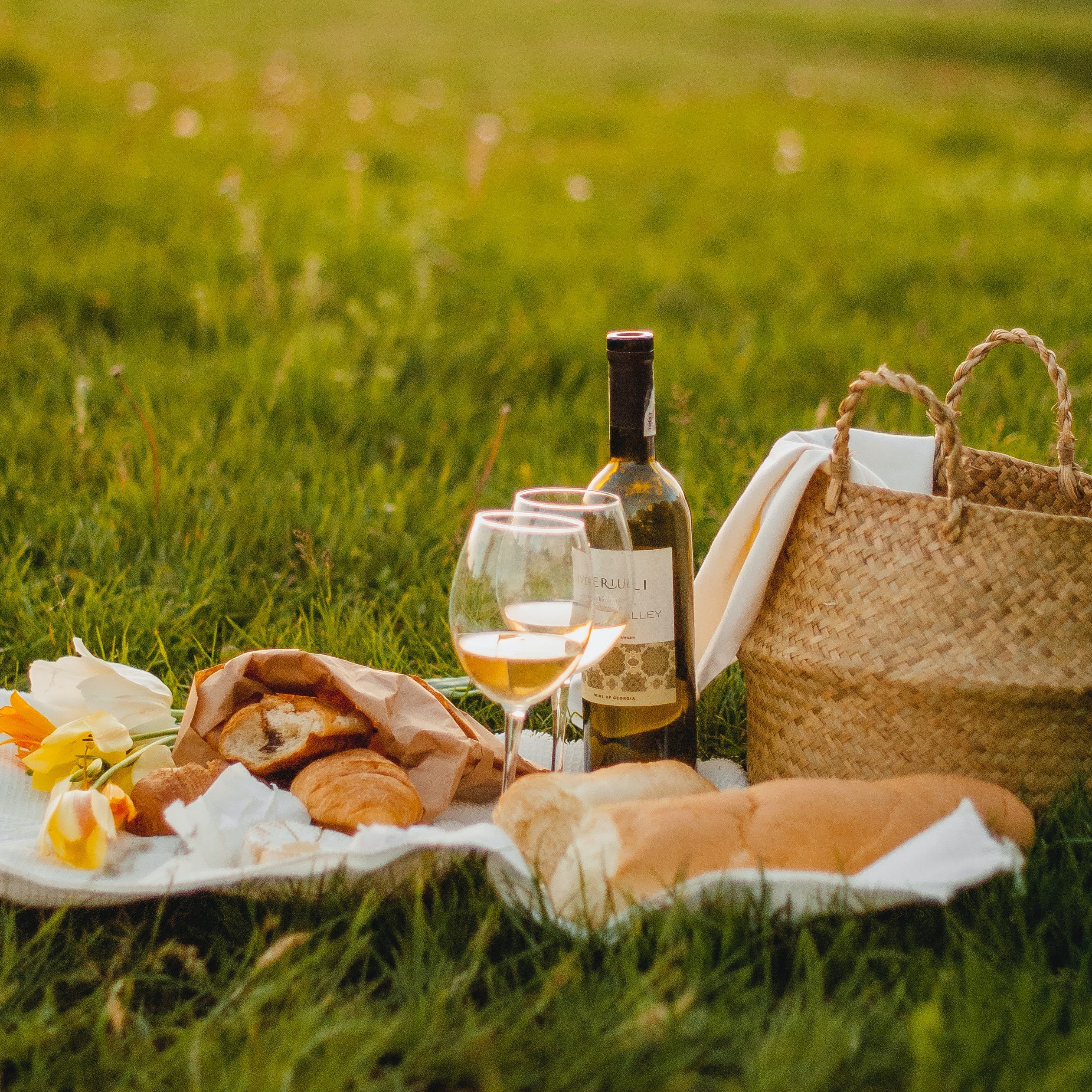 Get prepared for t

he Big Lunch
The Big Lunch is the UK's annual big date to celebrate and give thanks to our neighbours and communities. Every year in June since the idea began in 2009, millions of people stop what they're doing and get together with neighbours in a nationwide act of community and friendship.  
A Big Lunch can be anything from a small gathering in a garden, park or driveway, to a larger party with trestle tables down the middle of your street – this year, you just have to make sure that your plan fits with the government coronavirus guidelines.  There are more reasons than ever to get together in 2021 as The Big Lunch kicks off a summer of community, friendship and fun, so plan one or make it a weekly affair, but make it work for you! 
The idea is that by starting simple, all sorts of friendships, ideas and projects can come out of a Big Lunch. It gets people together and talking — and with a few inspired folk, it can lead to people doing more within your community, and tackling the issues that matter to them most. 
Here's some suggestions:- 
Pack a picnic and head to your local park. 
Lots of Big Lunchers are keeping it super simple this year, packing a picnic and heading to the nearest green space to spread out on blankets. Heritage has everything you need to make your perfect picnic, from simple rolls and fillings to salads, cheese and biscuits to strawberries and cream, wine and beer. 
Doing it digitally with your family and friends who don't live locally 
Missing your friends and relatives who are further afield to celebrate with – link up digitally via zoom and enjoy some much-needed company, conversation and entertainment. How about organising a quiz or some online wine tasting to go along with your food? 
Socially safe street parties 
Fancy a traditional street party? How about setting up your own table and lunch outside your house, so you can all connect from a safe distance. Much like lots of us did for the weekly Clap for Carers last year.  
Find out more and get some more inspiration 
Here are some of our favourite big lunch recipes, great for sharing, don't forget to share your favourite recipes with us over on our Facebook page.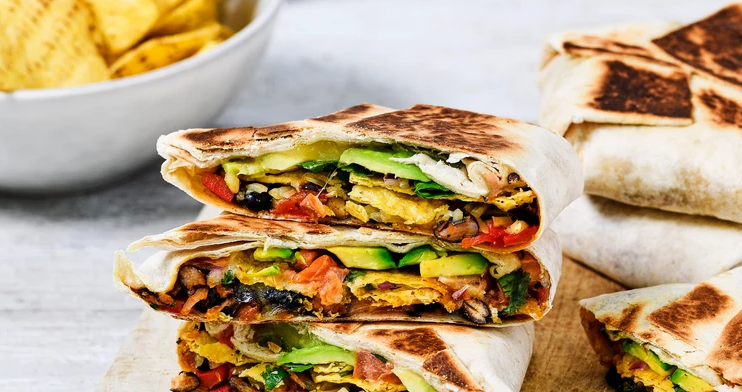 Want a quick and easy veggie lunch? Check out these super simple crunch wraps with black beans. These wraps serve four and are packed with plenty of flavours. 
Source: Olive Magazine
2 tbsp oil, for frying
1 red onion, finely chopped
2 tsp smoked chilli paste
400g tin black beans, rinsed & drained
2 roasted red peppers
4 large flour tortillas, warmed
180g Monterey jack cheese, grated
12 salted tortilla chips
2 plum tomatoes, diced
1/2 a small bunch of coriander, chopped
1 avocado, thinly sliced
Method
Heat 1 tbsp of oil in a large frying pan and add ¾ of the onion with a pinch of salt. Cook until softened then stir in the chilli paste and cook for a minute. 
Add the black beans and peppers, and cook, stirring, until heated through and the beans are starting to break down. 
Divide the bean mix between the four tortillas, keeping to a 10cm circle in the middle. Top with half the cheese then 3 tortilla chips on each. Mix the diced tomatoes with the rest of the onions and the coriander, and layer on top of the tortillas. Divide the avocado between the piles then top with the remaining cheese. 
Fold in the edges of the tortillas, overlapping slightly so you have a parcel, and press down gently to set the shape. 
Brush a non-stick frying pan with more oil then put the wraps in, seal-side down. Cook gently until golden brown and crisp, then flip over and cook the other side.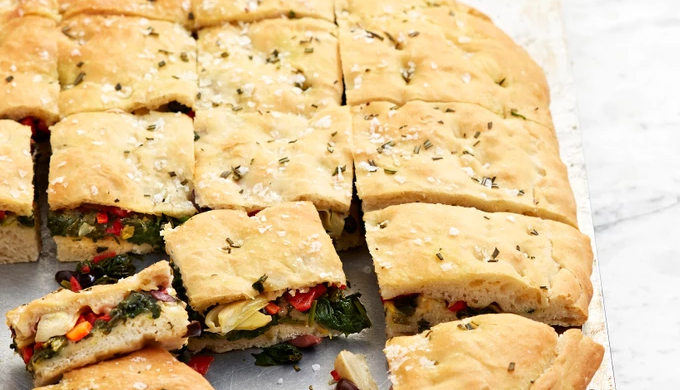 Total time: 1 hr + proving
Stuff a classic Italian bread with mozzarella cheese and antipasti for an instant crowd-pleaser. Learn to make this delicious savoury bread with our easy step-by-step guide – perfect for tearing and sharing with family and friends.
Source: Olive Magazine
Olive oil
2 sprig rosemary, roughly chopped
Sea salt flakes
Biga
1/2 tsp fast-action yeast
150g strong white bread flour
Focaccia
500g strong white bread flour, plus more for dusting
7g fast-action yeast
2 tsp fine salt
Filling
500g spinach
250g cooking mozzarella, grated
200g roasted red peppers, from a jar, drained & sliced
100g artichoke hearts, from a jar, drained & sliced
8 kalamata olives, pitted and quartered
2 garlic cloves, finely chopped
A pinch chilli flakes
Method
Mix the biga ingredients together in a large bowl with 200ml warm water to make a smooth paste. Cover with clingfilm and leave overnight in the fridge.  
Put the focaccia ingredients in a bowl. Add the biga, 4 tbsp olive oil, 275ml water and mix. 
Tip onto a lightly floured work surface and knead until smooth (about 10 minutes). It will be quite wet and sticky at the beginning. Put in an oiled bowl. Cover and leave for 1 hour, or until it's doubled in size. 
Cook the spinach in boiling, salted water for 1 minute, then drain and rinse under cold water. Squeeze through a clean tea towel to remove excess liquid. Roughly chop and cool. 
Tip the dough onto a floured work surface, kneading briefly. Cut into two equal pieces, roll and stretch one piece onto a lightly oiled baking sheet, so it's 1cm thick. 
Sprinkle the mozzarella over the dough, leaving a 1cm border. Add the spinach, pepper, artichoke and olives and season. Scatter over the garlic and chilli, if using. 
Roll out the remaining dough to a similar size and put it on top of the filling. 
Seal all the way around, pulling the bottom layer over the top to stop any leaks while it's cooking. Cover with oiled clingfilm and leave for 30 minutes. Heat the oven to 200C/fan 180C/gas 6. 
Using oiled fingertips, dimple the top of the bread lightly. Drizzle over another 3 tbsp oil, the rosemary and a large pinch of salt flakes. Bake for 30-35 minutes, or until risen and golden, and it springs back when you press it. Cool for 20 minutes, then cut into squares, to serve.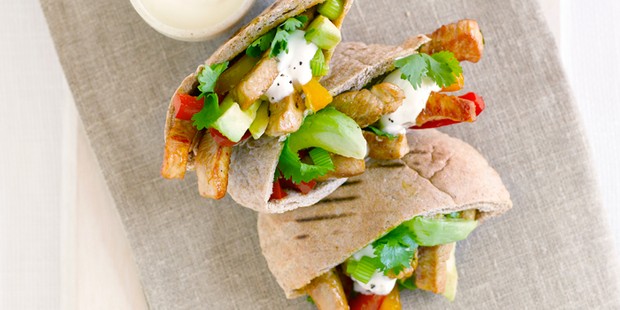 Kids will love this tasty snack-supper, and we bet they'll never know it's super healthy too.
Source: BBC Good Food
1 tbsp olive oil
200g turkey breast steak, cut into strips
Pinch of chilli flakes
1 red and yellow pepper, deseeded and sliced into strips
3 spring onions, trimmed and sliced
1  avocado, stoned, peeled and sliced
2 wholemeal pitta bread, toasted and halved to form pockets
2 tbsp sour cream
Method
Heat the oil in a wok or large frying pan and fry the turkey and chilli flakes for 5-6 mins. Add the peppers and spring onions and stir-fry until the turkey is cooked but the peppers still have crunch. Season. 
Divide the avocado and coriander between the pitta halves, then spoon in the turkey and pepper mix. Add a dollop of soured cream to each and serve straight away.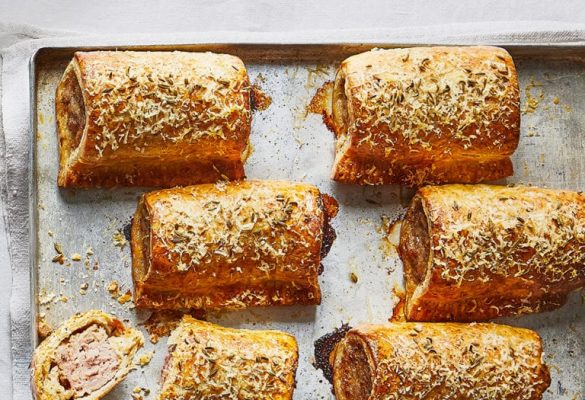 Parmesan & Pork Sausage Rolls
Perfect for picnics, these homemade pork, fennel and black pepper sausage rolls are a guaranteed crowd-pleaser.
Source: Delicious Magazine
350g plain flour
80g cold unsalted butter
50g grated Parmigiano Reggiano
2 tsp ground black pepper
1 tsp salt
250g full-fat cream cheese
100g unsalted butter
1 large onion, sliced
1 tsp fennel seeds, plus extra to garnish
700g good-quality pork sausagemeat
30g Parmigiano Reggiano
1 tsp freshly-ground black pepper
1 large free-range egg
Method
Put the plain flour, 80g cold unsalted butter, 50g grated Parmigiano Reggiano, 2 tsp ground black pepper and 1 tsp salt in the bowl of a large food processor. Whizz until the mixture resembles fine breadcrumbs, then add the cream cheese and 80g of the unsalted butter. Whizz again until the mixture comes together. Briefly knead, divide into 2 flattened rectangles, wrap well and chill for 30 minutes. 
To make the filling, melt 20g unsalted butter in a large frying pan over medium heat. Add the sliced onion, then cook, stirring regularly, for 15-20 minutes until softened and starting to caramelise. Add 1 tsp fennel seeds and cook for 1-2 minutes more, then set aside to cool. Combine the cooled onion mixture with the sausagemeat, 30g Parmigiano Reggiano and 1 tsp freshly ground black pepper. Mix well to combine. 
Roll out 1 block of chilled pastry to a rectangle roughly 16cm x 40cm and 3mm thick. Beat 1 large free-range egg with a pinch of salt and brush over the pastry. Arrange half the sausage mixture lengthways along the centre. Fold the pastry over to encase the filling, gently pressing to seal. Use a fork to crimp the 'foot' of the roll, then slice into 4 equal pieces. Repeat with the remaining mixture and pastry and put on a lined baking sheet. Brush with more beaten egg, then chill for at least 30 minutes. 
Heat the oven to 180ºC fan/gas 6. Brush the sausage rolls again with beaten egg, then sprinkle with more finely grated Parmigiano Reggiano and a pinch of fennel seeds. Bake in the oven for 30 minutes until golden and cooked through.