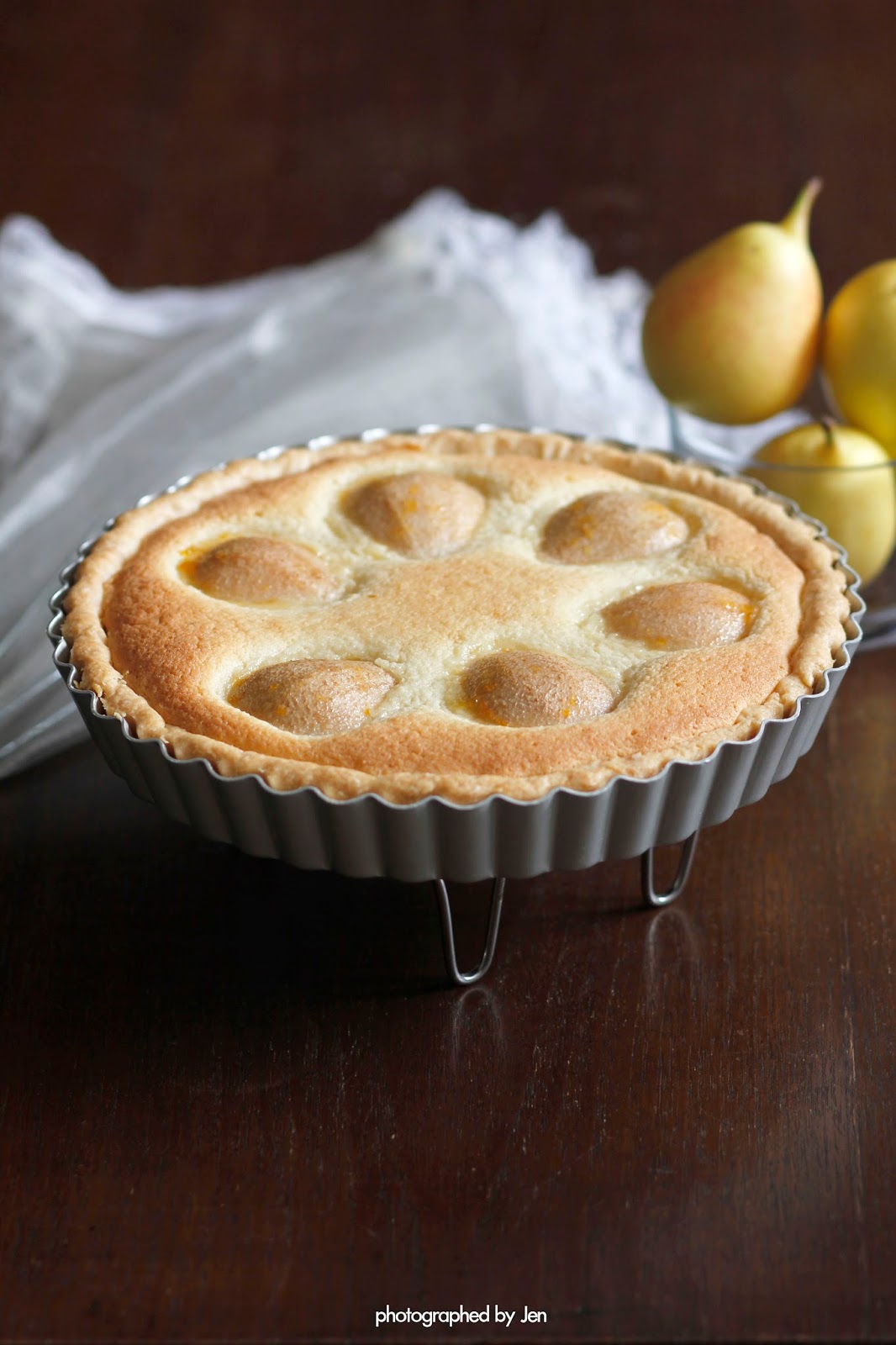 Ercolini Pear Almond Tart
This pear almond tart recipe is great to showcase the autumn fruit, Ercolini pears. These mini blushing pears give out a floral scent when they are ripe. Their fragrance and sweetness increase as they ripen.
3 Ercolini pears, ripened, peeled, cored & halved
1/2 tbsp apricot jam + 1 tsp water
For the pastry
135g plain flour
1 1/2 tbsp icing sugar
70g unsalted butter, cold
1/8 tsp salt
1-2 tbsp cold water
For the frangipane
80g butter, softened
80g sugar
1 egg + 1 yolk, beaten
1 tsp vanilla extract
80g ground almonds
35g plain flour
Method
Place flour, sugar and butter into a mixing bowl, rub the butter into the flour and sugar mixture until the mixture resembles breadcrumb. Add ice water 1 tbsp at a time until the mixture, when pressed in your hand, is able to just hold together. Pour the mixture onto cling film and press the mixture to form a round disc. Wrap it and chill for 30 min. Preheat oven to 200C.
Roll out the dough a little bigger than the pie dish and place the dough into the pie dish. Using your finger press the dough into the flute of the pan. Using a fork, prick the base of the tart. Line the inside of the tart with baking paper and pour some baking beans on paper to weigh down the pastry. Bake for 15 – 20 mins. Remove the beans and baking paper and bake the tart for another 10 mins.
Meanwhile, beat butter until very soft and pale, then beat in sugar until fully incorporated. Gradually add the beaten eggs, beating well after each addition. Stir in the vanilla extract. Add the ground almond and flour and stir well to combine.
Preheat oven to 180C. Spread the frangipane evenly over the base of the cooled pastry case. Take the prepared pears and place cut side down on the frangipane. Press the sliced pears gently into the frangipane a little. Bake in the middle of the oven for 25 minutes until the frangipane has risen a little, is golden and set. To check, insert a skewer into the middle; it should come out clean. Leave to cool slightly on the baking sheet, then remove from the pastry dish and slide the tart onto a wire rack. While the tart is still warm, brush only the pears with the warm apricot glaze (warm the apricot jam with water in the microwave for 10 seconds). The tart is best served warm or at room temperature.