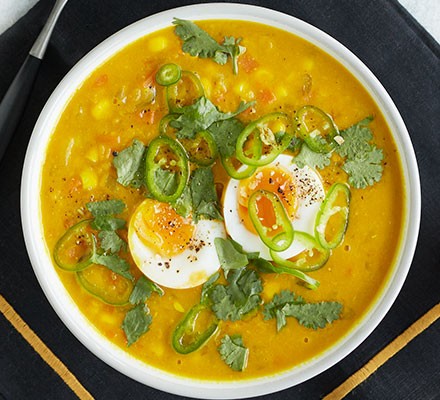 Curried Sweetcorn Soup – Eat Healthy for Less
Spice up your soup with this tasty, curried sweetcorn recipe topped with a soft-boiled egg and green chilli. It's a perfect light lunch or supper on cold days. A warm and comforting meal for 98p serving. Let us know if you have a go at this dish and tag us in a picture on Facebook and Instagram.
Source: BBC Good Food
Nutritional Information: Calories 393kcals; Carbohydrates 22g; Total Fat 28g; Saturated Fat 16g; Protein 11g; Fibre 5g; Sugar 9g; Salt 1g.
2 tbsp rapeseed oil
1 large onion, finely chopped
2 garlic cloves, crushed
1 green chilli, chopped, reserve some sliced to garnish
1 carrot, peeled and finely chopped
1 celery stick, finely chopped
1 1/2 tsp ground turmeric
1 1/2 tbsp mild or medium curry paste
1 vegetable stock cube
50g red lentils
400ml coconut milk
800ml boiling water
250g fresh corn, cut off the cob
4 soft boiled egg, halved
Coriander leaves, to serve
Method
Heat the rapeseed oil in a large pan. Add the onion and cook for 8-10 mins until soft. Add the garlic cloves, red chilli, carrot and celery. Cook for 2 mins, then add the ground turmeric, curry paste, vegetable stock cube and lentils. After 30 secs, pour in the coconut milk and 800ml boiling water. Cover and simmer for 15 mins. Add the sweetcorn, cover and cook for 5-8 mins. Leave the soup chunky or part-blend. Season to taste. Top with a halved soft-boiled egg and coriander leaves.