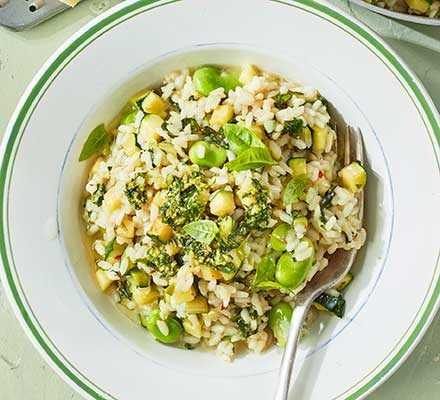 Courgette & Broad Bean Risotto with Basil Pesto – Eat Healthy for Less
Make this vibrant risotto with courgettes and broad beans to make the most of summer veg. Swirl through homemade pesto for a fabulous dinner. A delicious meal for £1.00 per serving. Let us know if you have a go at this dish and tag us in a picture on Facebook and Instagram.
Nutritional Information: Calories 698kcals; Carbohydrates 69g; Total Fat 31g; Saturated Fat 8g; Protein 25g; Fibre 8g; Sugar 5g; Salt 2.4g.
3 tbsp olive oil
1 tsp butter
2 medium courgettes, cut into 1-2 cm dice
Pinch of chilli flakes
Pinch of grated nutmeg
2 spring onions, finely sliced
1/2 lemon, zested
150g risotto rice
800g warm vegetable stock
80g broad beans, blanched and peeled
20g parmesan, grated
For the pesto
1 garlic clove
1 tbsp toasted pine nuts
Large handful of basil leaves
1 tbsp olive oil
1 tbsp grated parmesan
Method
To make the pesto, crush the garlic to a paste with a pinch of salt using a pestle and mortar. Add the pine nuts and pound to a coarse paste, then tear in the basil, pounding again until they've broken down. Stir in the oil and cheese, then taste for seasoning – add more cheese if you like. Alternatively, blitz them in a food processor or mini-chopper.  
Heat the oil and butter in a large non-stick frying pan over medium heat. Add the courgettes, sprinkle in the chilli flakes and nutmeg, and season with salt and pepper. Fry for 3-5 mins until the courgettes are golden and softened. Add the spring onions and lemon zest, and stir for a minute or two. Tip in the rice and stir to coat in the oil until translucent, about 2 mins.  
Add a ladleful of the stock and stir for a few minutes until it's absorbed. Continue adding a ladleful at a time for 20-30 mins, stirring continually, until all of the stock is absorbed. 
Stir in the blanched broad beans and warm through for 2 mins. Remove from the heat and stir through the parmesan. Allow to sit for about 5 mins, then swirl through half of the pesto. Any remaining pesto will keep chilled for up to two days.  
Divide the risotto between bowls and scatter with extra cheese and another spoonful of the pesto, if you like.