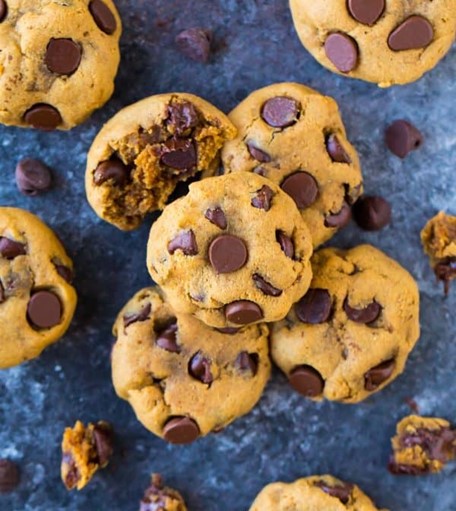 This week is coeliac awareness week, Coeliac disease is a lifelong autoimmune disease caused by a reaction to gluten.  Gluten is a protein found in wheat, barley, rye and triticale (a cross between wheat and rye)
We've put together some of our favourite gluten-free recipes for you to try.  For further information and for more gluten-free recipes please check out https://www.coeliac.org.uk/get-involved/shine-a-light/
And don't forget to check out our Free From section.
Find more recipe inspiration on our Pinterest Board.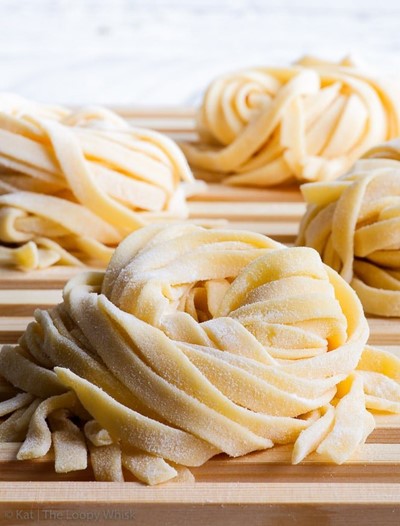 Homemade Gluten-Free Pasta
A simple and reliable 3-ingredient homemade gluten-free pasta recipe. Once you've tasted this gluten-free pasta made from scratch, you'll never go back to the store-bought stuff. The perfect thing to have on hand for a variety of quick gluten-free lunch and dinner recipes.
The recipe makes 4 x 70 g nests of gluten-free tagliatelle, which should feed 2-4 people, depending on how hungry they are.
The process described below focuses on using a pasta machine to make your gluten-free pasta – but if you don't have one, you can easily replicate the process with a rolling pin and a bit of elbow grease.
Source: The Loopy Whisk
200g gluten-free flour, plus extra for kneading + dusting
1 tsp xanthan gum
3 medium eggs
Method
In a bowl, mix together the gluten-free flour and xanthan gum until evenly distributed.
Make a well in the middle of the flour + xanthan mixture and crack in the eggs. Mix the eggs slightly and start mixing in the flour + xanthan mixture. Eventually, you will end up with slightly sticky pasta dough.
If the dough doesn't come together in a ball and feels crumbly or dry you can add another egg at this point.
If, on the other hand, the dough feels too wet or soft, you can add a small amount of additional flour.
Turn the pasta dough onto a generously floured surface and knead it for 2 – 3 minutes, until you get a smooth ball of pasta dough.
Because this is a gluten-free pasta dough, there's no gluten to stretch and "activate", but kneading ensures a smooth dough with no flour clumps.
To roll out the gluten-free pasta dough:
Cut the dough into four evenly sized pieces. Wrap the three pieces of dough you won't use immediately in cling film so that they don't dry out.
Flatten one piece of gluten-free pasta dough and flour it generously on both sides. Pass the flattened piece through the pasta machine, starting on the widest setting. You will stay in this setting for a few minutes, so get comfy.
Fold the rolled-out pasta dough like a book or letter and dust the outsides with flour. Turn the piece by 90 degrees (so that the smooth edges are left-right, not top-bottom) and feed it again through the machine. Repeat this process until you get a smooth, velvety gluten-free pasta sheet.
I repeated the folding + rolling steps 5 times before I got a perfectly smooth pasta sheet.
Generously dust the pasta sheet with gluten-free flour and feed it through the next narrower setting on the pasta machine. (Note that there's no more folding!) Keep reducing the settings until you get to a sheet about 1 mm thick.
To cut and shape the gluten-free pasta:
Using a knife or the cutting setting on your pasta machine, cut the gluten-free pasta sheet into tagliatelle (about 1 cm wide).
Toss the cut pasta in some more flour and shape it into a nest.
To dry the gluten-free pasta:
To dry the gluten-free pasta, place it on a cooling/drying rack near a source of heat (radiator or fireplace in winter, kitchen counter in summer) and leave it to dry at least overnight.
The next day, check the pasta for dryness – if it still feels damp, leave it for an extra few hours or a day.
To store the gluten-free pasta:
For the first few days after making it, keep the dried gluten-free pasta in an opened container.
The pasta may still be a bit damp on the inside and closing the container may lead to mould formation.
After that, keep the dried pasta in a closed container in a dry place. It should keep for at least 2 – 3 weeks.
To cook the gluten free pasta:
To cook the fresh (not dried) gluten-free pasta, place it in boiling water, seasoned with a pinch of salt, for 4 – 8 minutes, depending on how well-cooked you like it.
To cook the dried gluten-free pasta, place it in boiling water, seasoned with a pinch of salt, for 6 – 10 minutes, depending on how well-cooked you like it.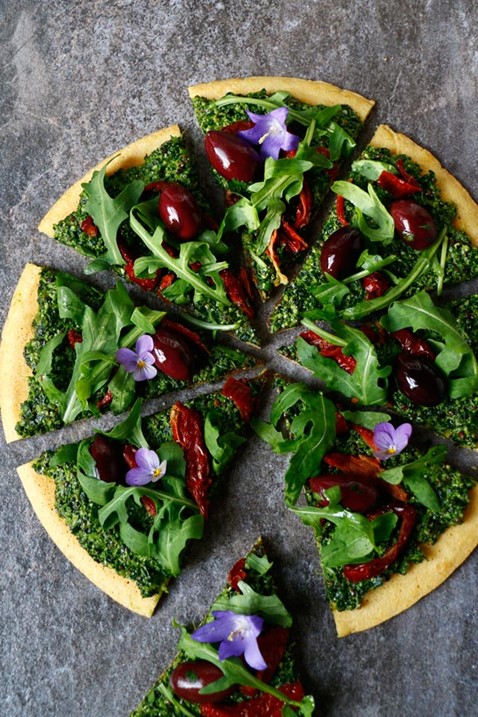 Socca Pizza with Hemp & Pumpkin Seed Kale Pesto
If you're new to socca pizza, the batter is a simple mix of chickpea flour, water, olive oil and salt. You can make it very quickly and add any of your favourite toppings. After whisking the batter leave it to stand for at least 30 minutes for the mix to thicken to a single cream consistency or it can be left refrigerated overnight.
You can cook the pizza in the oven or in a frying pan. Just cook the pizza until slightly browned and easy to flip over. Top with anything you fancy.
Source: Nirvana Cakery
Socca Pizza
120g chickpea (gram) flour
240ml water
1 tbsp olive oil
Sea salt
Topping:
4 sundried tomatoes, soaked & sliced
handful fresh rocket
few kalamata olives
Kale, hemp and pumpkin seed pesto

100g kale, chopped
45g hemp seeds
45g pumpkin seeds
2 garlic cloves
80ml olive oil
2 tbsp lemon juice
sea salt & pepper
Method
To make the kale, hemp and pumpkin seed pesto
Chop the kale into strips, wash and dry thoroughly.
Place hemp seeds, pumpkin seeds and garlic into a food processor and pulse until coarsely ground. Add kale and blend again. Finally add olive oil, lemon juice, salt and pepper and process until you have desired consistency.
Scoop into a bowl and serve with a drizzle of olive oil on top.
Store in a fridge in an airtight jar until ready to use.
To make the pizza
 In a medium bowl whisk chickpea flour, water, olive oil and sea salt and set aside. Leave to stand for 30 minutes.
Make ½ the quantity of Kale, Hemp and Pumpkin Seed Pesto.
Soak sundried tomatoes in some hot water for about 20 minutes if using dry ones.
Brush a large frying pan or cast iron pan with little olive oil and bring to medium heat. Once hot pour all of the batter on top and swirl around to spread out evenly. Cook for about 5 minutes until it looks cooked on top and golden at the bottom and you can easily flip it over. Flip over and cook until golden and slightly browned on both sides.
Spread pesto over the top, top with sliced sundried tomatoes, rocket leaves and olives.
Serve and enjoy!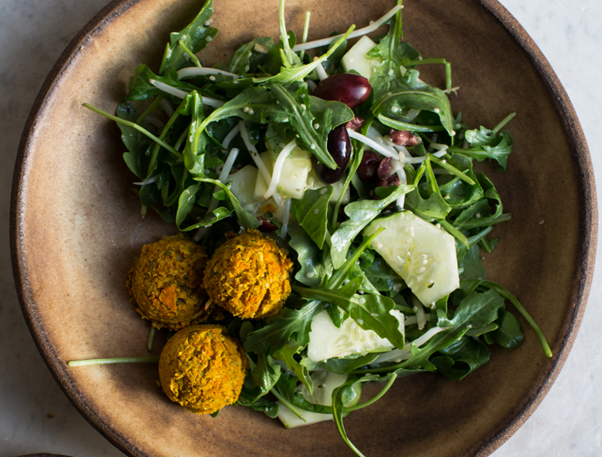 Sweet Potato & Turmeric Falafels (baked)
These gluten-free, sweet potato and turmeric falafels are baked in the oven for an easy and healthy weeknight meal. Enjoy them on top of a salad, in a gluten-free pita wrap, or on their own with a drizzle of traditional tzatziki dressing.
Source: Marie Reginato
1 sweet potato, baked or steamed
400g tin chickpeas, drained and rinsed
120g fresh coriander or parsley
1 tsp turmeric
2 garlic cloves
1 tbsp ground cumin
1 tbsp ground coriander
Juice and zest of 1/2 a lemon
1 tsp sea salt
Method
Preheat your oven to 180C. Then simply place the steamed or baked sweet potato into the food processor and pulse for about 10 seconds, breaking down the sweet potato. Then add the remaining ingredients into the food processor. Pulse for another 15-20 seconds until the chickpeas have been broken down but are not totally blended don't over blend – We want there to be small chunks of chickpeas throughout.
Then on a parchment paper-lined baking tray, scoop out the falafel mixture with an ice cream scooper and place it on the tray. Just make sure the falafels are no bigger than an inch thick. They should be pretty small. Bake for 15-20 minutes until the top is slightly golden brown and crispy. Enjoy!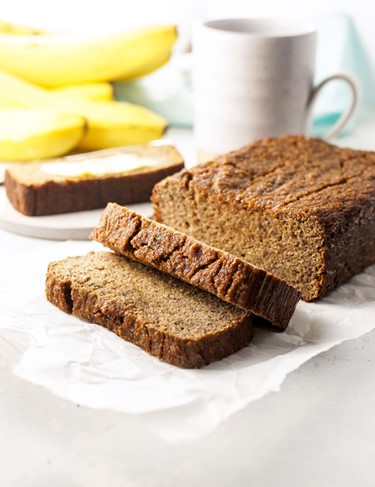 Best Ever Coconut Flour Banana Bread
This is the best Coconut Flour Banana Bread you'll ever try. It's easy to make, not overly sweet and reminds me of the real thing– without using gluten or dairy
Source: Detox Insta
3 very ripe bananas
90g coconut flour
5 large eggs
50g coconut sugar
1 tsp ground cinnamon
1 tsp bicarbonate of soda
 1 tsp baking powder
1/4 tsp sea salt
1 tsp vanilla extract
Method
Preheat the oven to 180ºC and line a large loaf tin with baking paper.
In a large bowl, mash the bananas with a fork. Add in the coconut flour, eggs, coconut sugar, cinnamon, baking soda, baking powder, salt, and vanilla. Use a whisk to stir the batter well, breaking up any lumps so a smooth batter is formed. (You can also use an electric hand mixer to do this.)
Pour the batter into the lined loaf tin and bake until the centre of the loaf has risen and started to crack, feeling firm to the touch, about 45 to 55 minutes. Cool completely before slicing and serving.
Because this loaf is moist, be sure to store it in an airtight container in the fridge for the best shelf life. It should last at least a week when stored in the fridge, though you might eat it all before then!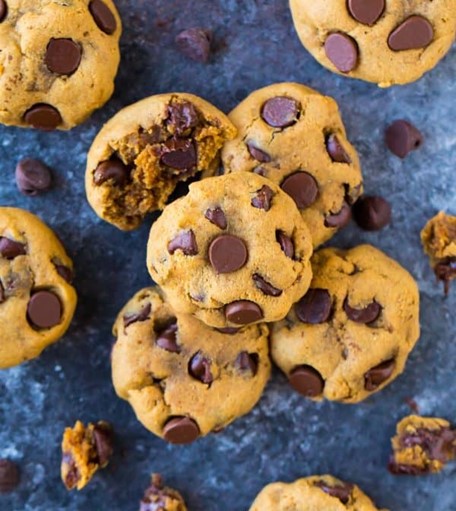 Cookies with Peanut Butter & Chocolate
Soft and chewy Coconut Flour Cookies. Low carb, healthy, and packed with protein. Made with coconut flour, peanut butter, chocolate, and NO refined sugar! This recipe is perfect, gluten-free, and vegan friendly too! The dough can be prepared and stored, covered, in the refrigerator for 24 hours or frozen for up to 3 months. Let stand at room temperature until soft enough to scoop, and then bake as directed. Store leftover baked cookies in the refrigerator for up to 1 week.
Source: Well Plated
8 tbsp peanut butter
2 tbsp coconut oil
100g coconut sugar or light brown sugar
2 large eggs
1 1/2 tsp vanilla extract
1/2 tsp baking soda
1/4 tsp ground cinnamon
1/4 tsp salt
65g coconut flour
85g chopped dark chocolate or chocolate chips
Method
Preheat the oven to 180C. Line a baking tray with parchment paper or a silicone baking mat.
Place the peanut butter, coconut oil, and coconut sugar in the bowl of a food processor fitted with a steel blade. Process until smooth. Add the eggs and vanilla and process again until evenly combined.
Sprinkle the bicarbonate of soda, cinnamon, and salt over the top. Sprinkle in the coconut flour. Process again until the mixture forms a smooth dough, stopping to scrape down the ball once or twice as needed. Using a spoon or spatula, gently fold in the chocolate chips.
With a small cookie scoop or spoon, portion the dough by heaping tablespoons onto the prepared cookie sheet. With your fingers, lightly flatten the dough, as it will not spread during baking.
Bake for 7 minutes or until the cookies turn barely golden brown at the edges and feel lightly dry. They will be very soft. Let cool on the baking sheet for 3 minutes, and then transfer the cookies to a wire rack to finish cooling. Repeat with the remaining dough.