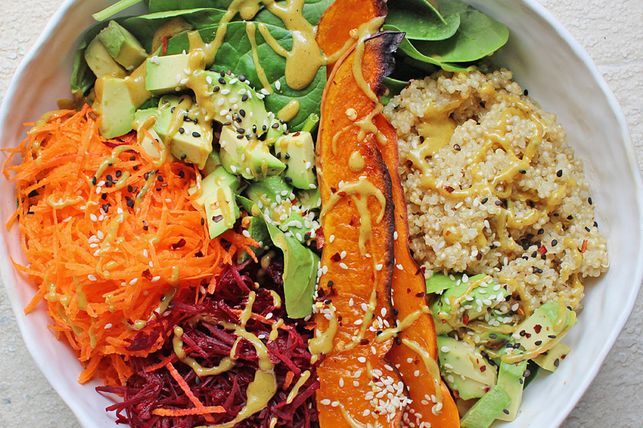 This bowl is full of detoxifying goodness. Carrot and beetroot are loaded with antioxidants that fight free radicals in the body – and help stimulate the liver, your main cleansing organ. Turmeric is a powerful anti-inflammatory superfood and, combined with the healthy fats from tahini and olive oil, makes for a delicious and incredibly nutritious dressing.
Source: Best recipes
1/4 butternut squash
1 tbs olive oil
90g quinoa cooked
1/2 avocado cubed
1 carrot grated
1 beetroot grated
2 handfuls spinach
1 pinch sea salt
1 sprinkle sesame seeds *to decorate
1 sprinkle chilli flakes *to decorate
DRESSING
1 tbs tahini
1 tbs olive oil
1 tsp turmeric powder
1 tbs lemon juice
Method
Preheat the oven to 180C.
Slice the butternut squash into long wedges and arrange on a tray lined with baking paper. Roast in the oven for 35 – 40 minutes, or until cooked through and slightly caramelised.
Meanwhile, make the dressing by adding all the dressing ingredients in a small bowl and whisking until combined.
Divide the quinoa, avocado, grated carrot and beetroot, spinach and roasted squash between two bowls. Drizzle over the dressing.