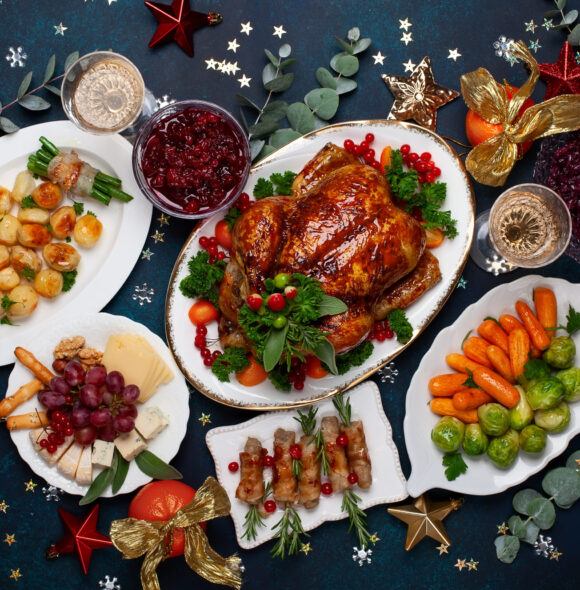 Christmas Dinner – Eat Healthy For Less
If you can afford to indulge a little, Christmas is the time to do so, but with our Christmas dinner recipe, you can indulge whilst being on a budget.
Christmas dinner on a budget may seem impossible but with some clever planning, meal preparation and thinking beyond Christmas day, you can serve up a Christmas lunch for just £3.98 per serving with plenty of leftovers for a meal on boxing day.
 To make this Christmas dinner, we've based the cost on buying our smallest Christmas Fruit & Veg box at £29.00. All the produce in this box will stretch to serve 4 people and you won't use everything on Christmas day so there will be plenty of leftovers to keep you going…
Let's start with Christmas meat – these days you would traditionally serve a turkey on Christmas day, but with fresh high-quality turkey's starting from £30.00 it would seem sensible to pick something a little more affordable… like a whole fresh Chicken – which if you buy from Heritage, you are looking to spend £12.00 for a 1.6KG whole chicken – which will easily feed 4 people with plenty of leftovers to use on boxing day.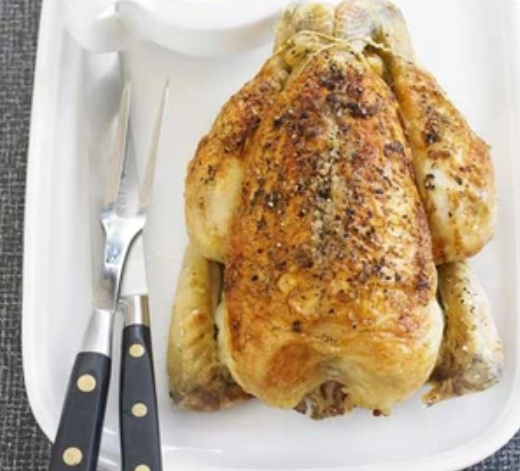 1 onion, roughly chopped
2 carrots, roughly chopped
1 whole chicken, 1.6kg
25g butter, softened
Method
Heat the oven to 190C/170 fan/ gas 5. Have a shelf in the middle of the oven without any shelves above it.
Scatter 1 roughly chopped onion and 2 roughly chopped carrots over the base of a roasting tin that fits the whole chicken in but doesn't overcrowd it.
Season the cavity of the chicken liberally with salt and pepper, then stuff with 2 lemon halves (and a small bunch of thyme if you have it).
Set the chicken on top of the vegetables and smother it with the butter and season with salt and pepper.
Place in the oven and leave undisturbed for 1 hr 30 mins – to check the chicken is cooked, pierce the thigh with a skewer and the juices should run clear.
Once cooked, remove the chicken from the oven, remove from the tray and leave to rest. Reserve the tray with all the juices as this will make your gravy.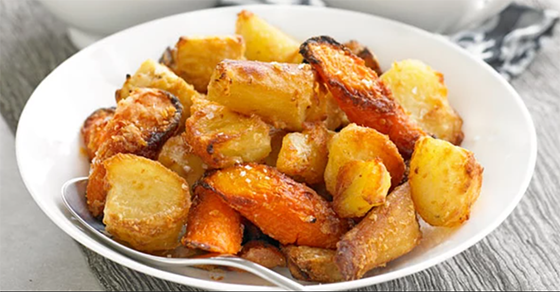 Roasted Potatoes & Parsnips
Maximise your oven space by throwing everything into one dish and roasting. By boiling and coating your veg in plain flour, you ensure your potatoes and parsnips will be perfectly fluffy and crisp. 
750g potatoes, peeled and chopped into large chunks
2 parsnips, peeled and chopped into large chunks
1 tbsp plain flour
3 tbsp vegetable oil
Method
Pour vegetable oil into a large roasting tin and place in a preheated oven 200C/180 fan/ 6 gas.
Meanwhile, put all your chopped potatoes and parsnips in a pan of cold water, then bring to the boil. Boil for exactly 3 minutes, then drain well. Scatter over the flour and toss to coat the veg.
Remove the roasting tin from the oven and carefully place your veg in the tin and return to the oven for 1 hour, turning them over halfway through cooking. Cook until golden and crisp.
Don't boil your sprouts to death – once you try these charred sprouts, you'll never eat over boiled sprouts again… 

Recipe Inspiration: BBC Good Food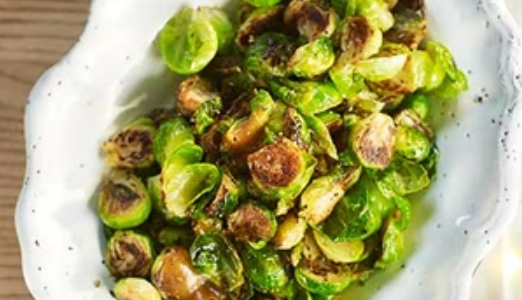 50g butter, softened
250g sprouts, halved
Method
Boil the sprouts for 3-4 mins, then drain and leave to steam dry. Heat a non-stick frying pan, then add the sprouts and dry fry them for 4-5 mins or until they start to blacken on the cut sides and at the edges. Take the pan off the heat, then add a large knob of butter. Sizzle in the pan until the butter has melted and shake the pan gently to coat the sprouts. Season with salt and pepper.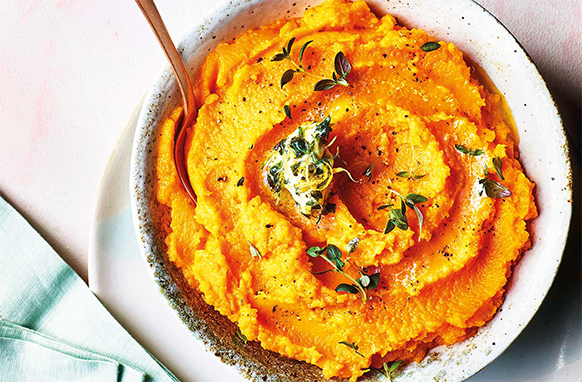 Switch up your standard mashed potatoes and try this delicious carrot and swede mash.
3 carrots, peeled and cut into slices
1 swede, peeled and cut into cubes
25g softened butter, or 2 tbsp olive oil
1/2 lemon, zest
Method
Simmer the carrots and swede over medium-high heat for 30 mins until the swede is tender when pierced with a fork. Drain well and return to the pan.
Meanwhile, mash the butter with a fork in a bowl (or pour in the oil), then add a few grinds of black pepper and lemon zest.
Blitz the carrot and swede with a stick blender to a smooth mash, or mash with a potato masher. Stir in half the butter or oil, then top with the remainder to serve.
Braised Red Cabbage with apple
This braised red cabbage side dish is spruced up with apples and orange zest, and given a boozy red wine hit for a festive feast.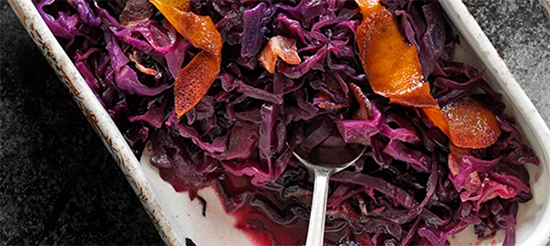 1/2 tbsp butter
1/2 red cabbage, core removed and shredded
1 large apple, cored, peeled and sliced
15g sugar
Orange zest, a couple of strips
2 tbsp red wine
2 tbsp red wine vinegar/apple cider vinegar
Method
Heat the oven to 200C/fan 180C/gas 6.
Heat the butter in a heavy ovenproof dish, then layer up the red cabbage, apples, brown sugar, seasoning well as you go. Tuck in some orange peel and put the pan over high heat and add the water and the apple cider vinegar.
Bring to the boil and cook for 3-4 minutes. Place a lid on the pan then transfer to the oven for an hour. Check on it a couple of times to make sure the liquid hasn't dried out and add a splash of water if needed.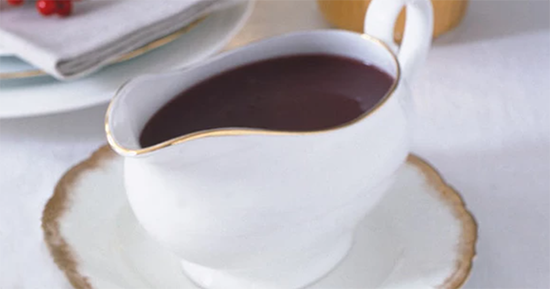 Using the leftover chicken juices, you can make this delicious gravy! 
1 tbsp plain flour
250ml chicken stock
Method
Place the roasting tin over a low flame, then stir in 1 tbsp flour and sizzle until you have a light brown paste.
Gradually pour in 250ml chicken stock, stirring continuously until your sauce has thickened.
Simmer for 2 minutes, using a wooden spoon to stir, scraping any sticky bits from the tin.
Strain the gravy into a small saucepan, then simmer and season to taste.
Get creative with your leftovers with this Leftover Chicken Stir-Fry
We hope that you'll add one or all these dishes to your Christmas dinner this year – and don't forget to make good use of your leftover chicken! We have a delicious recipe which uses veg that's included in the box and is a lighter dinner perfect for Boxing Day.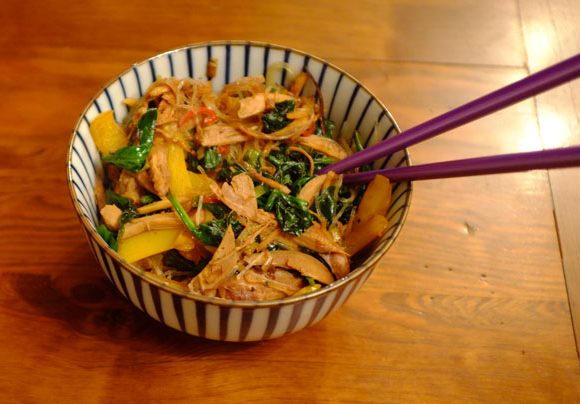 Leftover chicken
2 leeks, sliced
2 peppers, any colour, sliced
1 red chilli or 1 tsp chilli flakes
Thumb-sized piece of ginger grated or 1/2 tsp ground ginger
1 tbsp oil
2 tbsp soy sauce
1 tbsp honey
Lemon, juiced
200g noodles, fresh or dried
Method
If using dried noodles, place into a bowl and pour over boiling water from the kettle. Set aside.
Put a wok or large frying pan over high heat. Once it's hot, add the oil, followed by the leeks, peppers, chilli and ginger. Keep stirring for 5 minutes until everything starts to soften.
Turn down the heat and add the roast chicken. Cook for 30 seconds and then add the soy, honey and lemon juice.
Drain the noodles and add a little bit of water to the wok to create a sauce. Stir in the noodles, remove from the heat and serve.