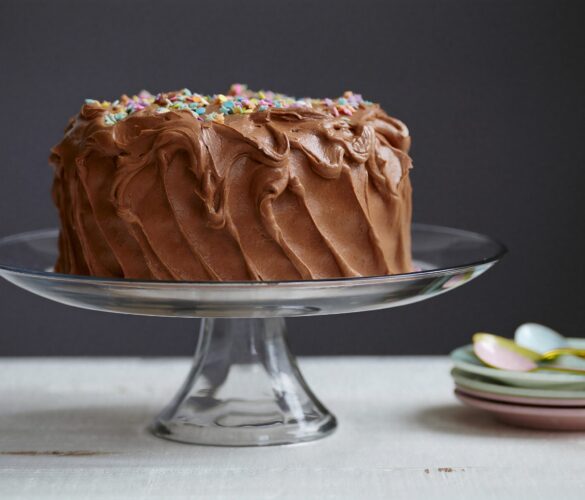 Chocolate cake has been with us just over 150 years, having first come on the scene in 1764, when it was discovered that grinding cocoa beans between heavy stones produced cocoa powder, which could then become chocolate.
Since then, many different type of cake and techniques just kept expanding! There are now dozens of kinds of cake on top of the original 'traditional' chocolate cake. From the Black Forest cake with its cherries to the German Chocolate Cake with its rich coconut pecan frosting, new types are being invented all the time, and chocolate still reigns as King.
We have put together some of our favourite chocolate cake recipes for you to try, and make sure you share your pictures with us on Facebook.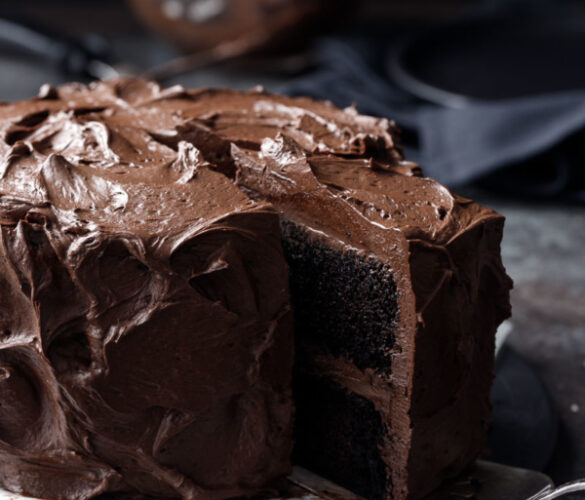 Ultimate Chocolate Fudge Cake
Dark, fudgy and ultra-moist chocolate cake slathered with a dark chocolate fudge frosting!
Source: Love and Olive Oil
400g sugar
220g plain flour
120g cocoa powder
2 tsp bicarb of soda
1 tsp baking powder
1 tsp salt
2 large eggs
240ml buttermilk
240ml boiling water
185g vegetable oil
1 tbsp vanilla extract
For the frosting
450g butter
300g icing sugar
150g cocoa powder
120ml sour cream
120ml hot water
2 tsp vanilla extract
Pinch of salt
285g chocolate
Method
Preheat oven to 180ºC. Butter and line two 20cm round baking pans with parchment paper. Butter parchment.
In a large mixing bowl, combine the sugar, flour, cocoa, bicarb of soda, baking powder and salt, whisking until thoroughly combined. Add eggs, buttermilk, water, oil, and vanilla and beat with an electric mixer on medium speed until all dry ingredients are incorporated. Divide evenly among prepared pans.
Bake for 40 to 45 minutes or until a skewer inserted in the centre comes out with just a few moist crumbs attached. Remove from oven and place on a wire rack until cool enough to handle. Run a small knife around the edges of each pan, then gently invert onto wire racks. Cakes should come out cleanly. Peel off parchment and allow cake layers to cool completely. At this point, the cakes can be frozen until ready to use, up to 1 month. Simply wrap each layer individually in a double layer of cling film and then store in the freezer.
To prepare frosting, in the bowl of a stand mixer fitted with the paddle attachment, beat butter on medium speed until very pale and creamy, about 5 minutes. Add sifted icing sugar and cocoa powder and mix to combine. Add sour cream, hot water, vanilla and salt and mix on low speed until the liquid is incorporated, scraping down the sides of the bowl as needed. It may look slightly curdled at this point, but don't worry. Increase speed to medium-high and beat until smooth, another 2-3 minutes. Add lukewarm chocolate and mix until smooth and glossy. At this point you have about 30 minutes at cool room temperature (longer in the summer) to work with the frosting before it begins to harden.
To assemble, level your cake layers first if necessary (if there is any sort of domed top, you want to trim that off with a serrated knife). Place one layer, bottom side up, on a cake stand or serving. Spread about 120g of frosting in an even layer, then place second layer on top, flat side up, pressing gently to adhere.
Cover the entire cake with a thin layer of buttercream using an offset spatula. This "crumb coat" will seal in the cake crumbs and make the final layer of frosting easier. If your cakes were frozen this should firm up pretty quickly, otherwise refrigerate for about 10 minutes to set.
Slather with remaining buttercream in a thick layer, reserving some for piping decorative details if desired.
A soft and moist Chocolate Banana Bread filled to the brim with ripe bananas, cocoa, cinnamon and a handful of milk chocolate chips.
Source: Sweetest Menu
175g plain flour
40g cocoa powder
1 tsp bicarb of soda
1 ½ tsp baking powder
90g brown sugar
50g caster sugar
½ tsp ground cinnamon
115g unsalted butter
2 overripe bananas
1 tsp vanilla extract
2 large eggs
60ml milk
75g milk chocolate chips
Method
Grease and line your 9 x 5 inch baking tin with baking or parchment paper. Preheat oven to 180 C/ 160 C fan.
In a large mixing bowl, sift the flour, cocoa, baking soda and baking powder. Add sugars, and cinnamon and gently stir.
In the microwave, heat the butter in a large heatproof bowl until just melted, stirring in between 10 second bursts. Remove the butter and set aside to cool slightly. Meanwhile, mash your bananas well using a fork.
Next, add your vanilla, eggs and milk to your cooled butter and whisk gently until combined. Make a well in the middle of your dry ingredients, add wet ingredients and mashed banana. Very gently fold the mixture using a spatula or wooden spoon until the mixture is just combined – be careful not to over mix.
Add ½ of the chocolate chips to the batter. Pour mixture into prepared tin and sprinkle the remaining 1/2 of the chocolate chips on top.
Bake for approximately 45-50 minutes* or until a knife inserted into the middle comes out clean. Leave to cool on a wire rack.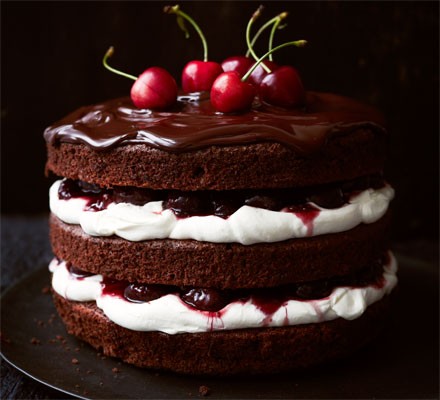 Bake to impress with this chocolate cherry layered cream cake – a revamped version of a retro classic.
175g salted butter, plus extra for greasing
200g bar dark chocolate
300g plain flour
375g golden caster sugar
25g cocoa
1 tsp bicarbonate of soda
2 medium eggs
200g buttermilk or natural yoghurt
To assemble
425g can pitted cherry, 2 tbsp juice reserved, rest drained
100g morello cherry jam
4 tbsp kirsch (or more juice from a can if you want it to be non-alcoholic)
500ml tub double cream
3 tbsp icing sugar
1 small punnet fresh cherries, optional
Method
Heat oven to 180C/160C fan/gas 4. Grease and line the base of 3 x 20cm cake tins. Boil the kettle. Put the butter and 75g chocolate broken into chunks in a small pan and gently heat, stirring, until completely melted.
Mix together the flour, sugar, cocoa and bicarbonate of soda with a pinch of salt in a mixing bowl. Whisk the eggs and buttermilk or yogurt together. Scrape the melted chocolate mixture and egg mixture into the dry ingredients, add 100ml boiling water and whizz briefly with an electric whisk until the cake batter is lump free.
Divide the mixture between the tins and bake for 25 mins, swapping the tins round after 20 mins if they're on different shelves. To test they're done, push in a skewer and check that it comes out clean.
Prick the cakes a few times with a skewer. Mix together the 2 tbsp reserved cherry juice and the kirsch (or more juice) and drizzle over the cakes. Cool the cakes.
Mix together the remaining drained cherries and jam. Tip 200ml of the cream into a small pan and heat until just below simmering point. Chop the remaining chocolate and put in a heatproof bowl, pour over the hot cream and stir until melted. Set aside until spreadable.
When the cakes are cool whisk the remaining cream and the icing sugar together until softly whipped. Spread over two of the cakes, then spoon over the jammy cherries. Stack the cakes together. Spread the chocolate cream over the third cake and sit on top of the other cakes. Pile the fresh cherries in and around the cake and serve.