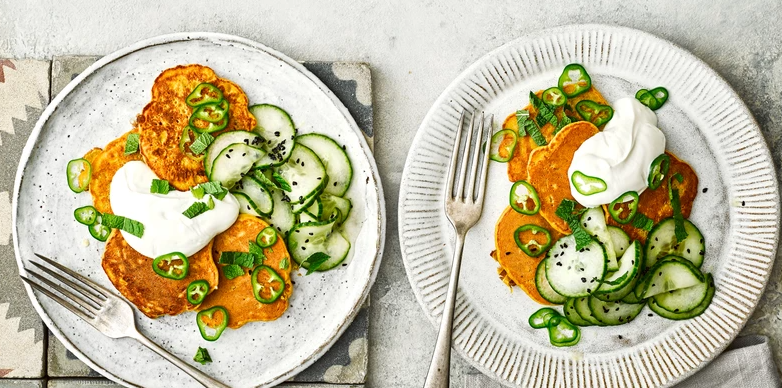 Chickpea Fritters – Eat Healthy for Less
These chickpea fritters with yogurt, green chilli and cucumber salad is a delicious low-calorie option for dinner. Lightly spiced fritters served alongside a zesty cucumber salad for £1.25 per serving. Let us know if you have a go at this dish and tag us in a picture on Facebook and Instagram.
Source: Adapted from Olive Magazine
Nutritional Information: Calories 427kcals; Carbohydrates 35.7g; Total Fat 20.1g; Saturated Fat 5.3g; Protein 21.2g; Sugar 6.1g; Salt 1g.
400g tin chickpeas, drained & rinsed
150g gram flour (chickpea flour)
1 tsp ground turmeric
1 tbsp mild curry powder
2 large eggs
175ml coconut water
3 spring onions, finely sliced
A thumb-sized piece of ginger
2 tbsp lime juice
1 tsp rice vinegar
1/2 tsp caster sugar
2 tbsp + 2 tsp vegetable oil
1 1/2 tsp nigella seeds
1/2 cucumber, thinly sliced
200g Greek yogurt
A handful of mint leaves
1-2 green chillies, sliced
Method
Roughly mash the chickpeas in a bowl, using a fork.  
Tip the flour, spices and ½ tsp salt into a large bowl. Make a well in the centre, then crack in the eggs and whisk together, gradually incorporating more of the flour. Pour in ¼ of the coconut water while whisking, making sure the batter is lump-free, then whisk in the remaining coconut water in 3 batches. Keep whisking until the batter is perfectly smooth. Stir in the chickpeas and spring onions and pour into a jug.  
Finely grate the ginger and squeeze all the juice from the pulp into a bowl, discarding the pulp. Whisk in the lime juice, vinegar, sugar 2 tsp oil and nigella seeds. Stir through the cucumber.  
Heat 1 tbsp of the oil in a non-stick frying pan. Add some spoonfuls of the batter and cook for 2-3 minutes on each side, flipping after bubbles appear on the surface. When golden and cooked through, keep warm in a low oven while you cook the rest in batches. Add more oil when you need to.  
To serve, pile up the fritters on plates with the cucumber salad, a spoonful of yogurt, mint and slices of chilli.