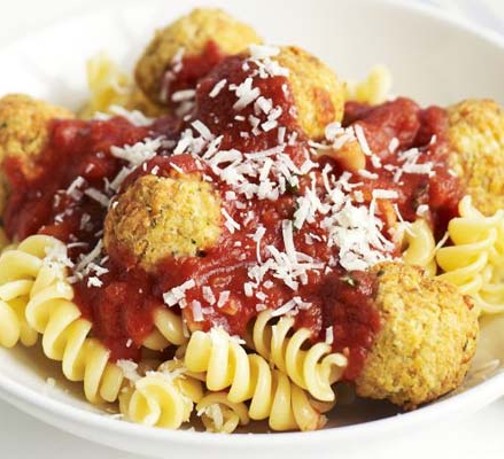 Chickpea Balls with a Tomato Sauce – Eat Healthy For Less
Vegetarians don't need to miss out on pasta with meatballs, with this no-fuss meat-free version with a quick and delicious homemade pasta sauce which can be used in any pasta dish! 
Nutritional Information (per serving): Calories 634kcals; Protein 34.1g; Carbohydrates 99.7g; Total Fat 12.8g; Saturated Fat 3.9g; Dietary Fibre 19.7g; Salt 0.3g.
Recipe inspiration: BBC Good Food
For the Chickpea balls
For the tomato sauce
1 onion, sliced
1 garlic clove, crushed
1 tsp sugar
1 tbsp olive oil
Salt & pepper
Method
Heat the oil in a saucepan. Add in the sliced onion and crushed garlic, toss until coated, cover, and sweat on a gentle heat until soft and pale golden.
Add the tinned tomatoes, add the sugar, half the oregano, salt, and pepper. Cover and leave over medium heat for 30 minutes.
Pre-heat the 220C/200C fan/ gas 7. Whizz the bread and roughly chopped parmesan in a food processor to crumbs, then throw in the chickpeas, roughly chopped garlic, half the oregano and the basil with some seasoning.
Pulse the mixture until it starts to come together, then add just enough egg while it's running to bind together.
Shape into 20 small balls. Transfer to an oiled baking sheet and cook in the oven for 15 mins, turning halfway.
Cook the pasta.
When the chickpea balls are cooked, serve on pasta with tomato sauce over the top. Sprinkle with grated parmesan.