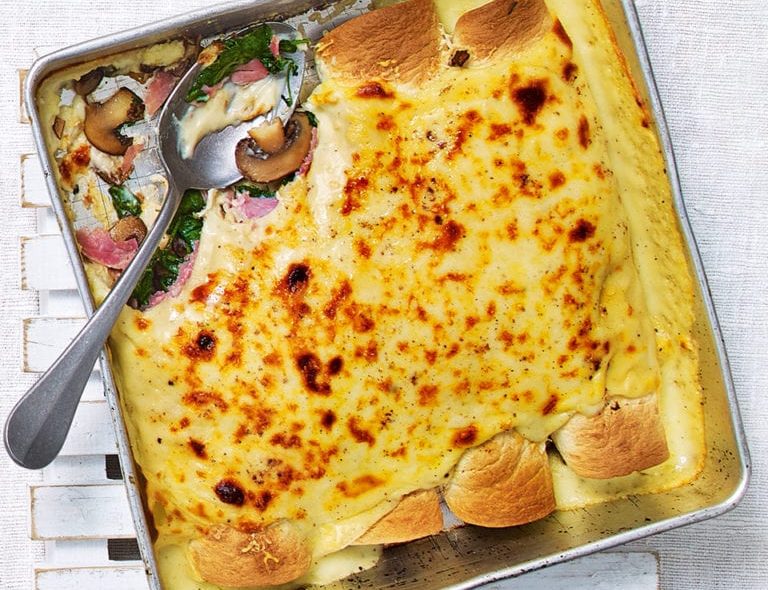 Cheesy Ham, Mushroom and Spinach Crepes
 

– Eat Healthy For Less
This savoury pancake recipe sees ham, mushrooms and spinach cooked with crêpes in a rich cheese sauce and baked until golden and bubbling. A little midweek treat for all the family to enjoy.
Nutritional Information (per serving): Calories 581kcals; Carbohydrates 52.3g; Dietary Fibre 5.4g; Total Fat 27.8g; Sat Fat 15.7g; Protein 27.5g; Salt 2.5g.
Knob of butter
400g mushrooms, sliced
200g spinach
30g butter
25g plain flour
500ml semi-skimmed milk
125g cheddar, grated
8 small tortilla wraps
4 ham slices
Method
Heat the grill to medium. Melt a knob of butter in a heavy-based saucepan, then fry the sliced mushrooms until golden. Add the spinach and stir until just wilted. Remove with a slotted spoon and set aside to cool. Melt the butter in the same pan, then add the plain flour and stir over a medium heat until it smells toasty. Gradually whisk in the semi-skimmed milk until smooth, then simmer for 5 minutes until thickened. Stir in the grated cheese, a generous grating of nutmeg and salt and pepper to taste. 
Divide the mushroom and spinach mixture equally among 8 small tortilla wraps, top each with some ham, then roll into a cylinder and arrange on 1 large or 2 smaller baking trays. Pour over the cheese sauce, then grill until piping hot, golden and bubbling. Serve straightaway with a fresh green salad.