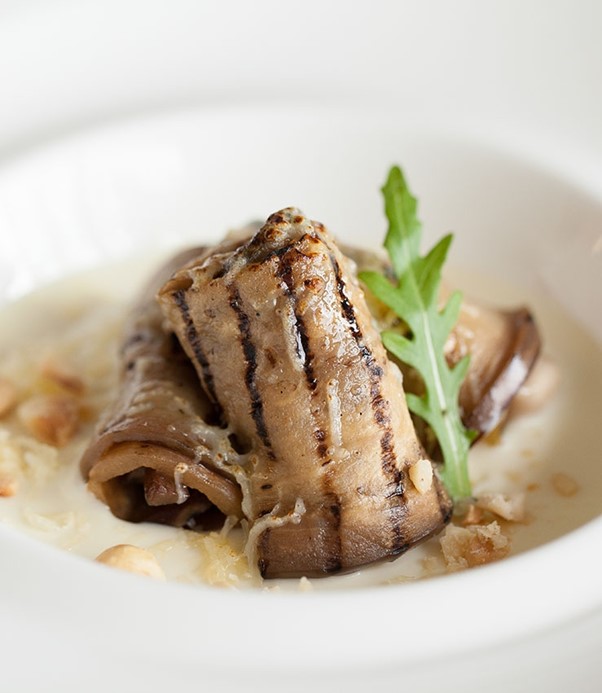 Charred Aubergine Stuffed with Mushroom & Parmesan served on a Jerusalem Artichoke Veloute
This dish requires a bit of effort but is well worth it!
1 aubergine
150g chestnut mushrooms, sliced
75g parmesan, finely grated
250g Jerusalem artichokes
75ml milk
100ml double cream
1 shallot, diced
25g unsalted butter
1 garlic clove, finely chopped
Oil
Salt & pepper
1 lemon
Method
Peel and chop the Jerusalem artichokes into cubes and immediately put them into a bowl of cold water with the juice of 1 lemon.
Heat a large saucepan and then sweat the shallot with the butter. Add the artichoke, milk and cream, bring to a boil and simmer for 25 minutes. Remove from the heat and blend until smooth. Season to taste. This is your velouté.
Slice the aubergine lengthways into 8 even slices, discard the slice from each side which is mainly skin. Rub each slice with oil and chargrill until they are soft and pliable. Season each cooked slice with salt and pepper.
In a frying pan, with a little oil gently fry the mushrooms with the chopped garlic, as they start to soften, remove from the heat add a little salt and pepper and put aside.
Layout the cooked aubergine slices and divide up the cooked mushrooms evenly on each slice of aubergine, using about half of the grated parmesan sprinkle each pile of mushrooms and then roll the aubergine into a fairly tight wrap.
Place the wraps on a lightly oiled baking tray, use more cheese to sprinkle on the top of the wraps and put in a preheated oven 180c for 4 minutes to heat back through.
Reheat the velouté (sauce) in a heavy-based pan and put into a bowl and add the aubergine wraps. Sprinkle with a bit more parmesan cheese to taste.