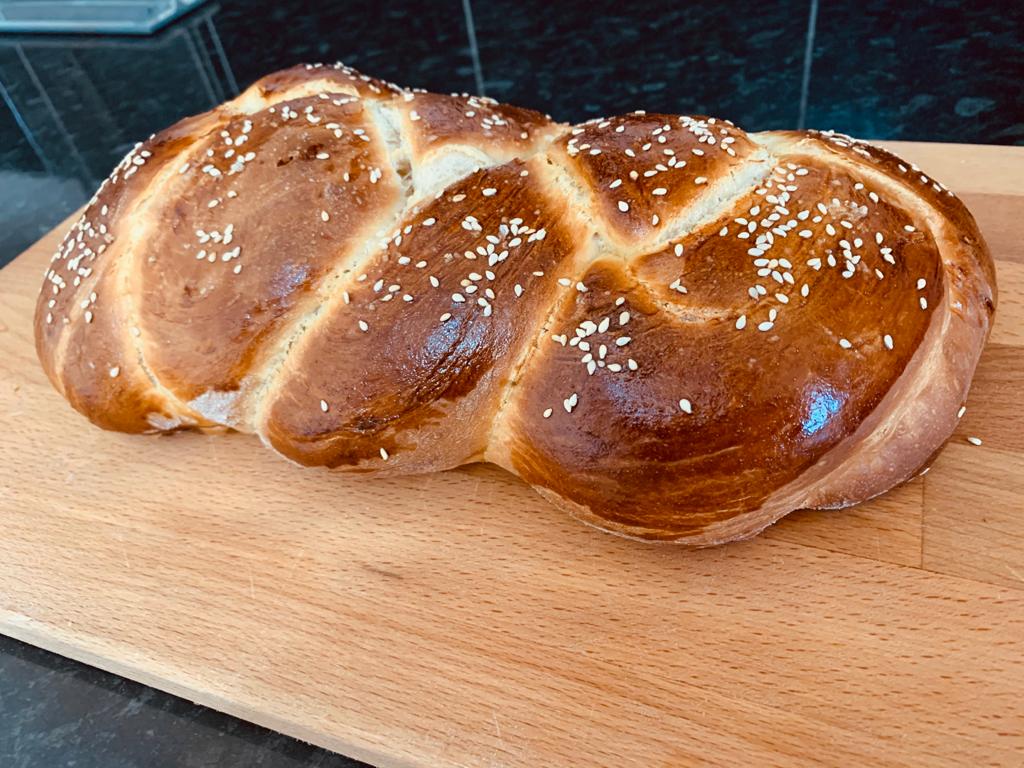 Prep time: 30 mins + 1hr 40 mins proving
Challah bread is a sweet, enriched loaf traditionally eaten on Friday nights by Jewish families to celebrate the Sabbath. This is one of my favourite breads to make. It's best served fresh, medium slice with salted butter but the leftovers also make lovely French toast. – Courtney
500g strong white bread flour, plus extra for dusting
70g caster sugar
7g fast-action dried yeast OR 1 1/4 tsp instant yeast
2 eggs, beaten
70ml sunflower oil
1 tbsp sesame seeds
Pinch of salt
Method
Combine the yeast, a pinch of the sugar and a couple tablespoons of lukewarm water in a small bowl. Stir to dissolve the yeast, then leave for 10 mins until foamy. (This is to activate the yeast, but is also an indicator to see whether your yeast is still active).
In a bowl, combine the flour, remaining sugar and a large pinch of salt and stir. Make a well in the centre, then add half the beaten egg, the yeast mixture and the oil. Pour in 200ml lukewarm water and stir. You can mix with a wooden spoon, your hands or with a stand mixer. If your dough is dry, add some water a little bit at a time. Your dough should be moist but not soggy.
Once the dough has come together, knead for 8-10 minutes until smooth and springy. Again, you can do this by hand or using the dough hook of a stand mixer. Once kneaded, form the dough into a bowl and place in a clean, oiled bowl. Roll the dough ball around in the oil to coat. Place a clean tea towel over the bowl and leave it in a warm place for 1 hour or until doubled in size.
Line a baking tray with parchment. Turn out the dough onto a clean, floured work surface and divide it into three equal pieces, you can weigh these out for accuracy. Roll each piece into a long sausage shape. Lay the pieces parallel to one another with a little space between them. Bring the sausages together at one end then plait them down the length, tucking the ends in when you reach the bottom. Carefully transfer the loaf onto the baking tray and loosely cover with a clean tea towel. Leave to prove for 40 minutes.
Heat the oven to 200C/180C fan/ gas 6. Gently brush the rest of the beaten egg over the challah, making sure to get into all the crevices and sprinkle with the sesame seeds. Bake on the middle shelf of the oven for 25-30 minutes. The loaf should be golden brown underneath and sound hollow when tapped. If your loaf is browning too quickly on top, cover it with foil. Leave to cool, then slice to serve.