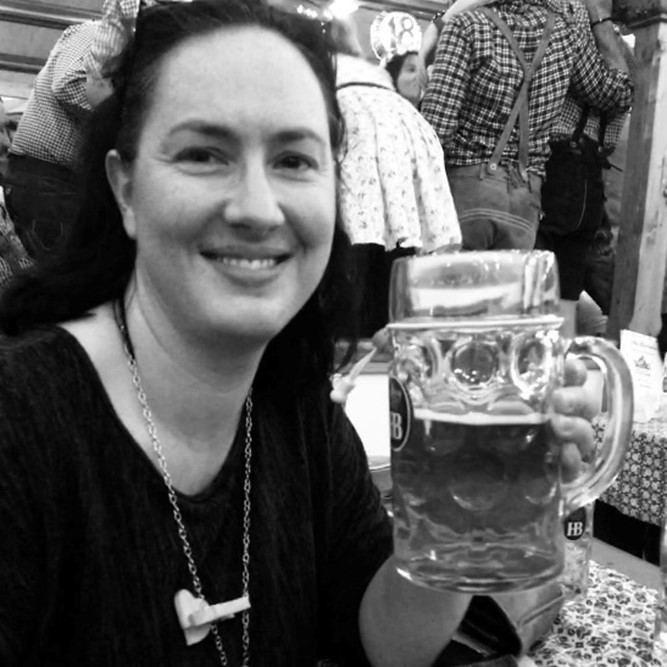 Celebrate Oktoberfest with a Feast to Remember
The normal way to celebrate Oktoberfest (between the 18 Sept – 3 October) would be to head to Bavaria and celebrate with lots and lots of beer and just as much food. Emma, our Marketing Manager (pictured left) was lucky enough to go to Munich a few years ago to enjoy Oktoberfest and had an amazing time so she thought she'd share her top 5 delicious recipes for you to enjoy which take inspiration from the festival.
Don't forget to treat yourself to some beer to wash down all these tasty treats – find our full range in our alcohol and local tipples section on our websites.
Also, check out our Pinterest board with more Oktoberfest style recipes
If you make any of these dishes don't forget to share them on our Facebook.
Lemon Thyme Roast Chicken
During Oktoberfest, chickens are spit-roasted until the skin is golden brown and crispy. Most people don't have a rotisserie set up at home, so instead make this classic recipe in the oven. Rubbing a lemon-and-thyme butter over the chicken before roasting ensures superbly crispy skin.
Source: Food and Wine
60g unsalted butter, softened
1 1/2 tbsp thyme leaves
3 tbsp fresh lemon juice
Sea salt
Pepper
1.5kg whole chicken, patted dry
1 lemon, quartered
Method
Preheat the oven to 230°C. In a small bowl, blend the butter with the thyme and 2 tablespoons of the lemon juice. Season with salt and pepper.
Season the chicken cavity with salt and pepper and tuck the lemon inside. Spread one third of the lemon-thyme butter under the skin of the breasts and thighs. Rub the remaining butter all over the chicken and season with salt and pepper.
Set the chicken breast side up in a large cast-iron skillet. Roast for 40 to 45 minutes, until an instant-read thermometer inserted in the inner thigh, registers 70°C. Transfer the chicken to a carving board and let rest for 10 minutes.
Meanwhile, skim off all but 1 tablespoon of fat from the pan juices. Stir in the remaining 1 tablespoon of lemon juice and cook over moderate heat until hot, 1 to 2 minutes. Remove from the heat and stir in the remaining 1 tablespoon of butter. Season with salt and pepper.
Carve the chicken and transfer it to a platter. Spoon the pan sauce on top and serve.
Simple and fairly self-explanatory, steckerlfisch is marinated, skewered and grilled fish typically made with local Bavarian fish, like bream, though it can also be made with trout or mackerel. At home, try this recipe with sardines.
Source: Food and Wine
12 large fresh sardines, cleaned
2 tbsp extra-virgin olive oil, plus more for brushing
Sea salt
Pepper
1/2 medium fennel bulb, halved, cored and very thinly sliced lengthwise
1 large handful of parsley leaves
A handful of tarragon leaves
A handful of snipped chives
30 chopped pitted oil-cured olives
2 tbsp fresh lemon juice
Method
Light a grill or preheat a grill pan and brush with olive oil. Brush the sardines with olive oil and season with salt and pepper. Grill over moderately high heat, turning once until lightly charred outside and just cooked through, about 5 minutes. Transfer the grilled sardines to a platter.
In a large bowl, toss the sliced fennel with the parsley, tarragon, chives, chopped olives, lemon juice and 2 tablespoons of olive oil and season with salt and pepper. Pile the fennel-and-olive salad on the grilled sardines and serve right away.
Germans typically use quark when making spaetzle, but some versions use cottage cheese in the spaetzle and makes the chive sauce with tangy quark. Adding 2 tablespoons of granulated sugar instead of the chives turns this savoury dish into a delicious dessert.
Source: Food and Wine
2 eggs, lightly beaten
60ml milk
40g small-curd cottage cheese
Salt and freshly ground pepper
140g plain flour
2 tbsp unsalted butter
100g quark
1 1/2 tbsp chives, snipped
Method
Bring a large pot of salted water to a boil. In a medium bowl, beat the eggs with the milk, cottage cheese, 1/2 teaspoon of salt and 1/4 teaspoon of pepper. Stir in the flour until a smooth, thick, sticky batter forms.
Spoon the batter into a colander with 1/4-inch holes. Set or hold the colander 1 inch above the boiling water and scrape the batter through the holes, using a rubber spatula. Stir the spaetzle once or twice to separate them. As soon as they rise to the surface, use a slotted spoon to transfer the spaetzle to a clean colander and drain well.
Melt the butter in a large nonstick skillet. Add the boiled spaetzle and cook them over moderately high heat, stirring and shaking the skillet occasionally, until the spaetzle are browned and crisp in spots, about 5 minutes. Add the quark and snipped chives, reduce the heat to moderately low and cook, stirring, until the sauce is creamy, 1 to 2 minutes. Season the spaetzle with salt and pepper and serve right away.
Time: 30 mins + 5 days fermenting
If you're attending Oktoberfest, you're eating this pickled cabbage with almost everything. This homemade version mixes cabbage with aromatic caraway. This fermented food is great for your gut and goes very well with sausages and mustard.
Source: BBC Good Food
2kg very firm, pale green or white cabbage, cored
3 tbsp coarse crystal sea salt, or 6 tbsp flaky sea salt
1 tsp caraway
1 tsp peppercorns
Method
Thoroughly wash a large tub or bowl (we used on the size of a small washing-up bowl), then rinse with boiling water from the kettle. Make sure that your hands, and everything else coming into contact with the cabbage, are very clean. It's wise to use a container that will comfortably fit the softened cabbage, allowing several inches of room at the top to avoid overflow.
Shred the cabbage thinly – a food processor makes light work of this. Layer the cabbage and the salt in the tub or bowl. Massage the salt into the cabbage for 5 mins, wait 5 mins, then repeat. You should end up with a much-reduced volume of cabbage sitting in its own brine. Mix in the caraway seeds and the peppercorns.
Cover the surface of the cabbage entirely with a sheet of cling film, then press out all the air bubbles from below. Weigh the cabbage down using a couple of heavy plates, or other weights that fit your bowl, and cover as much of the cabbage as possible. The level of the brine will rise to cover the cabbage a little. Cover the tub and leave in a dark place at a cool room temperature (about 18-20C) for at least five days. It will be ready to eat after five days, but for maximum flavour leave the cabbage to ferment for anywhere between 2-6 weeks (or until the bubbling subsides).
Check the cabbage every day or so, releasing any gases that have built up as it ferments, giving it a stir to release the bubbles. If any scum forms, remove it, rinse the weights in boiling water and replace the cling film. You should see bubbles appearing within the cabbage, and possibly some foam on the top of the brine. It's important to keep it at an even, cool room temperature – too cool and the ferment will take longer than you'd like, too warm and the sauerkraut may become mouldy or ferment too quickly, leading to a less than perfect result.
The cabbage will become increasingly sour the longer it's fermented, so taste it now and again. When you like the flavour, transfer it to smaller sterilised jars. Will keep in the fridge for up to six months.
You can't have Oktoberfest without pretzels. Large and soft, they're the perfect accompaniment to beer. Try making your own with this really authentic recipe for German-style pretzels.
Source: Amandas Cookin
545g plain flour
2 tbsp salt
1 tsp sugar
240ml lukewarm water
2 packages, active dry yeast
3 tbsp butter
Coarse salt, for sprinkling
50g bicarbonate of soda
Method
Dissolve yeast in the lukewarm water. Mix flour and salt together in a large mixing bowl. Form a well in the flour mixture then add the sugar to the centre of the well. Pour the yeast/water mixture into the well. Let it rest for 15 minutes before mixing.
Add the softened butter to the mixing bowl and knead everything to a smooth dough.  If using a mixer it will take about 6 minutes on speed #2), If not gathering add about a tablespoon of additional water. Remove the dough hook and let the dough rest for 30 minutes.
Cut the dough into twelve equal parts, then roll each piece on the table (don't flour the surface, you shouldn't need it) to about 20 inches, tapered toward the ends. Don't make it smaller than 20 inches as it's impossible to get a good shape with a short, thick rope of dough. The dough should not get too warm as you roll it out, or it might tear.
To form the pretzel shape, place dough rope on a parchment-lined baking tray so that it creates the shape of the letter "U". Take both ends of the "U" and cross them over each other twice forming a twist. Bring that twist down and place it over the bottom curve of the "U".
Place the pretzels without covering them in the fridge for about an hour. This helps build a skin that will absorb the dipping solution better and make a beautiful shiny crust.
Preheat the oven to 200C.
Fill large stock or pasta pot 3/4 full and bring the water to a boil. Carefully and slowly add the bicarbonate of soda to the boiling water. There will be a reaction when the bicarb hits the water and it will bubble furiously for a moment and then relax. Stand back a bit just to be safe. Using a slotted spoon, gently drop each pretzel into the bath for 10 seconds, then turn over for another 10 seconds. Place them on a baking sheet lined with parchment paper. Score the dough once like for a baguette with a razor blade or sharp knife. Sprinkle with coarse salt. Bake the pretzels for about 15 to 20 minutes, depending on how dark you like them.