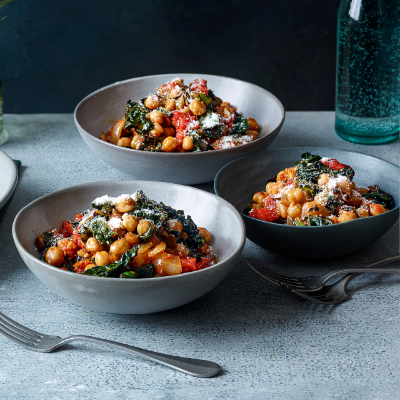 Cavolo Nero, Chickpea & Rosemary Stew
A hearty bowl of comforting veggie stew. For more ways to use cavolo nero, see our Pinterest board.
3 tbsp extra virgin olive oil
1 onion, finely chopped
4 garlic cloves, crushed
4 sprigs fresh rosemary, leaves finely chopped
1/2 tsp dried chilli flakes
2 x 400g tinned chickpeas
400g tin chopped tomatoes
1-litre vegetable stock
200g cavolo nero, roughly chopped
40g vegetarian Parmesan, finely grated
Method
Put the oil in a large, high-sided pan over a medium heat. Add the onion, garlic, rosemary and most of the chilli flakes, turn the heat down and sauté gently for 10-12 minutes until the onion is soft and translucent. Stir frequently and reduce the heat if the garlic is beginning to catch.
Add the chickpeas, tomatoes and stock to the pan. Bring to the boil then reduce the heat a little and simmer briskly for 5 minutes. Add the cavolo nero and simmer for 15 minutes. Stir in most of the cheese; season if needed. Serve in bowls with the remaining chilli and cheese scattered over, plus a drizzle of olive oil.