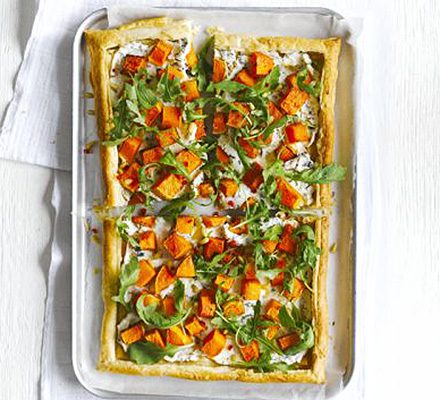 Butternut Ricotta Tart with Fiery Rocket Salad – Eat Healthy for Less
This butternut ricotta tart with fiery rocket salad is a great summer recipe, sure to be a family favourite. This easy, speedy supper is a sheet of ready-rolled puff pastry topped with ricotta, sage, nutmeg and butternut squash. This tasty recipe can be made for just £1.24 per serving. Let us know if you have a go at this dish and tag us in a picture on Facebook and Instagram.
Source: BBC Good Food
Nutritional Information: Calories 577kcals; Carbohydrates 49g; Total Fat 36g; Saturated Fat 14g; Protein 14g; Fibre 3g; Sugar 7g; Salt 0.8g.
1 butternut squash, peeled and cut into 2cm cubes
2 tbsp olive oil
320g sheet ready-rolled puff pastry
250g tub ricotta
A few sage leaves, finely chopped
A good grating of nutmeg
Zest and juice 1/2 lemon
70g rocket
1 red chilli, deseeded and finely chopped
25g pine nuts
Method
Heat oven to 220C/200C fan/gas 7. Put the squash on a baking tray. Toss in half the oil, season and spread out into a single layer (you may need 2 baking trays). Roast for 30-35 mins or until tender. 
Meanwhile, place a large rectangle of baking parchment on a baking tray. Unroll the pastry and lay it on top. Score a 1cm border with the tip of a knife and prick the inside part all over with a fork. Bake in the oven for 15 mins. 
Mix the ricotta, sage, nutmeg, lemon zest and plenty of seasoning in a bowl. Once the pastry and squash are cooked, remove them from the oven. Gently press the centre of the pastry case down with the back of a spoon. Spread the ricotta mix into the centre. Lay on squash Bake for a further 10-15 mins until the pastry is golden and crisp. Mix the lemon juice, rocket, chilli, pine nuts and 1 tbsp oil. Scatter half over the tart and serve the rest on the side.