What to make with your box contents w/c 9 May
Be creative and adapt recipes to suit what you have in your fridge and store cupboard.
Recipes are based on the contents of a medium seasonal box.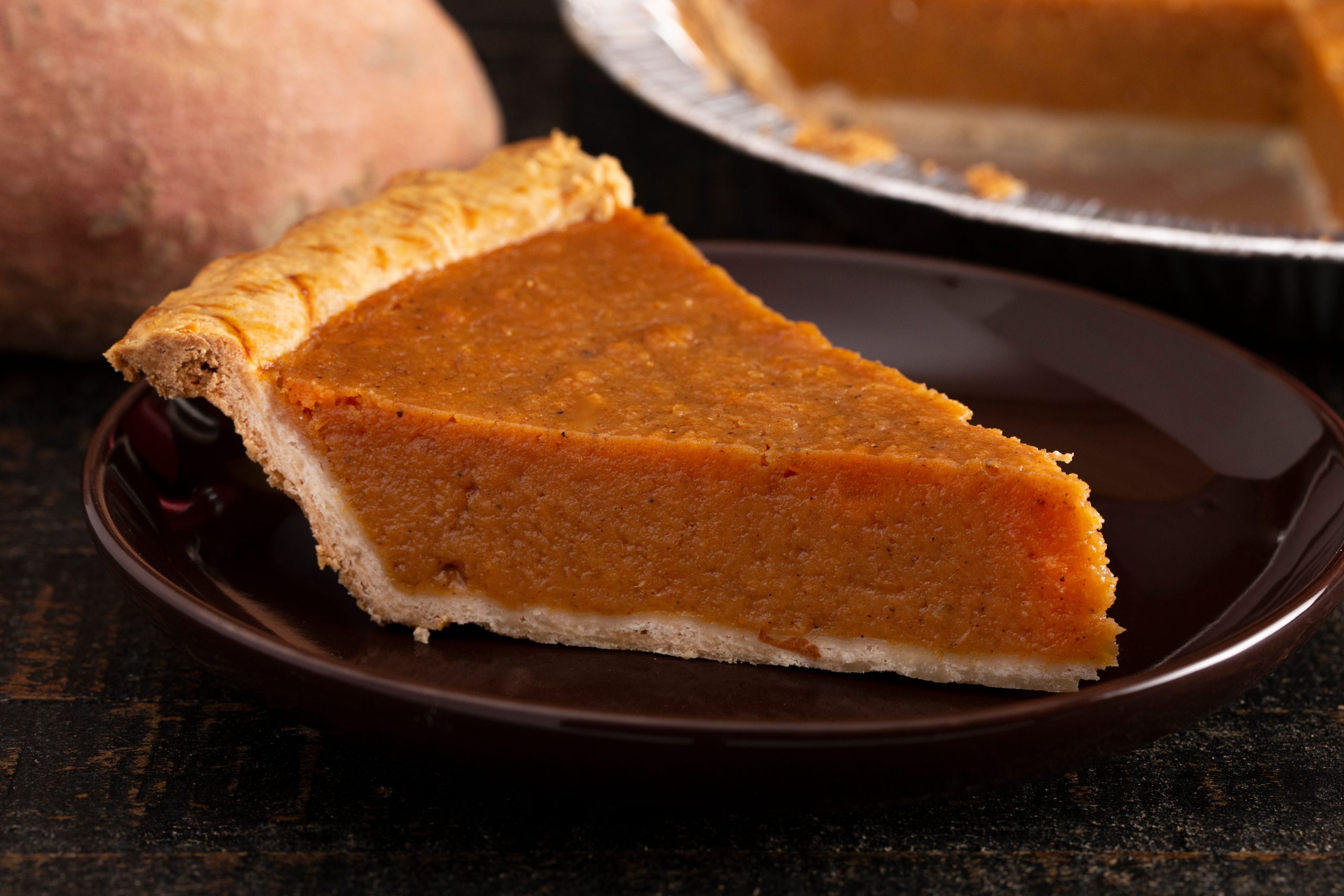 Total time: 1 hour 45 mins
Shine a spotlight on sweet potatoes with this pie. The creamy potatoes work beautifully for the filling, which is encased in a crumbly shortcrust pastry.
Recipe source: BBC Good Food
500g sweet potatoes
320g sheet of shortcrust pastry
125g butter
250g caster sugar
150ml whole milk
3 eggs
grating of nutmeg
½ tsp ground cinnamon
1 tsp vanilla bean paste
Method
Fill a large pan with boiling water from the kettle and set over a medium-high heat. Cook the whole, unpeeled sweet potatoes for 30 mins until very tender when pierced with the tip of a sharp knife. Drain well and leave to cool for 10 mins, then peel.
Heat the oven to 180C/160C fan/gas 4. Unravel the shortcrust pastry and use it to line a 23cm fluted tart tin. Line with baking parchment and fill with baking beans, then bake for 20 mins. Remove the parchment and beans and bake for another 5 mins.
Tip the peeled sweet potatoes into a large bowl with the butter and mash with a potato masher until completely smooth. Tip in the sugar, milk, eggs, spices and vanilla and whisk until everything is combined and smooth.
Tip the sweet potato filling into the pastry case, smoothing the top with a spatula. Bake for 50-55 mins until the pastry and the surface of the pie is golden and the middle is set. Leave to cool completely in the tin, then remove to a cake stand or serving plate and cut into slices to serve.
One pot pasta with spinach and tomatoes
1 tablespoon olive oil
2 onions chopped
6 garlic cloves, finely chopped
1 can chopped tomatoes, undrained
300ml unsalted chicken stock
½ teaspoon dried oregano
225g whole-grain spaghetti or linguine (such as Barilla)
½ teaspoon salt
200g fresh spinach
28g Parmesan cheese, grated
Method
Heat a large saucepan over medium-high heat. Add oil; swirl to coat.
Add onion and garlic to pan; sauté 3 minutes or until onion starts to brown.
Add tomatoes, stock, oregano, and pasta, in that order. Bring to a boil.
Stir to submerge noodles in liquid.
Cover, reduce heat to medium-low, and cook 7 minutes or until pasta is almost done.
Uncover; stir in salt.
Add spinach in batches, stirring until spinach wilts. Remove from heat; let stand 5 minutes.
Sprinkle with cheese.
Burnt onion and aubergine dip
2 x 15ml tablespoons  olive oil
1 onion
1 medium aubergine
1/3 bulb of garlic
3/4 teaspoon sea salt flakes
½ teaspoons dried mint
1 ½ tablespoons lemon juice
3/4 tablespoons tahini
1/3 teaspoon ground cumin
1/3 teaspoon sweet smoked paprika
2 x 15ml tablespoons extra virgin olive oil
Method
Heat the oven to 220°C/200°C Fan/425°F, and get out a large baking tray (not a tin with high sides, or the aubergine and onion will braise rather than roast); I use one of 42 x 33cm / 18 x 13 in, measuring from the outside of each shallow lip. Pour in the 90ml / ⅓ cup of olive oil.
Quarter the onion, remove the skins, then cut each quarter in half lengthways, leaving (if you can) the onion attached still at root end, and arrange on your baking tray.
Halve the aubergine lengthways, then with a sharp knife, cut diagonal slashes into the fleshy sides in a cross-hatched pattern, and add these, flesh side down, to the baking tray with the onion.
Schmoosh everything about, really smearing the fleshy side of the aubergine with the oil, and making sure the onions are covered. Then turn the aubergine cut side up.
Lop the top off the bulb of garlic so that the cloves are just peeking through, and wrap in foil, making a tightly sealed but baggy parcel. Add this to your baking tray if there's room, otherwise just pop it into the oven as it is, at the same time as putting in the onions and aubergine. Depending on the fierceness of your oven and the materials of your baking tray (the darker it is, the faster everything will brown), the onions and aubergine will take around an hour to cook to scorched softness. Check on them at about 40 minutes and throw in 90ml / ⅓ cup of water, and turn the onions where needed.
As soon as the baking tray has gone into the oven, spoon the sea salt and dried mint into a cup, add the lemon juice, stir to mix, and leave while the onion and aubergine are cooking.
When the onions are soft and browned and burnt at the edges, the aubergine darkened and floppy-fleshed, remove from the oven and let stand for 5-10 minutes, just to let them cool down a little before handling. Get the garlic out, unwrap it, and allow it to cool a little too.
Transfer the onions, scraping every bit off the bottom of the tin, to a bowl that you can use with a stick blender. When you can touch the aubergine comfortably, use a spoon and your hands to get the flesh out of the charred skins, though you won't be able to separate it all, nor do you need to. Bits of charred tender skin will add to the taste. When you've got as much of the flesh out as you can comfortably manage, you can squeeze the skins in your hands over the bowl. If the tray is dry by now, add a little water from the kettle to sluice it out. Once the aubergine are in the bowl, squeeze the caramelised garlic out of its papery skin on top of them. Don't burn your hands, but do try and get out every last bit you can.
Before you blitz everything together, add the waiting minty, salty lemon juice, tahini, ground cumin, sweet smoked paprika and the extra-virgin olive oil, and blend until smooth and silky.
Taste for seasoning – it may need more smoked paprika – then decant into a bowl, and dip tortilla chips into it, spread it on toast, or eat it however you like.
Roast aubergine with goulash sauce and sweet potato fries
Try aubergine for a filling veggie meal worthy of Sunday lunch. Teamed with a goulash sauce and sweet potato chips, you can pack in all five of your 5-a-day
Recipe source: BBC Good Food
1 large aubergine, thickly sliced
4 tsp rapeseed oil
225g prepared weight sweet potatoes, cut into narrow chips
1 tbsp fresh thyme leaves, plus a few for sprinkling
2 small onions (190g), halved and sliced
1 red pepper, deseeded and diced
2 garlic cloves, sliced
1 tsp smoked paprika
85g cherry tomatoes, halved
1 tbsp tomato purée
1 tsp vegetable bouillon powder
200g bag baby spinach, wilted in a pan or the microwave
25g pumpkin seeds
Method
Heat oven to 240C/220C fan/gas 7. Brush the aubergine slices with 1 tsp oil, put on a baking sheet and roast for 15 mins. Meanwhile place a wire cooling rack on top of a baking tray. Toss the sweet potatoes and thyme with 2 tsp oil, then scatter them over the rack and set aside until ready to cook.
Heat 1 tsp oil in a non-stick pan, add the onions, cover the pan and leave to cook for 5 mins. Take off the lid and stir – they should be a little charred now. Stir in the green pepper and garlic, cover the pan and cook for 5 mins more. Put the sweet potatoes in the oven and bake for 15 mins while you get on with the rest of the sauce.
Stir the paprika into the onions and peppers, pour in 150ml water, then stir in the cherry tomatoes, tomato purée and bouillon. Cover and simmer for 10 mins while you cook the spinach according to pack instructions. Stir in the seeds.
Arrange the aubergine, fries and spinach in bowls and spoon on the goulash sauce. Scatter with thyme, if you like.
Zesty Courgette and Broccoli Spaghetti
A delicious recipe from Chef Gino D'Acampo.
Recipe adapted from: Good to
1 courgette trimmed
100g broccoli
225g dry spaghetti
3 tbsp extra virgin olive oil
13g walnut pieces roughly chopped
Zest of half lemon
Pinch of dried chilli flakes
Salt and ground pepper
2 tbsp freshly grated parmesan cheese
Method
Coarsely grate courgette and put in a clean tea towel and squeeze dry.
Meanwhile wash and prepare broccoli by trimming the base of spear, cut in diagonal slices above 3cm long with the leaves.
Heat oil in a large frying pan, add courgette and fry for 7 mins on a medium heat. Stir occasionally.  Add in broccoli, chilli flakes, walnuts and lemon zest and continue to cook for further 3 mins.  Season with salt and pepper stir.
In the meantime cook the pasta for 8-10 mins or until al dente.  Drain in a colander.  Add the spagetti to frying pan and toss all together on medium heat for 30 seconds.  Serve immediately with cheese on top.
Leeks with tomatoes and olive oil
Save the water that you boil the leeks in for use in soups. It has a wonderfully intense flavour.
Recipe adapted from:Better homes and gardens
2 medium to larges leeks trimmed, split, and washed
1 large ripe tomato, peeled, halved, seeded, and cut into 1/4-inch pieces
2 tablespoons olive oil
½ tablespoon red wine vinegar
½ tablespoon Dijon-style mustard
½ teaspoon Worcestershire sauce
¼ teaspoon salt
¼ teaspoon freshly ground black pepper
Method
Bring some water to a boil in a deep saucepan. Add the leeks and bring back to a boil, then reduce the heat and boil gently, covered, 15 minutes or until tender. Drain, reserving liquid for use in soups, if desired.
When they are cool enough to handle, squeeze the leeks to extract most of the remaining liquid (reserve it with the rest of the liquid). Cut the leeks into 2-inch pieces and arrange them in a gratin dish, mixing the white and green parts. Mix the tomato, oil, vinegar, mustard, Worcestershire, salt, and pepper. Spoon over leeks. Serve at room temperature.
Chocolate orange banana bread
This is a great recipe to make with children. It's relatively simple to make, using justtwo bowls and no special equipment as everything is mixed by hand.
275g plain or all purpose flour (can be gluten free)
1 tsp baking powder
3/4 tsp baking soda
2 medium ripe bananas, mashed
75g coconut oil or butter, melted
70g honey
50g  plain yogurt
1 medium egg
2 tsp vanilla extract
1 orange
75g  chocolate chips
Method
Preheat the oven to 180c. Grease and line a 2lb baking tin with parchment paper.
Add the flour, baking soda and baking powder to a large bowl and mix with a spoon.
In another bowl add the mashed banana, coconut oil or butter, honey, yogurt, egg and vanilla extract and mix well with a spoon.
Add the zest and juice of the whole orange and mix again.
Add the wet ingredients to the dry ingredients and mix with a spoon just enough until all the ingredients have combined.
Finally stir in the chocolate chips.
Pour the mixture into the prepared tin and bake in the oven for 30 minutes. Remove, cover loosely with tin foil (this will stop the top of the bread getting too brown) and then return to the oven for another 20-25 minutes until the bread is cooked through and a skewer inserted in the middle comes out dry.
Once the loaf has cooked, remove it from the oven. Allow to cool in the tin for 5-10 minutes before transferring to a wire rack to cool completely.