What to make with your box contents w/c 8 November 2021
Don't forget to check out our last few blogs here on box contents use.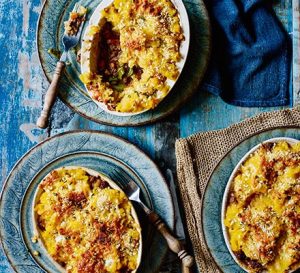 Beef, leek and swede cumberland pie
With a golden swede, creamy potato and crunchy breadcrumb topping, this twist on a Cumberland pie is sure to become a warming winter staple. (659 kcal per serving)
Source: BBC Good Food
3 (or 2 if large), leeks white part diced, green part sliced and kept separate
1 large carrot, finely chopped
2 celery sticks, finely chopped
1 tbsp butter
1 tbsp rapeseed oil or vegetable oil
1kg good-quality beef mince (a little fat adds flavour and tenderises, so try a 10% mix rather than super-lean)
200g unsmoked bacon lardons
3 tbsp plain flour
5 thyme sprigs
2 tbsp Worcestershire sauce
1 tbsp Marmite
1.2l beef stock
For the topping
1kg swede (about 2 large), peeled and chopped into chunks
350g floury potatoes, chopped into chunks
25g butter, plus a few knobs
100ml milk
a little freshly grated nutmeg
25g mature cheddar, grated
25g fresh breadcrumbs
Method
Heat oven to 180C/160C fan/gas 4. Put the leek whites, carrot and celery in a flameproof casserole dish with the butter, oil and a pinch of salt, and soften, without colouring, over a gentle heat.
Meanwhile, brown the mince in a non-stick frying pan. Cook in batches to keep it brown and avoid it going grey and soggy. If you've used a lean mince, you may need to add a drop of oil. Break up the mince well with a wooden spoon as you go.
When the veg is soft, stir in the bacon lardons, turn up the heat a little and cook until everything is golden. Stir in the mince, followed by the flour, 3 thyme sprigs, Worcestershire sauce and Marmite. Gradually stir in the stock and bring everything to a simmer, then cover and transfer to the oven. Cook for 2 hrs until the sauce is thickened and rich, and the beef tender, removing the lid and stirring in the leek greens halfway through.
While the beef bakes, put the swede and potato into two separate pans. Cover with cold water, bring to the boil, then simmer until tender – about 20 mins. Drain both well, then tip back into their pans over a low heat to steam-dry for a few mins. When both (but particularly the swede) look dry, combine them in one pan with the butter, milk, nutmeg and lots of seasoning. Mash until smooth.
Transfer the mince to individual dishes or one baking dish (or leave in the casserole if you prefer, discarding the thyme sprigs). Cover with the mash, using a fork to fluff up the top. Rub the cheddar into the breadcrumbs with the leaves from the remaining thyme sprigs and plenty of freshly ground black pepper. Sprinkle this mixture over the mash, dot with small knobs of butter, then increase the temperature to 200C/180C fan/gas 6 and bake for 30 mins until golden and crisp on top. Can be made ahead and chilled, or frozen and defrosted. Bake for an extra 10-15 mins until the sauce is bubbling.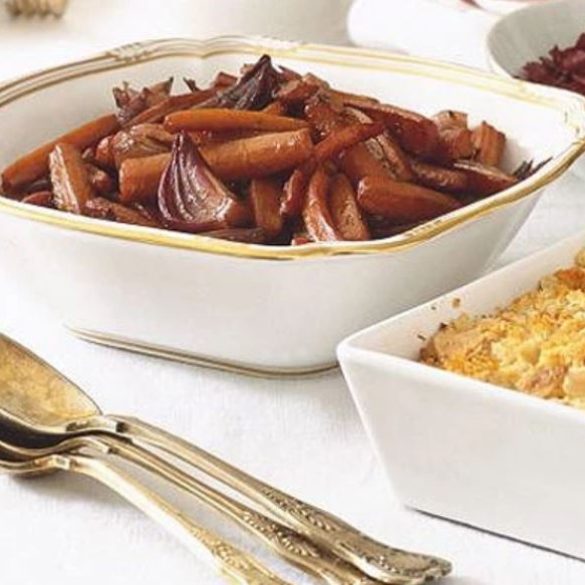 Caramelised carrots and onions
250g carrot , peeled and cut into long chunks
25g butter
1 tbsp olive oil
4 onions, peeled and quartered with root intact
2 sprigs thyme
1/2 tbsp soft brown sugar
2 tbsp red wine
1/2 tbsp good-quality balsamic vinegar
Method
Blanch carrots in a pan of boiling salted water for 3 mins, drain well, then pat dry. In a large pan, melt the butter and oil, then fry the carrots, onions and thyme over a low heat for 30 mins until golden.
Stir in the sugar and red wine and bubble for a few mins to boil off the alcohol. Add the vinegar, then continue to cook until syrupy, about 5 mins. Remove the sprigs of thyme and serve. Make up to 2 days ahead, stored in a covered container. Tip back into a pan and reheat or use a microwave.
Ladle the soup into six deep bowls. Serve with the shaved parmesan and crusty bread, if you like.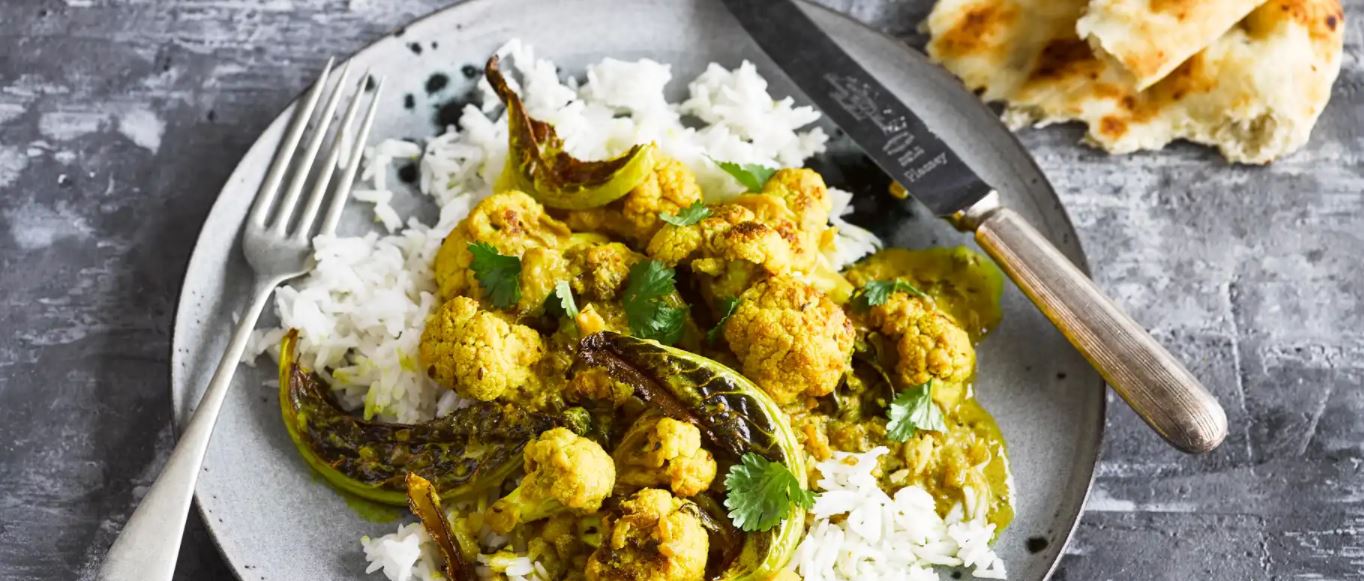 Check out this veggie korma recipe with roast cauliflower. This curry recipe is low in calories and ready in just 30 minutes, ideal for an easy midweek dinner
Source: Olive magazine
1 large cauliflower

, broken into florets, leaves roughly torn

2 tbsp groundnut oil 

2 tsp ground turmeric

sea salt flakes

4 cardamom pods

, bruised

2 tsp cumin seeds 

1 large onion

, finely chopped

1 green chilli,

 chopped

2 garlic

cloves, crushed

1 tbsp ginger

grated 

2 tsp ground coriander 

4 cloves

, ground

200 ml vegetable stock 

2 tbsp ground almonds 

4 tbsp natural yogurt 

Handful coriander

, chopped

Rice and naans

to serve
Method
Heat the oven to 200C/fan 180C/gas 6. Put the cauliflower florets and leaves in a bowl with 1 tbsp oil, 1 tsp of the turmeric and a good sprinkling of salt. Toss together then spread on a non-stick baking sheet and roast for 15-20 minutes or until browning at the edges and starting to become tender.
Meanwhile, heat 1 tbsp oil in a pan, add the cardamom and cumin seeds, and sizzle until fragrant. Add the onion and chilli, and cook until the onion is softened and lightly golden. Add the garlic and ginger, and cook for 2 minutes, then stir in the remaining turmeric and the rest of the spices.
Tip in the roasted cauli and stir well, then add the stock and almonds. Simmer for 5 minutes then stir in the yogurt and heat through gently. Stir in the coriander and serve with rice and naans.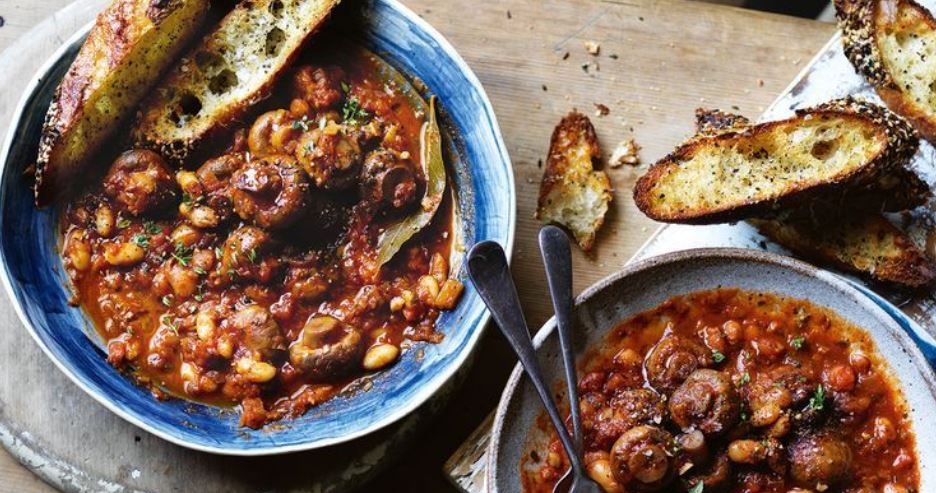 White bean, leek and mushroom stew
Cook time: 2 hours 15 mins
This white bean and mushroom number is just as hearty as its meaty counterparts and just as 'lick the bowl clean' good.
Source: Delicious 
1 tbsp extra virgin olive oil
30g unsalted butter
1 large leek, trimmed, thinly sliced
2 garlic cloves, finely chopped
1 tsp dried oregano
2 tbsp finely chopped thyme & flat-leaf parsley leaves, plus extra chopped thyme to serve
1 tsp toasted fennel seeds
200g mushrooms, halved if large
1 celery stalks, chopped
65 ml red wine
150ml Vegetable Stock
400g passata
Half tin of cannellini beans
Grilled sourdough scattered with parmesan, to serve
Method
If cooking in oven, preheat oven to 150°C. Heat oil and butter in a large heavy-based saucepan over medium-high heat.
If using slow cooker, place oil and butter in bowl, select 'saute/sear' and preheat.
Add leek, garlic, oregano, thyme, parsley and fennel seeds. Cook, stirring frequently, for 6-8 minutes until leek has softened but not coloured. Add mushrooms, celery and wine. Cook, stirring, for 4-5 minutes until wine has reduced completely and mushrooms begin to soften. Stir in stock, sauce and beans.
If cooking in the oven, bring to the boil. Cover with a circle of baking paper and braise for 1 hour 30 minutes-2 hours until everything is cooked and sauce has thickened.
If using a slow cooker, cover with the lid, select 'slow cook' and set the timer for 6 hours. Remove lid, select 'saute/sear', and cook until sauce is reduced slightly.
Season. Scatter over extra thyme and serve with sourdough.
If you wish gently stir in warm potatoes; season with freshly ground black pepper.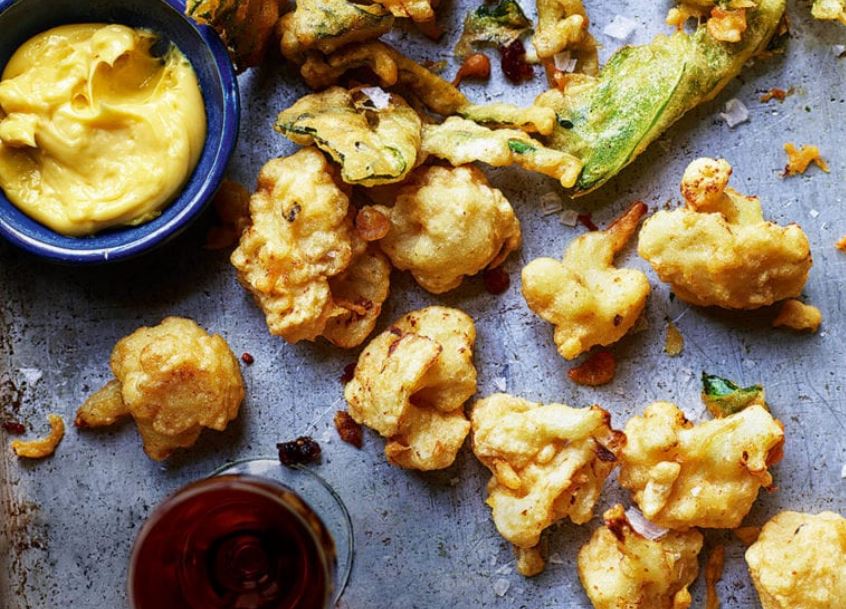 These easy veggie fritters with broccoli and coriander are a great way of using up leftover veg, herb stalks and even vegetable peelings. Try them with a poached egg, or leave to cool and add to lunchboxes.
Source: Delicious Magazine
100g self-raising flour
100ml whole milk
1 large free-range egg
½ tsp baharat spice mix
1 broccoli stalk, finely chopped
1 cauliflower stalk, finely chopped (plus any leaves, roughly chopped)
150g vegetable peelings (we used carrot and potato), chopped
Bunch coriander stalks, chopped (plus a few leaves if you have any)
2 tbsp vegetable oil for frying
Drizzle pomegranate molasses
50g feta, crumbled
Natural yogurt, drizzled with extra virgin olive oil, to serve
Method
Put the flour in a mixing bowl and slowly whisk in the milk. Add the egg and whisk until incorporated, then stir in the spice mix, chopped veg and peelings and the coriander stalks.
Heat 1 tbsp oil in a large non-stick frying pan over a medium heat. Spoon 4 ladlefuls of batter in the pan to make 4 fritters, then fry for 3-4 minutes on each side, flipping them when they're golden underneath. Remove to a plate lined with kitchen paper while you cook the rest – add a splash more oil to the pan as needed.
Season the fritters with salt and pepper, drizzle some pomegranate molasses over the top and crumble over the feta. Scatter with coriander leaves, if using, and serve with the yogurt.
Easy swaps: Use whatever veg scrap combination you have to hand. Parsnip or sweet potato peelings are great too. And feel free to chop and add any herbs that look past their prime.
The fritters can be made up to 1 day ahead. Cover and store in the fridge, then reheat in a low oven or in a hot dry pan (turning once) for a few minutes before serving.
Baharat is a Middle Eastern spice blend. If you don't have it, add a large pinch each of paprika, cumin and cinnamon, or try za'atar for something a bit different.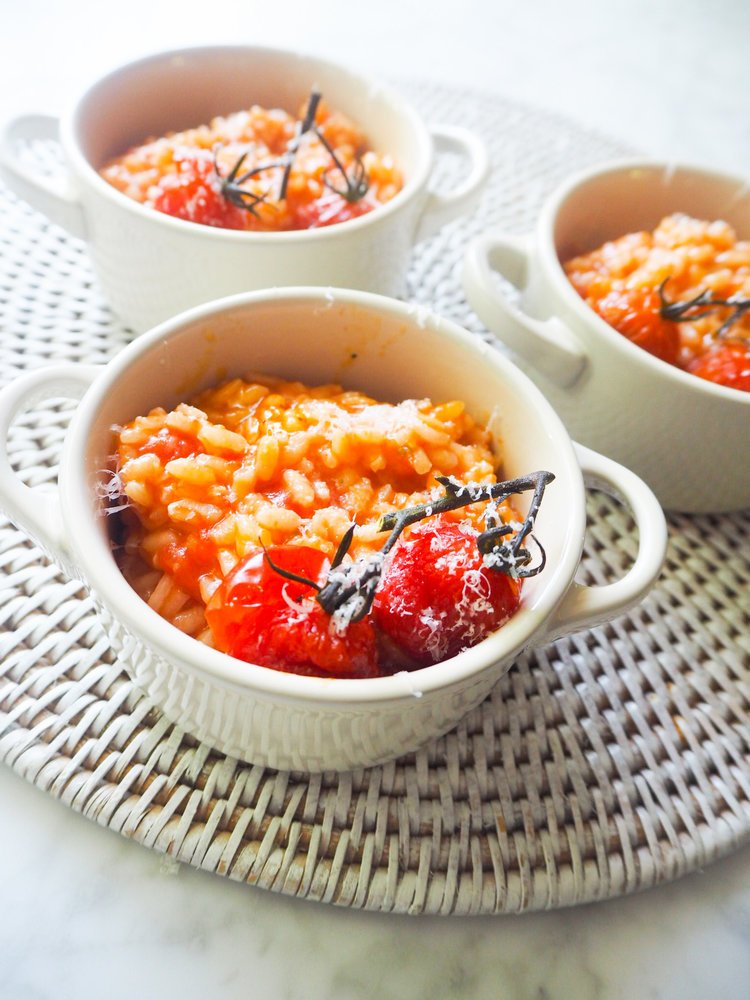 Risotto is a definite favourite and this version uses really basic store cupboard ingredients. To take the flavour up a level: top with baby plum tomatoes, roasted gently in olive oil. From a few very simple ingredients this recipe really does taste delicious. Hopefully a crowd pleaser at your kitchen table. Risotto doesn't freeze but you can make leftovers into delicious arancini balls.
Source: Mimisbowl
1 tablespoon unsalted butter

1 tablespoon olive oil

1 onion, finely diced

250g risotto rice

1 tin (400g) good quality organic plum tomatoes

750ml – 1L homemade stock (or no added salt stock)

to serve ~ grated Parmesan, fresh basil leaves and oven roasted baby plum tomatoes (all optional)
Method
Combine the stock and plum tomatoes, warm through over a low heat. In a separate pot melt the butter and olive oil; add the onion and gently soften for around 8-10 mins until translucent. Next add the rice and coat in the oil, butter and onion.
Slowly add the stock/ tomato mix one ladleful at a time, breaking up the plum tomatoes with a spoon. Once the ladleful of the liquid has been absorbed, add the next ladleful, stirring all the time. Continue until all the stock/tomato mix has been used up: this process should take around 20 mins (approx).
To finish the risotto add a final knob of butter and cover with a lid, to rest for 5 mins. It's now ready to eat. For extra flavour: serve with (optional) grated Parmesan, fresh basil leaves and oven roasted baby plum (or cherry) tomatoes.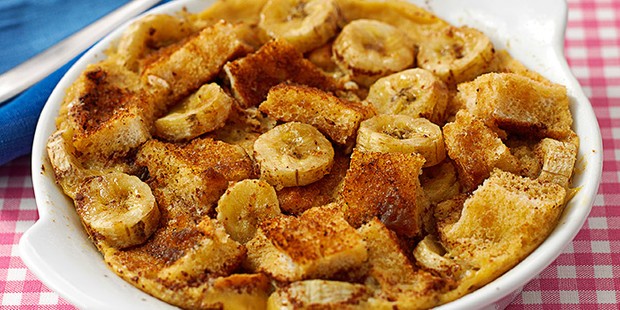 Banana bread and butter pudding
A microwave pudding that will have the family thinking you've been cooking for hours. (412 kcal per serving)
Source: BBC Good Food
4 thick slices white bread
50g butter, softened
1 large banana, peeled and sliced
2 eggs
85g soft, light brown sugar, plus 1 tbsp extra
large pinch cinnamon
450ml milk
1 tbsp cornflour
Method
Toast the bread, spread with butter and cut each slice into 6 equal pieces. Arrange, butter side up, with the sliced banana in a microwavable dish (approx 23cm wide by 5cm deep).
Beat together the eggs, sugar, cinnamon and milk in a jug. In a small bowl, add the cornflour with a little of the milk, mix until smooth, then stir into the jug. Pour over the bread and banana, then sprinkle with the extra sugar. Bake, uncovered, in the microwave on High for 8-10 mins. Stand for 5 mins before serving.