What to make with your box contents w/c 6 December 2021
Be creative and adapt recipes to suit what you have in your fridge and store cupboard. Don't forget to check out our last few blogs here on box contents use.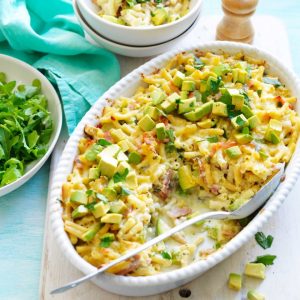 Avocado and Bacon mac and cheese
This irresistible avocado and bacon Mac and cheese recipe is the ultimate winter warmer dinner. Plus if there are leftovers heat up and enjoy the next day topped with fresh avocado.
Source: My Food Book
1 tablespoon olive oil
1 onion, finely diced
200g rindless rashers bacon, thinly sliced
60g butter
34g plain flour
710ml milk
1 teaspoon Dijon mustard
170g grated tasty cheese
400g macaroni
2 avocados, diced
Large handful flat leaf parsley leaves, roughly chopped
30g finely grated parmesan
30g shredded tasty cheese
Method
Heat oil in a medium saucepan over a medium heat. Add onion and bacon and cook for 8 minutes or until onion is soft. Transfer to a bowl.
To make the sauce, melt butter in saucepan over medium heat. Add flour and stir until well combined. Cook for 2 minutes. Reduce heat and add milk slowly in batches, stirring constantly until well combined.
When combined, increase the heat to medium and add mustard, and 170g  grated cheese. Stir constantly until thick and mixture comes to the boil. Reduce heat to low and simmer for 4 minutes
Preheat oven to 180°C.
Meanwhile, cook pasta in a large saucepan of salted water until just tender as per packet instructions. Drain and return to saucepan.
Add bacon and onion mixture into the sauce along with the pasta and parsley. Mix to combine. Add 3/4 of the avocado and gently stir through pasta mixture
Transfer prepared pasta mix to a large capacity baking dish. Sprinkle remaining cheese and parmesan over pasta. Bake for 25 minutes or until cheese topping is golden. Serve sprinkled with remaining avocado and green salad on the side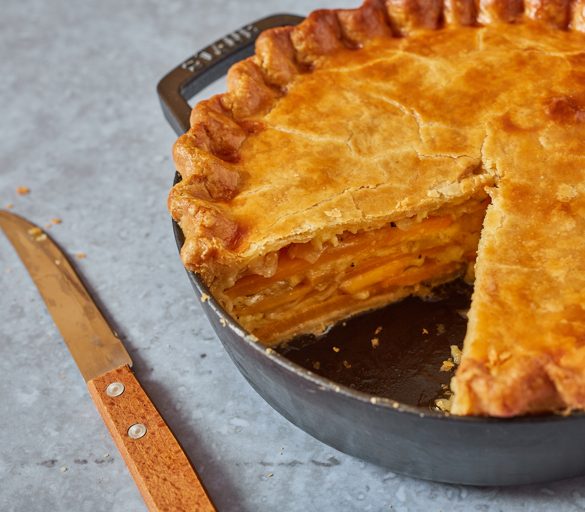 Swede, onion and cheese pie
Cook time: 1 hr plus 20 min resting
Source: Great British Chefs
PASTRY
250g of self-raising flour
125g of suet, vegetarian or traditional
1 egg
60ml of water
60ml of milk, plus extra to glaze the pie with
1 pinch of salt
FILLING
1 swede, weighing approx. 800g
3 onions, peeled and thinly sliced
3 sprigs of fresh thyme, leaves picked
80g of butter
250g of Lancashire cheese, coarsely grated
salt
freshly ground black pepper
Method
Start by making the pastry. Place the flour, suet and salt in a bowl and mix together. In a separate jug, beat the egg with the milk and water
Add half the milk mixture to the flour and mix with your hands. Keep adding the milk mixture until the flour comes together in a ball (you may not need all the milk). The dough wants to be soft and pliable but not wet. Wrap and place in the fridge while you make the filling
Pre-heat an oven to 160°/gas mark 3
Melt the butter with a splash of oil in a saucepan and add the onions and thyme. Season and sweat gently for 15–20 minutes, until unctuous and soft.
As the onions cook, peel the swede, slice in half lengthwise and then cut into slices the thickness of a pound coin (use a mandoline if you have one)
Add the swede to the onions and cook together for 5 minutes to allow the flavours to mingle and start cooking the swede. Season with salt and very generously with pepper (swede loves pepper). Leave to cool
Roll out two-thirds of the pastry 0.5cm thick and line a greased pie tin roughly 20cm in diameter
Place one-third of the swede mix into the pastry case, ensuring the pieces of swede are laid flat, then strew with one-third of the cheese. Repeat until all the ingredients are used up, creating defined layers
Roll the remaining pastry out into a disc. Dampen the edges of the pastry and top the pie. Trim the edges and then crimp to form a good seal
Make a small hole in the centre of the pie with a skewer or small knife and brush the top with milk
Place in the oven on a tray and bake for an hour. At this point, take your skewer and insert it through the hole in the pie. If the skewer enters with no resistance then the swede is cooked and the pie is ready. If not, replace in the oven and keep checking until cooked through
Allow the pie to sit for a good 20 minutes before slicing and serving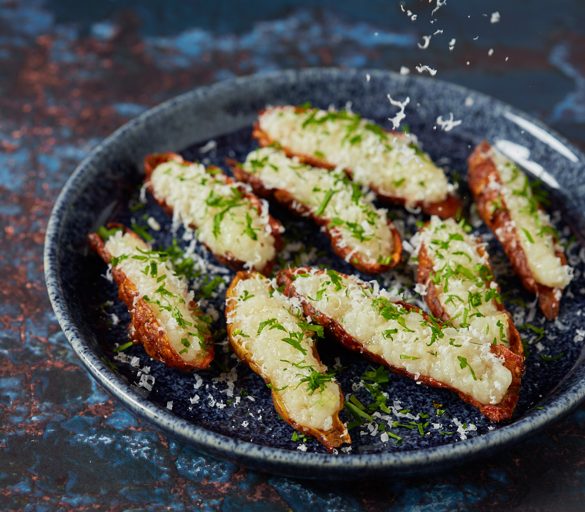 Jerusalem artichoke jacket potatoes
Source: Great British Chefs
250g of Jerusalem artichoke
20g of Parmesan, grated (or use a similar vegetarian hard cheese if preferred)
1/2 garlic clove, minced
25ml of olive oil
300g of vegetable oil, for deep-frying
1 handful of parsley, finely chopped
salt
pepper
Method
Preheat an oven to 180°C/gas mark 4.
Place the artichokes on a tray and roast for 25 minutes, or until soft.
Allow to cool slightly then cut the artichokes in half, being careful to keep the skins in one piece. Scoop out the flesh and set aside, reserving the skins.
Preheat a pan of oil or deep-fryer to 160°C.
Deep-fry the skins for a few minutes until crisp and golden then set aside on kitchen paper to drain.
Mix the olive oil and minced garlic together and season with salt and pepper.
Place the artichoke flesh into a blender with 3/4 of the garlic oil and 3/4 of the Parmesan and blitz until smooth. Taste, season and transfer to a piping bag.
When you are ready to serve, pipe the filling into the crisp skins and finish with the leftover Parmesan, garlic oil and the chopped parsley.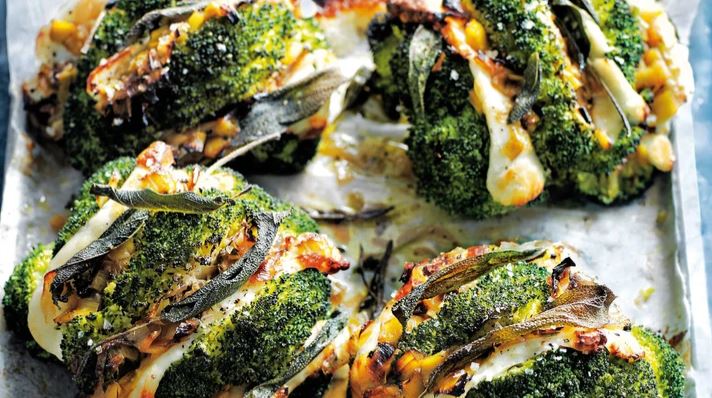 Sage and halloumi roasted broccoli with caramelised leeks
This low calorie recipe is easy to prepare and the delicious combination of broccoli, halloumi slices and caramelised onions makes this a winning dish.
Source: Olive magazine
1 litre Chicken or vegetable stock
4 small heads of broccoli, bases trimmed
300g halloumi, sliced
12 sprigs sage
Extra virgin olive oil
CARAMELISED LEEKS
Extra virgin olive oil
30g unsalted butter
2 leeks (white part only), sliced
1 tbsp thyme leaves
4 tbsp cider vinegar
1 tbsp rice malt syrup (or use a pinch of brown sugar)
Method
To make the caramelised leeks, heat 2 tbsp oil and the butter in a large, non-stick frying pan over medium heat. Add the leek and thyme and cook, stirring occasionally, for 10 minutes or until soft. Add the vinegar, rice malt syrup, season and cook for 5 minutes or until caramelised. Set aside.
Heat the oven to 220C/fan 200C/gas 7. Put the stock and 1.5 litres water in a large saucepan over high heat. Bring to the boil, add the broccoli and cook for 4-5 minutes or until just tender. Drain and allow to cool.
Put on a baking tray lined with non-stick baking paper. Make 3 incisions in each piece of broccoli at 3cm intervals. Fill each cavity with the caramelised leek, halloumi slices and sage. Drizzle with oil and sprinkle with salt and pepper. Roast for 10 minutes or until golden and the halloumi has melted.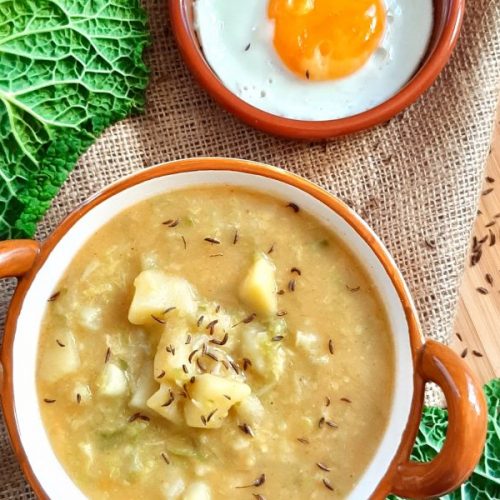 Hungarian savoy cabbage and potato stew
Hungarian savoy cabbage and potato stew is an easy comfort food, shapes up in just over a half-hour, it is perfect for weeknight meals. It goes so well either by itself or as a side with fried eggs or Hungarian style meatloaf, stew or sausage.
Source: Culinary Hungary
1 smaller head of savoy cabbage 1 pound, thinly sliced
1lb potatoes cubed
1 medium onion diced
1 clove garlic minced
1/3 teaspoon ground caraway seeds
1/3 teaspoon sweet red paprika
4 tbsp vegetable oil
3-4 tbsp all purpose flour
salt
Method
In a medium pot, sauté the onions and the minced garlic in vegetable oil over low heat, stirring frequently, until translucent. Do not let them burn. Salt lightly to help tenderise them.
Add the washed and thinly sliced savoy cabbage, pour over 4 cups of water, salt to taste and cook for about 10 minutes. Meanwhile peel and cube the potatoes and add them to the pot. Add the ground caraway seeds and keep cooking until tender.
Prepare the roux (to thicken your stew): In a saucepan, heat 3 tablespoons of oil, add 3-4 tablespoons of flour, stirring constantly over low heat. You need just enough oil to make the consistency of your roux not too thick and not too thin. It should spread out in your pan and bubble a little. After 2-3 minutes of searing, when it starts to brown, take it off the heat, allow to cool.
Add the sweet paprika. Now add some cold water to the roux to thin it. It makes it easy to pour this mixture into the pot.
Pour the roux back to your pot, bring it back to a boil and simmer for 1-2 minutes.
Serve with fried eggs, meat, sausage or beef/pork stew.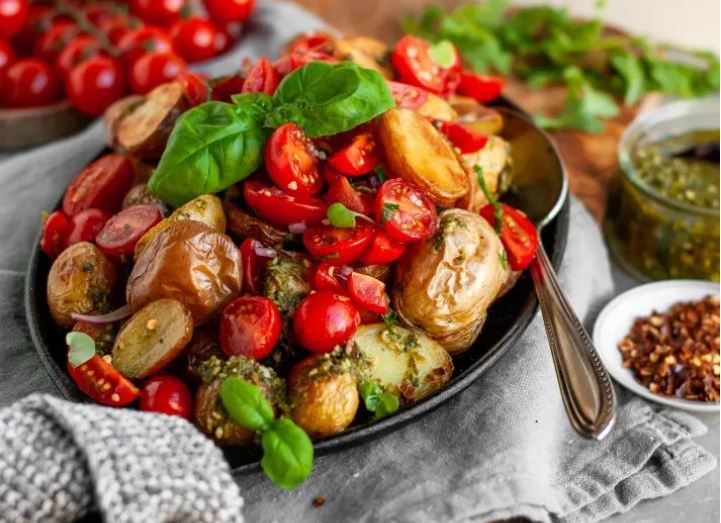 Roasted small potatoes with pesto and cherry plum tomato bruschetta
Roasted baby or small potatoes are amazing on their own, but tossed with basil pesto and topped with cherry tomato bruschetta they are taken to a whole new level of yum. This dish is really easy to prepare, especially for large groups (measurements can be multiplied easily). Use store-bought pesto and prepare the cherry tomato bruschetta ahead of time to reduce your prep work the day of. Toss the potatoes in oil and salt, roast them, toss them in the pesto and top with the bruschetta right at serving time. Done!
Source: Crumbs and Caramel
For the Potatoes:
500g small potatoes, washed and patted dry
2 tbsp olive oil
coarse salt, to taste
For the Bruschetta:
250g cherry plum tomatoes, sliced in half
1 small shallot, finely diced
2 cloves garlic, minced
1 tbsp olive oil
1 tsp white balsamic vinegar
5 large basil leaves, thinnly sliced (about 2 tbsp, compressed)
½ tsp salt
For Serving:
Large tablespoon vegan basil pesto
vegan parmesan, optional
crushed chili flakes, optional
Method
Heat 1 tbsp olive oil and butter in a heavy-based pan. Add the shallots and cook for 5 minutes, then add the carrot and cook for 5 minutes more until soft. Stir in the garlic, tomato purée and flour and cook for 1 minute until the vegetables are well coated.
Pour over the wine, stirring well to ensure the sauce is smooth. Leave to simmer for a couple of minutes until the wine has reduced by half. Add the stock and sprig of thyme and cook for another 10 minutes.
Meanwhile, heat the remaining 1 tbsp oil in a frying pan. Cook the mushrooms for a couple of minutes, add to the pan, along with any juices and simmer for 5 minutes. Scatter over some thyme leaves and serve.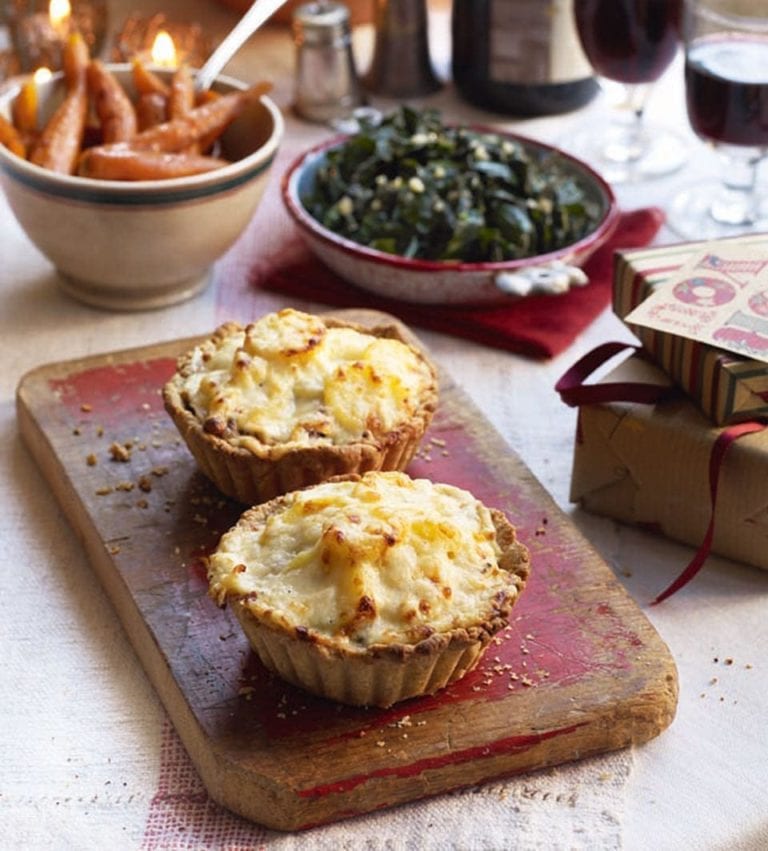 Mushroom and potato dauphinois tarts
This recipe for savoury mushroom and potato dauphinois tartlets makes for an indulgent vegetarian  main course. Or, scale up the quantities for a vegetarian dinner party.
Source: Delicious Magazine
25g butter
40g (½ medium) onion, finely chopped
½ garlic clove, chopped
100g small potatoes (peeled weight)
80ml whole milk
80ml double cream
100g mushrooms, halved and thinly sliced
50g hard, mature cheese such as gruyère or cheddar, grated
For the oatmeal pastry cases
60g plain flour, plus extra for dusting
20g medium oatmeal
30g chilled butter, cubed, plus extra for greasing
25g hard, mature cheese (as for the filling), finely grated
Red grapefruit sour cream cake
This grapefruit sour cream cake is amazingly moist, bright with citrus and tart from the sour cream.  A delicious cake best served with coffee or tea.
Source: Simply Scratch
200g granulated sugar
2 tbsp grapefruit zest
2 large eggs
3 tablespoons grapefruit juice
76g unsalted butter
200g all purpose flour
1 teaspoon salt
1 teaspoon baking powder
120g sour cream
2 tbsp whole milk
For the glaze:
125g icing sugar
1 tbsp sour cream
1-2 tbsp whole milk
Method
Preheat your oven to 180C and line an 8×5 loaf pan with parchment paper, then spray with cooking spray.
In a large bowl combine the sugar and the two tablespoons of grapefruit zest. Use your fingers and rub the zest into the sugar until it resembles wet sand.
Add the two eggs, grapefruit juice and melted butter. Stir until those ingredients are incorporated.
In a separate bowl, combine the flour, salt and baking powder. Give it a good whisk to remove and clumps.
In a small bowl or measuring cup; combine the sour cream and milk and stir until combined.
Starting with the flour and ending with sour cream/ milk mixture. Alternate and a third of each until everything is mixed in well.
Pour the cake batter into the prepared pan and bake for 45 minutes or until a tester comes out clean. Let the cake rest in the pan for 10 minutes before running a knife along the edge and using the parchment paper to lift the cake out of the pan.
Let the cake cool completely on a wire rack. Meanwhile make the glaze by combining the powdered sugar, sour cream and thinning it out with the milk.
Drizzle the glaze over the cooled cake and let it sit to harden for a few minutes.