What to make with your box contents w/c 3 January
Be creative and adapt recipes to suit what you have in your fridge and store cupboard. Don't forget to check out our last few blogs here on box contents use.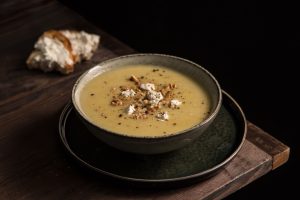 Apple, parsnip and potato soup
There's nothing better than coming in from the cold outside, putting on your slippers and settling down for a hot dinner – and apple and parsnip soup is the perfect option. If you're organised, you could even make it the night before so that when you get home, it will be just minutes before you're ready to dig into to a big bowl of steaming soup.
Source: Great British Chefs
20g of butter
1 tbsp of oil
2 onions, or 1 large onion, diced
3 garlic cloves, minced
1 potato, around 230g in weight
1 parsnip, around 230g in weight
1 apple, around 230g in weight
400ml of vegetable stock
black pepper
Method
Heat the butter and oil in a large saucepan, and cook the onion and garlic over a medium-low heat for 5-10 minutes, stirring every minute or so, until soft and translucent
While the onions are cooking, prepare your other vegetables – chop the potato into chunks (I left the skins on mine), and peel and chop the parsnip and apple
When the onions are cooked, add the other vegetables to the pan, and mix well. Add the vegetable stock (it should be almost covering the vegetables – adjust the quantity as needed, depending on the size of your pan), and cover with a lid, leaving just a small gap for ventilation
Simmer over a medium heat for around 25 minutes, stirring every now and then, until all the vegetables are very soft
Adjust the thickness of the soup as desired – if you'd like it to be thinner, just add a little more stock, and if you'd like it to be thicker, cook over a medium heat for a few minutes, stirring constantly
Serve topped with soft goat's cheese and walnuts, if desired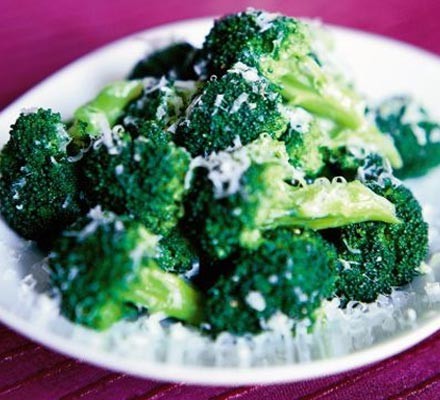 900g trimmed broccoli, divided into florets
25g butter
50g parmesan (or vegetarian alternative), grated, plus extra to serve
Method
Drop the broccoli florets into a pan of boiling salted water. Bring back to the boil, cook for 3-5 mins until tender, then drain.
Melt the butter in a large frying pan and, once sizzling, add the broccoli. Season with salt and pepper and sprinkle in as much of the parmesan as you want to use. Gently stir the florets in the cheese and butter. Scatter on a little more grated parmesan to serve.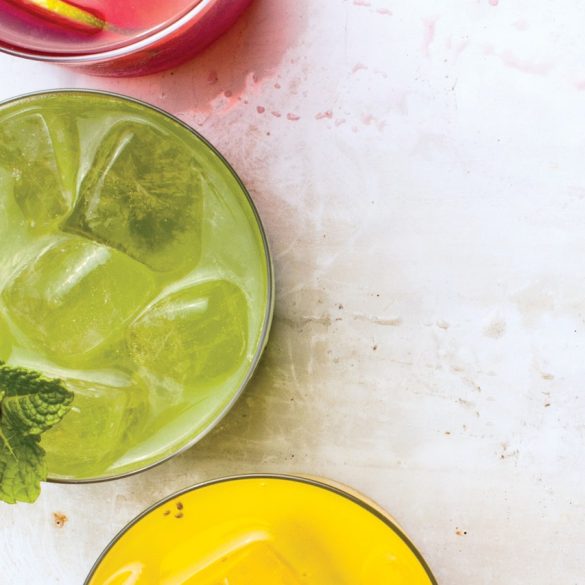 Melon, cucumber and mint soda
Prep: 10 mins plus chilling for 1 hour
1 (2½-pound) melon, cut into 1-inch pieces

1 cucumber, peeled, coarsely chopped

Handful mint leaves, plus more for serving

Pinch of kosher salt

3 tablespoons fresh lime juice

Club soda (for serving)
Method
Purée melon, cucumber, mint, and salt in a blender until smooth. Strain through a fine-mesh sieve into a large bowl (do not press on solids, which would make mixture cloudy). Stir in lime juice and chill 1 hour.
Divide melon purée among ice-filled glasses. Top off with club soda and garnish with mint sprigs.
Note – The melon purée can be made 1 day ahead. Cover and chill.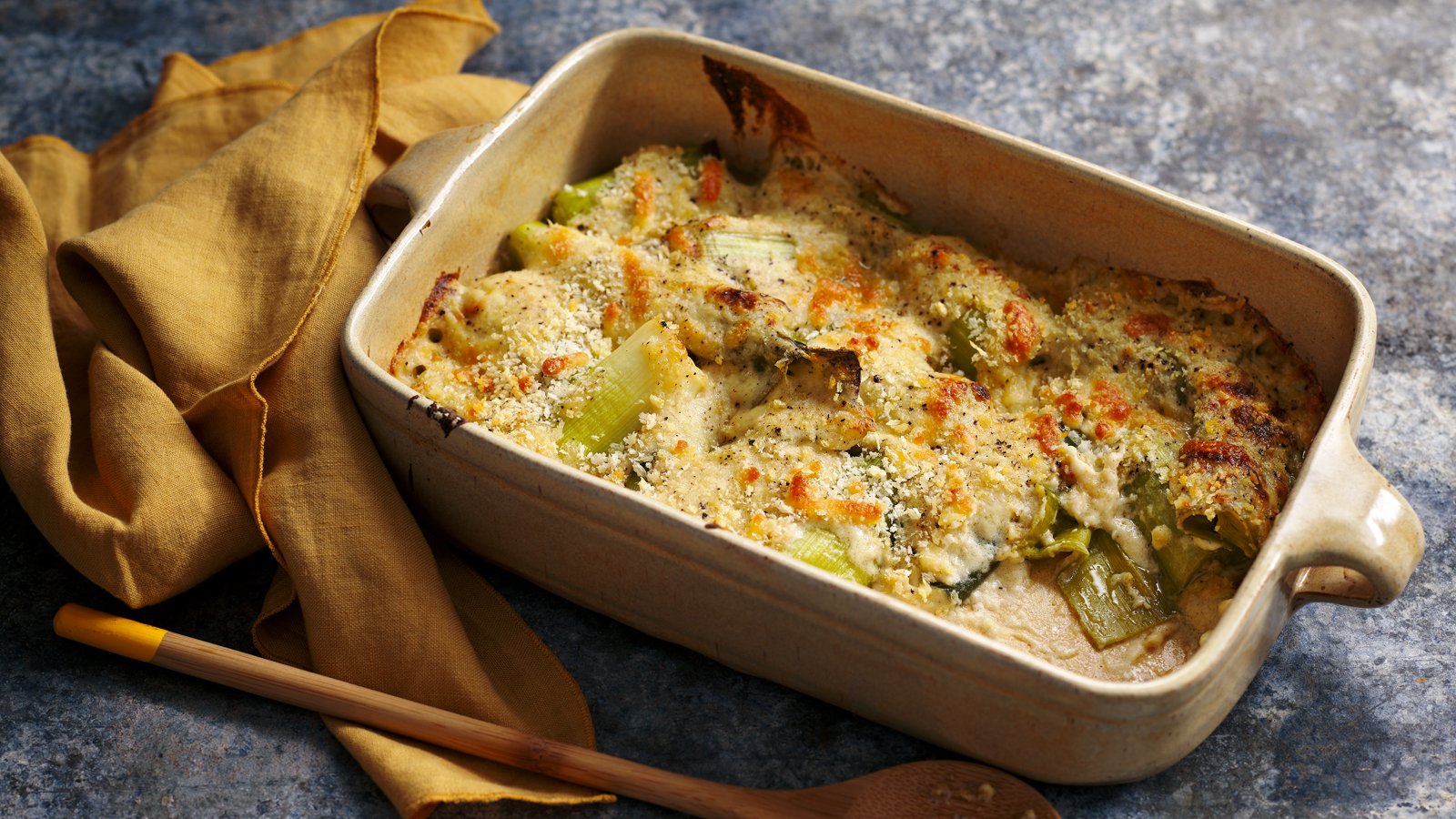 These bubbling, cheesy leeks are the ultimate side dish, perfect for a Sunday roast or family meal. Top with breadcrumbs for a crisp crust
Source: BBC Good Food
2 leeks, trimmed and cut into 2cm rounds
50g butter
50g plain flour
500ml milk
100g mature cheddar grated
1 tsp English mustard
50g stale bread, blitzed to crumbs
2 tsp thyme leaves
Method
Heat the oven to 220C/200C fan/gas 7. Tip the leeks into a steamer basket and steam for 6-8 mins until bright green and just becoming tender.
Meanwhile, heat the butter and flour together in a saucepan, stirring until you have a thick paste. Add the milk, a splash at a time, stirring continuously until all the milk has been added. Cook for 2-3 mins more until the sauce has thickened enough to coat the back of a spoon. Stir in most of the mature cheddar, the mustard and some seasoning.
Fold the steamed leeks into the cheese sauce, then tip everything into an ovenproof baking dish. Scatter over the breadcrumbs, thyme and remaining cheese, then bake for 20 mins until golden, crisp on top and bubbling at the edges. Leave to stand for 5 mins before serving.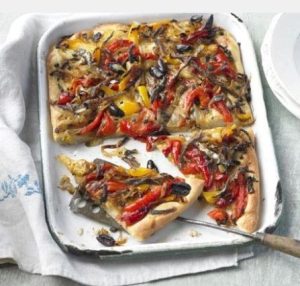 Wonky Pepper Pissaladiere
Cook time: 1 hour – 1 hour 15 mins
This vibrant dish makes a simple yet delicious supper which is perfect for sharing
Source: BBC Good Food
2 onions, finely sliced
3 fat garlic cloves, finely sliced
2 wonky peppers, sliced
2 ramiro peppers sliced
4 tbsp olive oil, plus a little more for drizzling if you want
2 handfuls pitted green or black olives, quartered
2 tbsp capers, rinsed and drained
145g pack pizza base mix
6 anchovies, each cut into 4 long strips (optional, remove to make it veggie)
Method
Heat oven to 200C/180C fan/gas 6. Tip the onions, garlic, peppers and olive oil into a roasting tin and cook for 40-45 mins, stirring occasionally, until the onions and peppers are soft and tinged brown. Stir in the olives and capers, and season well.
While the onions are cooking, make up the pizza dough following pack instructions. Roll and press the dough out to fit a baking tray, about 40 x 30cm. Leave to rise in the tray for 10 mins, then spoon over the topping mix. Press gently into the dough and leave for another 10 mins. Scatter over the anchovies, if using.
Bake for 25-30 mins or until the dough has risen and cooked through. Drizzle with more olive oil to serve if you like.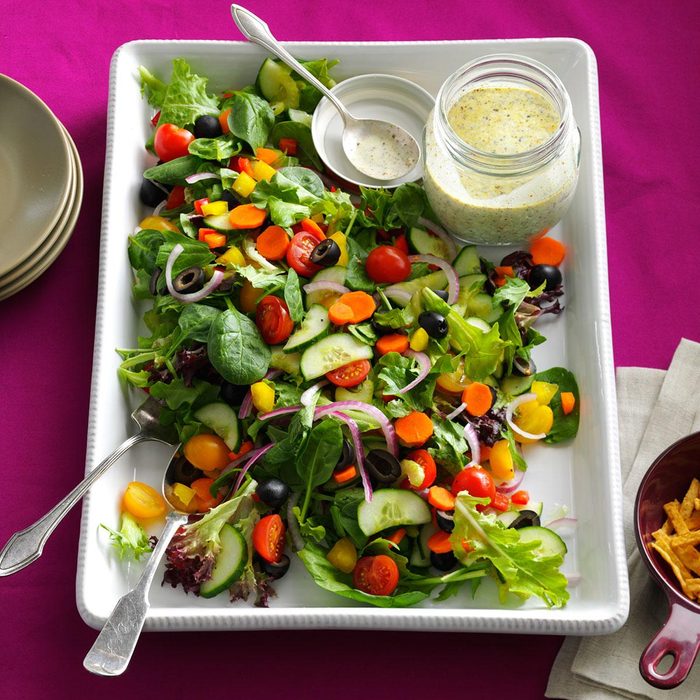 Every salad should be colourful and crunchy like this one with its bright tomatoes, carrots, peppers and sassy spring mix. Toss with your best dressing. A perfect accompaniment to your meal.
Source: Taste of Home
1/4  cucumber, cut lengthwise in half and sliced

1 medium carrots, thinly sliced

1 pack of cherry plum tomatoes halved

20-30 pitted ripe olives, halved (or add to taste)

1 wonky or ramiro pepper sliced

1/2 thinly sliced onion

Pinch garlic salt

Dash coarsely ground pepper

1 pack mixed baby leaf salad

Your favourite salad dressing – drissle to taste
Method
Place cucumber, carrots, tomatoes, olives, sweet peppers, onion, garlic salt and pepper in a large bowl; toss to combine.
Just before serving, add salad greens. Drizzle with dressing and toss gently to combine.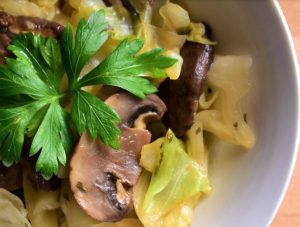 Savoy cabbage and mushrooms
A simple recipe for savoy cabbage and mushrooms I often make in the fall, either as a side or as part of a vegetarian meal.
Source: All recipes
1 tablespoon olive oil
1 savoy cabbage, sliced
250g sliced fresh mushrooms
½ teaspoon dried coriander
Salt to taste
120ml vegetable stock
Method
Heat oil in a pot over medium-low heat and cook savoy cabbage and mushrooms until softened, about 5 minutes. Season with dried coriander and salt. Add broth, cover, and simmer until cabbage is cooked through, about 20 minutes.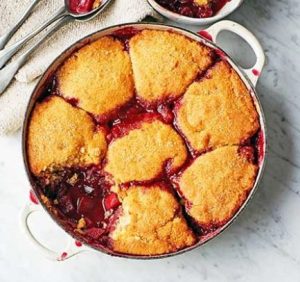 Ultimate plum and apple cobbler
Slide this pudding into the oven after your main course has come out. It's classic comfort food and the cobbler topping can be used on any stewed fruit
Source: BBC Good Food
For the fruit
50g butter, cubed
50g golden caster sugar
1 vanilla pod, seeds scraped out
350g firm plums, stoned and roughly chopped
150g apples, peeled, cored and chopped
1 tsp cinnamon
For the cobbler dough
1 small egg
50ml milk
70g cold butter, cut into cubes
140g plain flour
700g golden caster sugar
1/4 tsp cinnamon
1/2 tbsp baking powder
1 tbsp demerara sugar
Clotted cream, to serve
Method
For the fruit, put all the ingredients in a saucepan. Cook over a low heat, stirring until the butter has melted and the sugar has dissolved, then leave to simmer until you have a chunky fruit compote, then set aside.
Heat oven to 190C/170C fan/gas 6. Whisk the egg into the milk and set aside. Rub the butter and the flour together until it has the texture of chunky breadcrumbs, then stir in the caster sugar, cinnamon, baking powder and a large pinch of salt. Pour in the milk mixture and bring together to form a thick, batter-like texture.
Tip the compote into a baking dish and top with large spoonfuls of the cobbler mix, making sure there are a few gaps for the fruit to bubble through, then sprinkle everything with the demerara sugar. Bake for 35-40 mins or until the topping is golden and just cooked through. Remove from the oven and leave to rest for 5 mins before serving straight from the dish with generous spoonfuls of clotted cream.