What to make with your box contents w/c 29 November 2021
Be creative and adapt recipes to suit what you have in your fridge and store cupboard. Don't forget to check out our last few blogs here on box contents use.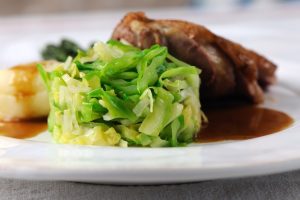 Hispi cabbage with shallots
Hispi cabbage is a sweeter, pointy-shaped, green cabbage also known as hearted or sweetheart cabbage. This quick and easy Hispi cabbage recipe makes a delectable side dish.
Source: Great British Chefs
1 hispi cabbage, finely shredded
2 shallots, finely sliced into rings
2 knobs of butter
salt
pepper
Method
Add a pinch of salt to a large pan of water and bring to the boil. Add the cabbage to the pan and cook for around 3 minutes until tender. Drain and keep to one side.
Place a heavy-based pan over a medium heat. Add the butter and when it starts to foam, add the shallots. Cook until soft, then stir in the cabbage.
Cook the cabbage and shallots for a further 5 minutes and season. Serve immediately.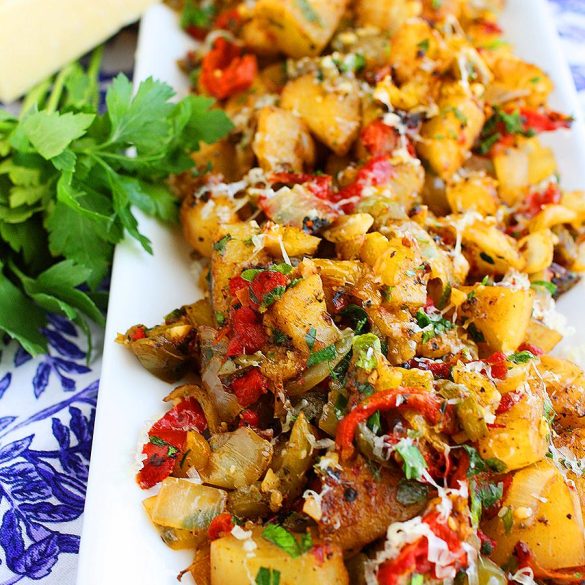 Potato hash with peppers and shallots
Source: The comfort of cooking
2 Tbsp. olive oil
1 Tbsp. unsalted butter
4 large or 6 medium potatoes peeled and cut into ½" cubes
3 shallots diced
1 red pepper diced
2 tsp. fresh parsley chopped
3 garlic cloves minced
Salt and pepper to taste
25g freshly grated Parmesan cheese
Method
Preheat the oil and butter in a large nonstick frying pan over medium heat. Add potatoes, toss to coat with oil, and place a lid on the pan. Allow the potatoes to cook covered for 10 minutes.
Remove the lid and increase the heat to medium high. Add shallots and  pepper. Cook for 15 minutes, stirring occasionally, until the potatoes and vegetables turn golden brown.
Add the parsley and garlic; cook for 2 minutes. Season with salt and pepper. Sprinkle with Parmesan and serve immediately.
Enjoy!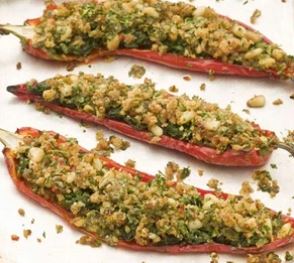 Baked stuff ramiro peppers
2 Ramiro peppers, halved and deseeded
2 tbsp olive oil, plus 1 tsp
1 slice wholegrain bread
2 tbsp pine nuts
2 tbsp grated parmesan (or vegetarian alternative)
1 red or green chilli, deseeded and chopped
2 tsp capers
good handful parsley, roughly chopped
200g young spinach leaves
Method
Heat oven to 190C/fan 170C/gas 5. Put peppers in a roasting tin, then drizzle with a tsp of oil and a little pepper. Bake for 20 mins.
Meanwhile, toast the bread, then blitz into rough crumbs in the food processor. Mix with the pine nuts, Parmesan, chilli, capers, parsley and remaining oil. Boil the kettle. Put the spinach in a colander, then pour over the boiling water to wilt the leaves. Press out as much liquid as possible.
Divide the spinach between the peppers, then top with the crumbs. Return to the oven for 15 mins.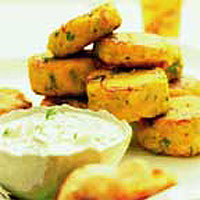 Spicy parsnip and leek patties
Parsnips come into their own during the winter months. They can be roasted with meat, made into a creamy mash or soup. They also have an affinity to spices. These patties can be served as a vegetarian meal, or a side dish with curry, or they are ideal to serve cold at a drinks party.
700g parsnips, peeled and cut into chunks
50g butter
1 clove garlic, crushed
1 tsp Bart Spices Ground Coriander
1 tsp Bart Spices Ground Cumin
½ tsp Bart Spices Turmeric
1 small leek, thinly sliced
½ pack fresh coriander, chopped
Flour for shaping
Vegetable oil for frying
Salt and freshly ground black pepper
Method
Place the parsnips in a medium pan of boiling water and simmer for 10 minutes, until tender.
Meanwhile, melt the butter in a frying pan and add the garlic and spices. Cook gently for 2-3 minutes. Stir in the leek and cook for 2-3 minutes until softened.
Drain the parsnips, thoroughly, then mash. Stir in the leek mixture into the parsnips. Season generously, stir in the fresh coriander and mix well. Allow the mixture to cool slightly. Using lightly floured hands, shape into 12 patties.
Heat a little oil in a large frying pan, then cook in batches for 3-4 minutes each side until golden brown. Drain on a piece of kitchen paper and serve immediately either with Tzatziki (a cucumber and yogurt salad) and naan bread, or as an accompaniment to a curry.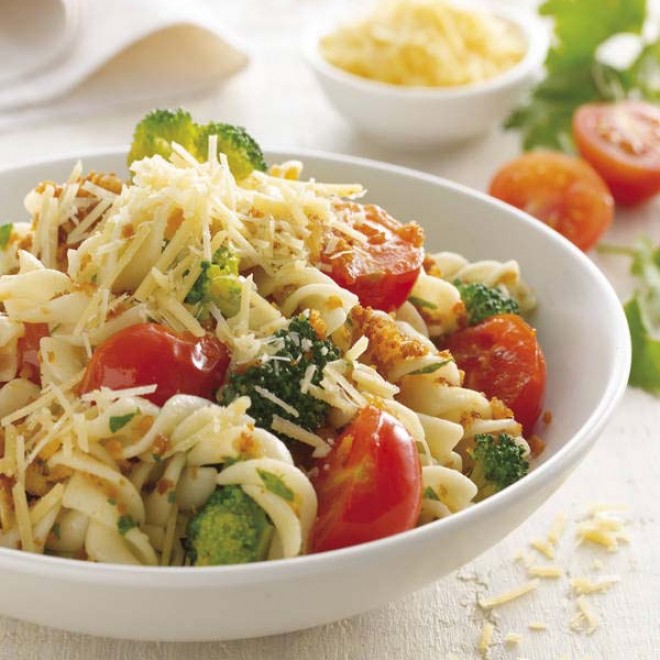 Pasta with broccoli and cherry tomatoes
A fresh pasta with delicious fresh flavours.
Source: My food book
400g spiral pasta
1 head of broccoli, broken into florets
olive oil
2 cloves garlic, sliced
1 punnet cherry tomatoes, halved
Handful of fresh herbs, chopped e.g basil, parsley etc
Parmesan, grated, to serve
Method
Cook pasta in boiling water until tender. Add broccoli for the last few minutes. Drain.
Heat oil in pan and cook garlic with tomatoes and fresh herbs. Toss cooked broccoli in pan, add pasta and stir.
Serve with plenty of grated Parmesan.
Parmesan crisps are delicious crumbled over this pasta for added crunch.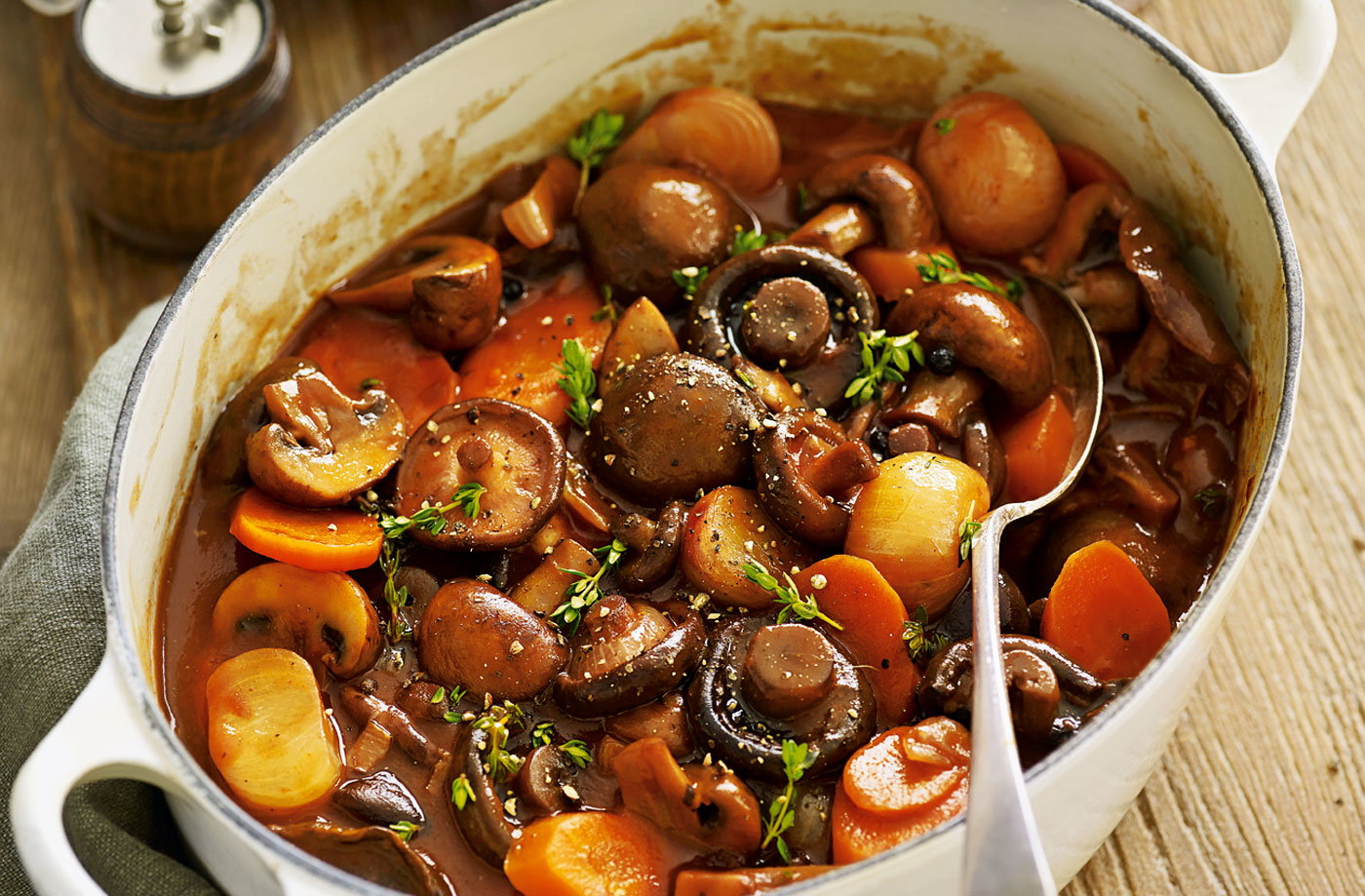 Make this flavoursome and hearty vegetarian stew for an easy and delicious meal
1tbsp olive oil
15g butter
125g shallots halved
2 carrots, thickly sliced
1 garlic clove, crushed
1tsp tomato purée
2tsp plain four
125ml fruity red wine
150ml vegetarian stock
2 sprigs thyme
250g mixture of mushrooms
Method
Heat 1 tbsp olive oil and butter in a heavy-based pan. Add the shallots and cook for 5 minutes, then add the carrot and cook for 5 minutes more until soft. Stir in the garlic, tomato purée and flour and cook for 1 minute until the vegetables are well coated.
Pour over the wine, stirring well to ensure the sauce is smooth. Leave to simmer for a couple of minutes until the wine has reduced by half. Add the stock and sprig of thyme and cook for another 10 minutes.
Meanwhile, heat the remaining 1 tbsp oil in a frying pan. Cook the mushrooms for a couple of minutes, add to the pan, along with any juices and simmer for 5 minutes. Scatter over some thyme leaves and serve.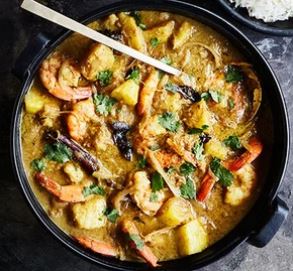 Penang prawn and pineapple curry
Serves 8 with other dishes
Rustle up this fragrant one-pot curry with other dishes to create a Malaysian feast for 8, or make it your centrepiece by doubling the prawns
Source: BBC Good Food
For the toasted coconut
100g fresh coconut flesh
2 tsp sunflower oil
For the curry
1 pineapple, peeled, cored and cut into chunks
thumb-sized piece ginger, peeled
6 garlic cloves, peeled
1 ½ tbsp mild curry powder
100ml sunflower oil
7 curry leaves
1 cinnamon stick
1 star anise
3 cardamom pods
6 cloves
6 shallots, thinly sliced lengthways
3 tbsp tamarind paste
1 tbsp palm sugar or soft brown sugar
400ml can full-fat thick coconut milk
24 large raw king prawns, peeled
handful coriander leaves
cooked white or brown rice, to serve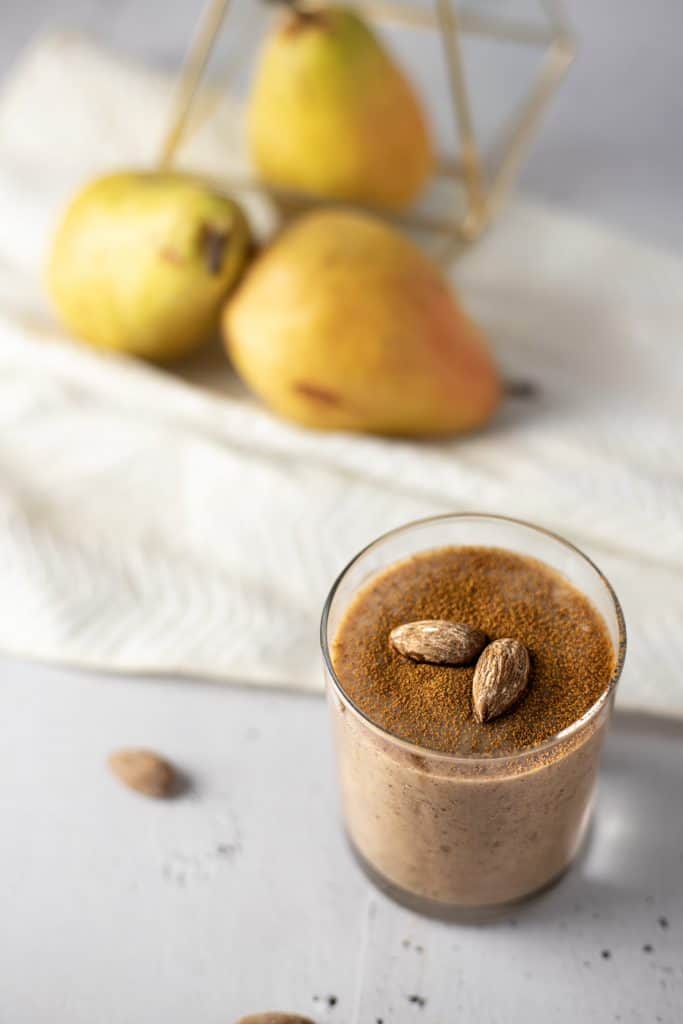 This healthy pear banana smoothie is the perfect smoothie to drink on a crisp morning when you are cozy inside.
Why not try some other combinations for some delicious smoothies – use your melon, pineapple and satsumas for a tropical treat.
Source: The Littlest crumb
1

 banana

1

 pear, cut into chunks

60 ml

 milk

1 tablespoon

 almonds

1 teaspoon

 honey

¼ teaspoon

 cinnamon
Method
Add the banana, pear, milk, almonds, honey and cinnamon to a blender. Blend until smooth.
Serve and enjoy.