What to make with your box contents w/c 27 December 2021
Be creative and adapt recipes to suit what you have in your fridge and store cupboard. Don't forget to check out our last few blogs here on box contents use.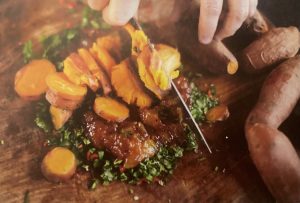 This delicious sweet potato mash goes really well with seabass and greens.
Source: Jamie Oliver 30 minute meals
Large sweet potato
2 limes
Handful fresh coriander
2 tablespoons mango chutney
Soy sauce
1/2 red chilli chopped
Method
Wash the sweet potato and trim off any gnarly bits.  Stab a few times and put in a microwave safe bowl.  Halve one of the limes and add to the bowl, cover with a double layer of clingfilm and microwave on full power for 12 minutes or until cooked through.
Finely chop the coriander on a large wooden chopping board, setting a few leaves aside for garnish. Add the mango chutney  and a good splash of soy sauce and a drizzle of extra virgin olive oil, the juice from 1/2 lime and reserved chopped chilli.  Chop and mix everything together on the board.
Remove the sweet potatoes from the microwave and check they are cooked then use tongues to squeeze over the juice from the hot lime halves and discard them.  Carefully tip the sweet potato on top of the mango chutney mixture and use a knife to chop and mash everything together, including the skins.  Season to taste adding more fresh lime if needed.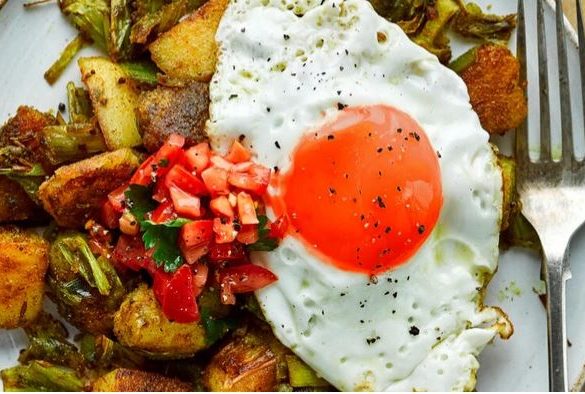 Curried leek and potato hash with fried eggs
400g potatoes

, peeled and cubed

4 tsp vegetable oil 

1 tsp cumin seeds 

1 tsp black mustard seeds 

2 leeks,

 finely chopped

1 tbsp mild curry powder 

2 eggs 

1 lime

, juiced

A small bunch coriander

, chopped

2 ripe tomatoes

, diced
Method
Put the potatoes into a large pan of lightly salted cold water and bring to the boil. Cook for 6 minutes or until tender to the point of a knife. Drain well and cool completely.
Heat 2 tsp of vegetable oil in a non-stick frying pan and cook the potatoes, turning, until they are golden and crisp. Tip out onto a plate.
Add another tsp of oil to the pan and fry the cumin and mustard seeds for 1 minute. Tip in the leeks and cook gently for 20 minutes until they're very soft, adding a splash of water if they catch. Add the potatoes to the pan and stir to combine, then sprinkle in the curry powder, stir again and cook for 1 minute. Keep warm.
In a separate lidded frying pan, heat 1 tsp of oil over a high heat. Crack in the eggs and fry for 1 minute until starting to crisp, then put on the lid and cook until the whites are cooked through but yolks still runny.
Stir the lime juice and coriander through the tomatoes. Plate up the hash and serve with the fried eggs on top, then spoon over the tomato salsa.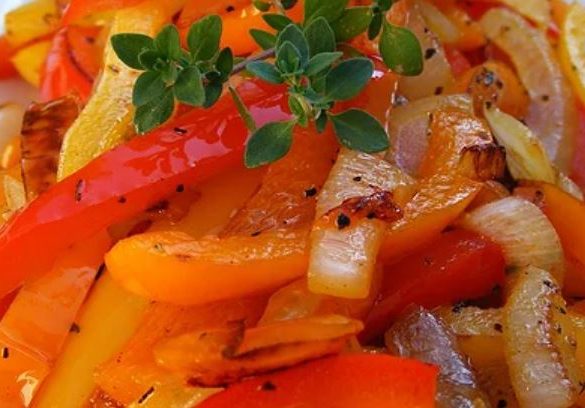 Caramelised peppers with onions
Method
In a hot saucepan over a medium heat, combine peppers, onion, oil and butter; saute for 2 minutes. Reduce heat to medium-low and continue cooking, stirring occasionally, until the onions and peppers soften.
If desired, stir red wine into the vegetables and cook until the wine evaporates; approximately 30 minutes. Season with salt, pepper, and basil.
Roasted carrots and mushrooms
Cooked carrots don't get much respect, but I promise that these thyme-seasoned Roasted Carrots and Mushrooms are amazing.
Source: Kalyns kitchen
 145g. carrots
 110g sliced mushrooms
 2 tablespoons extra virgin olive oil
 1/2 tablespoon chopped fresh thyme leaves or 1/4 tsp. dried thyme
 Salt and fresh ground black pepper to taste
 Fresh chopped parsley for garnish (optional)
Method
Preheat oven to 220C.
Peel carrots if desired. Cut carrots on diagonal into slices about 1/4 – 3/8 inch thick. Toss carrots with 1 tablespoon olive oil, thyme, salt, and pepper.
Spread carrots on large roasting pan (it should be big enough that the carrots are in a single layer). Roast carrots 15 minutes.
While carrots are roasting, wash mushrooms and dry with paper towels. Slice mushrooms into even slices, slightly thicker than carrots.
Using the same bowl as you tossed the carrots in, toss mushrooms with 1 tablespoon of olive oil.
Remove carrots from oven, stir, add mushrooms and roast 10-15 minutes more.
Serve hot, sprinkled with fresh parsley if using.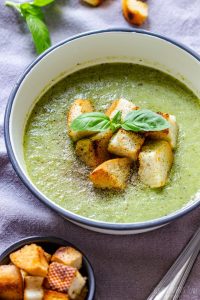 This broccoli celery soup recipe uses only simple ingredients. It's a healthy soup recipe, perfect for all kinds of diets. There is no heavy cream, no half and half used in this recipe.
Source: Happy Foods Tube
2

 

tablespoons olive oil

1

 

Large

 

Onion diced

3

 

Celery Stalks

 

,diced

1

 

Large

 

Head Broccoli

470 ml

Vegetable stock

235 ml Water

2

 

teaspoons

 

Salt

A Pinch of

  black pepper

Croutons

, optional
Method
In a large pot, heat the oil. Add minced onion and sauté for 3-4 minutes or until translucent. Meanwhile, dice the celery. Divide broccoli into florets and cut the stem into smaller pieces. Add the chopped broccoli stem and celery into the pot and pour vegetable stock over. Cover with a lid and bring to a boil. Reduce the heat and simmer for 15 minutes or until the broccoli stems are soft.
Then, add broccoli florets, the water, salt and pepper. Bring it to a boil again and then simmer on low heat for 5 minutes or until the florets are tender. Turn off the heat and puree the soup until smooth.
Taste it and add more seasoning, if needed!
Serve as is or top it with croutons and drizzle with little olive oil.
Enjoy!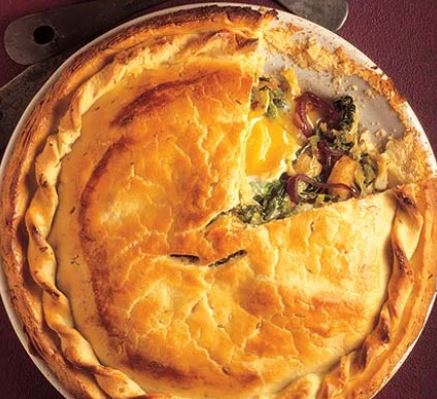 Fresh savoy, onion and egg pie
Cook time: 55 mins – 1 hour
A great vegetarian main – perfect pastry and a scrummy filling
Source: BBC Good Food
2 tbsp olive oil

450g new potato, diced

1 medium red onion, thinly sliced

450g Savoy cabbage, shredded

1 garlic clove, crushed

1 tsp cumin seeds

1 dried chilli, crushed

1 quantity shortcrust pastry (see 'Goes well with' below) made with 2 tbsp lightly crushed cumin seeds

4 medium eggs

1 tbsp milk, to glaze
Method
Heat oven to 200C/fan 180C/gas 6. Heat 1 tbsp of the oil in a large frying pan, then gently cook the potatoes and onion for about 10 mins until golden and tender. (You may need to do this in two batches.) Season, then set aside.
Heat the remaining oil in the pan. Add half the cabbage, garlic, cumin seeds, chilli, seasoning and 1 tbsp water, then cook for 3-4 mins until the cabbage is wilted and tender. Remove from the pan and repeat with the remaining ingredients.
Roll out half the pastry and use to line a 20cm pie plate. Place the potatoes and onions in the bottom, then top with the cabbage mixture. Make 4 wells in the cabbage and crack an egg into each.
Brush the pastry border with water. Roll out remaining pastry, then use to cover the pie, trimming the edges and pinching together to seal. Brush the pastry with milk. Make a hole in the centre to allow steam to escape. Place on a baking sheet and cook for 25-35 mins until crisp and golden.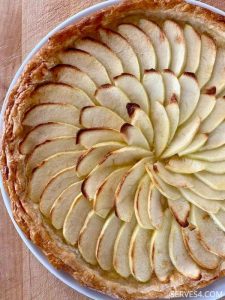 This easy French apple tart really is quick to make whilst still looking beautiful and tasting delicious.
320g all butter ready rolled puff pastry sheet
1 Tbsp plain flour for dusting
4 Braeburn eating apples
30g unsalted butter, cut into small cubes
20g caster sugar
1 egg, beaten
Method
Peel and core one apple, and chop it into small pieces, placing them in a small saucepan.
Add about 100ml of water to the pan, or enough to mostly cover the apple pieces. Bring to the boil, and simmer gently for about 20 minutes or until the apple is really soft and most of the water has evaporated.
Mash the cooked apple into a smooth puree using a handheld blender or the back of a fork. Set aside to cool.
Prepare the butter and sugar, and set aside.
Preheat the oven to 200C (390F) / 180C Fan.
Lay the puff pastry sheet, including the parchment is was wrapped in, onto a flat work surface. If the pastry sheet is not as wide as your tart serving plate, dust it with some plain flour, and gently roll it until it is wide enough.
Flip your tart serving plate upside down onto the pastry sheet, and cut out a circle of pastry using the plate as a guide.
Remove the plate.
Crimp the edge of the pastry circle.
Lift the pastry by the parchment, and flip it upside down directly onto a large baking sheet (the crimped edge should now be underneath the base).
Chill in the fridge whilst you prepare the apples.
Peel the remaining apples, cut into quarters through the centre, and remove the core.
Slice the apples thinly, about 2-3mm thick.
Remove the pastry from the fridge, and spread the apple puree over it in a thin layer, leaving a 1cm margin around the edge.
Layer the apples on top of the puree in concentric circles, overlapping the slices. Use the larger slices for the outer ring and the smaller ones for the inner circles.
Brush the beaten egg around the pastry edge using a pastry brush.
Sprinkle the sugar over the apples, and dot the butter cubes on top.
Bake in the preheated oven for 30 minutes or until the pastry is puffed and golden brown.
Cool slightly and transfer onto a serving plate.