What to make with your box contents w/c 25 October 2021
Don't forget to check out our last few blogs here on box contents use.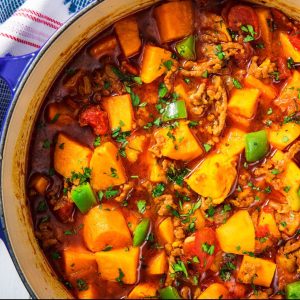 Loaded with Italian sausage, sweet potatoes, and vegetables, this is a chili that will definitely warm you up without weighing you down.
Source: Delish
1 tbsp. extra-virgin olive oil
1 medium onion, chopped
1/2 green pepper, chopped
2 cloves garlic, minced
1/2 tbsp. tomato paste
225g Italian sausage
1.2 tbsp. chili powder
1.2 tsp. dried oregano
1/4 tsp. garlic powder
1/4 tsp. cayenne
Kosher salt
Freshly ground black pepper
1 extra large sweet potatoes, peeled and cubed into 1″ pieces
360ml chicken stock
1 can diced tomatoes
Freshly chopped parsley, for serving
Method
In a large pot over medium heat, heat oil. Add onion and pepper and cook until soft, 5 minutes. Add garlic and cook until fragrant, 1 minute more, then add tomato paste and stir until well coated. Add sausage and cook, breaking up meat with a wooden spoon until no longer pink, 7 minutes. Add chili powder, oregano, garlic powder, and cayenne and season with salt and pepper.
Add sweet potato, stock and tomatoes and bring to a boil. Reduce heat and let simmer, covered, until sweet potatoes are tender, about 15 minutes.
Garnish with parsley before serving.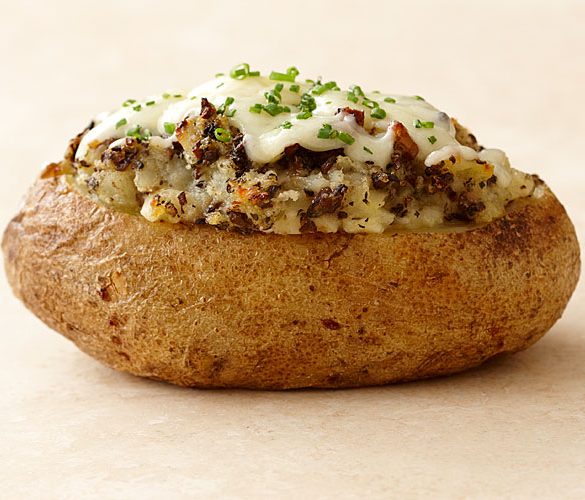 Twice baked potatoes with mushrooms and herbs
Prep and cooling time: 20 mins
Sautéed mushrooms and fresh rosemary and thyme add deep, woodsy flavor to these potatoes. They're big enough to be a main dish; make halves if you'd like to serve them as a side.
Source: Fine Cooking
4 large baking potatoes, scrubbed, pierced 5 or 6 times with a fork
14g unsalted butter
284g mushrooms, chopped
1 clove garlic, finely chopped
2 tsp. finely chopped fresh thyme
2 tsp. finely chopped fresh rosemary
Kosher salt
Freshly ground black pepper
115g coarsely grated sharp or extra-sharp Cheddar
60g crème fraîche
1 Tbs.oil
1 Tbs thinly sliced fresh chives
Method
Position a rack in the center of the oven and heat the oven to 200°F. Place the potatoes directly on the oven rack and bake until tender when pierced with a fork, about 1 hour 10 minutes. Transfer the potatoes to a cutting board and let sit until cool enough to handle, about 10 minutes.
Meanwhile, melt the butter in a medium frying pan over medium high heat. Add the mushrooms, garlic, thyme, rosemary, and 1/4 tsp. salt and cook, stirring, until the mushrooms have browned and all the liquid has evaporated, about 8 minutes.
Cut a 1/2-inch-thick slice lengthwise off the top of each potato; scrape the flesh from the slices into a large bowl and discard the skins. Spoon the flesh from the potatoes into the bowl, leaving a 1/4-inch shell. Add the butter, 3/4 tsp. salt, and 1/2 tsp. pepper and mix with a potato masher until blended; do not overwork (lumps are OK). Gently fold in the mushroom mixture, crème fraîche and half of the cheese with a silicone spatula. Season to taste with more salt and pepper.
Using your fingers, rub the outsides of the potato shells with the oil. Distribute the filling among the shells, mounding it, and place on a rimmed baking sheet.
Bake the potatoes, uncovered, until heated through, 25 to 30 minutes. (To check, insert the blade of a small knife into the center of a potato for 5 seconds; it should be hot.) Sprinkle the potatoes with the remaining cheese and bake until the cheese melts and browns lightly in some places, 2 to 3 minutes more. Garnish the potatoes with the chives, let sit 5 to 10 minutes, and serve.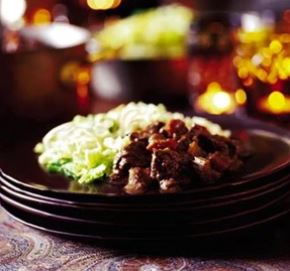 Creamy savoy cabbage with carrots
Savoy cabbage at its best, a great accompaniment to any meal – particularly for a festive meal – give it a practice run and let us know what you think.
Source: BBC Good Food
1 large Savoy cabbage
4 large carrots
50g butter
4 tbsp double cream
pinch nutmeg
Method
Pull off any tough outer leaves from the cabbage and discard. Cut in half, then remove the hard inner core. Rinse the leaves, then shred as finely as you can. Cut the carrots into fine, thin strips or grate in the food processor.
Bring a pan of water to the boil and add the cabbage and carrots. Boil for 6 mins until just tender, then drain. Return to the hot pan and add the butter and cream. Season with pepper, and salt if you like, add the nutmeg and stir well to coat. Pile into a serving dish and serve immediately.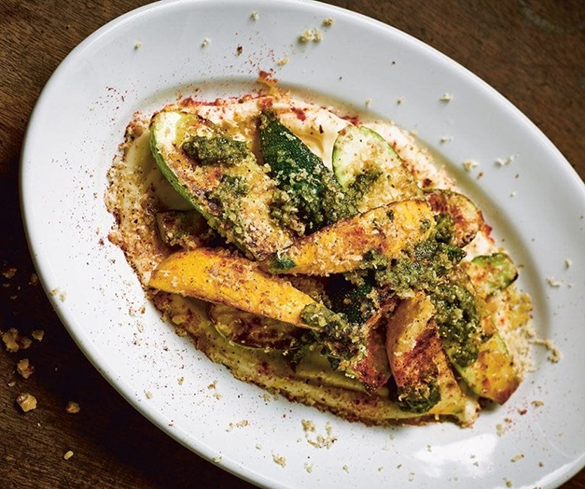 Grilled courgettes with parsnip puree and pesto
This simple courgette recipe is a great side dish and pairs well with chicken or fish.
Source: Delicious Magazine
1kg courgettes
40ml extra virgin olive oil, plus more for drizzling
Sea salt and freshly ground black pepper
A pinch of smoked paprika
5 walnuts, grated
For the parsnip purée
400g parsnips
500ml double cream
30g unsalted butter
50ml extra virgin olive oil
1 bay leaf
Sea salt and freshly ground black pepper
Pesto
Method
To make the purée, peel the parsnips and cut into small cubes. Put into a pan with the double cream, butter, olive oil, bay leaf, salt and pepper and simmer until they are very soft. Remove from the heat and blend together until nice and creamy, tasting for seasoning. Return to a low heat, cover and keep warm.
Cook the courgettes last. Trim them, slice them in half lengthways, then halve them again widthways. If you have round courgettes, cut them into wedges of a similar size. Put the courgettes into a bowl and season with olive oil, salt and pepper. Grill the courgettes on the barbecue or in a pan – if using the latter, carefully place each slice in the pan and turn them when they are coloured but still with a bite to them. When they are caramelised on both sides, remove to a tray or plate and drizzle with olive oil.
To serve, spoon the warm parsnip purée on to plates, top with the grilled courgettes, then dot over the pesto. Gently sprinkle over the smoked paprika, and finish with more olive oil and the grated walnuts.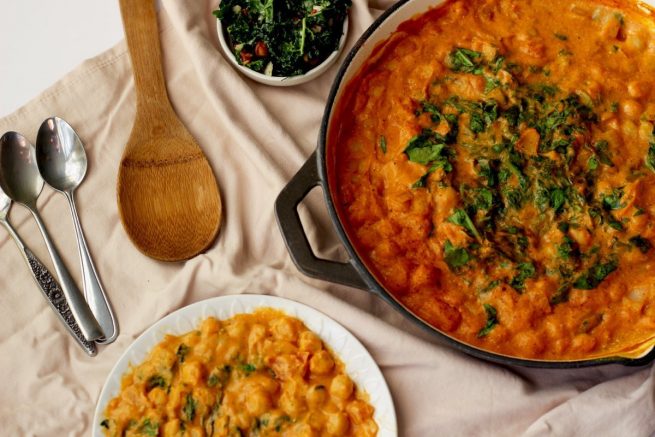 Roasted red pepper and autumn squash curry
This curry totally hits the spot and is the perfect balance of creamy goodness (thanks to the squash and red pepper puree.) You can enjoy this with a side of rice, greens or pita bread.  Note that you can also throw the squash in the oven along with the red peppers, if you prefer to roast vs. boil them.
Source: Food Heaven
450g of butternut squash,

 

peeled and cut

2

 

red ramiro peppers

2

 

garlic cloves

1

 

tablespoon

 

of olive oil

1/2

 

medium onion,

 

chopped

1

 

medium tomato,

 

chopped

1

 

tablespoon

 

of curry powder

240ml

 

of coconut milk

1 tin chickpeas

Large handful

of fresh spinach,

 

finely chopped

Pinch

 

of cayenne pepper

Salt to taste
Method
In a small pot with water, cook butternut squash for 10-15 minutes or until tender. Set aside.
Set the oven to 220C. Place the 2 red peppers on a tray, and roast for 20-30 minutes. The edges should be browned.
After the peppers cool, remove the stem and seeds, and place into a food processer/blender with the cooked  squash and garlic.
In a pot, sauté onions and tomato in olive oil for 1-2 minutes. Add curry to the mix, and then add in the coconut milk.
Stir and slowly add in the pepper & squash puree.
Add chickpeas, and cook for 15 minutes.
Finish off by adding salt to taste, cayenne pepper, and fresh spinach. Enjoy with brown rice!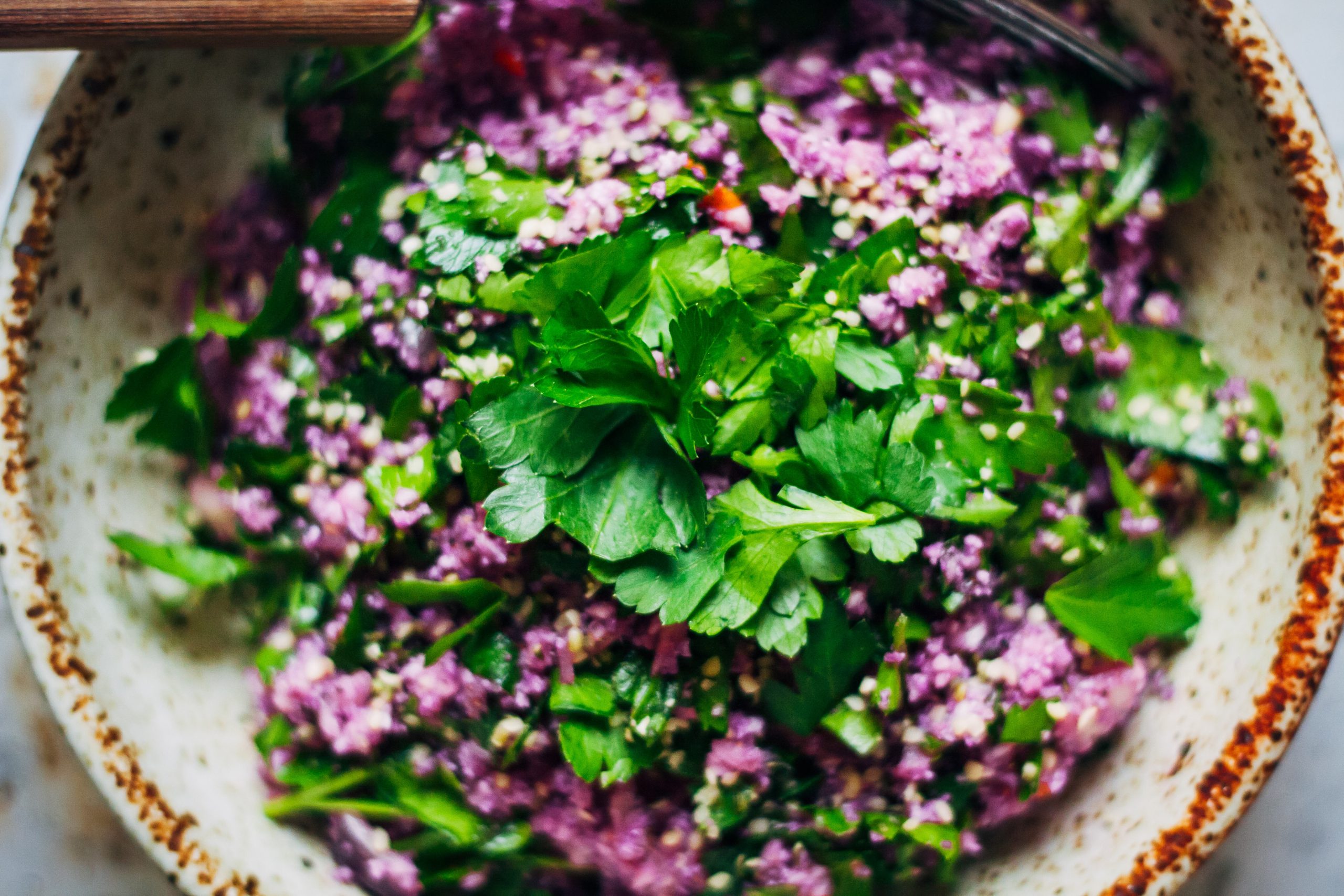 Purple cauliflower tabbouleh
Serves 2 as a main, 4 as a side
This vibrant, purple cauliflower tabbouleh is delicious and healthy! The perfect side dish for your Easter table.
Source: Well and Full
For the Tabbouleh
1 Head Purple Cauliflower
1/4 Red Onion diced
2 large handfuls of Parsley packed, minced
Hemp Seeds for Garnish
Vinaigrette
Juice from 1/2 Orange
Juice from 1 Lemon
2 Tbs Extra Virgin Olive Oil
1 Tsp Salt
1 Tsp Pepper
Zest of 1/2 Orange
Method
Tabbouleh
Start by making the cauliflower "rice". Cut the cauliflower into florets, and process in the food processor until a rice is formed. Be careful not to overprocess!
Cut the red onion and mince the parsley, then fold into cauliflower rice. Set aside while you make the vinaigrette.
Vinaigrette
To make the dressing, combine all ingredients in a bowl and whisk until evenly combined. Add into tabbouleh and mix well.
Putting It All Together
Serve in bowls, garnished with hemp seeds and extra minced parsley.
Enjoy!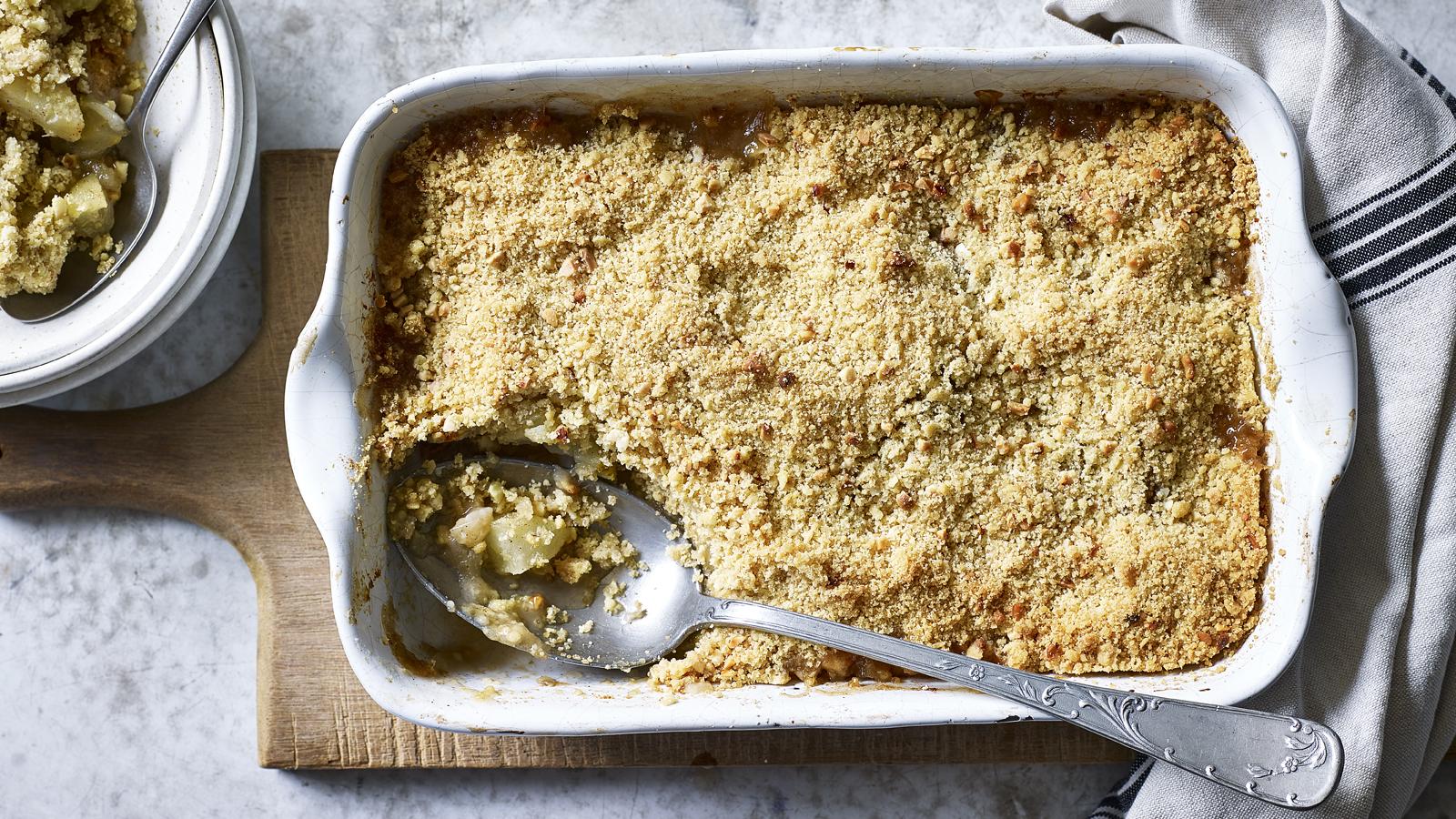 Cook time: 30 mins to 1 hour
In this crumble, the apples collapse to a purée that is a nice contrast to chunks of cooked pear. Demerara sugar adds a good crunch to the topping, as well as flavour.
Source: BBC
For the crumble topping
100g cold butter, cut into small pieces
125g plain flour
75g demerara sugar
75g roughly chopped nuts (optional)
For the filling
500g apples
400g pears
½ tsp ground cinnamon
2 tbsp runny honey
Yoghurt, custard or cream, to serve
Method
Preheat the oven to 190C.
To make the crumble topping, put the butter in a large mixing bowl and add the flour. Use the tips of your fingers to rub the butter into the flour until you have a texture like large breadcrumbs. Stir in the sugar and the chopped nuts, if using.
To make the filling, peel, quarter and core the apples and cut into 1cm/½in pieces. Quarter and core the pears and cut into 3cm/1¼in chunks crosswise (no need to peel). Spread the fruit in a shallow ovenproof dish about 30x20cm/12x8in and about 5cm/2in deep. Sprinkle over the cinnamon, drizzle over the honey (dip the spoon in just-boiled water first and the honey will slide off), pour over 120ml/4fl oz of water and mix together. Cover the fruit with the crumble topping, but do not press it down.
Bake the crumble for 45–55 minutes, or until the top is lightly brown and the liquid in the bottom is oozing up around the outside. Serve warm or hot with yoghurt, custard or, best of all, cold cream.