What to make with your box contents w/c 22 November 2021
Be creative and adapt recipes to suit what you have in your fridge and store cupboard. Don't forget to check out our last few blogs here on box contents use.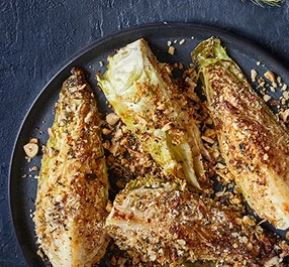 Roasted hispi cabbage with a garlic & chilli crumb
Enjoy this roasted cabbage with a roast ham. It works beautifully as a vegetable side dish.
Source: Tom Kerridge
2 tbsp duck fat or sunflower oil
1 medium hispi cabbage, outer leaves trimmed, then quartered lengthways
25g butter, diced
For the crumb
35g dried breadcrumbs
2 tbsp dried onion flakes
1/4 tsp garlic powder
1/2 tsp dried chilli flakes
35g toasted hazelnuts, chopped
1 tbsp chopped sage
Method
Mix all the crumb ingredients together in a bowl with a pinch of salt and set aside.
Heat oven to 180C/160C fan/gas 4. Heat the duck fat in a large flameproof roasting tin. Sear the cabbage wedges in the tin until the cut sides are crisp and slightly burnt, then turn them so they are cut-side up and scatter over the crumb mix. Dot over the butter and bake for 15 mins until the crumb is golden.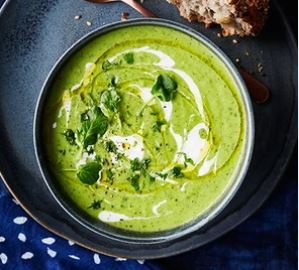 Leek, pea and watercress soup
1 tbsp olive oil, plus a drizzle to serve
2 leeks, finely sliced
4 small garlic cloves, crushed
650-800ml hot veg stock
80g watercress
400g frozen peas
1 small lemon, zested and juiced
small bunch of parsley, finely chopped
dairy-free crème fraîche and crusty bread, to serve (optional)
Method
Heat the oil in a large saucepan over a medium heat. Add the leeks and garlic and fry for 7-10 mins or until softened and translucent.
Pour in the hot stock and simmer for 5-10 mins. Stir through the watercress, reserving a few leaves for garnish, then the peas, and cook for 5 mins until wilted. Use a hand blender or processor and whizz until smooth. Stir through the lemon juice and zest, then season to taste. Stir through half the parsley. Ladle into bowls and top with the remaining parsley, reserved watercress and a drizzle of olive oil. Swirl through some crème fraîche, then serve with crusty bread, if you like.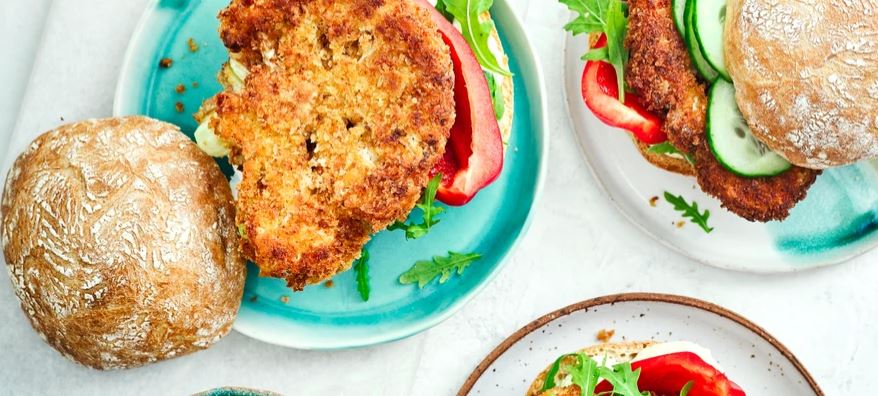 Spicy cauli steak burgers
An easy deep-fried cauliflower steaks recipe with lightly toasted ciabatta rolls. Make these super simple veggie burgers for a quick dinner for four
Source: Olive
½ cucumber,

 thinly sliced

1 tbsp white wine vinegar 

1 tsp sugar 

1 medium cauliflower 

2 tsp ground cumin 

1 tsp smoked paprika

2 tbsp plain flour

, well seasoned

100g dried white breadcrumbs

2 eggs

, beaten

Groundnut oil

for frying

4 ciabatta rolls

, toasted and split in ½

4 tbsp hummus 

A small handful rocket

4 slices red pepper 

Hot sauce

to serve (optional)
Method
Toss the cucumber with the vinegar and sugar, and leave while you prep the burgers.
Put the cauliflower stalk-end down on a chopping board. Trim the ends off 2 sides of the cauliflower then cut the remainder into 2cm slices through the root to make 4 'steaks' (you can freeze the leftovers for soup or cauliflower cheese). Trim them down slightly if they're much bigger than the size of the buns.
Divide the spices equally between the flour and breadcrumbs in 2 shallow bowls. Dust each cauli steak in the flour. Dip in the beaten egg then coat in the breadcrumbs. Heat 1cm deep of oil in a large frying pan. Cook the steaks on a medium heat for about 5 minutes each side until crisp, golden and tender.
To build the burgers, spread the top and bottom of each bun with hummus. Add a few rocket leaves then a slice of pepper. Top with the cauli steak and some drained pickled cucumber, and some hot sauce, if using. Put on the tops and serve.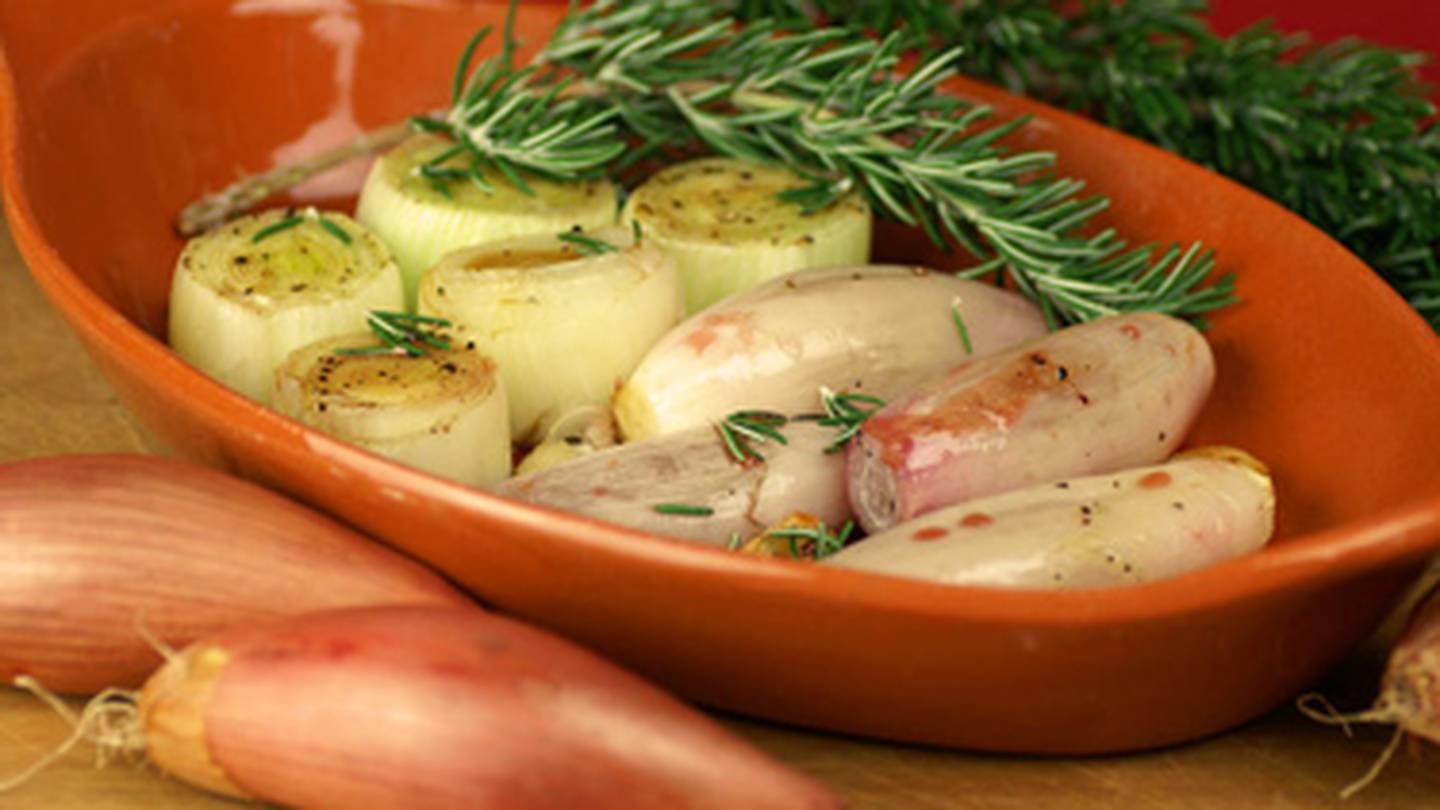 Braised shallots and leeks with a red wine vinegar glaze
Cook time: 1 hour 10 mins
Using much overlooked swede, you can create a budget-friendly, restaurant worthy gnocchi main course. Top with butter-fried herbs for a simple veggie dish
Source: BBC Good Food
6 banana Shallots
1 Leek, large
3 Tbsp Olive oil
½ cup Red wine vinegar
¼ cup Caster sugar
1 to garnish Fresh rosemary
Method
Peel and top and tail the shallots. Wash the leek well and cut the white end into 3cm rounds.
Heat the oil in a non-stick frying pan. Add the shallots and leek. Season with salt and pepper. Cover the cook on low heat for 5 minutes. Turn the vegetables over and continue to cook for about 10 minutes, until tender.
Meanwhile, bring the red wine vinegar and sugar to the boil, stirring to dissolve the sugar. Simmer until slightly thickened. Pour over the shallots and leek and garnish with rosemary sprigs.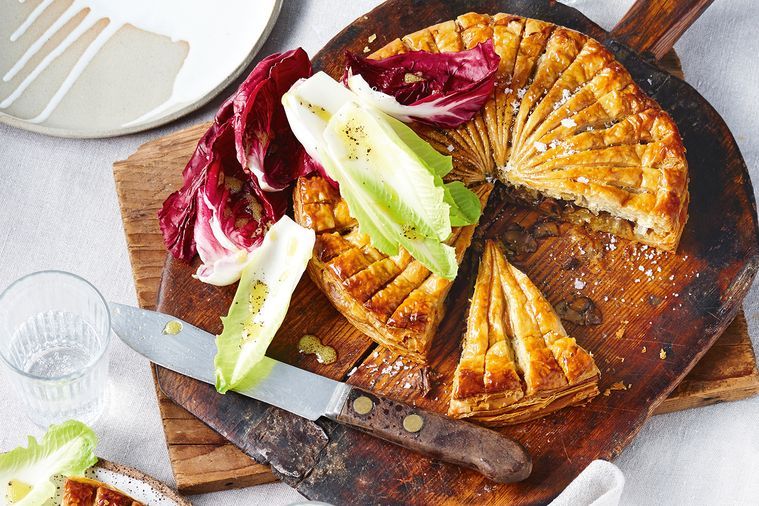 Leek, cheese and mushroom pithivier
This is anything but your ordinary vegetable pie. Guaranteed to wow the family every time.
Source: Delicious
20g dried porcini mushrooms
100g unsalted butter, chopped
2 leeks (white part only), thinly sliced
½ bunch thyme, leaves picked
250g mushrooms, sliced
2 garlic cloves, crushed
2 sheets puff pastry, thawed
80g creme fraiche
100g gruyere, coarsely grated
1 egg, lightly beaten
1 tbs Dijon mustard
80ml olive oil
To serve
1 lettuce, leaves separated
1 radicchio (or other lettuce), leaves separated
1 tbs chardonnay vinegar (or white wine vinegar)
Method
Soak the porcini in 160ml boiling water for 15 minutes or until softened.
Heat half the butter in a large frypan over medium heat. Add leeks and thyme. Cook, stirring occasionally, for 5 minutes or until leeks have softened. Add 60ml water, cover loosely and cook for 8 minutes or until leeks are tender but not coloured. Uncover and cook 5 minutes or until liquid is gone. Transfer to a bowl and set aside.
Place frypan over high heat and melt remaining butter. Add mushrooms and cook, stirring occasionally, for 4-5 minutes until browned. Add garlic, porcini and porcini liquid. Cook 2-3 minutes or until liquid is gone. Set aside to cool.
Preheat oven to 200°C. Cut a 25cm round from 1 pastry sheet. Place on a paper-lined baking tray. Keep remaining sheet chilled.
Stir creme fraiche through cooled leek mixture. Spread half over the pastry round, leaving a 2cm border. Top with gruyere, then remaining leek mixture. Finish with cooled mushroom mix. Brush pastry border with beaten egg and top with remaining pastry sheet, pressing edges together to seal. Trim excess pastry to form a 25cm round and, using the back of a knife, score lines from the centre of the pastry to the outside edge. Brush top with beaten egg.
Bake for 25 minutes or until pastry top is golden. Reduce temperature to 170°C and bake 30 minutes or until bottom is golden.
Place mustard and vinegar in a bowl and slowly add the oil, whisking until combined. Toss lettuce and radicchio in dressing and serve with slices of the warm pithivier.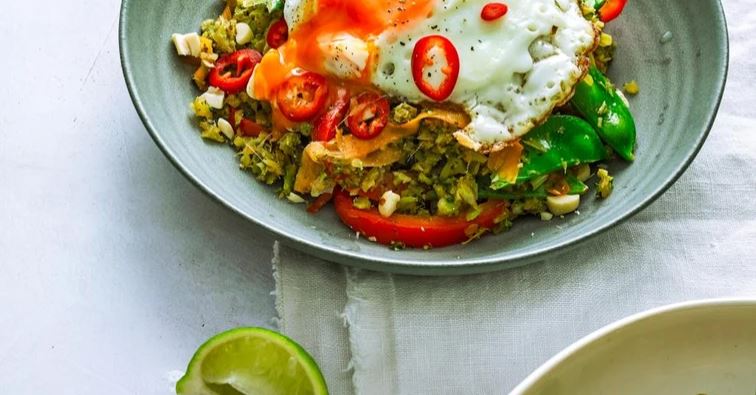 Thai-style broccoli fried rice
Packed with protein and low in calories, this speedy broccoli rice dish is full of exciting texture and flavour, with punchy chilli, zingy lime, crunchy veg and peanuts
Source: Olive
A large head of broccoli

, stalk chopped and cut into florets

2 shallots

, chopped

3 cloves garlic

, chopped

A thumb-sized piece of ginger, chopped

1 stick lemongrass

, thinly sliced

2 tsp toasted sesame oil 

1 red chilli,

 finely sliced

1 red pepper

, finely sliced

1 carrot,

 peeled into ribbons

A handful of mangetout

, halved

2 tbsp soy sauce 

2 tbsp tamarind paste 

1 tsp caster sugar 

1 lime

, quartered to serve

2 eggs

, fried 

A handful roasted peanuts

, chopped
Method
Put the chopped broccoli stalk into a food processor and pulse until it is finely chopped like grains of rice. Tip out into a bowl and then repeat with the broccoli florets.
Put the shallots, garlic, ginger and lemongrass in the food processor and pulse until finely chopped.
Heat the sesame oil in a non-stick frying pan and fry the shallot mixture until lightly golden. Tip in the broccoli rice with 2 tbsp of water, ¾ of the chilli and all of the pepper, and fry for 5 minutes until the broccoli is cooked through and beginning to caramelise. Add in the carrot and mangetout.
Mix together the soy, tamarind, sugar and the juice of two of the lime quarters, then tip this into the pan with a little seasoning. Cook for 5 minutes until the sauce is coating everything. Divide between two plates and top with the fried eggs, chopped peanuts, remaining chilli and the extra lime wedges for squeezing over.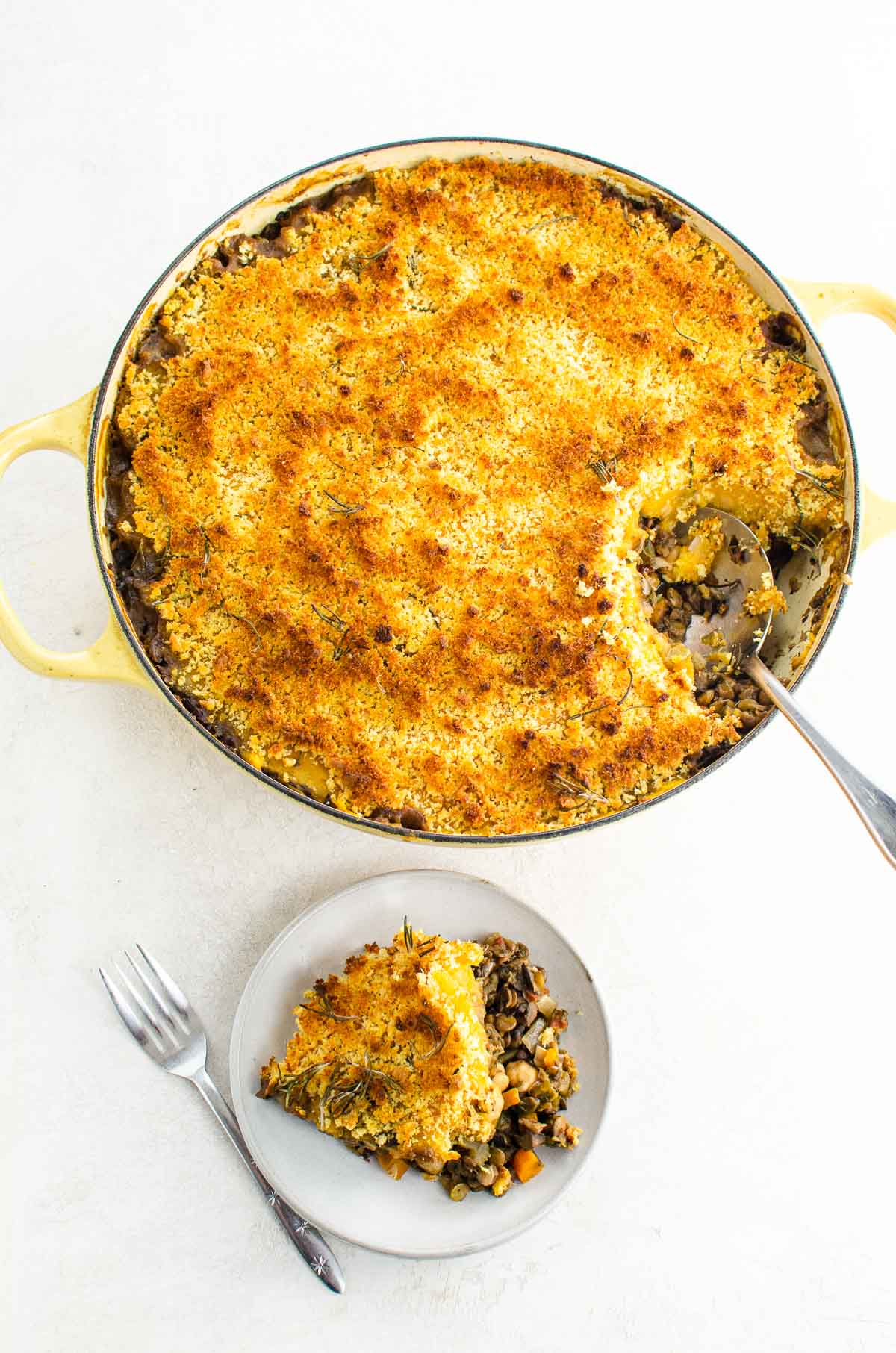 A rich, hearty and easy veggie pie, topped with fluffy sweet potato and crisp zesty breadcrumbs.
800 g potatoes
20 g butter
2 shallots onion
1 carrot chopped
1 parsnip chopped finely
2 cloves of garlic
1 sticks of celery
½ tablespoon coriander seeds
olive oil
1/4 a bunch of fresh thyme
175g chestnut mushrooms
3 chopped tomatoes
1 tablespoons balsamic vinegar
Red wine
50 ml organic vegetable stock
1/2 tin of lentils
1/2 tin of chickpeas
3 sprigs of fresh flat-leaf parsley
1 sprigs of fresh rosemary
1/2 lemon
15g fresh breadcrumbs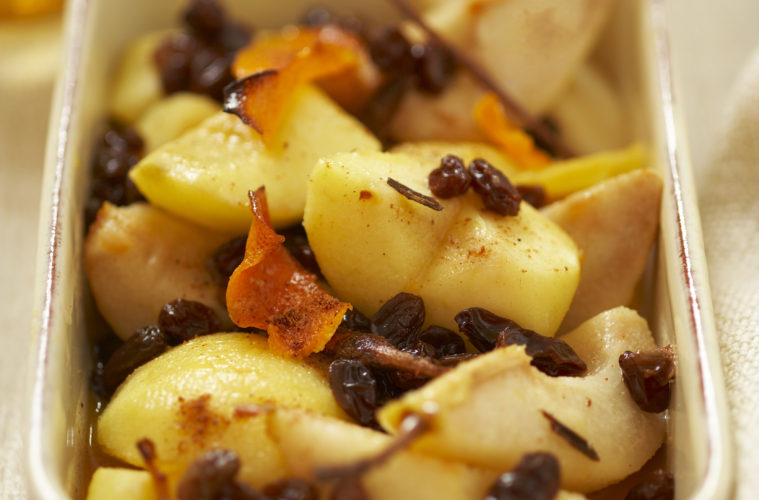 Baked citrus pears and apples
This is a healthy pudding ideal for using up pears, apples, oranges and lemons that may be left in the fruit bowl. Serve warm as a light pudding with Greek yoghurt, or eat chilled with a bowl of muesli for a healthy start to the day.
Source: The Food Pocket Guide
2 very ripe pears, peeled, cut into quarters and cored
2 apples, peeled, cut into quarters and cored
1 stick broken pieces of cinnamon
1 pinch Grated nutmeg
1 Lemon juice, zest peeled into strips with a vegetable peeler
3 Juice of 3 oranges, zest from 1 orange peeled into strips
Crème Fraiche or yoghurt to serve.
75 g raisins or sultanas Dried fruits
Method
Preheat the oven to 180°C 350°F Mark 4.
Place the pear and apples quarters in a flameproof dish with the cinnamon stick, nutmeg, raisins, lemon and orange juice with the zest strips.
Cover the dish with foil and bake in the oven for about 35-40 minutes or until the fruit is just soft.
Serve warm with crème fraiche or yoghurt