What to make with your box contents w/c 1 November 2021
Don't forget to check out our last few blogs here on box contents use.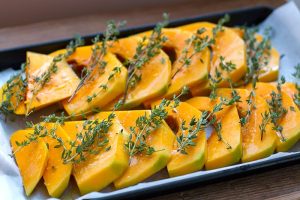 Kabocha squash roasted with thyme and garlic
This Kabocha squash is roasted with thyme sprigs and garlic until soft and caramelised. You can serve this pumpkin dish as a side with your favourite protein, quinoa or salad. This recipe is gluten-free, vegan, paleo,
Source: Irenamacri.com
1/2 of kabocha squash, seeds out, peeled and sliced into half-moon wedges
3 tablespoons of olive oil
1 teaspoon sea salt
10–12 sprigs of fresh thyme (dried thyme can also be used)
5 cloves of garlic, sliced
2 tablespoons of pumpkin seeds
Optional: 2 tablespoons Balsamic vinegar (aged Balsamic or Pomegranate Molasses)
Method
Preheat the oven to 200 C / 395 F.
Line a flat baking tray with parchment paper and arrange the squash slices. Drizzle with olive oil and sprinkle evenly with sea salt. Top with thyme and place in the oven, middle shelf, for 15 minutes.
After 15 minutes, remove the tray from the oven and sprinkle garlic and pumpkin seeds over the top. Drizzle with a tablespoon or two of balsamic vinegar, if using, and pop back in the oven for 8-10 minutes. Serve hot or cold.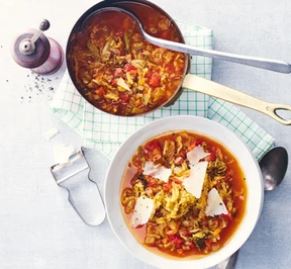 Get three of your 5-a-day with a bowl of this healthy, low-fat cabbage soup. It's delicious on its own or served with a hunk of crusty, buttered bread
Source: BBC Good Food
2 tbsp olive oil
1 large onion, finely chopped
1 large carrot, finely chopped
70g smoked pancetta, diced (optional)
1 large Savoy cabbage, shredded
2 fat garlic cloves, crushed
1 heaped tsp sweet smoked paprika
1 tbsp finely chopped rosemary
1 x 400g can chopped tomatoes
1.7l hot vegetable stock
1 x 400g can chickpeas, drained and rinsed
shaved parmesan (or vegetarian alternative), to serve (optional)
crusty bread, to serve (optional)
Method
Heat the oil in a casserole pot over a low heat. Add the onion and carrot, along with a generous pinch of salt, and fry gently for 15 mins, or until the veg begins to soften. If you're using pancetta, add it to the pan, turn up the heat and fry for a few mins more until turning golden brown. Tip in the cabbage and fry for 5 mins, then stir through the garlic, paprika and rosemary and cook for 1 min more
Tip the chopped tomatoes and stock into the pan. Bring to a simmer, then cook, uncovered, for 30 mins, adding the chickpeas for the final 10 mins. Season generously with salt and black pepper.
Ladle the soup into six deep bowls. Serve with the shaved parmesan and crusty bread, if you like.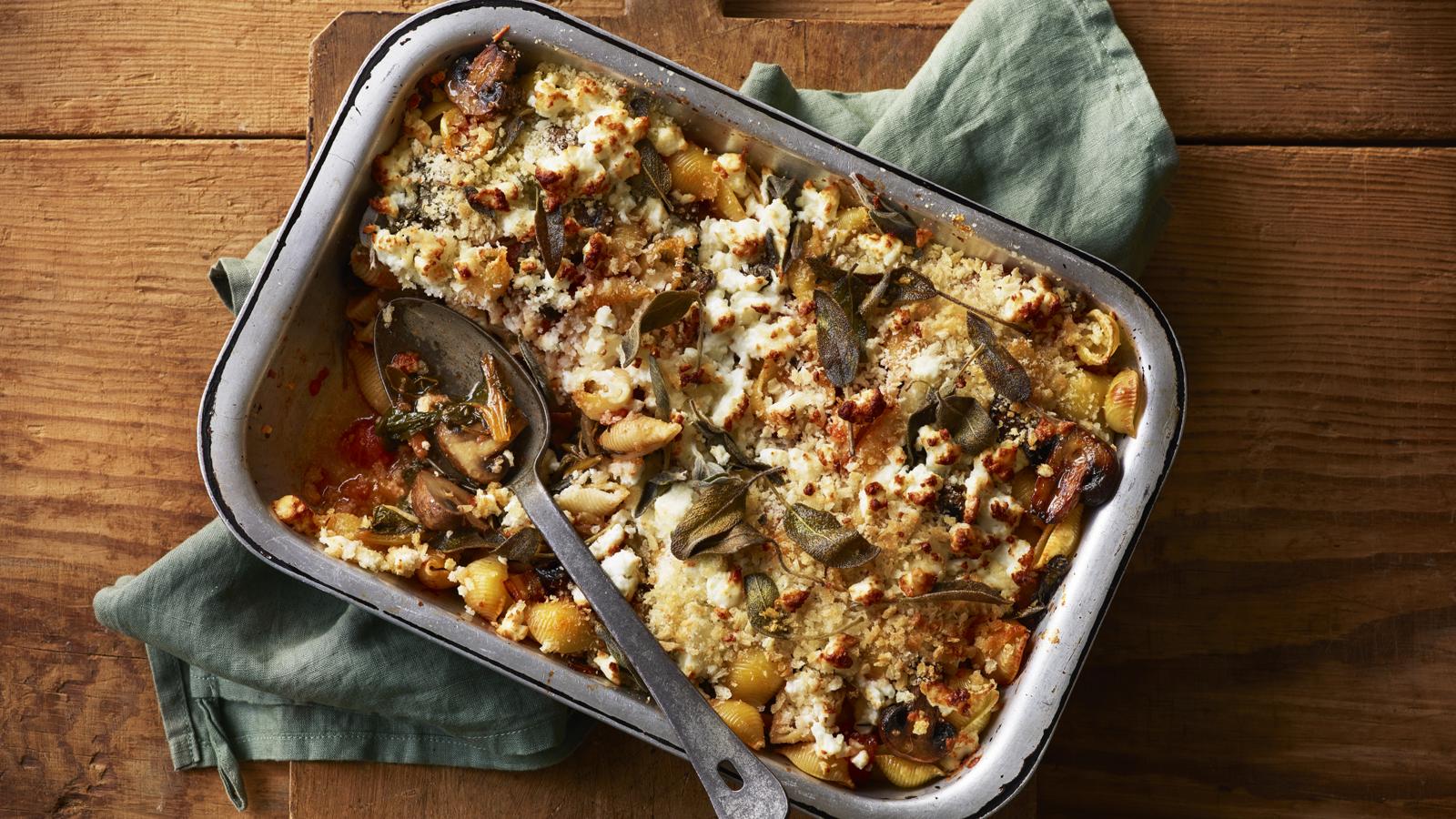 Sage roasted mushroom and rainbow chard pasta bake
Cook time: 30 mins – 1 hour
An easy bright and colourful vegetarian pasta bake. Full of flavour and very hands off. Perfect for weekday dinners.
Source: BBC Good Food
200g mushrooms, halved
100g rainbow or swiss chard, roughly chopped
1 tsp olive oil
2 garlic cloves, whole and unpeeled
½ tsp chilli flakes
½ tsp sea salt flakes
10g fresh sage leaves
150g pasta shapes, such as conchiglie
½ tin chopped tomatoes
100g feta cheese, crumbled
35g white or panko breadcrumbs
Method
Preheat the oven to 200C/180C Fan/Gas 6.
Put the mushrooms, chard, oil, garlic, chilli, sea salt and half the sage leaves into a large roasting tin and mix well. Bake for 20 minutes.
Bring a large pan of salted water to the boil, add the pasta and cook for 10 minutes, or according to the packet instructions. Drain well.
Add the drained pasta and chopped tomatoes to the roasting tin and mix well. Scatter over the remaining sage, feta and breadcrumbs and bake for a further 30 minutes, or until golden and bubbling. Serve hot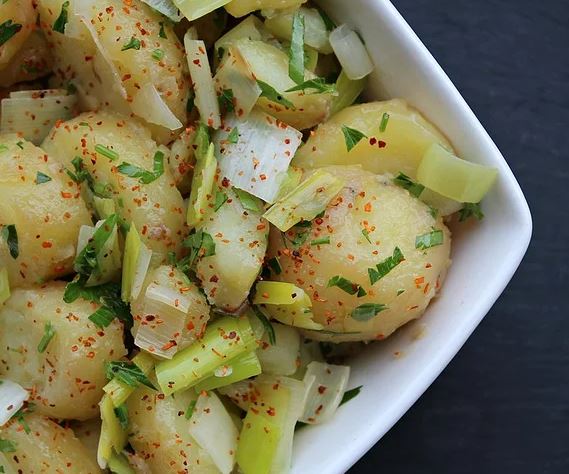 Buttery salad potatoes with leeks and parsley
Elevate your weeknight or 'company' dinner by adding leeks and fresh parsley to buttered salad potatoes!
Source: All recipes
500g salad potatoes
30g Unsalted Butter
1 leek, white part only
Handful minced fresh parsley
1/2 teaspoon low-sodium seasoned salt
Freshly ground black pepper to taste.
Method
Place potatoes in a steamer basket in a pan with water. Water shouldn't be higher than the base of the steamer. Cover. Bring to a boil; reduce heat and steam the potatoes until they are tender, 20 to 25 minutes. Remove from heat.
Melt butter in a large frying pan over medium heat. Add leeks; cook and stir until tender and translucent, about 7 minutes. Add parsley and seasoned salt, stirring to combine. Remove frying pan from heat.
Gently stir in warm potatoes; season with freshly ground black pepper.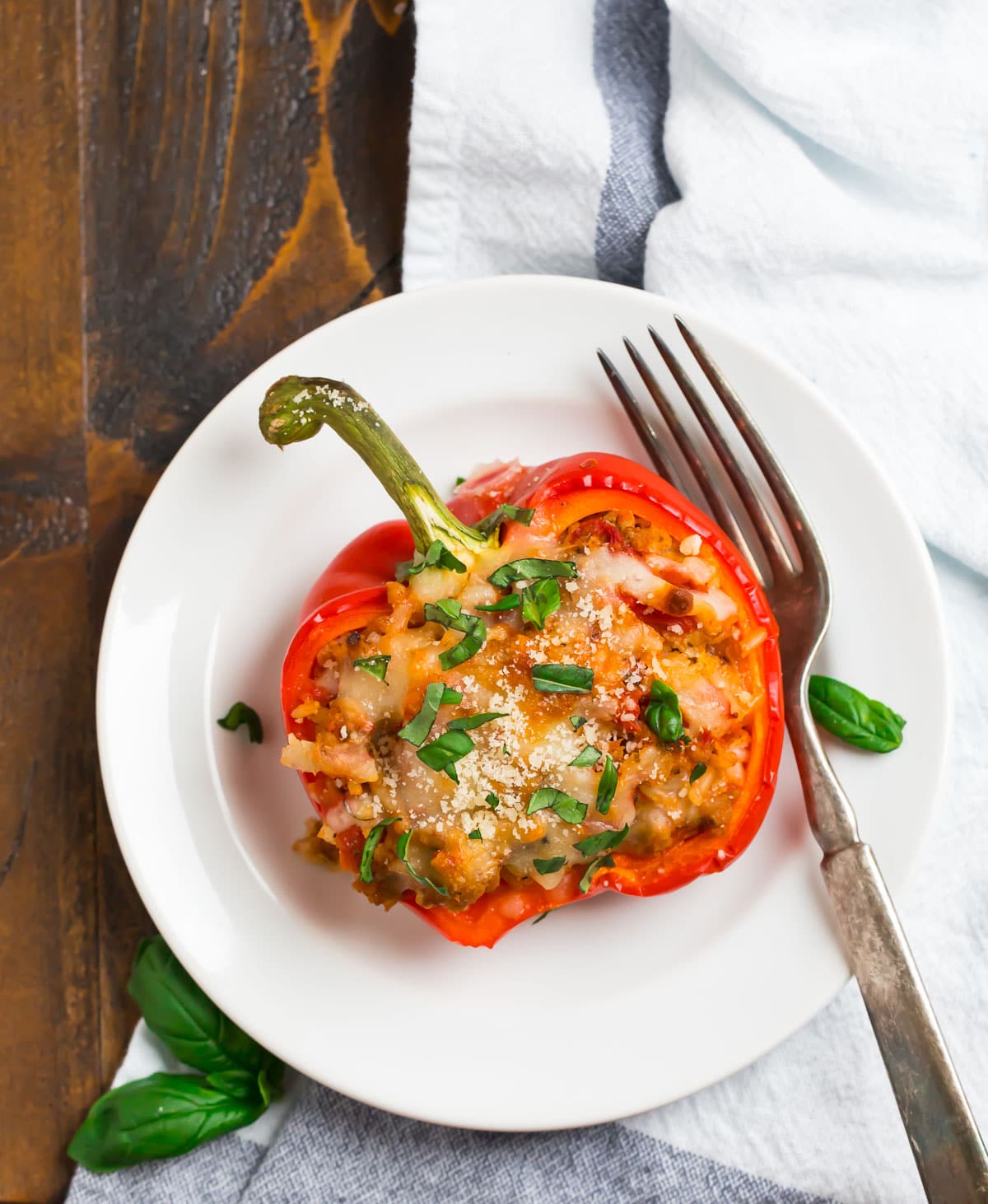 Italian stuffed peppers are a fresh, healthy twist on a classic! Made with ground chicken, tomatoes, herbs and cheese, they're easy and freezer friendly.
Source: Well plated
2 large bell peppers
1 teaspoons extra virgin olive oil
250g pound ground chicken or turkey
1 teaspoons Italian seasoning
1/2 teaspoon garlic powder
1/4 teaspoon kosher salt
¼ teaspoon red pepper flakes or up to ½ teaspoon if you like more spicy
1/2  can diced tomatoes with juices
150g cooked brown rice, quinoa, cauliflower rice, or orzo (if using orzo, undercook it slightly)
45g shredded Mozzarella provolone (or a mix)
25g Parmesan divided
1 tablespoons chopped fresh basil
Method
Preheat your oven to 190C. Lightly coat a 9×13-inch baking dish with nonstick spray. Slice the bell peppers in half from top to bottom. Remove the seeds and membranes then arrange cut side up in the prepared baking dish.
Heat the olive oil in a large, nonstick frying pan over medium high heat. Add the chicken, Italian seasoning, garlic powder, salt, and red pepper flakes. Cook, breaking apart the meat, until the chicken is browned and cooked through, about 4 minutes. Drain off any excess liquid, then pour in the can of diced tomatoes and their juices. Let simmer for 1 minute.
Remove the pan from the heat. Stir in the rice and half the the Mozzarella and half  of the parmesan. Mound the filling inside of the peppers, then top with the remaining cheeses.
Pour a bit of water into the pan with the peppers—just enough to barely cover the bottom of the pan. Bake uncovered for 30 to 35 minutes, until the peppers are tender and the cheese is melted. Top with fresh basil. Serve hot.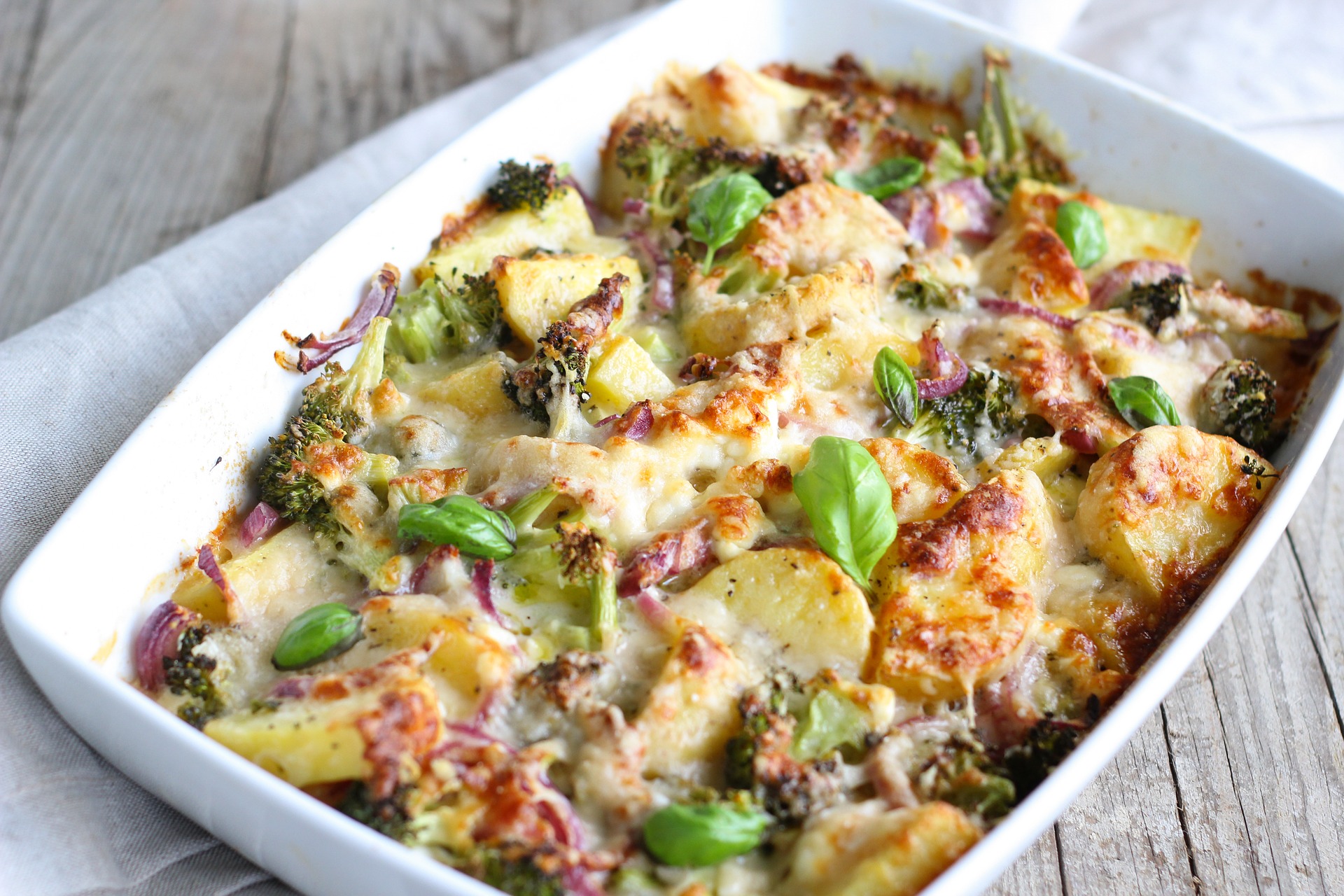 Cheesy broccoli and potato bake
This vibrant, purple cauliflower tabbouleh is delicious and healthy! The perfect side dish for your Easter table.
Source: Well and Full
1 large head of broccoli
3 medium potatoes peeled and chopped
2 medium red onions thinly sliced
3 cloves of crushed garlic
120g grated cheddar cheese
380ml of milk
1tbsp vegetable oil
25g plain flour
25g butter/margarine
1tbsp mixed dry herbs
Basil leaves for garnish
Method
To start off preheat your oven to  190C and boil some water in 2 medium sauce pans. While the water is boiling, wash, peel and chop the potatoes into 1 inch chunks and boil for 10 minutes.
Chop the broccoli into small chunks and add in the other sauce pan and cook for approximately 3 minutes (you want the broccoli still bright green and a little crunchy to have more nutrients).
Once the potatoes and broccoli chunks are cooked set them aside and heat the oil in a large frying pan and add in the crushed garlic and thinly sliced red onions, once they've been cooked through add in the potatoes, broccoli and mix well together and season to taste with salt, pepper the mixed dry herbs and pour out the whole mix into a lasagne dish.
To make the sauce add the margarine/butter to a saucepan and melt, then add in the flour and cook for 2 minutes on a low heat. Then add in a little milk to make a paste, then keep adding more milk gradually, stirring each time. Keep repeating this until you have a smooth and silky consistency. Next bring up the heat and bring the sauce to the boil, simmer and keep stirring it until it's thick and creamy. Once you have the perfect texture- add in half of the cheddar cheese and stir until melted. Season to taste and then pour the sauce over the potatoes and broccoli in the lasagne dish and mix well.
Now sprinkle over the rest of the grated cheese and bake in the oven for approximately 20 minutes or until the cheese is bubbling and the top is also golden brown! Once baked remove the dish from the oven and add on the basil leaves to garnish!
Enjoy this yummy family style dish with all your loved ones and serve with meat of your choice or even a side salad. We hope you enjoy this dish just as much as we do and hope that this dish makes your weeknight meals more interesting!
Stay warm and keep cosy!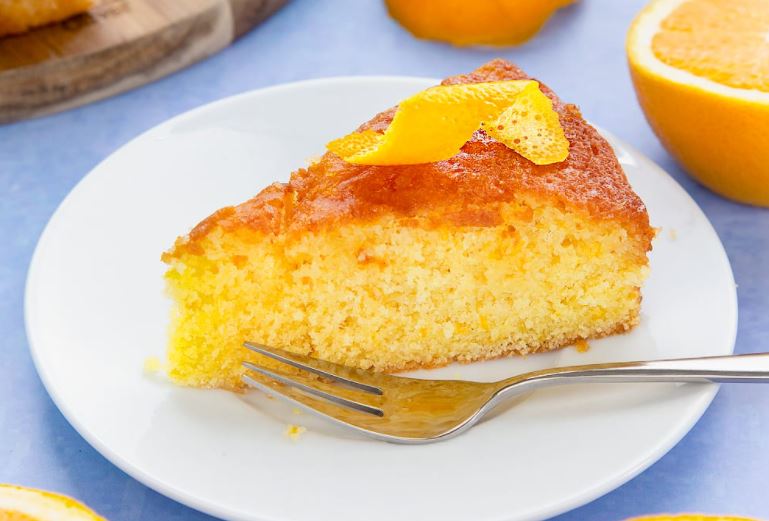 If you love oranges, you'll love this super zesty, moist and delicious orange drizzle cake. It's easy to make and very, very tasty.
Source: Amummytoo.co.uk
170

 

g

caster sugar

170

 

g

 

butter or margarine

2

 

medium eggs

 

beaten

170

 

g

self-raising flour 

2

 

unwaxed oranges

4

 

tbsp

 

icing sugar 
Method
Preheat the oven to 180C.
Beat the sugar and butter (or margarine) in a large bowl until pale and fluffy.
Add the eggs and beat until smooth.
Sieve in the flour and gently fold through.
Add the zest of 1 orange and the juice of 1/2 an orange.
Gently fold through until evenly distributed through the batter.
Grease a 20cm loose-bottomed cake tin and line with baking paper. Spoon the batter into the tin and level off.
Bake at for 20-25 minutes until the cake has gently risen and turned golden brown. It should feel firm at the centre and you can check it is cooked through by pushing a skewer into the centre of the cake. It should come out clean.
Use a skewer or cocktail stick to poke holes all over the hot cake, almost to the bottom.
Put the juice of 1 orange in a microwave-safe bowl with the icing sugar, mix well and microwave for 60 seconds until you have a syrup. Note: it will be VERY hot, so handle with care.
Spoon or pour the hot syrup all over the hot cake and allow it to sink in. Leave to cool completely.
Serve in slices and let everyone dig in!