What to make with your box contents w/c 18 October 2021
Don't forget to check out our last few blogs here on box contents use.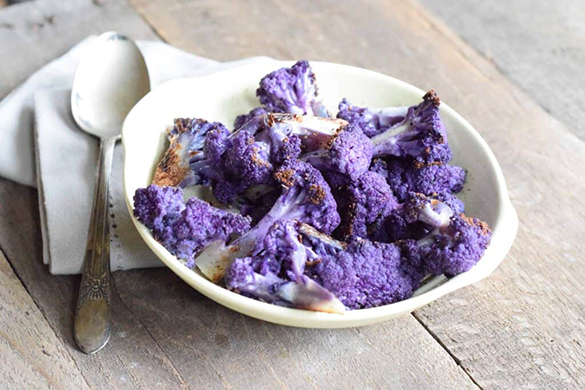 Roasted Purple Cauliflower
This recipe is simple but the key to getting the browned edges is to be patient and not turn them until you see the edges turn a little more than golden. Don't be tempted to stir too soon! It needs the high heat, undisturbed to achieve the brown edges. (Calories: 45 kcal per serving)
Source: Grits and Gouda
Half of one large head cauliflower cut into florets
1 tablespoon olive oil, avocado oil, or vegetable oil
1/4 teaspoon salt
1/8 teaspoon freshly ground black pepper (optional)
Method
Preheat oven to 220C°.
Toss all ingredients together in a bowl or right on a rimmed baking sheet or roasting pan.
Spread florets out in a single layer.
Bake at 220C for 12 minutes or until browned on underside of florets; stir or use tongs to turn over.
Bake another 3 to 5 minutes or just until tender and lightly browned.
Don't be tempted to stir before the 12 minutes (or lightly brown on first side) is up!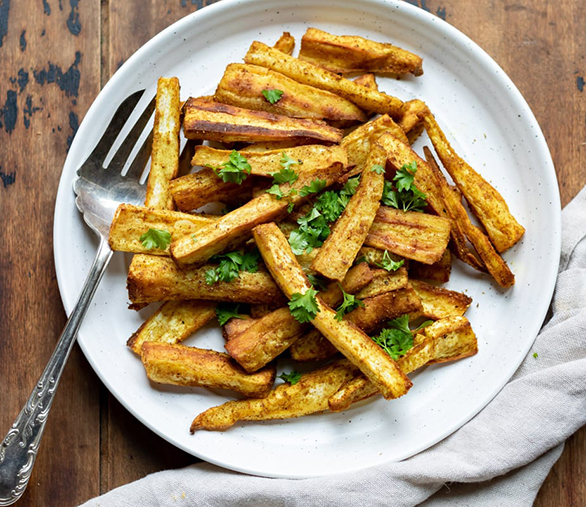 Easy Roasted Curried Parsnips
This easy Curried Parsnips recipe makes a delicious side dish that has the warming flavor of curry and the unique sweetness of roasted parsnip. Perfect as a side dish, as parsnip fries or as a meat-free meal served with quinoa or salad. (161 kcal per serving)
Source: Veggie Desserts
700g parsnips

2

 

tablespoons

 

vegetable oil

2

 

teaspoons

 

curry powder

 

mild or hot according to your preference

½

 

teaspoon

 

salt and pepper
Method
Preheat the oven to 200C.
Peel the parsnips and cut into finger-sized sticks.
Add the parsnips to a large bowl with the oil, curry powder and salt and pepper and toss well to coat.
Spread the parsnips onto a large baking tray (or two), ensuring that they're not too crowded.
Bake for 25 minutes or until the edges are golden, stirring halfway through the cooking time.
Serve as a tasty side dish.
Crown Prince Squash, Ginger and Coriander Soup
This soup is almost all inclusive and certainly one for gluten free, dairy free and vegans too.
Source: Eatlikeagirl
Light oil for frying (use your preferred cooking fat)
750g crown prince squash (peeled and diced weight)
3 cloves garlic (peeled and finely chopped)
30g ginger (peeled and finely chopped) –  dial it down if you don't want such a kick
1 tsp  mild chilli
700ml veg stock
A handful of fresh coriander leaves
To garnish your bowl of soup
1 tbsp fresh coriander
Splash of coconut milk
Pinch of chilli flakes for garnish
Method
Sauté the garlic and ginger for one minute over a medium heat in one tablespoon of light oil.
Add the squash, chilli and stock and bring to the boil. When the squash is tender add the coriander and purée.
Season to taste and finish with the garnish.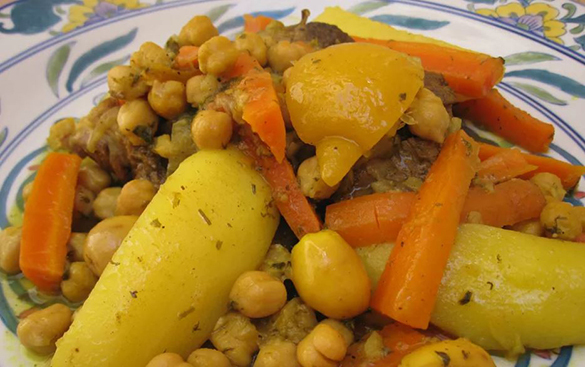 Moroccan Meat Tagine with Carrots, Potatoes and Chickpeas
This Moroccan tagine features a family style vegetable combo of carrots, potatoes, and chickpeas. Spicy food lovers will want to add the optional cayenne pepper or serve harissa on the side. (751 kcal per serving)
Source: The Spruce Eats
500 to 700 grams

beef,

 lamb or goat meat, cut into 2- or 3-inch pieces

2

 

medium

 

onions

, chopped or sliced

3

 

cloves

 

garlic, 

finely chopped or pressed
Large handful of finely

chopped coriander,

plus more as needed for garnish

Large handful of

 finely 

chopped parsley

, optional, plus more for garnish

1 1/2

 

teaspoons

 

ground ginger

1

 

teaspoon

 

salt, 

or to taste

1

 

teaspoon turmeric

1/2

 

teaspoon

 

freshly

 

ground black pepper

1/4

 

teaspoon

 

ground cinnamon, 

or 1 cinnamon stick

1

 

pinch saffron threads

, crumbled, optional

Cayenne pepper

, optional, 

to taste

6-8 tablespoons olive oil

500 grams

carrots

, peeled and quartered lengthwise
500 grams

potatoes

, peeled and quartered lengthwise

Can chickpeas

Handful of

green olives

1 preserved lemon,

 

quartered and seeds removed
Method
Gather the ingredients.
Mix the meat with onion, garlic, coriander or parsley, spices and olive oil in a Dutch oven or pot. Brown the meat, uncovered, over medium heat for about 10 minutes, stirring occasionally.
Add 3 cups of water, cover, and simmer the meat for about 1 hour if using beef, and about 1 1/2 hours if using lamb or goat meat. Occasionally check on the level of the broth, and add more water if necessary during the cooking.
Add the carrots and enough water so that the broth almost reaches the top of the carrots. Cover and simmer the carrots until almost tender, about 10 to 15 minutes. Add the potatoes, chickpeas, olives and preserved lemon, and continue simmering, covered, until the potatoes are tender. Uncover and reduce the sauce until thick.
Transfer the tagine to a large serving platter, garnished with freshly chopped parsley if desired.
Serve and enjoy!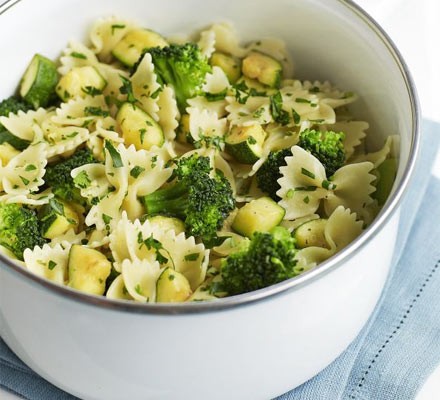 Courgette, Broccoli and Gremolata Pasta
Lovely, light and perfect for a lighter lunchtime meal
Source: BBC Good Food
2 garlic cloves, finely grated
Zest 2 lemons, plus a squeeze of juice
Small bunch parsley, finely chopped
200g broccoli, broken into florets
400g pasta bows or other shapes
1 tsp olive oil
2 courgettes, chopped
Method
To make the gremolata, mix the garlic, lemon zest and juice with the parsley and some seasoning.
Bring a large pan of salted water to the boil, add the broccoli and cook for 2-3 mins until just tender. Use a slotted spoon to remove, then set aside. Bring the water back to the boil, add the pasta and cook following pack instructions.
Heat the olive oil in a frying pan, add the courgettes and cook over a high heat for 3-4 mins until starting to turn golden, tip in the broccoli and continue to cook for 1 min until warmed through.
Drain the pasta, reserving about 2 tbsp of the cooking water, then add pasta and cooking water to the pan with the vegetables and the gremolata. Mix well and serve.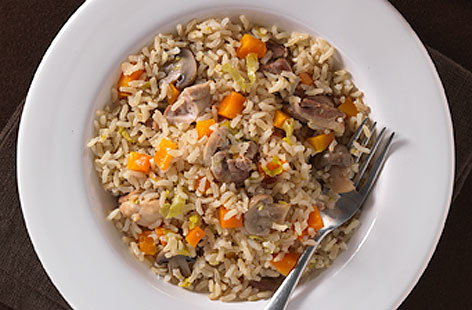 Chicken, Leek and Mushroom Pilaf Rice
Comfort food at its best (491 kcal per serving)
1 tbsp olive oil
1 leek, sliced
2 carrots, peeled and diced
500g skinless chicken thigh fillets, cut into bite-sized pieces
300g easy cook brown rice
1 chicken stock cube, made up to 800ml
250g mushrooms, halved
1 tsp Dijon mustard
Method
Heat the oil in a large pan over a medium heat and cook the leek, carrots and chicken thighs for 5 minutes.
Add the rice and chicken stock to the pan. Cover and simmer for 10 minutes.
Stir in the mushrooms and Dijon mustard, cover and cook for 15 minutes until the rice is tender and all of the stock has been absorbed. Cut into a thick portion of chicken and check that it is cooked through, with no pink showing and the juices run clear.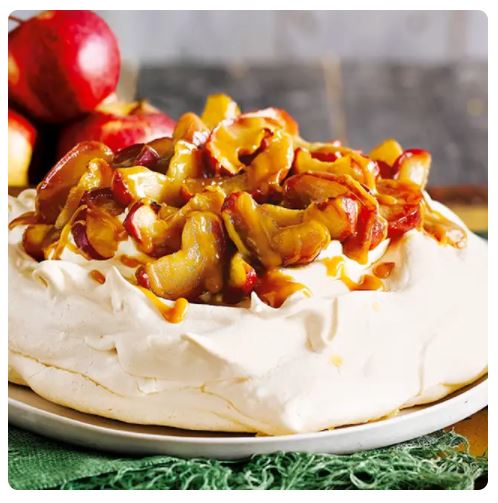 As featured in the weekend's newsletter this easy beautiful Pavlova topped with baked apples and indulgent salted caramel sauce is a scrumptious autumn dessert that will definitely impress your guests and a brilliant way to make the most of crisp, seasonal Gala apples.
Source: Yummly
750g (1 1/2Ib) Gala apples, cored, quartered, and cut into 3 wedges
40g (1 1/2oz) butter, cubed
50g soft brown sugar
4 egg whites
225g (7 1/2oz) caster sugar
1 tsp vanilla essence
1 tsp cornflour
1 tsp white wine vinegar
250ml (8fl oz) double cream
1 tbsp icing sugar
2 tbsp salted caramel sauce
Method
Preheat the oven to gas 6, 200°C, fan 180°C. Toss the apples, butter and brown sugar in a roasting dish. Cook for 30 minutes, turning after 15 minutes. Remove from the oven and set aside to cool completely.
Reduce the oven temperature to gas 1, 140°C, fan 120°C. Line a large baking sheet with nonstick baking paper and mark out a 20cm (8in) circle in pencil. In a mixing bowl, whisk the egg whites, until stiff peaks form. Whisk in half the sugar, then add the vanilla. Add the cornflour, vinegar and remaining sugar; briefly whisk to combine.
Spoon the mixture into the marked circle on the baking sheet, leaving it slightly thicker around the edge. Bake, on the middle shelf, for 1 1/4 – 1 1/2 hours, or until even in colour and firm to the touch. Turn off the oven, leaving the meringue inside to cool completely. When cool, remove and set aside.
In a mixing bowl, whip the cream to soft peaks. Sift over the icing sugar and gently fold in. To assemble the Pavlova, spread the cream over the meringue and top with the apples. Drizzle over the caramel sauce. Serve immediately.