What to make with your box contents w/c 17 January
Be creative and adapt recipes to suit what you have in your fridge and store cupboard. Don't forget to check out our last few blogs here on box contents use.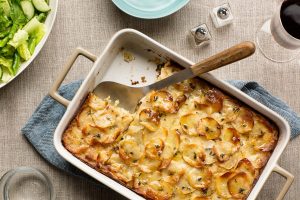 Inspired by the flavours of potato-leek soup, this kugel is creamy on the inside, crackly on the outside, and completely irresistible.
Recipe: Epicurious
4 medium potatoes, peeled

3 tablespoons vegetable oil, divided

2 medium leeks, white and pale-green parts only, thinly sliced crosswise

1 teaspoons kosher salt, divided, plus more

1/2 teaspoon freshly ground black pepper, divided

1 garlic cloves, finely chopped

1 small onion

2 large eggs, lightly beaten

1/2 tablespoon plus 1 teaspoon fresh thyme leaves, divided
Method
Preheat oven to 180C.  Cut 2 potatoes into 1″ chunks and place in a medium pot. Cover with cold water by 1″. Season water generously with salt, bring to a boil over medium-high heat, and cook until potatoes are tender, 10-12 minutes. Drain well, transfer to a large bowl, and mash with a potato masher; set aside.
Meanwhile, heat 1 Tbsp. oil in a large skillet over medium until shimmering. Add leeks, 1/2 tsp. salt, and 1/2 tsp. pepper and cook, stirring frequently, until softened and golden, 5-8 minutes. Add garlic and cook until fragrant, 1-2 minutes more. Remove pan from heat and let cool slightly.
Grease bottom and sides of a baking pan with 1 Tbsp. oil. Place pan in oven for 10 minutes.
Meanwhile, grate 1 potato and onion using the large holes of a box grater or a food processor fit with a shredding blade. Wrap potatoes and onion in a clean dishtowel or several layers of paper towels and squeeze out as much liquid as you can; add to the bowl with the mashed potatoes. Stir in sautéed leeks and garlic, eggs, 1 Tbsp. oil, 1/2 Tbsp. thyme, 1 tsp. salt, and 1/2 tsp. pepper; mix until well combined.
Thinly slice remaining 1 potato and toss with remaining 1 Tbsp. oil, 1 tsp. thyme, 1/4 tsp. salt, and 1/4 tsp. pepper in a medium bowl; set aside.
Carefully remove preheated pan from oven and transfer potato-onion mixture to the pan (it should sizzle when it hits the hot oil). Smooth top with a spatula. Layer potato slices over the top in a shingled fashion. Bake until golden brown and cooked through, 60-75 minutes. Heat grill; and place under kugel until crispy crust forms, 1-2 minutes, watching carefully so it does not burn. Let cool briefly, then cut into squares to serve.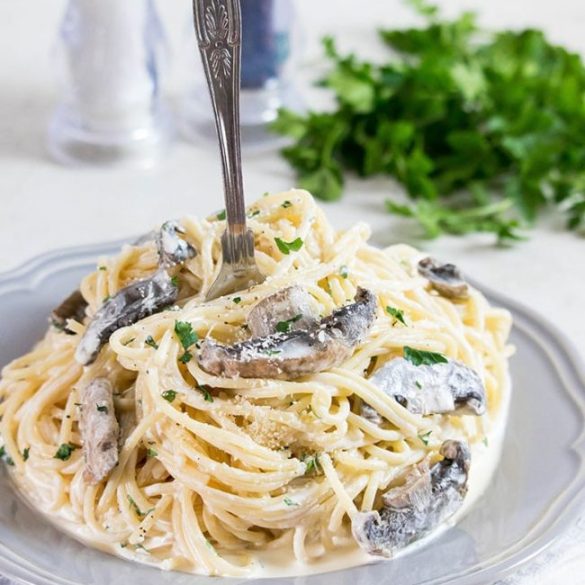 Creamy Mushroom Spaghetti
500g spaghetti
1 tablespoons butter
1 cloves garlic chopped
1/2 onion diced
125g mushrooms cleaned and sliced
120 ml single cream
Freshly grated Parmesan cheese for serving
A good handful of fresh parsley chopped
Salt and pepper to taste
Method
Cook the pasta in a large pot of boiling water until quite al dente (it will finish cooking in the sauce).
While the pasta is cooking, melt the butter in a large frying pan on medium heat.
Add the diced onion and cook until transparent (about 3-4 minutes). Add the mushrooms cook for another minute.
Add the garlic and cook another minute. Stir in the cream and parsley, lower the heat and simmer gently until thickened (1-2 minutes).
Drain the pasta and reserve some of the pasta water.
Add the pasta to the sauce and toss to coat, adding the reserved water as needed.
Serve immediately with grated cheese.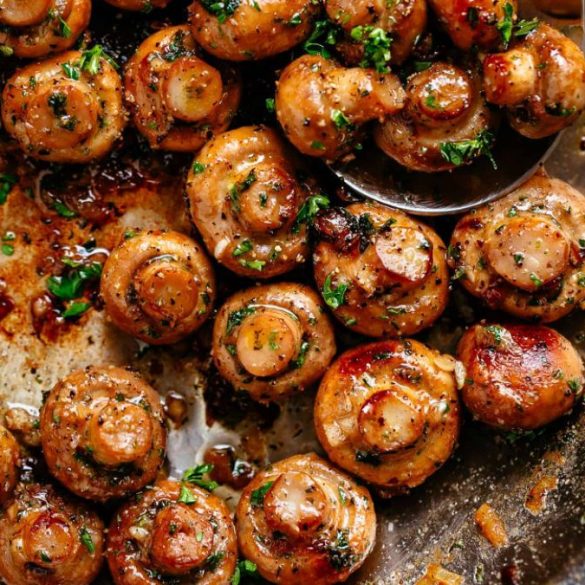 2 tablespoons unsalted butter
1/2 tablespoon olive oil
1/4 an onion chopped (optional)
250g mushrooms
1 tablespoons dry white wine* (optional)
1/2 teaspoon fresh thyme leaves chopped
1 tablespoon chopped fresh parsley
2 cloves garlic minced
Salt and pepper to taste
Method
Heat the butter and oil in a large pan or skillet over medium-high heat.
Sauté the onion until softened (about 3 minutes).
Add the mushrooms and cook for about 4-5 minutes until golden and crispy on the edges.
Pour in the wine and cook for 2 minutes, to reduce slightly.
Stir through thyme, 1/2 tablespoon of parsley and garlic. Cook for a further 30 seconds, until fragrant.
Season generously with salt and pepper (to your taste).
Sprinkle with remaining parsley and serve warm.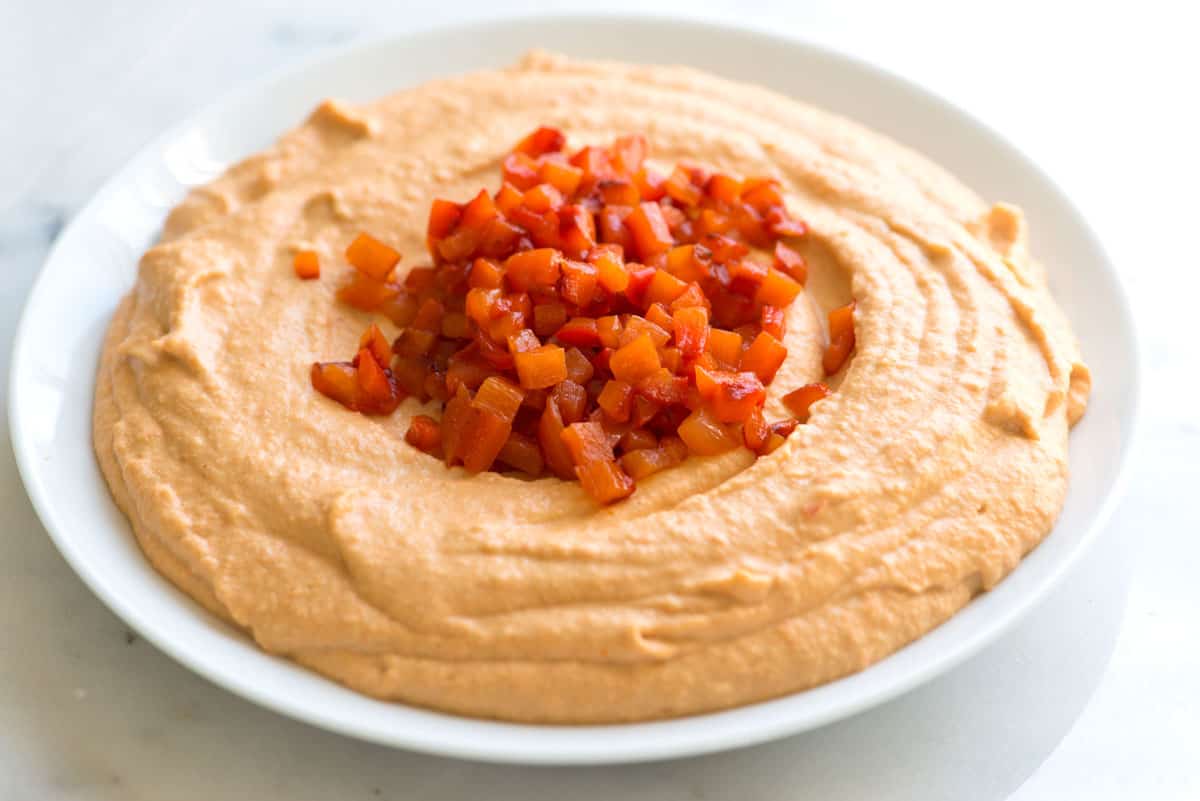 With just a few simple tricks, you really can make creamy smooth hummus at home.   Perfect served with some potato wedges.
Source: Inspired Taste
2 whole peppers
1  can chickpeas
60 ml fresh lemon juice, about 1 large lemon
60 ml tahini
1 small garlic clove, minced
2 tablespoons extra virgin olive oil, plus more for serving
1/2 teaspoon ground cumin
Pinch cayenne pepper (optional)
2 to 3 tablespoons water
Salt to taste
Method
Move an oven rack so that it is about 5 inches from the grill.
Remove core of peppers then cut into large flat pieces. Arrange pepper pieces, skin-side up, on a baking sheet. Grill for 5 to 10 minutes until the peppers skin has charred.
Add peppers to a resealable plastic bag, seal then wait 10 to 15 minutes until cool enough to handle. Or, add peppers to a bowl then cover with plastic wrap and wait 10 to 15 minutes. Gently peel away the charred pepper skin and discard. Reserve 1 to 2 pieces of the peeled roasted pepper pieces to use as a garnish when serving then roughly chop the rest.
In the bowl of a food processor, combine the tahini and lemon juice and process for 1 minute, scrape the sides and bottom of the bowl then process for 30 seconds more. This extra time helps "whip" or "cream" the tahini, making the hummus smooth and creamy.
Add the olive oil, minced garlic, cumin, and a 1/2 teaspoon of salt to the whipped tahini and lemon juice. Process for 30 seconds, scrape the sides and bottom of the bowl then process another 30 seconds or until well blended.
Open, drain, and rinse the chickpeas. Add half of the chickpeas to the food processor and process for 1 minute. Scrape sides and bottom of the bowl, then add remaining chickpeas and process until thick and quite smooth; 1 to 2 minutes.
Add the roasted peppers and continue to process for 1 to 2 minutes or until smooth. If the hummus is too thick or still has tiny bits of chickpea, with the food processor turned on, slowly add 1 to 3 tablespoons of water or aquafaba until you are happy with the consistency.
Taste for salt and adjust as needed. Finely chop the reserved peppers. Spoon hummus into a bowl, make a small well in the middle and add the chopped peppers. Store homemade hummus in an airtight container and refrigerate up to one week.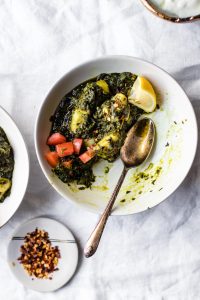 Spinach and Potato Curry – Aloo Palak
200g baby spinach
150g potatoes, peeled and cubed
4 tablespoons oil
1/2 tbsp ghee (or butter), optional
1/2 tsp cumin seeds
1/2 medium onion, finely chopped
1 green chili slit in half
2 cloves garlic, crushed
1/4 inch piece ginger, crushed
5 cherry plum tomatoes, finely chopped
1/2 tsp coriander powder
1/2 tsp cumin powder
1/4- tsp turmeric powder
1/4 tsp red chili powder
1/2 tsp salt, or to taste
1/2 tsp garam masala, optional
1 tsp freshly squeezed lime or lemon juice
Aloo Palak, or Spinach and Potato Curry, is one of the most popular vegetarian Indian or Pakistani recipes. It's typically dry, or stir-fried, so that there isn't any 'curry', per se.
Source: Tea for Turmeric
Method
Finely chop the spinach leaves using the pulse function of a food processor*. You can do this in advance and store it, covered, in the refrigerator. Set aside.
Boil** the cubed potato with 1/2 tsp salt until tender. Drain and set aside.
Meanwhile, heat oil and ghee in a large pan over medium-high heat and add the cumin seeds. Give them a few seconds to sizzle. Add the onion and cook, stirring often, until slightly golden, about 5-7 minutes. Add the slit green chili pepper, garlic, and ginger and cook until the raw smell disappears, about 20 seconds.
Add the chopped tomato, spice powders (except garam masala), and salt. Cook until the tomato becomes soft and the oil starts to leave the sides, about 3 minutes.
Raise the heat to high and add the spinach. Stir-fry it until it loses its moisture, about 10 minutes. Add water as needed to prevent the spinach from sticking to the bottom. If you feel that it still isn't cooked, add  about 2 tablespoons of water, cover, and cook on low-medium heat for an additional 5 minutes. When the spinach is cooked, add the boiled potatoes and stir to coat the potatoes with the spinach. Add garam masala and more salt, if needed. Turn off the heat and sprinkle lime or lemon juice.
Serve hot with roti, naan, rice or bread. You can also serve yogurt and chopped red onions on the side, if desired.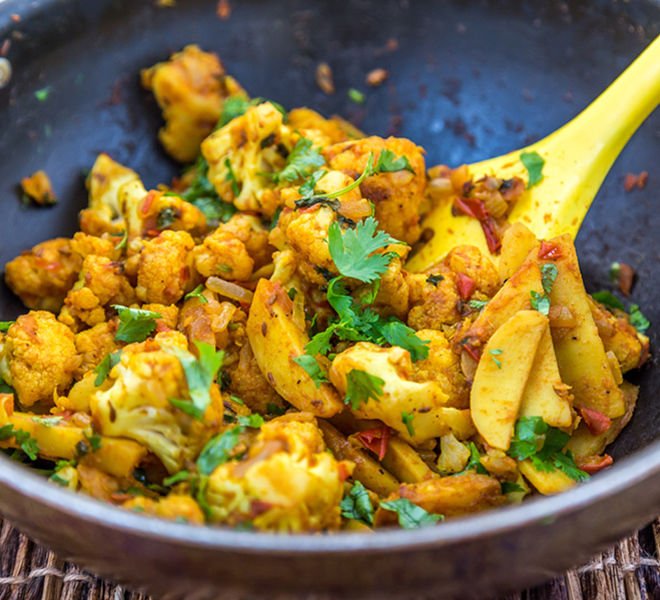 Aloo Gobi – Potatoes and Cauliflower
Aloo Gobi – Potatoes and cauliflower cooked with onion, tomatoes & spices is a popular Indian recipe.
Source: Cook with Manali
2 potatoes medium, sliced or cubed

1 cauliflower medium, cut into small florets

1 medium onion, chopped

10 cherry plum tomatoes, chopped

1/2 teaspoon cumin seeds

1.5 teaspoons ginger-garlic paste

1/2 teaspoon turmeric powder

1/2 teaspoon dry mango powder amchur

1/4 teaspoon red chili powder or to taste

1/4 teaspoon garam masala powder

1 teaspoon coriander powder

3-4 teaspoons oil

2 tablespoons chopped coriander

salt to taste
Method
Heat 2 teaspoon of oil in a pan on medium heat. Add cauliflower florets and fry for 2-3 minutes and then add the sliced potatoes.
Fry on medium-low flame for 7-8 minutes till potatoes and cauliflower have some brown spots on them.
Drain on a tissue paper and set aside.
In the same pan heat 1.5 teaspoon of oil on medium heat and add cumin seeds and let them crackle.
Add the onions and cook for 2 minutes till translucent.
Add the ginger-garlic paste and cook for another 2 minutes or till the raw smell goes away.
Add the chopped tomatoes and cook for 2 minutes till they are little soft.
Add turmeric powder, red chilli powder, coriander powder and amchur (mango powder).
Cover the pan and let the masala cook for 2-3 minutes and then add the potatoes and cauliflower to it and mix.
Add chopped coriander leaves and give a good mix.
Add garam masala and cook the potato and cauliflower on medium-low heat for 5-6 minutes.
Add salt and cover the pan and cook more additional 6-7 minutes on low flame or till the potato and cauliflower are tender but not soggy. If you feel the masala is sticking, you may add some water. Add 1 tablespoon at a time and only add enough to cook the veggies. I did not add any water in mine.
Garnish with some more coriander leaves and serve hot with any Indian bread.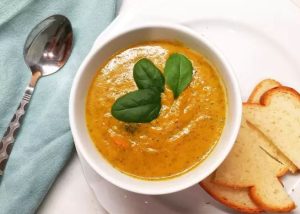 Roasted Broccoli and Carrot Soup
These American-style pancakes are easier to make than traditional ones.
Source: BBC Good Food
200g Carrots

200g Broccoli

1 small cube of ginger chopped

Half  onion

Salt as per taste

1 tablespoon oil

Black pepper
Method
Put the chopped carrots, onion, and broccoli florets in a bowl, oil, salt and black pepper, and give it a good shake.
Preheat the oven. Now put the veggies on the baking tray for about 25 minutes at 180 C.
Boil 700ml of water in a pot, add the roasted veggies in it, simmer the stove and let it boil for about 15 minutes.
Let it cool. Keep a tablespoonful of roasted veggies from the boiled pot aside and give the rest a good blend with a blender.
Let the blended soup cook for 5 minutes at sim. Add the saved veggies in it now for some texture in the soup. Top with some butter while serving.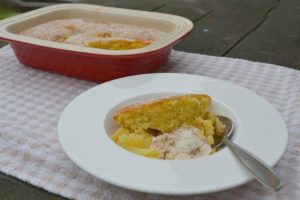 Apple and Pineapple Eve's Pudding
These American-style pancakes are easier to make than traditional ones.
Source: BBC Good Food
3 Pink Lady Apples, Peeled and chopped into chunky slices
100g Fresh Pineapple, Chopped into medium chunks
1 teaspoon Ground Cinnamon
175g Caster Sugar
175g Butter
3 Medium Eggs
175g Self-Raising Flour
Method
Preheat the oven to 160C
Cook the apple in a medium pan with 2 tbsp water until just starting to soften – approx 3 minutes. Take off the heat and stir through the cinnamon.
Line the bottom of a medium oven dish with the pineapple and add the apple on top.
Using an electric mixer, cream together the butter and sugar until pale and fluffy.
Add the eggs, one at a time, scraping down the sides of the bowl after each addition.
Sift in the flour and combine using a figure of eight to keep the air in, until just mixed through
Pour on top of the fruit mixture and bake at 160C for 45-50 minutes – It should be golden and a skewer inserted should come out clean.
Perfect served hot with custard or eaten later served with ice-cream.